Axios Pro Rata
February 02, 2023
🔮 Axios is hosting our second annual What's Next Summit on March 29 in Washington, D.C. Request an invite.
Top of the Morning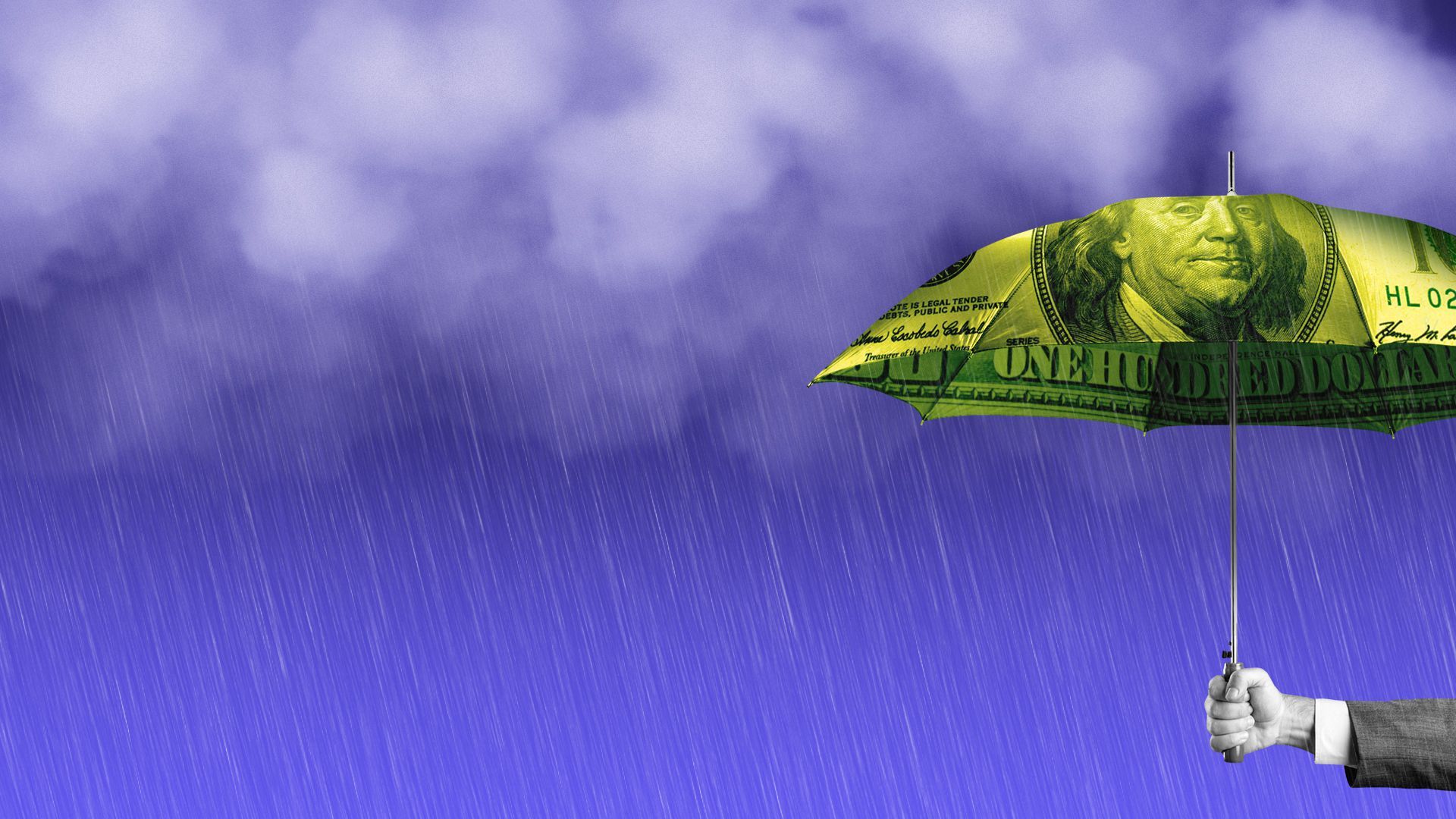 When news recently leaked that Stripe is in talks to raise new funding, most of the chatter was about a $60 billion valuation that's well below what the payments giant previously fetched.
And that made sense, given how much weight we typically attach to nosebleed prices.
Between the lines: What also deserves attention, however, is that Stripe appears to be handling the tech deflation with humility, empathy and prudence, unlike some of its tech industry peers.
The new investment, which still remains in the negotiation stage, isn't being structured so as to artificially retain the company's last valuation. Stripe is accepting that it's worth less than it was before.
The potential round's purpose is to cover "double-trigger" tax liabilities for both Stripe and Stripe employees, tied to restricted stock units that are set to expire at year-end. The latter isn't something Stripe necessarily needs to do — it could tell affected workers that times are tough, etc. — but it's the right thing to do.
Stripe, founded in 2010, has done several tender offers for employees holding stock options (i.e., those hired prior to the implementation of RSUs), although this deal wouldn't be tied to another such tender.
Yes, Stripe recently fired around 1,110 workers, which certainly was gut-wrenching and fear-inducing for those affected. The only (small) silver lining here was that Stripe included 14 weeks of severance pay, six months of health care coverage, some accelerated vesting and an acknowelegment that the co-founders made "errors of judgment."
Look ahead: Stripe isn't rushing into the round, which reportedly would be led by existing investor Thrive Capital. It's also continuing to explore an IPO, whose proceeds could be used for the same purpose.
Its only real deadline is Dec. 31, and the company could catch a break if the Nasdaq continues to rebound. Rival PayPal is also up for the year.
The bottom line: Silicon Valley may not have founders less enthusiastic about going public than Stripe's John and Patrick Collison, and there's now a compelling case that they waited too long. Mistakes are important, but so is how they are recognized and rectified.
The BFD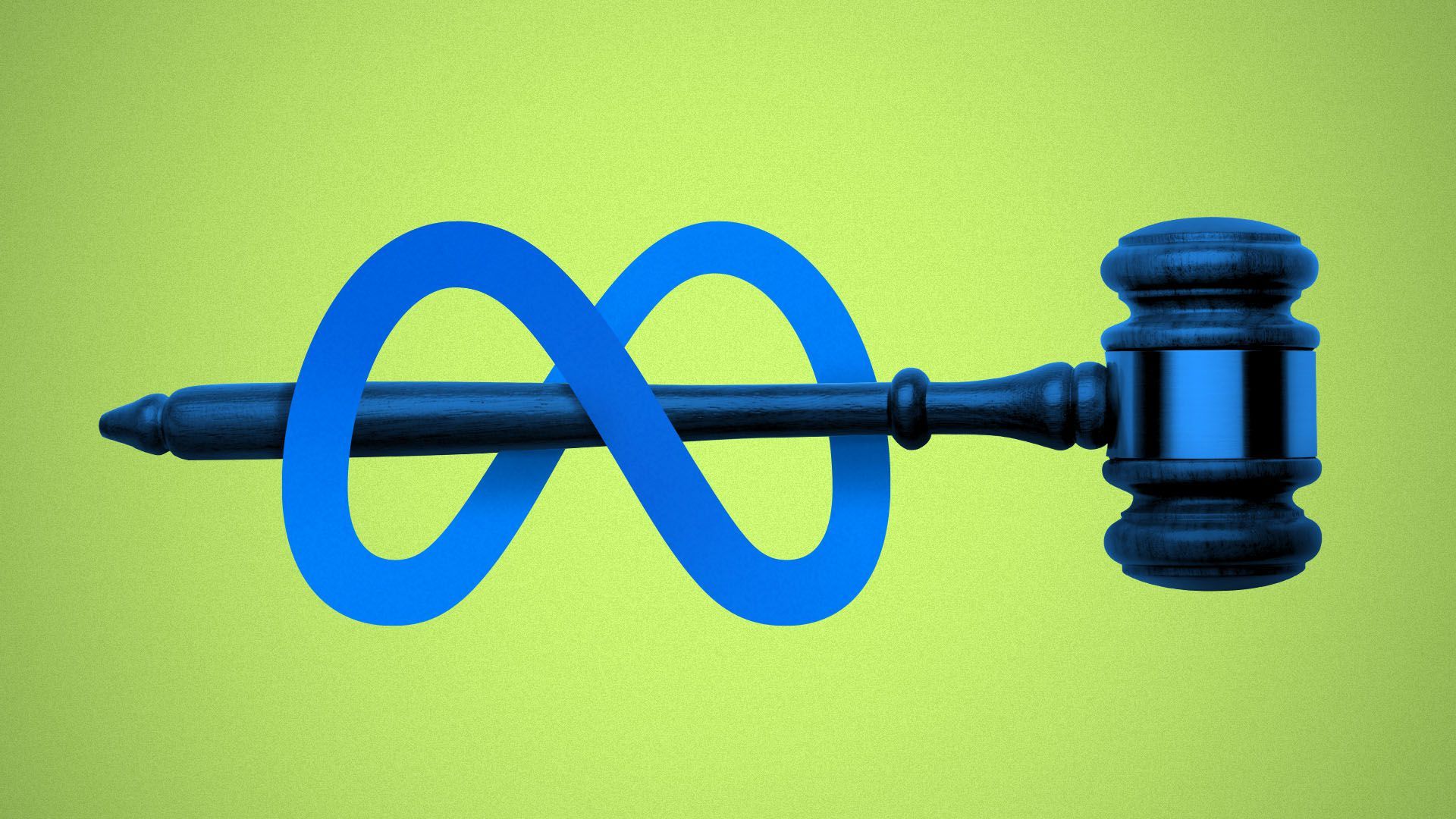 Meta (Nasdaq: META) has prevailed in court over the Federal Trade Commission, which had been seeking to block Facebook's parent company from buying virtual reality fitness startup Within.
Why it's the BFD: It's yet another antitrust blow for Lina Khan's FTC, which is fast becoming the Glass Joe of regulators.
Elsewhere: Meta's winning day also extended to Wall Street, where it beat analyst expectations on quarterly revenue and user growth. Shares jumped more than 19% at this morning's open (see Final Numbers below).
The bottom line: We don't yet know the reasoning behind Judge Edward Davila's decision, which so far remains under seal. And that matters, because the FTC's novel argument was that Meta's acquisition would reduce competition in a still-nascent VR industry.
If Davila knocks down the entire premise, that's devastating for Khan's future antitrust efforts. If he validates it, but rules that the FTC didn't meet its burden vis-à-vis this particular deal, it's a sweeter pill to swallow.
Venture Capital Deals
• MNT-Halan, an Egyptian lending and payments fintech, raised $200m led by Chimera Capital, at a $1b pre-money valuation. https://axios.link/3Yh1eZ8
• Zopa, the British neobank, raised £75m from insiders like IAG Silverstripe, Uprising and Augmentum. https://axios.link/3Ruq9Xi
• Portside, an SF-based provider of SaaS for business aviation, raised $50m in Series B funding. Insight Partners led, and was joined by I2BF Global Ventures. https://axios.link/3YhUTfZ
• Freeform, a Hawthorne, Calif.-based metal 3D printing company founded by ex-SpaceX employees, raised $45m from Two Sigma Ventures, Founders Fund, and Threshold Ventures.
• Treasury Prime, an SF-based banking-as-a-service startup, raised $40m in Series C funding. BAM Elevate led, and was joined by Banc Funds, Invicta and insiders Deciens, QED and SaaStr. https://axios.link/3YaZTTO
• Recurrency, an SF-based ERP automation platform, raised $22m in Series A funding led by Bessemer Venture Partners. www.recurrency.com
• Freemodel, a Burlingame, Calif.-based home renovation tech company, raised $19.5m in Series A funding. QED Investors led, and was joined by LL Funds. www.freemodel.com
• Gradient, a SF-based HVAC maker, raised $18m in Series A funding co-led by Sustainable Future Ventures and insider Ajax Ventures, per Axios Pro. https://axios.link/3XZzoB6
• Recycleeye, a London-based waste robotics startup, raised $17m in Series A funding led by DCVC led, and was joined by Promus Ventures, Playfair Capital, MMC Ventures, Creator Fund, Atypical and Seaya Andromeda. www.recycleeye.com
• Constellation, a New York-based creative marketing agency for companies in highly regulated industries, raised $15m from Newlight Partners, as first reported by Axios Pro. https://axios.link/3WTdEFK
• Lavender, an Atlanta-based email marketing platform, raised $13.2m in seed and Series A funding. Norwest Venture Partners led, and was joined by Signia Venture Partners, CapitalX and Position Ventures. https://axios.link/3WV6vod
• Dimension Inx, a Chicago-based biomaterials platform startup, raised $12m in Series A finding. Prime Movers Lab led, and was joined by Solas BioVentures, Portal Innovation Ventures, Alumni Ventures and insiders KdT Ventures and Rise of the Rest. www.dimensioninx.com
• Freightify, a Singapore-based SaaS for freight forwarders, raised $12m in Series A funding. Sequoia Capital India led, and was joined by Trail Mix Ventures, Alteria Capital and insiders Nordic Eye Venture Capital and Motion Ventures. https://axios.link/3Yktavw
• New School Foods, a plant-based seafood producer, raised US$12m in seed funding from Lever VC, Blue Horizon, Hatch, Good Startup, Alwyn Capital and Joyance Partners. https://axios.link/3Dz8Luu
• PenPot, a collaboration platform for product designers and developers, raised $12m led by Decibel. https://axios.link/3HTeqxW
🚑 AnswersNow, a Richmond, Va.-based virtual autism therapy provider, raised $11m in Series A funding led by Left Lane Capital, per Axios Pro. https://axios.link/3HQm5x2
• Gem Security, a cloud threat, detection and response platform, raised $11m in seed funding led by Team8. https://axios.link/3XYBBwK
• Jetpack.io, a platform engineering startup, raised $10m in seed funding co-led by Coatue and GV. www.jetpack.io
• Passthrough, a New York-based fund automation workflow tool for investors, raised $10m in Series A funding. Positive Sum led, and was joined by Motley Fool Ventures, Broadhaven Ventures, Company Ventures and Great Oaks VC. https://axios.link/3kOelTd
• Tau, an Italian supplier of winding wire for EVs, raised €9m in Series B funding. Solvay Ventures led, and was joined by Finindus. www.tau.group
• BloomX, an Israeli developer of "bio-mimicking tech" for crop pollination, raised $8m in seed funding. Ahern Agribusiness led, and was joined by Vasuki Global Tech fund, Bio Bee and the Israeli Innovation Authority. https://axios.link/3XUyy8C
• Addressable, a digital fingerprinting startup, raised $7.5m in seed funding from Viola Ventures, Fabric Ventures, Mensch Capital Partners and North Island Ventures. https://axios.link/3WPPHz7
• Michroma, an SF-based developer of fungi-based natural food colorings, raised $6.4m in seed funding. Supply Change Capital led, and was joined by SOSV, GRIDX, Be8 Ventures, CJ CheilJedang, Fen Ventures, Boro Capital, The Mills Fabrica, Portfolia, New Luna Ventures, Siddhi Capital, Groundswell Ventures and Hack Capital. https://axios.link/3XSDZ8f
🚑 Frontrow Health, an Austin, Texas-based DTC health startup, raised $3m in seed funding co-led by Next Coast Ventures and NextGen Venture Partners. https://axios.link/40oUuKD
• ValueBase, a land and building appraisal startup, raised $1.6m from Hydrazine Capital. https://axios.link/3YwNPfZ
Private Equity Deals
⚡ A2B Development (dba NewGen Energy), a Loomis, Calif.-based solar and storage services provider received an investment from Mars Equity Partners. www.newgenenergy.com
• Aimia, a Canadian investment firm, agreed to acquire Tufropes, an Indian maker of synthetic fiber ropes and netting, for around C$250m. https://axios.link/3XWaFh6
🚑 Eads Bridge Holdings acquired a majority stake in Stokes Counseling, a Naugatuck, Conn.-based mental health counseling business www.stokescounseling.com
• GI Partners acquired Rise Broadband, an Englewood, Colo.-based provider of broadband services in 16 states. www.risebroadband.com
• In-Place Machining, a Milwaukee-based portfolio company of Levine Leichtman Capital Partners, acquired East Coast Metrology, a Topsfield, Mass.-based provider of precision measurement services. www.inplace.com
• KKR submitted a nonbinding bid to increase its minority stake in Telecon Italia's networking arm, two years after it was rebuffed when trying to acquire the entire business. https://axios.link/3HRz1ms
• KKR and Pacific Equity Partners are among those considering a bid for the Australian and New Zealand operations of Kraft Heinz (Nasdaq: KHC), which could fetch around A$1b, per The Australian.
🚑 Lee Equity Partners invested in Cardiovascular Institute of the South to create a national cardiovascular platform. www.cardio.com
• Littlejohn & Co. agreed to acquire Ardurra Group, a Tampa, Fla.-based provider of engineering and design services to the water, transportation and aviation markets. www.ardurra.com
• Matchesfashion, a London-based clothing retailer, raised £60m in equity and debt funding from Apax Partners. https://axios.link/3YcZAI3
• Morgan Stanley Capital Partners acquired Apex Cos., a Rockville, Md.-based provider of environmental consulting and engineering solutions, from Sentinel Capital Partners (which retains a minority position). www.apexcos.com
• PPC Enterprises acquired EduStaff, a Grand Rapids, Mich.-based platform for K-12 substitute teacher management services. www.edustaff.org
• QAD, a Santa Barbara, Calif.-based portfolio company of Thoma Bravo, acquired Redzone, a Miami, Fla.-based provider of connected workforce software for manufacturing, from Summit Partners. www.qad.com
• Silver Lake disclosed in a regulatory filing that it's considering a takeover of Qualtrics (Nasdaq: XM), a Utah-based maker of survey and customer experience software in which it has a 4.2% stake. Last month, SAP (NYSE: SAP) said it's exploring a sale of its 71% position in Qualtrics, whose market cap is north of $10b.
• Vista Equity Partners completed its $4.6b take-private buyout of Clearwater, Fla.-based cybersecurity awareness firm KnowBe4. https://axios.link/3SYCpyW
Public Offerings
⚡ Nextracker, a Fremont, Calif.-based developer of solar tracker systems, plans to offer 23.3m shares at $20-$23 in its IPO. It would have a $3.1b fully diluted valuation, were it to price in the middle, and plans to list on the Nasdaq (NXT). The company last year was carved out of Flex (Nasdaq: FLEX) via a $500m investment from TPG Rise Climate. Flex retains an 82% pre-IPO stake, with TPG holding 17.23%. https://axios.link/3JAd1xD
Liquidity Events
• McGrath RentCorp (Nasdaq: MGRC) acquired Vesta Modular, a Southfield, Mich.-based provider of temporary and permanent modular space solutions, from Kinderhook Industries for $400m in cash. www.vestamodular.com
More M&A
• Casino (Paris: CO) said it's in talks to merge its French retail operations with Teract (Paris: TRACT). https://axios.link/3wOWRZL
• Mercury Systems (Nasdaq: MRCY), an Andover, Mass.-based chipmaker whose customers include the U.S. Defense Department, said it's seeking a buyer. The news sent the company's shares up more than 12%, for a $3.26b market cap. https://axios.link/3Y1qBP2
• Rapid7 (Nasdaq: RPD), a Boston-based cybersecurity firm, hired Goldman Sachs to consider a sale, per Reuters. The company's stock jumped 31% on the news, giving it a $3.1b market cap. https://axios.link/40lbnWK
🚑 Sherlock Biosciences, a Watertown, Mass.-based CRISPR diagnostics startup that's raised around $112m, acquired Sense Biodetection, a British point-of-care molecular diagnostics startup that had raised over $100m from backers like Koch Disruptive Technologies, Earlybird VC and Cambridge Innovation Capital. https://axios.link/3Ro9bcN
• Standard AI, an SF-based autonomous checkout startup valued by VCs at $1b, acquired Skip, a developer of self-checkout kiosks, as first reported by Axios Pro. https://axios.link/3l4P5bB
• Tereos, a French sugar producer, is selling its unprofitable Romanian business to a pair of local investors. https://axios.link/3X0InQZ
Fundraising
🌎 Buoyant Ventures, a Chicago-based climate software VC firm led by Energize Ventures co-founder Amy Francetic, raised $76m for its debut fund. Microsoft is among the LPs. https://axios.link/3WZdgFu
It's Personnel
• David Cahn has agreed to join Sequoia Capital as a partner on its growth team, Axios has learned. He previously was a general partner and COO of venture capital with Coatue Management, with an investment focus on AI and data anaytics. https://axios.link/3HqdAHD
• A.J. Murphy (ex-Standard Investments) is joining Blackstone as COO of corporate private equity. https://axios.link/3WZiIIo
🚑 Pat Basu joined Varsity Healthcare Partners as a managing partner of operations. He previously was president and CEO of Cancer Treatment Centers of America. www.varsityhealthcarepartners.com
• Jake Blumenthal (founder of Cache Creek Industries) joined Angeles Operations Group, a unit of Angeles Equity Partners, as an M&A partner. www.angelesequity.com
• James Dougherty joined law firm Davis Polk as a partner in its M&A practice. He previously led M&A for Jones Day. www.davispolk.com
• Mozaic Capital Advisors, a secondary advisory firm, hired three new VPs: Stephen Emery (ex-Man Group), Charlene Sanna (Baupost Group) and David Wilson (Greenhill & Co.). www.mozaicapital.com.
• Nordic Capital promoted Emil Anderson to partner, Casper Lerche and Magnus Hammarström to managing directors and Diana Tan to operations managing director. www.nordiccapital.com
Final Numbers
Thanks for reading Axios Pro Rata, and to copy editors Mickey Meece and Bryan McBournie! Please ask your friends, colleagues and metaverse avatars to sign up.