Axios Pro Rata
March 17, 2023
Top of the Morning
TGIF. TGIF. TGIF. TGIF.*
(* There is no way everyone gets to unplug this weekend. Sorry, I don't make the rules.)
What's new: SVB Financial Group this morning filed for Chapter 11 bankruptcy protection, in an effort to preserve value for creditors.
This is the holding company for the securities and venture capital entities, even though those operating businesses are excluded from the actual filing.
Per a press release, the holding company has around $2.2 billion in liquidity.
The commercial bank (i.e. Silicon Valley Bank) and private banking businesses aren't part of this at all, as they're now owned by the FDIC.
What's sort of new: First Republic Bank secured $30 billion in deposits from the sorts of big banks that were precluded from buying SVB.
Participants included Bank of America, Citigroup, JPMorgan Chase, Wells Fargo, Goldman Sachs, Morgan Stanley, BNY Mellon, PNC Bank, State Street, Truist and U.S. Bank.
Investors seem unable to decide on their reaction. First Republic stock opened down 35% yesterday, but then rebounded on the news to close up nearly 10%. Today, however, shares opened down another 20%.
The bull case is that America's biggest banks are literally invested in First Republic's survival. The bear case is that America's biggest banks are literally invested in First Republic's survival.
Behind the scenes: Bloomberg has a revealing tic-toc of what happened at the FDIC last weekend, during its failed efforts to sell SVB.
The New York Times has one on how the First Republic deal came together.
Elsewhere: PacWest reportedly is in talks to get a liquidity boost of its own.
The bottom line: Last weekend was about saving bank deposits. This weekend is about saving banks.
The BFD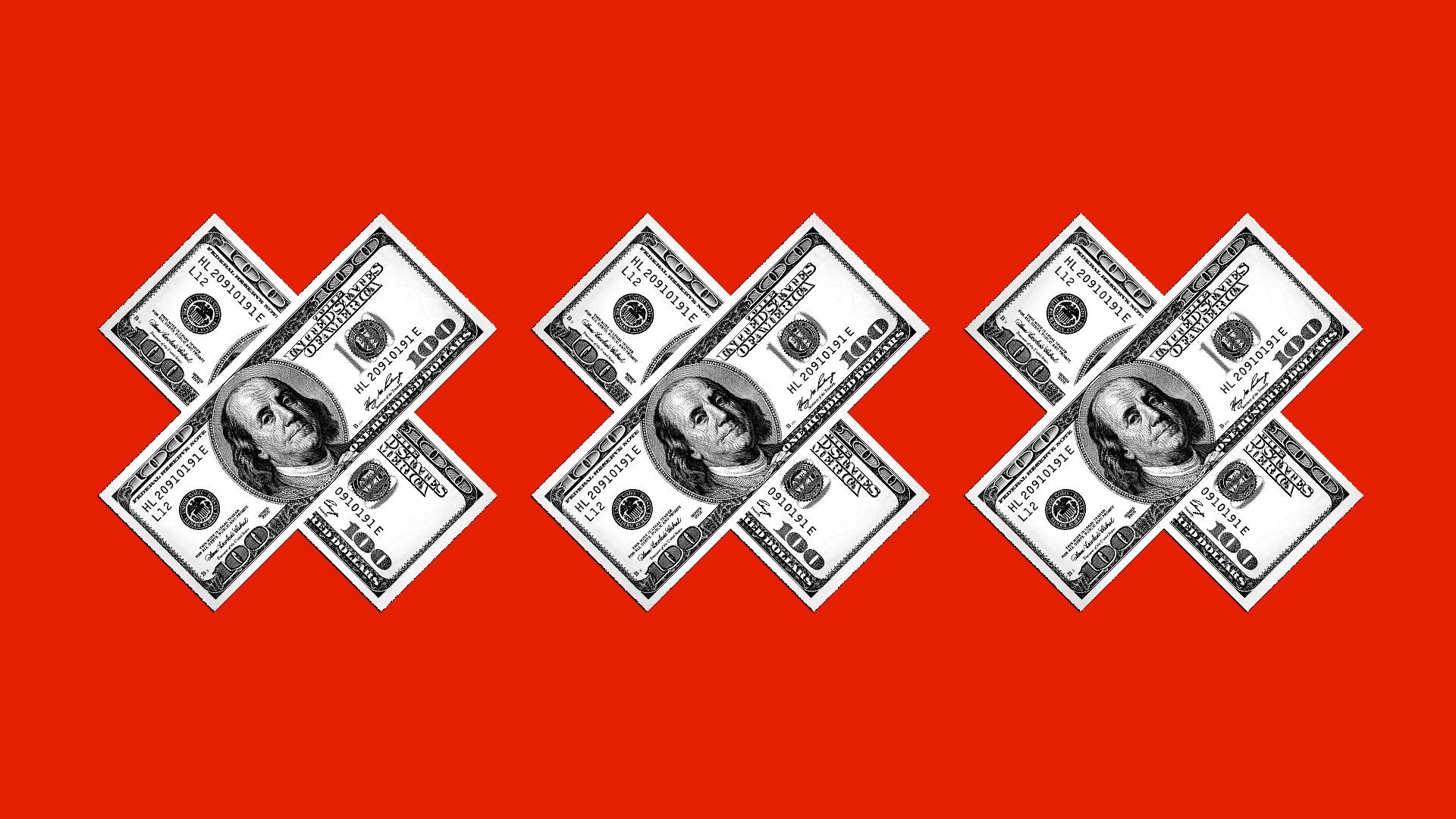 Ethical Capital Partners, a newly formed Canadian private equity firm, has acquired MindGeek, owner of Pornhub and other adult content sites.
Why it's the BFD: MindGeek has an egregious history, having been accused of hosting revenge porn and underage sexual content, to the point that Mastercard and Visa shut off some payment services to the company's subscription and advertising systems.
ECP co-founding partner Solomon Friedman tells the FT that he's confident in the safety systems the company has since implemented, and adds that he wants to "engage regularly with stakeholders" and be much more transparent.
But Friedman is already exuding opacity. For example, he won't say where his new private equity firm got the money to buy MindGeek (it doesn't appear to have an existing fund). He also won't identify any members of company management, or say how much ECP paid.
ECP registered its website domain in early 2022. There are no filings with the SEC, including Form Ds or investment advisor disclosures. The same goes for filings with Canadian securities regulators, according to a SEDAR search.
The bottom line: This is the sort of thing that makes private equity industry lobbyists reach for the bottle.
Venture Capital Deals
• PhonePe, an Indian payments and financial services firm, raised $200m from Walmart. https://axios.link/3ZTlXni
• Fairmatic, an SF-based commercial auto insurance startup, raised $46m led by Battery Ventures. https://axios.link/42uFYCr
• Parker, a provider of corporate credit cards to e-commerce businesses, raised $37m in equity funding led by Valar Ventures and $70m in debt from Triple Point Capital. https://axios.link/3Ltl0h9
• Cast.ai, a Miami, Fla.-based automation and cost management startup, raised $20m led by Creandum. www.cast.ai
• Wingspan, a New York-based payroll platform for managing freelancers, raised $14m in Series A funding. Andreessen Horowitz led, and was joined by Distributed Ventures, Long Journey Ventures, Ludlow Ventures and 186 Ventures. https://axios.link/3LC9Pm2
• Trala, a Chicago-based online music school, raised $8m in Series A funding. Seven Seven Six led, and was joined by Lachy Groom, Altman Capital, Next Play Ventures and Concrete Rose Ventures. https://axios.link/3LzIpgK
• Genpop Interactive, an LA-based game studio founded by songwriter and producer BloodPop, raised $6.5m in seed funding. Makers Fund led, and was joined by 1Up Ventures, Good Smile Company and Studio Trigger. www.genpopinteractive.com
• Fenix24, a Chattanooga, Tenn.-based cyber disaster recovery firm, raised $5m led by Eos Venture Partners. www.fenix24.com
🚑 Allermi, an SF-based DTC allergy telehealth startup, raised $3.5m in seed funding led by Nelstone Ventures, per Axios Pro. https://axios.link/3mSD1uV
• Soul Wallet, a Santa Monica, Calif.-based self-custodial crypto wallet, raised $3.1m in seed funding from backers like Struck Crypto. https://axios.link/3Lp6wyN
• TeleportDAO, a Canadian cross-chain interoperability startup, raised US$2.5m in seed funding co-led by AppWorks and DefinanceX. www.teleportdao.xyz
Private Equity Deals
🚑 Graham Partners acquired Rhythmlink, a Columbia, S.C.-based maker of single-use brain health and neurodiagnostic electrodes, from New Heritage Capital. www.rhythmlink.com
• Motive Partners is in talks to buy ACI Worldwide (Nasdaq: ACIW), a Coral Gables, Fla.-based electronic payments firm with a $2.8b market cap, per Bloomberg. https://axios.link/3yJCzlh
• Pushpay, a listed New Zealand-based church and donor management systems provider, received a sweetened NZ$1.62b takeover offer from a group that includes Sixth Street. https://axios.link/3lp8Ye4
• RMA, a Rancho Cucamonga, Calif.-based portfolio company of OceanSound Partners, acquired A.J. Edmond, a Livermore, Calif.-based provider of inspection, sampling, and analytical services. www.rmacompanies.com
🚀 Virgin Orbit (Nasdaq: ORB) is in talks with financial investors about a possible buyout of fundraise. The rocket launch company paused operations this week, after founder Richard Branson declined to provide additional capital. https://axios.link/3Lw3CIA
Public Offerings
• Indorama, a Bangkok-listed chemicals firm, is considering a U.S. IPO of its integrated oxides and derivatives unit that could raise around $1b, per Bloomberg. https://axios.link/3Fvalyy
SPAC Stuff
• Four Leaf Acquisition, an IoT SPAC, raised $52m in a downsized IPO.
We previously highlighted Four Leaf, because it said it wouldn't use funds from its trust (or related accrued interest) to pay excise taxes introduced in the Inflation Reduction Act.
Liquidity Events
• Cover Genius, an Australian insurtech valued by VCs at over US$600m, acquired Clyde Technologies, a New York City-based embedded warranty company backed by Spark Capital, Crosslink Capital and Headline. www.covergenius.com
• Via, a transportation startup valued by VCs at $3.5b, acquired Citymapper, a London-based urban mapping app that had raised over $60m from backers like Index Ventures, Balderton Capital, Greenspring Associates, Benchmark and DST Global. https://axios.link/40aVnps
More M&A
• Metallica (yes, the band) acquired a majority interest in Furnace Record Pressing, one of the largest vinyl pressing companies in the U.S. https://axios.link/3mSxTad
🏀 Michael Jordan (yes, the GOAT) is in talks to sell his majority stake in the Charlotte Hornets to Melvin Capital's Gabe Plotkin and Clayton, Dubilier & Rice's Rick Schnall, per ESPN. https://axios.link/3YU8JVY
• Geely, the Chinese owner of Volvo, sold its 6.3% stake in Daimler Truck, which would have been valued at around €1.5b. https://axios.link/3ZQGJUq
⚡ Petronas of Malaysia offered $460m to buy a 20% stake in the renewable energy arm of Indian power producer NTPC, per Reuters. https://axios.link/42l0XqU
Fundraising
• Bullish raised $50m for its second fund focused on early-stage U.S. consumer startups. www.bullish.co
It's Personnel
• John Hayes, former chairman and CEO of Ball Corp., joined Clayton, Dubilier & Rice as an operating advisor. www.crd-inc.com
🚑 John Marotta, former president and CEO of PHC Holdings (fka Panasonic Healthcare), joined Patient Square Capital as an executive-in-residence. www.patientsquarecapital.com
• Ahdiv Nathan joined Turnspire Capital Partners as a VP. He previously was with DestinHaus Capital. www.turnspirecap.com
Final Numbers
Go deeper: Fed's emergency bank lending hits new record
Thanks for reading Axios Pro Rata, and to copy editor Mickey Meece! Please ask your friends, colleagues and bank tellers to sign up.