April 25, 2022
Top of the Morning
Elon Musk is big on creating things, but lately it feels like he's just destroying my plans for the top of this newsletter.
Driving the news: Twitter is said to be in advanced talks to accept Elon Musk's $43 billion takeover bid as early as today, following a weekend of negotiations.
Why it matters: This would be an earthquake in global media and politics, where Twitter drives the discourse.
It's sure to be criticized by those who disagree with Musk's laissez-faire views on content moderation, and cheered by those who believe Twitter has been too heavy-handed with its block button.
Both reactions are likely to be overreactions.
There are still many unanswered questions. In no particular order: Does Musk have equity partners? How big is the termination fee? Who would actually run Twitter? Will Jack Dorsey roll over his shares and/or have any formal role? Does it matter that Musk seemingly violated SEC rules in the timing of his initial disclosure of Twitter share purchases? How many followers will I lose if Musk bans bots?
One thing we know: Musk seems to have played much better than I believed he would. Rather than Twitter calling his bluff, he called theirs.
For example, Reuters reports that there won't be a "go-shop" provision on the final agreement — something the board would want and Musk would not. That said, Twitter could still accept a superior offer and then pay out a breakup fee of its own.
Investor reax: As of 9:50am, Twitter shares are up 3% to just over $50. This suggests traders are getting more confident in Musk's bid, but aren't all the way there.
Tesla shares are down nearly 2%, and shares of the SPAC taking Truth Social public are down more than 7%.
Calendar: Twitter is scheduled to report earnings before this Thursday's market open.
The bottom line: Mergers are never done until the ink is dry, so this still may fall apart for a whole host of reasons. Particularly if this morning's leaks are, in part, to gauge internal and external sentiment. But, as we noted on Friday, Musk has a habit of hitting his moonshots. And this one feels closer than ever.
The BFD
Reliance Industries of India said it cannot fully implement its $3.4 billion purchase of retailer Future Group, after Future Group's secured creditors objected.
Why it matters: It's something of a win for Amazon, a Future Group investor that's been litigating the merger since it was announced nearly two years ago. But it's a catastrophic loss for Future, once India's second-largest retailer with more than 1,500 stores, which may soon go bankrupt.
The bottom line: India's retail market is projected to hit $1.3 trillion by 2024, per Forrester Research. The vast majority of that remains physical retail, where mom-and-pop shops still dominate. Amazon and Walmart-owned Flipkart dominate the country's growing, but still relatively small, e-commerce sector. If Future does go broke, expect a fierce fight for the remaining assets.
Venture Capital Deals
• Rario, a Singapore-based cricket NFT platform, raised $120m in funding. Dream Capital led, and was joined by Alpha Wave Global, Animoca Brands, Presight Capital and Kingsway Capital. http://axios.link/byIv
• TheGuarantors, a New York-based rental property insuretech startup, raised $50m in Series C funding, per Axios Pro's Ryan Lawler. Portage Ventures led, and was joined by Kensington Capital Partners, Arch Capital Group, Roosh Ventures and Alven Capital. http://axios.link/KlwL
🚑 Syllable, a Sunnyvale, Calif.-based virtual patient assistant, raised $40m in Series C funding. TCV led, and was joined by insiders Oak HC/FT, Section32 and Verily. www.syllable.ai
🐟 Rooser, a British online marketplace for trading fresh fish, raised $23m. Index Ventures led, and was joined by GV and Point Nine Capital. http://axios.link/Zk5S
🚑 Wisq, a Redwood City, Calif.-based social platform focused on employee wellness, raised $20m in Series A funding, per Axios Pro's Erin Brodwin. Norwest Venture Partners led, and was joined by True Ventures and Shasta Ventures. http://axios.link/s0r8
• Leasecake, an Orlando, Fla.-based provider of lease and location management software, raised $12m in Series A funding. PeakSpan Capital led, and was joined by Las Olas VC and Branded Strategic Hospitality. www.leasecake.com
• Zenda, a UAE-based school bill payment startup, raised $9.4m in seed funding from STV, COTU Ventures, GFC and VentureSouq. http://axios.link/qQtu
• Bastion, a DeFi protocol on the Aurora blockchain, raised $9m in Series A funding. Three Arrows Capital led, and was joined by FTX Ventures, Jump Crypto, Jane Street, CMS Holdings and Crypto.com. http://axios.link/Hzzo
Private Equity Deals
• Cerberus Capital Management and Tailwind Acquisition Corp. (the SPAC led by former Casper Sleep CEO Philip Krim) have expressed interest in the Buybuy Baby unit of retailer Bed Bath & Beyond (Nasdaq: BBBY), which is under activist pressure to sell the unit, per the WSJ. http://axios.link/GeqP
• CVC Capital Partners is in talks to buy up to 30% of Sodexo's (Paris: AXHO) restaurant check unit at up to a €4b valuation, per Les Echos. http://axios.link/5prw
⚡ Fu-Gen, a Swedish renewable power producer, raised €320m from Israel's Migdal Insurance, Menora Mivtachim Insurance and Arkin Group. http://axios.link/gzj2
• Gryphon Investors acquired Ed's Supply, a Little Rock, Ark.-based wholesale distributor of HVAC/R equipment, parts and supplies. www.edssupply.com
• Race Winning Brands, a Mentor, Ohio-based portfolio company of MiddleGround Capital, acquired TPT Solutions, a provider of auto and light truck aftermarket products. www.racewinningbrands.com
• Thoma Bravo recently discussed buying SUSE, a listed German enterprise software firm controlled by EQT, but couldn't reach an agreement, per Bloomberg. http://axios.link/eWoY
• Ubisoft Entertainment (Paris: UBI), the French game publisher whose titles include Assassin's Creed, has received preliminary takeover interest from PE firms like Blackstone and KKR, per Bloomberg. http://axios.link/DWuI
Public Offerings
🚑 BioAffinity Technologies, a San Antonio-based developer of cancer diagnostics, filed for an IPO. The pre-revenue company plans to list on the Nasdaq (BIAF). http://axios.link/Iq6C
⚡ Monterey Capital Acquisition, a clean energy transition SPAC, filed for a $100m IPO. http://axios.link/QUpS
• SmartStop Self Storage REIT, a Ladera Ranch, Calif.-based self storage REIT with 171 owned and managed properties, filed for an IPO. It plans to list on the NYSE (SMST). http://axios.link/tmJ9
Liquidity Events
• Commercial Metals Co. (NYSE: CMC) completed its $550m purchase of Tensar, an Alpharetta, Ga.-based provider of geogrid products, from Castle Harlan. www.tensarcorp.com
• Gores Group agreed to sell GatesAir, a Mason, Ohio-based provider of content delivery solutions for radio and TV, to France's Thomson Broadcast. www.gatesair.com
⚡ Shell (NYSE: SHEL) is in talks to buy Indian renewable power producer Sprng Energy for around $1.8b (including debt) from Actis, per Bloomberg. http://axios.link/pZoD
Fundraising
• KKR raised $19b for its latest North American buyout fund. http://axios.link/idzZ
• ADM Capital Europe, a European food and agriculture PE firm, is raising $600m for its second flagship fund and $200m for a late-stage agrifood VC fund, per WSJ. http://axios.link/J3ff
• Ardian raised $5.25b for its eighth infrastructure PE secondaries fund. www.adian.com
• Growth Catalyst Partners, a Chicago-based midmarket PE firm, raised $270m for its second fund. www.growthcatalystpartners.com
• Tiger Infrastructure Partners raised $1.25b for its third fund. www.tigerinfrastructure.com
It's Personnel
🚑 Rajat Bhatia is leaving BofA to join RBC Capital Markets as a managing director of healthcare investment banking, per Bloomberg. http://axios.link/0q0x
• Bob Feeser, a former executive with packaging firm WestRock, joined Mill Rock Capital as a senior partner. He also will serve as vice chair of portfolio company Mill Rock Packaging. www.millrockcapital.com
• Daniel Wong joined Stonepeak as a senior managing director and head of Europe. He previously was global co-head of Macquarie Capital. www.stonepeak.com
Final Numbers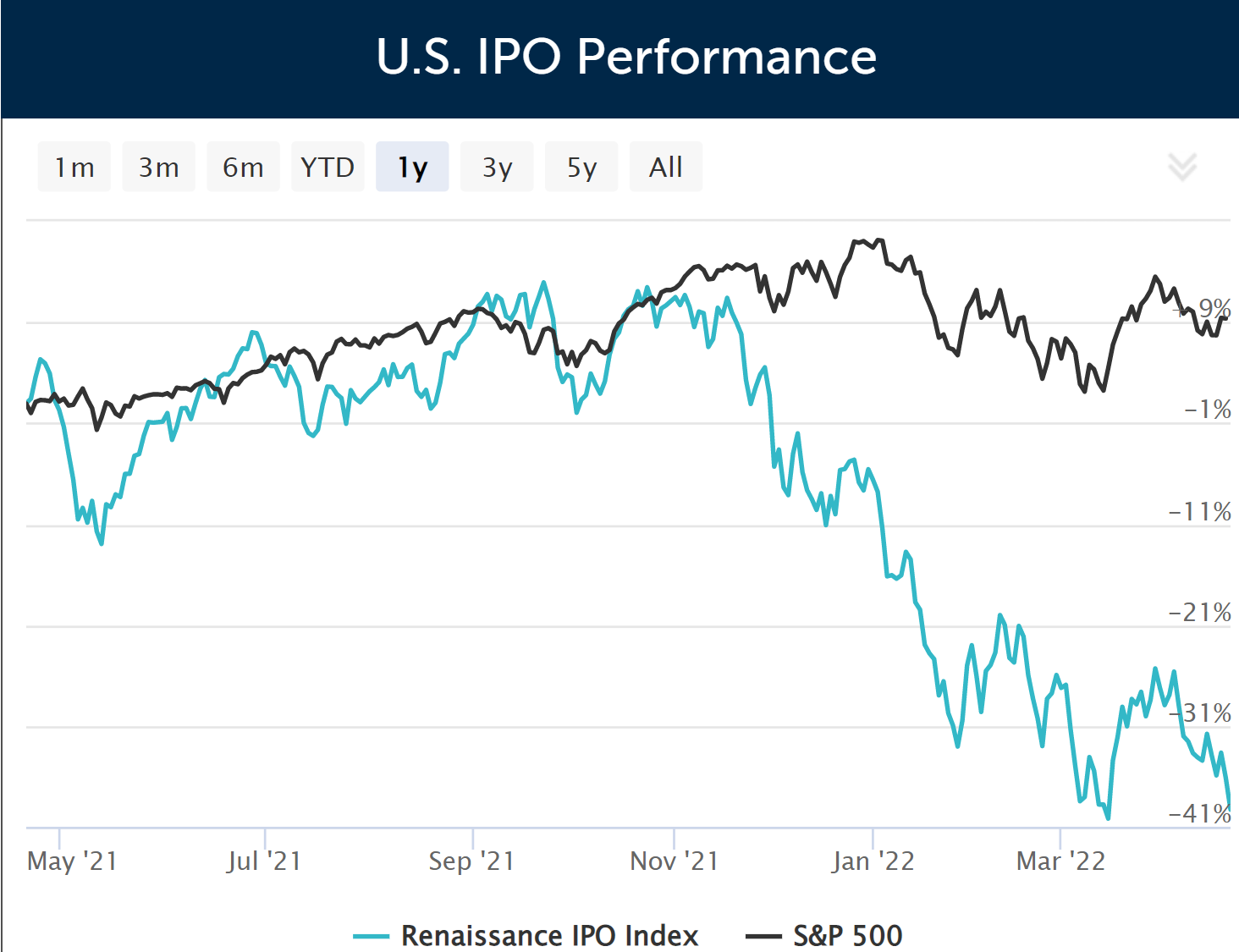 The IPO window continues to be mostly closed, as investors are preferring to buy old names at a discount than bet on new issuers.
This week's IPO calendar includes just two small issuers, Belite Bio and Tenon Medical, which plan to raise a combined $56 million.
✅ Thanks for reading Axios Pro Rata! Please ask your friends, colleagues and Twitter bankers to sign up.