Axios Pro Rata
March 02, 2021
Top of the Morning
President Biden recently gave a pass to Saudi Crown Prince Mohammed bin Salman for his role in the 2018 murder of journalist and U.S. resident Jamal Khashoggi. In so doing, he also gave a pass to U.S. companies and investment firms that continue to do business with MBS.
Why it matters: The wheels of capitalism and convenience ran over justice.
Driving the news: The Office of the Director of National Intelligence last week released an unclassified report assessing that MBS approved the operation to "capture or kill" Khashoggi, despite public denials from MBS.
The White House announced sanctions on numerous individuals and entities implicated in the murder, but not on MBS.
During a November 2019 Democratic debate, Biden said: "Khashoggi was, in fact, murdered and dismembered, and I believe on the order of the crown prince. And I would make it very clear we were not going to, in fact, sell more weapons to them, we were going to, in fact, make them pay the price and make them, in fact, the pariah that they are."
No sanctions were placed on the Public Investment Fund, the Saudi sovereign wealth fund controlled by MBS. PIF was not cited in the ODNI report, but documents disclosed in a Canadian court case allege that a PIF portfolio company owned two private jets used by Khashoggi assassins, per CNN.
Big money: PIF, with around $350 billion in assets under management, is a giant player in the U.S. investment markets.
For example, it's the majority owner of California electric vehicle maker Lucid Motors, and is anchoring a $2.5 billion PIPE for Lucid's record-breaking SPAC deal.
It's still the third-largest outside shareholder in Uber, and maintains a board seat.
It's also invested hundreds of millions of dollars into such private companies as Magic Leap, Penske Media and real estate giant The Related Cos. Plus it's an indirect director in many more, via its role as the largest outside investor in SoftBank Vision Fund and The Blackstone Group's infrastructure fund.
It seemed in late 2018 that Khashoggi's murder might cause U.S. firms to back away from PIF, particularly judging by how many CEOs bailed on the so-called "Davos in the Desert" conference. But it seems the courage of their convictions was contingent on political cover they never got, first from former President Trump and now from Biden.
Many of those conference cancelers returned for this year's virtual event, apparently deciding there's a two-year statute of limitation on murder.
The head of one large American company with Saudi ties told me prior to the report's release that if the U.S. government put sanctions on PIF, of course the company would comply. Otherwise, he argued, it'll take money from the Saudis, just as it would from any other U.S. ally.
The bottom line, per Axios World editor David Lawler: "Biden decided it was better to preserve a relationship with MBS than send a message by cutting him off. U.S. companies now have license to follow suit."
The BFD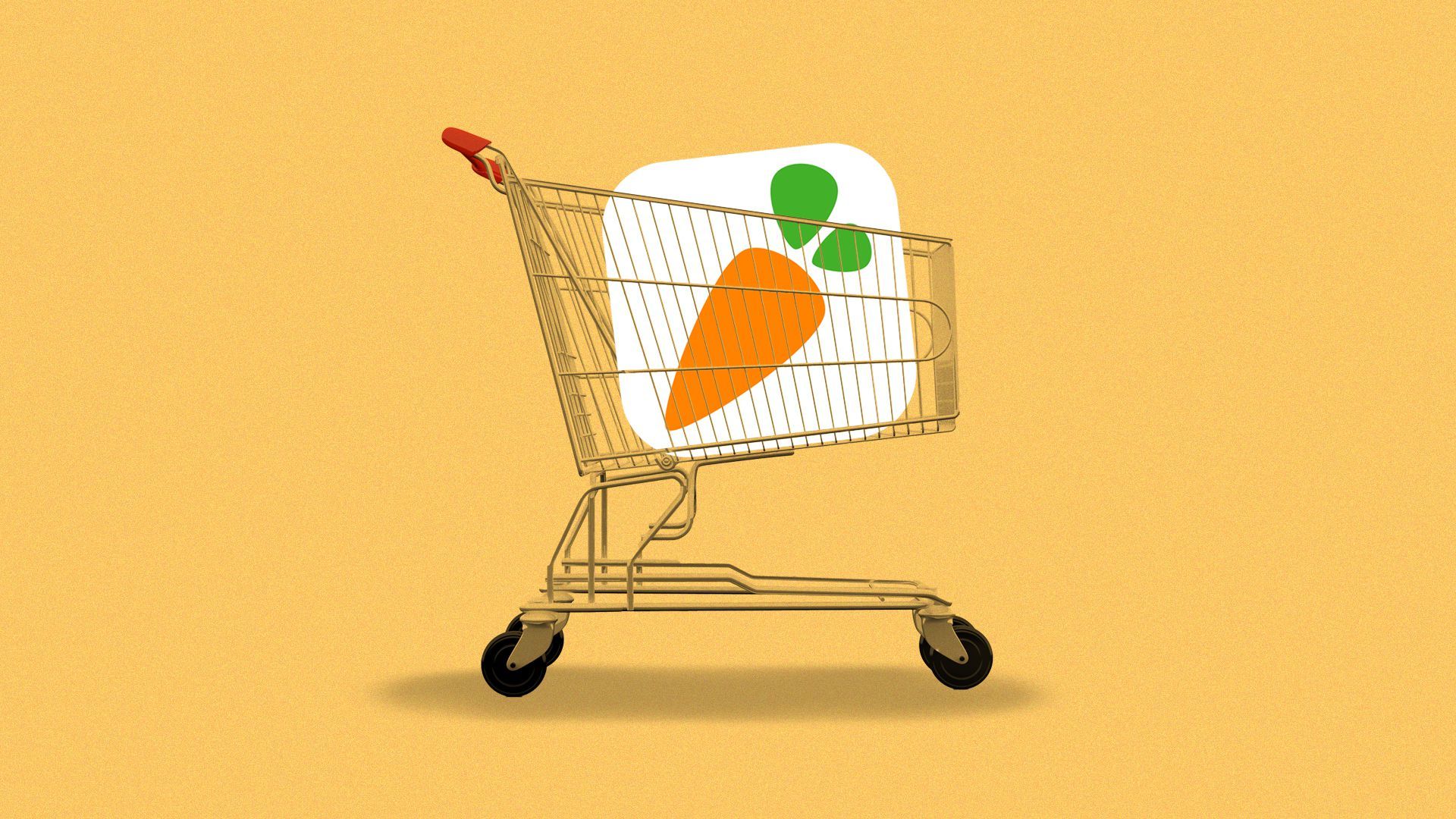 Instacart, a San Francisco-based grocery delivery company, raised $265 million in new funding from existing investors at a $39 billion valuation.
Why it's the BFD: Because VC largesse for grocery delivery isn't just a North American thing. Within the past 24 hours we learned: Rohlik, the Instacart of Eastern Europe, bagged €190 million; Flink, a German grocery deliverer that utilizes "dark stores," got seeded with $52 million; and Crisp, an Amsterdam-based online grocer focused on fresh produce, added €30 million.
Instacart backers include Andreessen Horowitz, Sequoia Capital, D1 Capital Partners, Fidelity and T. Rowe Price.
The bottom line: This feels like a pre-IPO round, particularly given that Instacart recently added a pair of independent directors. But so did a $200 million injection last fall at a $17.7 billion valuation. And the $325 million deal last summer at a $13.8 billion valuation. At the very least, it gives Instacart more firepower as deep-pocketed rivals like DoorDash encroach on grocery and as Instacart expands into areas like alcohol and non-food retail delivery.
Venture Capital Deals
🚑 Beam Dental, a Columbus, Ohio-based dental insurer, raised $80 million in Series E funding. Mercato Partners led, and was joined by Drive Capital, Georgian, Nationwide Insurance and Breakout Capital. http://axios.link/Jj7B
🚑 Fuzzy, a membership-based pet health care startup, raised $18 million in Series B funding. Greycroft led, and was joined by Gaingels and return backers Crosscut Ventures and Matrix Partners. www.yourfuzzy.com
• Apna, an Indian low-skilled jobs app, raised $12.5 million. Sequoia Capital India and Greenoaks Capital co-led, and were joined by insiders Lightspeed India and Rocketship VC. http://axios.link/4BLN
• Around, a Redwood City, Calif.-based video collaboration startup, raised $10 million in Series A funding. Wing VC led, and was joined by Forerunner Ventures, Slack Fund, Initialized Capital, Credo and Floodgate. www.around.co
• Stony Creek Colors, a Goodlettsville, Tenn.-based maker of natural dyes, raised $9 million from Lewis & Clark Ventures. www.stonecreekcolors.com
• Rollick, an Austin, Texas-based online marketplace for recreational vehicles, raised $8.5 million. Sandbox Insurtech Ventures and TechNexus co-led, and were joined by Dallas VC, Alumni Ventures, London Tech Club, LiveOak Venture Partners, Silverton Partners, Autotech Ventures, ManchesterStory, Anthem Venture Partners and Capital Factory. http://axios.link/u6Mq
• Looped, a New York-based virtual venue platform, raised $7.7 million in seed funding. Will Ventures led, and was joined by Rocketship VC, Alpaca VC, Forefront Venture Partners, HOF Capital, Toy Ventures, Intuition Capital, Predictive VC and Ketch Ventures. www.loopedlive.com
🚑 Reperio Health, a Portland, Ore.-based only at-home health assessment and biometric screening system, raised $6 million in seed funding. Caduceus Capital Partners and Rogue Venture Partners co-led, and were joined by Liquid 2 Ventures and G Ventures. www.reperiohealth.com
• Cipher Skin, a Denver-based developer of wearables for tracking movement, raised $5 million in Series A funding. Boyett Group led, and was joined by Draper Capital, Tribe Capital and TKC Capital. www.cipherskin.com
• Humaans, a London-based HR platform, raised $5 million in seed funding from YC, Moonfire, Frontline Ventures and Lachy Groom. http://axios.link/yLcF
• Mapped, a Los Angeles-based data infrastructure platform for commercial and industrial IoT, raised $3 million in seed funding from Greycroft and ANIMO Ventures. www.mapped.com
• Surreal, a Chinese synthetic media startup, raised more than $2 million in seed funding from Sequoia Capital China and ZhenFund. http://axios.link/YJEl
• BrioHR, a Malaysian HR management platform, raised $1.3 million in seed funding. Global Founders Capital led, and was joined by East Ventures. http://axios.link/KotQ
Private Equity Deals
• Apollo Global Management has expressed interest in buying hobby retailer Michaels (Nasdaq: MIK), per the NY Times. http://axios.link/TxYV
• Blue Wolf Capital Partners bought Colson Group, an Oakbrook Terrace, Ill.-based provider of caster and wheel products, from Sentinel Capital Partners. www.colsongroup.com
• GTreasury, a Buffalo Grove, Ill.-based treasury management platform backed by Mainsail Partners, acquired Coprocess, a provider of intercompany netting solutions. www.gtreasury.com
🚑 LLR Partners invested in Azalea Health, an Atlanta-based provider of cloud software for community health orgs. http://axios.link/yvbY
• OpenGate Capital agreed to buy Treality, a provider of visualization solutions for the global defense, air traffic control and security markets, from Transdigm (NYSE: TDG). www.trealitysvs.com
• Pathstone, a family office-focused investment advisory owned by Lovell Minnick, acquired Cornerstone Capital Group, an advisor focused on environment and social impact investing. www.pathstone.com
• Petershill, a unit of Goldman Sachs, purchased a passive minority stake in private equity firm Parthenon Capital. www.parthenoncapital.com
🚑 PromptCare, aNew Providence, N.J. -based portfolio company of The Halifax Group, acquired NBN Infusions, a Cherry Hill, N.J.-based provider of home infusion and respiratory therapy services. www.promptcare.net
🚑 Revelstoke Capital Partners invested in Vet's Best Friend, a Waltham, Mass.-based chain of veterinary clinics and hospitals. www.vetsbestfriend.com
• The Sterling Group acquired McKinney, Texas-based fencing company Binford Supply from U.S. Fence, a portfolio company of Building Industry Partners. www.binfordsuppy.com
• Vungle, a San Francisco-based mobile ad platform owned by The Blackstone Group, acquired GameRefinery, a Finnish provider of mobile gaming analytics SaaS. Sellers include VisionPlus. www.vungle.com
Public Offerings
• Compass, a New York-based online platform for real estate purchases and rentals, filed for a $500 million IPO. It plans to list on the NYSE (COMP) and reports a $270 million net loss on $3.72 billion in revenue for 2020. It raised around $1.6 billion in VC funding from firms like SoftBank Vision Fund, Dragoneer, CPPIB, Qatar Investment Authority, IVP, Thrive Capital, Founders Fund and .406 Ventures. http://axios.link/SEHk
🚑 Oscar, a New York-based health insurer, increased its IPO price range from $32-$34 to $36-$38. It still plans to offer 31 million shares and list on the NYSE (OSCR). Backers include Alphabet, Thrive Capital, Founders Fund, Formation8, Fidelity, General Catalyst and Khosla Ventures. http://axios.link/xbvq
• SEMrush, a Boston-based digital marketing analytics platform, filed for a $100 million IPO. It plans to list on the NYSE (SEMR), reports a $7 million net loss on $125 million in revenue for 2020 and raised $47 million in VC funding from firms like Greycroft (9.4% pre-IPO stake), Siguler Guff, e.ventures and Russia Partners. http://axios.link/Qfwp
SPAC Stuff
Note: There were more than a dozen SPACs that priced IPOs since yesterday's issue. And, since this section has become painfully long and since almost every SPAC manages to price its IPO (albeit sometimes at a different amount than its target), I'm taking a break from reporting on all the pricings. If this makes you particularly happy or sad, let me know via email...
• Beacon Street Group, a subscription service for financial research, agreed to go public at a $3 billion valuation via a reverse merger with Ascendant Digital Acquisition (NYSE: ACND). http://axios.link/X0PK
• QQMPLX, a Tysons, Va.-based provider of cyber risk analytics, agreed to go public at a $1.4 billion valuation via reverse merger with Tailwind Acquisition Corp. (NYSE: TWND), a SPAC chaired by Casper CEO Philip Krim. The deal includes a $180 million PIPE led by Bill Foley's Cannae Holdings, while QQMPLX had raised nearly $80 million in VC funding from Cannae, Fine Day Ventures and Motive Partners. http://axios.link/I4Jl
• Acamar Partners Acquisition II, a SPAC led by the chairman of travel retailer Dufry, filed for a $350 million IPO. http://axios.link/j02t
🚑 BrightSpark Capitol, a consumer health and wellness SPAC co-led by Helena Foulkes (ex-Hudson's Bay, CVS), filed for a $200 million IPO. http://axios.link/pTGB
• Corner Ventures filed for a pair of tech SPACs, targeting $450 million and $175 million. http://axios.link/tV9Z
• Do It Again, a restaurant SPAC led by former Sonic CEO Clifford Hudson, filed for a $125 million SPAC. http://axios.link/nKXu
• Moelis & Co. filed to raise a total of $1.2 billion via three new SPACs. http://axios.link/6yQM
🚑 Revolution Healthcare Acquisition, a SPAC formed by General Catalyst and Arch Venture Partners, filed for a $500 million IPO. http://axios.link/oQ4L
• Target Global Acquisition I, a European and Israeli tech SPAC formed by Target Global, filed for a $250 million IPO. http://axios.link/qiHn
Liquidity Events
🚑 BC Partners is seeking a buyer for Dutch generic drugmaker Pharmathen, which could fetch €1.5 billion, per Bloomberg. http://axios.link/xy1J
• EQT agreed to sell Dorner, a Hartland, Wis.-based maker of conveyor solutions, to Columbus McKinnon (Nasdaq: CMCO) for $485 million. http://axios.link/PuMk
🚑 Hologic (Nasdaq: HOLG) agreed to buy Diagenode, a Belgian developer of molecular assays and epigenetics-based tests, for €130 million. Diagenode had raised over $8 million in VC funding from firms like Noshaq and Capricorn Venture Partners. http://axios.link/UodK
• TeamViewer of Germany acquired Upskill, a Vienna, Va.-based maker of AR applications for frontline workers. Upskill had raised around $65 million, plus received a PPP loan, from backers like NEA, Autonomy Ventures, GE Ventures, Accenture Ventures, Boeing and Cisco. http://axios.link/Nh5P
More M&A
⛽ Baker Hughes (NYSE: BKR) and Akastor (Oslo: AKAST) agreed to merge their offshore oil drilling equipment units. http://axios.link/KzDA
It's Personnel
• Mark Gallogly, co-founder of Centerbridge Partners and a longtime Blackstone Group exec, is joining John Kerry's international climate team, Axios' Hans Nichols and Ben Geman report. Gallogly retired from Centerbridge at the end of 2020.
• Geoffrey Bailhache joined law firm Simpson Thacher & Bartlett as a London-based partner focused on private equity. He previously was with the Blackstone Group. www.stblaw.com
• Cassio Casseb, former CEO of Grupo Pao de Acucar and former president of Banco de Brasil, joined Lexington Partners as a Brazil-focused senior adviser. www.lexingtonpartners.com
• Vaughn Crowe joined Newark Venture Partners as a managing partner. He previously was with Wesray Social. www.newarkventurepartners.com
• Gemspring Capital promoted Alex Shakibnia to managing director. www.gemspring.com
• Winston Meade joined Isos Capital Management as a managing director. He previously led telecom I-banking at Stephens. www.isoscap.com
• Rafael Telahun joined TA Associates as a Menlo Park-based vice president. He previously was with CVC Capital Partners. www.ta.com
Final Numbers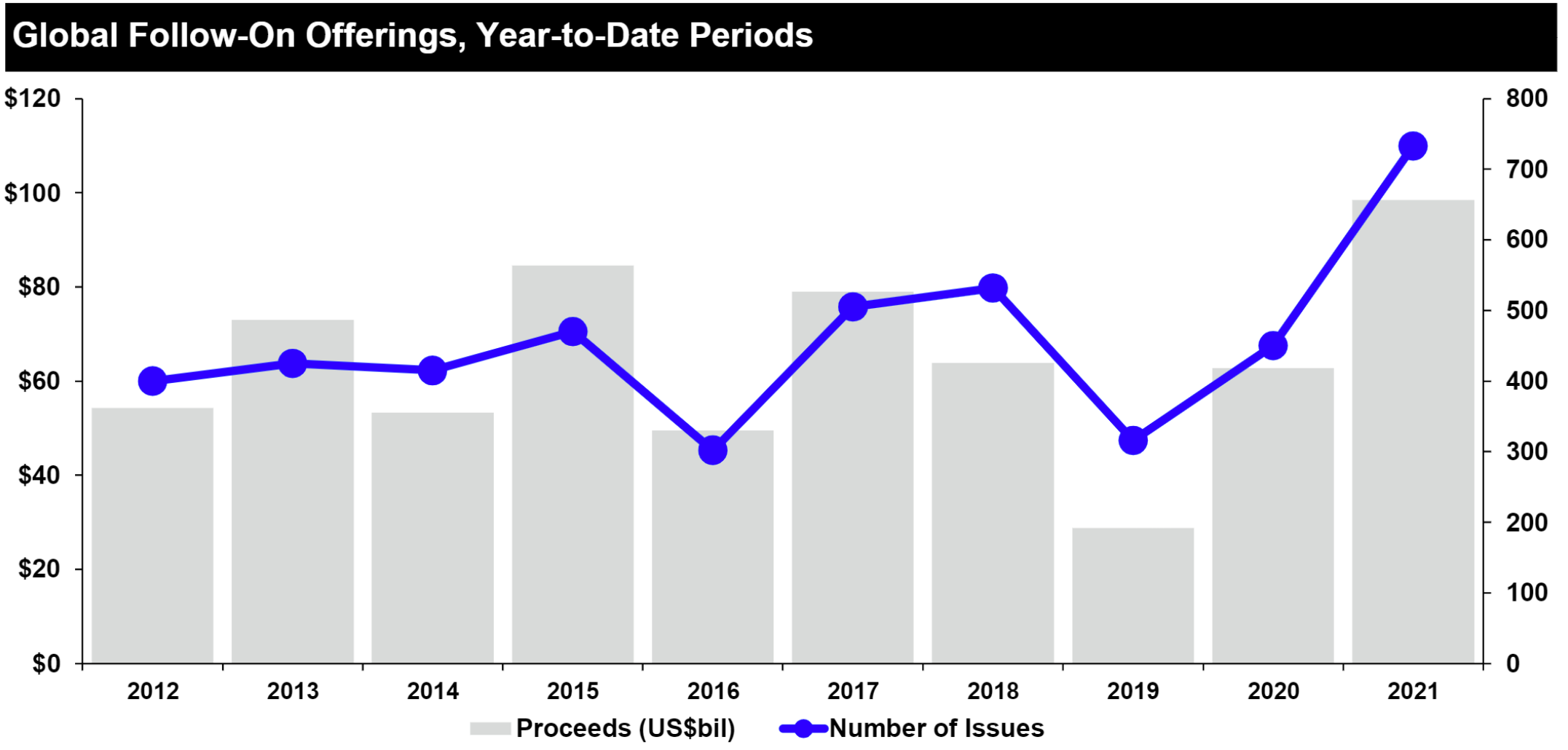 Axios Pro Rata spends lots of time focused on initial public offerings (IPOs), but we should note that follow-on public offerings are having a moment.
Global follow-ons are up 57% year-to-date, hitting a record $98.5 billion, per Refinitiv.
✔️ Thanks for reading Axios Pro Rata! Please ask your friends, colleagues and grocery delivery drivers to sign up.