Axios Pro Rata
June 17, 2019
Happy Monday, readers! Reminder that Dan is off this week so I'll be your cruise director—send me tips at [email protected] or via Twitter DM.
🚨1 contest thing: Axios is having a Women's World Cup bracket. Enter your email to get  your unique link to refer 1 friend to Pro Rata. Both you and your friend will be added to the list of bracket participants on Thursday.
If you win, you and your friend will both receive a team soccer jersey of your choice and be featured across Axios newsletters after the championship game.
Top of the Morning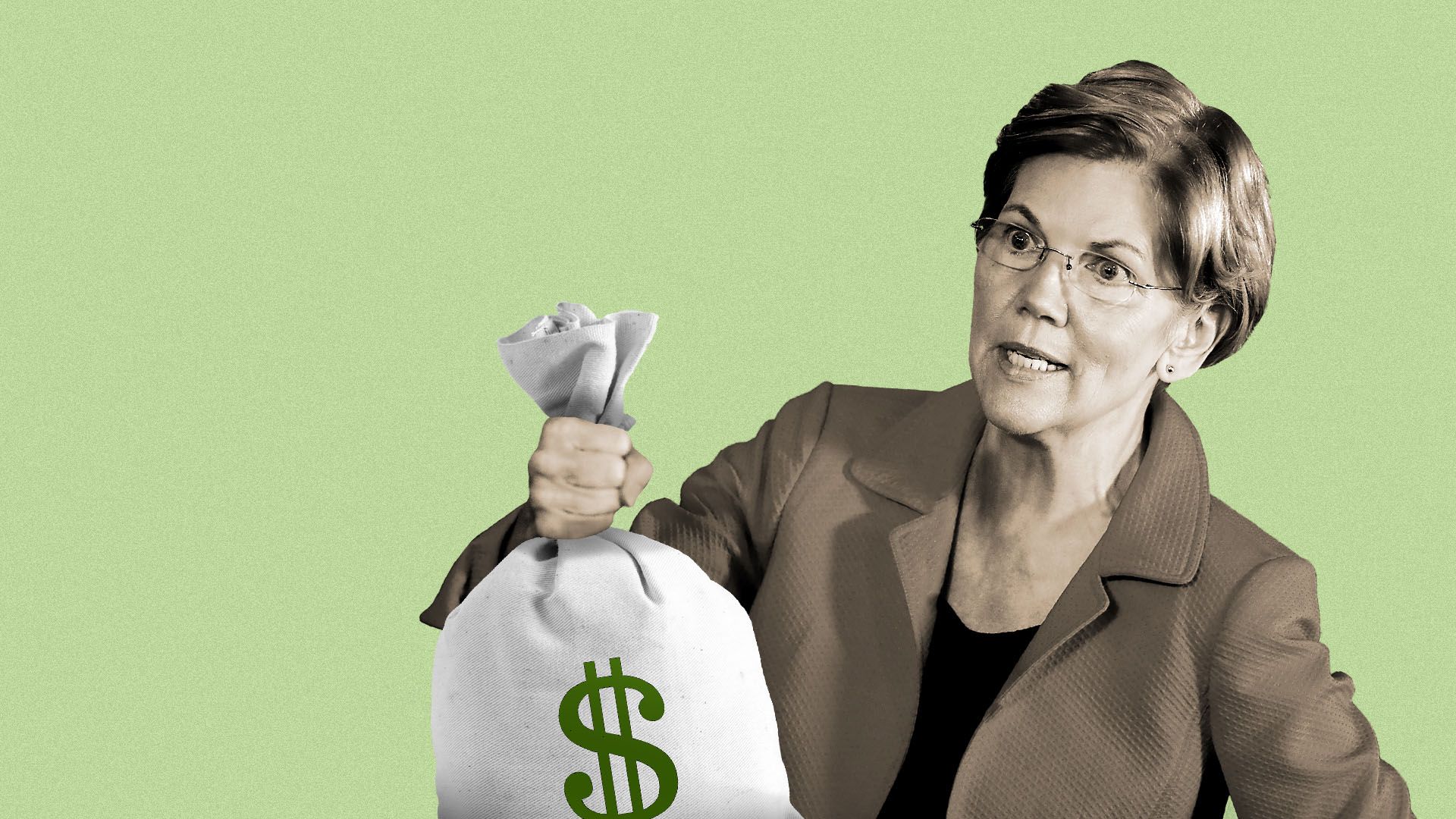 Sen. Elizabeth Warren made waves in Silicon Valley on Friday when she announced a plan to create a $7 billion fund to offer startup capital to entrepreneurs of color.
The details: The federal fund would be run by states and municipalities, and the grants would go to entrepreneurs who are eligible for the Small Business Administration's existing 8(a) program and who have less than $100,000 in household wealth.
The program would be funded by Warren's proposed "Ultra-Millionaire Tax" (cue the Robin Hood imagery).
Why it matters: Warren drew a lot of praise (at least on Twitter) for addressing the racial gap in funding for entrepreneurs. People observed that diversification efforts by Silicon Valley investors have tended to focus on gender — an important focus, but one that falls short of tackling all the disparities.
Yes, but: Warren's plan is unlikely to actually change much in Silicon Valley. Then again, it doesn't really have to: Tech startups are far from the only manifestation of American entrepreneurship. People start small businesses every day in all kinds of industries, and Warren's fund could be a huge boost to them.
• 1 Goldman Sachs thing: The investment bank is reportedly pulling together parts of it business into a new private investment division likely to have about $140 billion in assets, according to the WSJ.
The core of the new division will reportedly be Goldman's existing merchant-banking arm, along with its special-situations group, and its strategic investing group. The division, which reportedly plans to raise outside capital, will also include some real-estate and private-equity groups from Goldman's asset-management division, which invests clients' money.
• Divestment dilemma: Calpers is increasingly rethinking its social activism-based investing according to the WSJ. The reason: Finances.
The BFD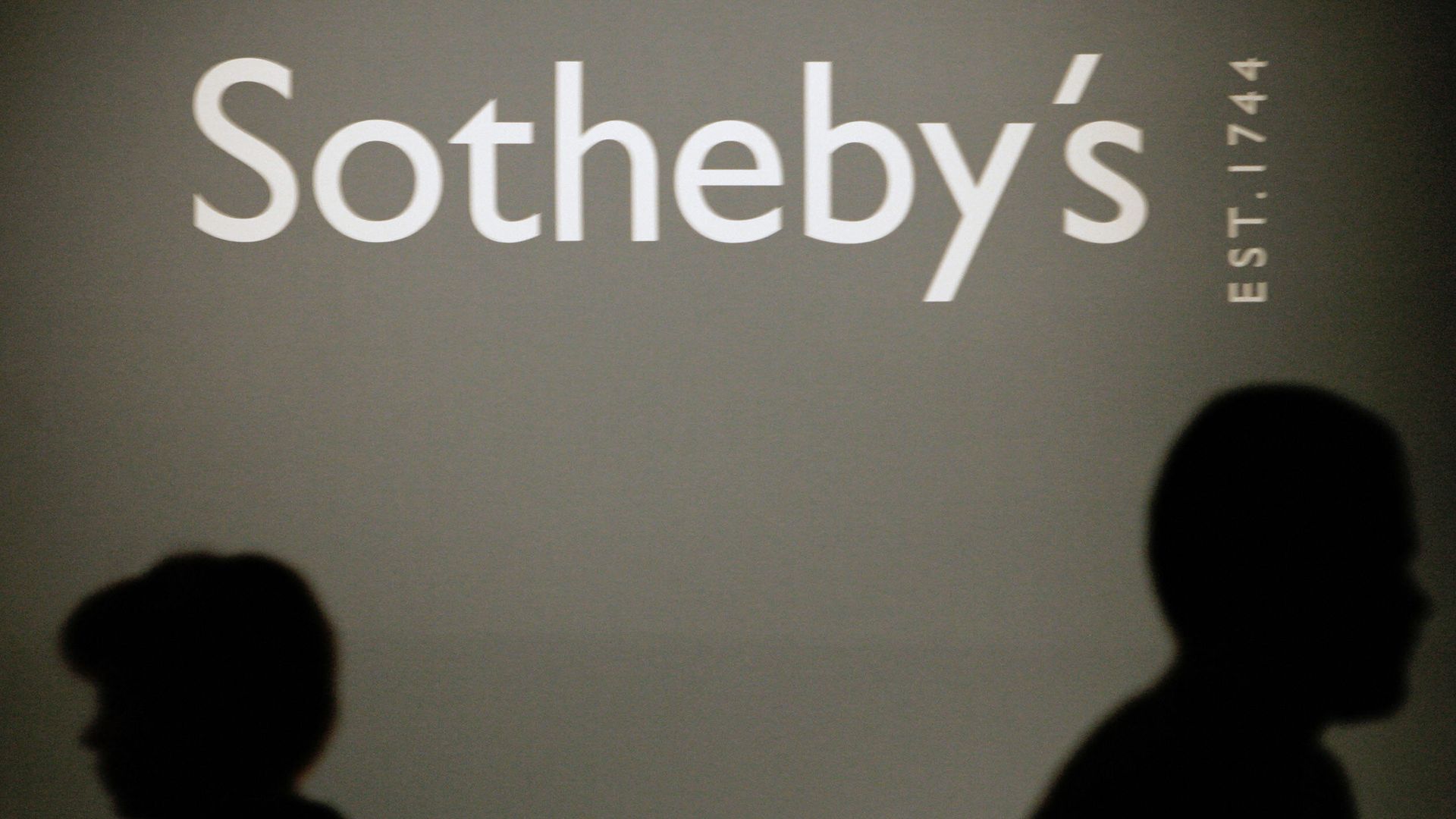 Sotheby's is being sold to French-Israeli cable mogul Patrick Drahi, who is paying $3.7 billion for the auction house. That's 60% more than it was worth on the public markets at the close of trade on Friday.
Why it's the BFD: Under private ownership, Sotheby's might be better able to compete with archrival Christie's. Drahi won't stop at $3.7 billion in his attempt to equalize the two houses.
Bottom line: "Buying Sotheby's gives Drahi much more clout among the global ultra-wealthy than he would get from buying $3.7 billion of art. It will also increase his name recognition in the U.S., where he has long harbored ambitions to build a major cable empire." —Felix Salmon, Axios.
Venture Capital Deals
🚑 Collective Health, a San Francisco-based maker of employer health benefits management software, has raised $205 million in new funding led by SoftBank's Vision Fund, with DFJ Growth, PSP Investments, and existing investors including Founders Fund, GV, Maverick Ventures, NEA, Sun Life also participating. http://axios.link/2mzE
• PayFit, a France-based HR and payroll software company, is raising $79 million (€70 million) in new funding funding from Eurazeo and Bpifrance. http://axios.link/hnvy
• Bounce, an India-based scooter rental startup, has raised $72 million in Series C funding led by B Capital and Falcon Edge Capital, with Chiratae Ventures, Maverick Ventures, Omidyar Network India, Qualcomm Ventures, and existing investors Sequoia Capital India and Accel Partners India also participating. http://axios.link/CMyZ
🚑 Quartet Health, a New York-based behavioral health startup, has raised a $60 million in Series D funding led by Centene. http://axios.link/zNLo
• PeopleFund, a South Korea-based peer-to-peer lending startup, has raised $35 million for a Series B extension led by Lending Ark Asia Secured Private Debt Fund, with Shinhan Invest, D3 Jubilee and other existing investors also participating. http://axios.link/VQ6V
• Ironscales, an Israel-based maker of anti-phishing software, has raised $15 million in Series B funding led by K1 Investment Management. http://axios.link/zwKz
• Clockwise, a San Francisco-based workplace calendar software startup, has raised $11 million in Series A funding led by Greylock Partners and Accel, with Slack Fund, Michael Ovitz, Ellen Levy, George Hu, Soraya Darabi, SV Angel and Jay Simons also participating. http://axios.link/n11Z
• IRL, a San Francisco-based social calendar startup, has raised $8 million in Series A funding led by Goodwater Capital, withFounders Fund and Kleiner Perkins also participating. http://axios.link/PPbA
• Modal, a San Francisco-based company formerly known as Drive Motors and maker of e-commerce software for auto dealers, has raised $5 million in new funding from Peter Thiel, IDOM Inc., and Ally Ventures. http://axios.link/cPUo
Private Equity Deals
• The Canada Pension Plan Investment Board is purchasing a $150 million stake in Delhiver, an India-based logistics startup, via a secondary sale from Multiples Alternate Asset Management and possibly Nexus Venture Partners at a $1.5 billion valuation, according to the Economic Times. http://axios.link/44q5
• Berkshire Partners and Warburg Pincus have agreed to recapitalize Consolidated Precision Products, a Cleveland-based maker of complex cast products. http://axios.link/0YEZ
🚑 Nordic Capital has agreed to acquire a majority stake in ArisGlobal, a Coral Gables, Fla.-based healthcare software company, in a $700 million deal that includes debt, according to the WSJ.
🚑 WindRose Health Investors has completed the recapitalization of Ovation Fertility, a Los Angeles-based national network of reproductive health clinics, by investment funds managed by Morgan Stanley Capital Partners. www.ovationfertility.com
🐶 Ares Management Corp and OMERS Private Equity have agreed to sell National Veterinary Associates, an Agoura Hills, Calif.-based veterinary and pet care services organization, to JAB Investors. www.nva.com
• Unifrax, backed by Clearlake Capital Group, has acquired Stellar Materials, a Boca Raton, Fla.-based manufacturer of specialty chemistries and materials. http://axios.link/n4WX
Public Offerings
• Ping An Insurance's OneConnect financial technology unit is leaning toward New York over Hong Kong for its IPO, sources tell Reuters. It's been planning a deal that could raise up to $1 billion and could list as soon as September.
• The RealReal, a San Francisco-based luxury consignment marketplace, plans to raise $270 million by offering 15 million shares at a price range of $17 to $19. At the midpoint of the range, it would have a fully diluted market value of $1.6 billion. The company plans to list on the Nasdaq under the symbol REAL. Credit Suisse, BofA Merrill Lynch and UBS Investment Bank are the joint bookrunners on the deal. It is expected to price during the week of June 24. http://axios.link/33zW
🚑 BridgeBio Pharma, a Palo Alto, Calif.-based Phase 3 biotech company developing therapies for genetic diseases, plans to raise $225 million by offering 15 million shares at a price range of $14 to $16. At the midpoint of the proposed range, BridgeBio Pharma would command a fully diluted market value of $1.7 billion. It plans to list on the Nasdaq under the symbol BBIO. J.P. Morgan, Goldman Sachs, Jefferies, SVB Leerink, KKR, Piper Jaffray, Mizuho Securities, BMO Capital Markets and Raymond James are the joint bookrunners on the deal. The company is expected to price in the week of June 24. http://axios.link/KuIz
🚑 Adaptive Biotechnologies, a Seattle-based maker of genetic immunosequencing tests used to diagnose and treat diseases, plans to raise $200 million by offering 12.5 million shares at a price range of $15 to $17. At the midpoint of the proposed range, Adaptive Biotechnologies would command a fully diluted market value of $2.1 billion. The company plans to list on the Nasdaq under the symbol ADPT. Goldman Sachs, J.P. Morgan and BofA Merrill Lynch are the joint bookrunners on the deal. It's expected to price in the week of June 24. http://axios.link/OnFn
🚑 Karuna Therapeutics, a Boston-based Phase 2 biotech company developing therapies for schizophrenia and other CNS disorders, plans to raise $70 million by offering 4.4 million shares at a price range of $15 to $17. At the midpoint of the proposed range, Karuna Therapeutics would command a fully diluted market value of $377 million. The company plans to list on the Nasdaq under the symbol KRTX. Goldman Sachs, Citi and Wells Fargo Securities are the joint bookrunners on the deal. It's expected to price in the week of June 24. http://axios.link/Y0aH
• Priam Properties, a Nashville-based REIT focused on office properties in the Midwest and Southeast, plans to raise $171 million by offering 9 million shares at a price range of $18 to $20. At the midpoint of the proposed range, Priam Properties would command a fully diluted market value of $222 million. The company plans to list on the NYSE under the symbol PRMI. BofA Merrill Lynch, Baird and RBC Capital Markets are the joint bookrunners on the deal. It's expected to price in the week of June 24. http://axios.link/HQtp
More M&A
🚑 Pfizer has agreed to acquire Array BioPharma, a Boulder, Colo.-based maker of cancer treatments, for roughly $11 billion. http://axios.link/zROb
It's Personnel
• David Perotti has joined Align Capital Partners' Dallas office as operating partner. He wa previously CEO eRecruit. www.aligncp.com
• Jeff Jacobson has joined private equity firm Siris as executive partner. He was previously the CEO of Xerox. www.siris.com
• Steve Chang and Andy Calmone have joined Access Holdings, a Baltimore-based private investment firm focused on the North American middle market, as partner and principal, respectively. Previously, Chang was a managing director at LLR Partners and Calmone was CFO at SCP Dental Services. www.accessholdings.com
Final Numbers