May 13, 2022
Top of the Morning
Before dawn on Friday the 13th, Elon Musk may have murdered his Twitter takeover.
Driving the news: The mercurial Musk at 5:44am ET tweeted: "Twitter deal temporarily on hold pending details supporting calculation that spam/fake accounts do indeed represent less than 5% of users."
He also linked to a Reuters story about that spam estimate, which was from nearly two weeks ago.
At 7:50am, Musk added: "Still committed to acquisition."
If Musk really needs details supporting that calculation, then why not privately ask the management team with which he's barely had any contact? Or the board? And then, if the numbers don't check out, walk away. Maybe he'd even have been able to get out of his $1 billion breakup fee, arguing that Twitter misrepresented user metrics.
He also could have conducted due diligence before agreeing to buy the company, which sources say is something acquirers sometimes do.
Instead, this only intensifies speculation that Musk has buyer's remorse. Not only because he arguably overpaid, but also because of the amount of paper value he's lost on Tesla stock (and possibly crypto holdings) since the Twitter deal was first announced.
There's a reason Twitter was trading around $10 per share lower than Musk's purchase price, which is way wider than typical merger arbitrage. (FYI: Musk isn't limited under a standstill agreement, so theoretically could buy discounted Twitter shares on the open market, but the poison pill remains in effect).
What to know: My colleague Felix Salmon called this situation a "clown car" during a phone conversation yesterday, harkening back to an old Mark Zuckerberg comment, after Twitter CEO Parag Agrawal canned two senior product executives and announced a hiring freeze. Again, that was yesterday.
At the time, it felt like Agarwal was auditioning for Musk. Still does, but now he has much more credibility for the "I have a business to run and revenue targets to hit" line.
The bottom line: It's possible, perhaps even likely, that this is Musk's way of trying to renegotiate. But if so, it's creating a ton of short-term collateral damage.
Not only to Twitter and Musk's reputations, but also to the psyches of thousands of employees whose financial futures are being put in unnecessary flux. Remember, lots of these people have options that accelerate if the deal closes. And others could be needing to find new jobs, right as the tech industry appears to be contracting.
The BFD
Sam Bankman-Fried, founder and CEO of crypto exchange FTX, disclosed that he's acquired a 7.6% stake in retail brokerage app Robinhood (Nasdaq: HOOD).
Why it's the BFD: This is a passive stake, but it's hard not to view this as a de facto activist position or a toehold for acquisition optionality. Particularly as FTX and Robinhood continue to crowd in on the other's business. One caveat, however, is that Robinhood's co-founders would control any vote.
Market reax: Robinhood shares this morning opened up 23% at $10.54 a piece. For context, its IPO price last August was $38 per share.
The bottom line: "Retail trading has fallen to pre-coronavirus pandemic levels in recent weeks, as a market sell-off and rising inflation have soured investor enthusiasm. Robinhood missed its first-quarter revenue targets after reporting a 73% decline in stock trading from the previous year. Its cryptocurrency trading revenue dropped 39%." — The Financial Times
Venture Capital Deals
• Gusto, a cloud HR services company valued by VCs at $9.5 billion, raised $55m in an extension to last year's Series E round. http://axios.link/2ZfE
• TIFIN, a New York-based wealth management tech startup, raised $109m in Series D funding from Franklin Resources, Motive Partners and Hamilton Lane. http://axios.link/IlvB
🌎 SkySpecs, an Ann Arbor, Mich.-based startup that monitors renewable energy assets like wind turbines, raised $80m. Goldman Sachs led, and was joined by NextEra Energy Resources and insiders Statkraft Ventures, Equinor Ventures, Evergy Ventures, UL Ventures and Huron River Ventures. http://axios.link/gqEl
• Carma, an Australian used car marketplace, raised US$52m in Series A funding led by General Catalyst. www.carma.com.au
• Body404, a Chinese designer fashion startup, raised $50m. Bertelsmann Asia Investments led, and was joined by insiders Kuanzhai VC and One Capital. http://axios.link/m3dn
🚑 Pulsenmore, an Israeli ultrasound-focused home care startup, secured more than $50m from GE Healthcare. http://axios.link/iAug
• Oasis, a Darien, Conn.-based digital securities marketplace, raised $27m in Series A funding from UDHC, Blizzard the Avalanche Fund, Inveniam, Redwood Trust, TrustLabs, Mirae, Gate Ventures, LedgerPrime, and StableNode. www.oasispromarkets.com
• StackHawk, a Denver-based app testing startup, raised $20.7m. Sapphire Ventures and Costanoa Ventures co-led, and were joined by Foundry Group. http://axios.link/08G5
• Cushion, an SF-based bank and credit card fee negotiation startup, raised $12m in Series A funding. Rose Park Advisors led, and was joined by Flourish Ventures, Vestigo Ventures, TSEF, Green Cow Venture Capital and CMFG. www.cushion.ai
🚑 MedznMore, a Pakistani online pharmacy, raised $11.5m from Integra Partners, Sturgeon Capital and Nunc Gestion. http://axios.link/6rKY
• Xage, a Palo Alto-based zero-trust identity and access management, raised $6m in new Series B funding from Overture (round total now $36m). www.xage.com
🚑 Ours, a telemental health startup focused on couples therapy, raised $5m in seed funding from TMV, Serena Ventures, Lakehouse Ventures, Collaborative Fund, GreyMatter and Andy Dunn. www.withours.com
Private Equity Deals
🚑 Harvest Partners is selling part of its stake in Dental Care Alliance, a Sarasota, Fla.-based dental support organization, to Mubadala, per Axios Pro. http://axios.link/fndw
• Schneider Electric (Paris: SU) has moved several bidders to the second round for its industrial automation and controls unit, which could fetch $1b, per Bloomberg. They include Cerberus Capital Management, Lone Star Funds, KKR, PAI Partners and Amphenol Corp. http://axios.link/BqDz
Public Offerings
🚑 Galderma, a Swiss dermatology company backed by EQT that could be valued at around $22b, is delaying IPO plans, per Reuters. http://axios.link/T53K
• Life Insurance Corp. of India raised $2.7b in what's India's largest-ever IPO. http://axios.link/FOUc
⚡ProFrac, a Willow Park, Texas-based provider of hydraulic fracturing products and services, raised $288m in its IPO. The company priced at $18 (below $21-$24 range) and will list on the Nasdaq (PFHC). http://axios.link/4Wch
SPAC Stuff
⚡ Amprius, a Fremont, Calif.-based maker of lithium-ion batteries, agreed to go public at an implied $939m enterprise valuation via Kensington Capital Acquisition Corp. IV (NYSE: KCAC.U). Amprius had raised around $190m in VC funding from firms like Kleiner Perkins, Trident Capital and Airbus Ventures. http://axios.link/kafI
• Excelsa Acquisition, a Latin American SPAC chaired by the founder of Intercorp Perú, withdrew registration for a $250m IPO. http://axios.link/3x7r
• Prime Number Acquisition I, a fintech SPAC led by Dongfeng Wang (CSO of Taoping), raised $60m in its IPO. http://axios.link/XcZ7
More M&A
• Intercontinental Exchange (NYSE: ICE), parent company of the New York Stock Exchange), launched an $8b bond sale to finance its $13.1b acquisition of Black Knight (NYSE: BKI), a Jacksonville, Fla-based mortgage lending software provider. http://axios.link/TAET
• Itau Unibanco Holding, a listed Brazilian lender, denied reports that it was in talks to sell a stake in XP Investimentos (Nasdaq: XP) to Charles Schwab (NYSE: SCHW). http://axios.link/wDwl
• Stoller, a Houston-based agricultural chemicals maker owned by the foundation of its late founder, is on the block for upwards of $1.5b (including debt), per Bloomberg. http://axios.link/Q3ja
• Swiggy, an Indian food delivery company valued by VCs at $10.7b, will pay $200m to buy Indian restaurant app Dineout. http://axios.link/Wjar
Fundraising
• 6th Man Ventures reportedly is raising $145m for its second crypto-focused fund. http://axios.link/sqej
• Carlyle is merging its energy and infrastructure investment groups. http://axios.link/QPA0
🌎 LBP AM, a French asset manager, held a €270m first close on a €500m-targeted private debt fund focused on climate impact. http://axios.link/srBa
It's Personnel
• Kyle Harrison has joined Contrary Capital to help launch a growth equity practice, he tells Axios. Harrison is a former partner with Index Ventures, and before that worked at Coatue and TCV. His deals have included GitLab, Toast and Persona.
He declined to discuss fundraising, but it's safe to say that Harrison's growth deals won't be coming out of Contrary's latest, $75 million fund.
• Jared Weinstein is stepping down as a partner with Thrive Capital, the New York-based VC firm he first joined in 2011, Axios has learned.
Final Numbers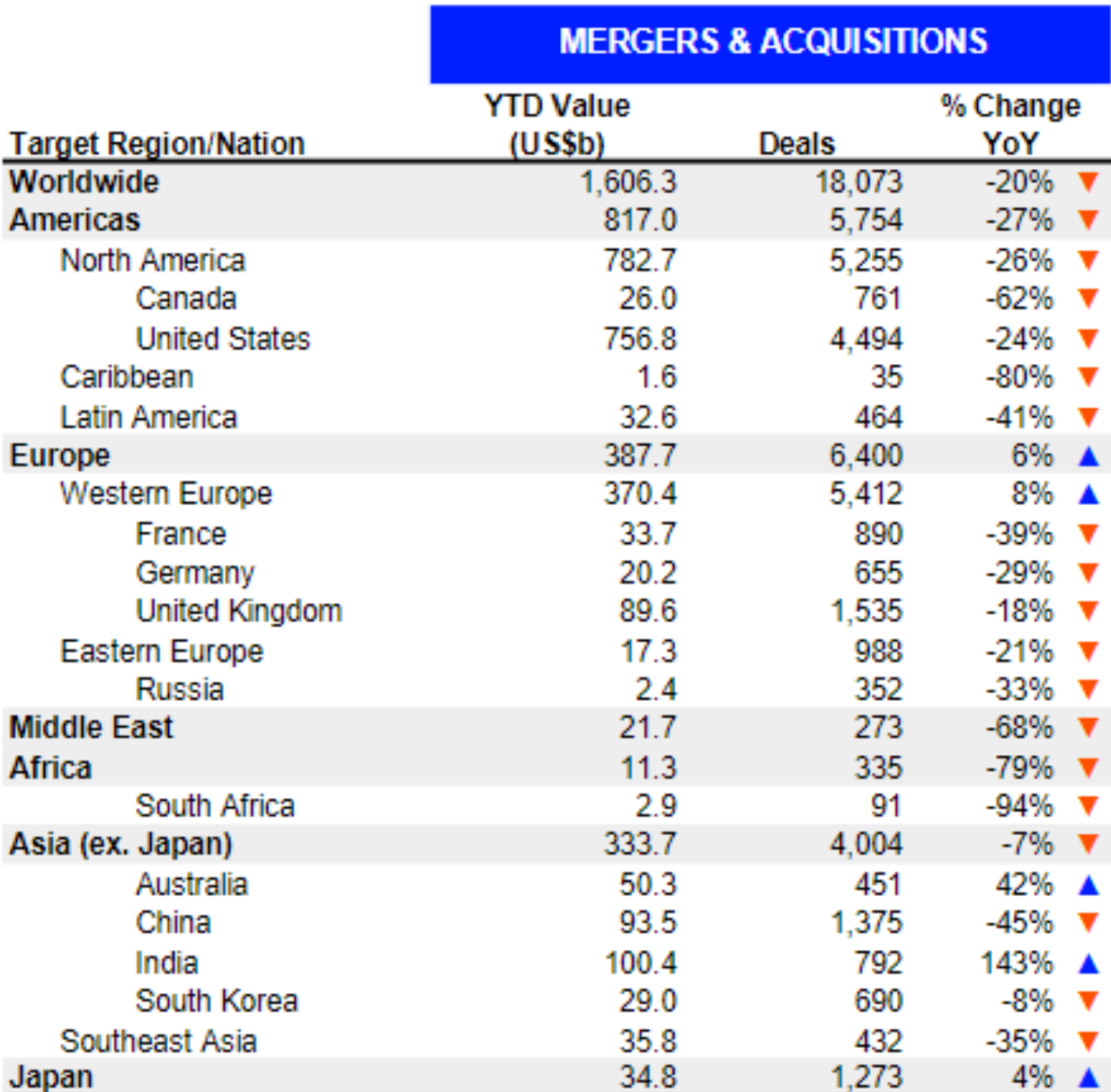 ✅ Thanks for reading Axios Pro Rata! Please ask your friends, colleagues and Twitter shareholders to sign up.