May 12, 2022
📣 Axios Pro keeps breaking deal news each morning, with its five newsletters focused on the climate, fintech, health tech, retail and media sectors.
Sign up for your free trial at AxiosPro.com. Or, to request custom pricing for a corporate account of five seats or more, please go here.
Top of the Morning
Biofire Technologies has raised $17 million in seed funding to further develop its smart gun, which uses a fingerprint sensor to unlock the trigger.
Why it matters: Firearms were the No. 1 cause of deaths for children in 2020, according to new research based on CDC data, after decades of auto accidents topping the list. 35% of those were suicides.
Total firearm-related deaths, including both adults and children, also hit an all-time high in 2020.
The good news is that Biofire's guns only can be fired by authorized users, which should exclude kids or teens from using guns that their parents didn't secure.
Even if you're someone who decries firearms proliferation and supports stricter gun control, this is an innovation that should be welcomed.
"I see firearm ownership continuing to be part of American culture for the foreseeable future," says Biofire founder and CEO Kai Kloepfer. "This issue has become so politicized that really nothing is being done, even for things that shouldn't be political in any way, like kids getting hold of guns ... A smart gun isn't a cure-all, but we do think that we can have an immediate and substantial impact."
Kloepfer, who dropped out of MIT to pursue Biofire, adds that the gun is being beta tested with law enforcement and firearms experts, and that it doesn't have any RFID or other wireless capabilities that could turn off prospective buyers.
A recent Morning Consult poll found that 55% of current gunowners would be comfortable using a smart gun.
The bad news is that few of Biofire's investors are willing to be identified, reflecting continued VC skittishness around an area of such dire need.
The exceptions are Ron Conway, who's championed smart gun tech for years, and security expert Gavin de Becker.
But venture capitalists often like to take cover behind peers, particularly for nonconventional ideas, so the relative lack of "names" — including by the institutional investors that Kloepfer says are part of the $17 million — is counterproductive.
The bottom line: We've previously written about how Silicon Valley is failing kids by not investing more in smart gun tech. It also was the subject of a tech conference roundtable I moderated back in 2016, in which a then-teenage Kloepfer participated. Today's news is a giant step forward, but the race is still being lost.
[Correction: An earlier version of this story mistakenly said the new CDC data was for 2000, rather than for 2020.]
The BFD
SoftBank today reported a $27.4 billion loss from its Vision Fund unit, for the fiscal year ending March 31, 2022.
Why it's the BFD: This is a staggering decline, even if only only on paper, and means that one of tech's most profligate VC investors will need to slow its roll. Particularly given that Vision Fund II is entirely capitalized via the parent company's balance sheet.
What Masa said: "We are in a confusing [time] in the world. So, we, SoftBank, should be taking a defense position .... There are two things in defense mode. One, continued monetization so we have enough cash position, and for the new investment activities, we'd like to make sure to keep stricter investment criteria."
The bottom line: Vision's performance contributed to SoftBank Corp.'s record ¥1.7 trillion annual loss. Speaking of that debt-laden parent company, it's now worth less than half the carrying value of its net assets.
Also...
Yesterday we noted that Coinbase for the first time detailed what would happen to user assets were the company to go bankrupt, a disclosure that helped drive Coinbase's share price to new lows.
Coinbase CFO Alesia Haas tells me that the disclosure was prompted by new SEC guidance, not because of any solvency concerns at Coinbase.
She acknowledges the company could have done a better job communicating the reason for the disclosure, particularly given that it showed up as a "risk factor" in the midst of a crypto market rout. She added that there are no plans to amend the disclosure's language.
Haas didn't take the bait on my question about stock buybacks or take-private considerations, even though the company clearly believes its shares are now undervalued. Were there to be a takeover effort, it's worth remembering that CEO Brian Armstrong holds voting control.
Venture Capital Deals
• Aiven, a Helsinki-based cloud data platform, raised $210m in Series D funding at a $3.2b post-money valuation. Eurazeo led, and was joined by BlackRock and insiders IVP, Atomico, Earlybird, World Innovation Lab and Salesforce Ventures. www.aiven.io
• Dock, a Brazilian payments and digital banking platform focused on Latin America, raised $110m at a valuation north of $1.5b. Lightrock and Silver Lake Waterman co-led, and were joined by Riverwood Capital, Viking Global Investors and Sunley House Capital. http://axios.link/kutI
• Interswitch, a Lagos-based payments startup, raised $110m from LeapFrog Investments and Tana Africa Capital. http://axios.link/nMIz
⚡ 6k, a North Andover, Mass.-based developer of engineered materials for lithium-ion batteries and additive manufacturing, raised $102m in Series D funding. Koch Strategic Platforms led, and was joined by Energy Impact Partners, Albemarle and HG Ventures. www.6kinc.com
• Evisort, a San Mateo, Calif.-based no-code contract intelligence startup, raised $100m in equity and debt funding. TCV led, and was joined by Breyer Capital and insiders General Atlantic, M12, Amity Ventures and Vertex Ventures. http://axios.link/gtKk
• Komodor, an Israeli continuous reliability platform dedicated to Kubernetes, raised $42m in Series B funding. Tiger Global led, and was joined by Felicis Ventures. www.komodor.com
• BVNK, a London-based provider of banking services and payments for crypto-native businesses, raised $40m in Series A funding at a $340m post-money valuation. Tiger Global led, and was joined by The Raba Partnership, Avenir, Kingsway Capital, Nordstar, Concentric and Base Capital. http://axios.link/h3jk
• Moralis, a web3 development platform, raised $40m in Series A funding from EQT Ventures, Fabric Ventures, Coinbase Ventures and Dispersion Capital. www.moralis.io
• Token.io, a London-based account-to-account payments platform, raised $40m. Cota Capital and TempoCap co-led, and were joined by Element Ventures, MissionOG and PostFinance and insiders Octopus Ventures, Opera Tech Ventures and SBI Investments. http://axios.link/NbYI
🌎 Ambient Photonics, a Mill Valley, Calif.-based developer of photonics energy harvesting tech, raised $31m in Series A funding. Amazon and Ecosystem Integrity Fund co-led, and were joined by Future Shape and I Squared Capital. www.ambientphotonics.com
• Zeals, a Japanese chat app for e-commerce, raised $27.2m in Series E equity funding (plus $11.6m in debt) from Z Venture Capital, Japan Post Capital, Salesforce Ventures. Mizuho Bank and Mitsubishi UFJ Financial Group. http://axios.link/qW5p
• CIQ, a Reno, Nev.-based federated software startup, raised $26m in Series A funding led by Two Bear Capital. www.ciq.co
🚑 Legacy, the celebrity-backed sperm testing and storage startup, raised $25m in Series B funding at a $150m valuation, per Axios Pro. Bain Capital led, and was joined by FirstMark Capital, Section 32 and TQ Ventures. http://axios.link/pZs5
• Mathison, a New York-based DEI hiring and retention platform, raised $25m in Series A funding. F-Prime Capital led, and was joined by Bain Capital Ventures, SemperVirens, ANIMO Ventures, GTM Fund, Gaingels and JPMorgan. www.mathison.io
• Whoz, a Paris-based staffing and project portfolio management SaaS, raised €25m led by PSG. www.whoz.com
• Infinicept, a Denver-based embedded payments startup, raised $23m led by SVB Financial Group. www.infinicept.com
• MARA, a pan-African crypto exchange, raised $23m in equity and token sales from Coinbase Ventures, Alameda Research, Distributed Global, TQ Ventures, DIGITAL, Nexo, Huobi Ventures, Day One Ventures and Infinite Capital and DAO Jones. http://axios.link/sByB
• Tumelo, a British investor transparency startup, raised $19m in Series A funding. Treasury led, and was joined by Legal & General, Fidelity International Strategic Ventures and Nucleus Adventure Capital. http://axios.link/sGlj
• Voxel, an SF-based AI for identifying workplace hazards, raised $15m in Series A funding led by Eclipse Ventures. www.voxelai.com
• Concentric AI, a San Jose, Calif.-based data sensitivity and risk discovery platform, raised $14.5m in Series A funding. Ballistic Ventures led, and was joined by Citi Ventures and insiders Core Ventures Group, Engineering Capital, Homebrew and Clear Ventures. http://axios.link/9rJR
• Bliq, a Berlin-based provider of workflow management solutions for gig economy drivers, raised $13.5m in Series A funding. NEA led, and was joined by Speedinvest and insiders Proeza Ventures and Revel Venture Partners. www.bliq.ai
• Synergies, a Boston-based provider of factory analytics, raised $12m in Series A funding. NGP Capital led, and was joined by New Future Capital. http://axios.link/xwdj
• Highlight, a web3 community membership platform, raised $11m in seed funding. Haun Ventures led, and was joined by 1kx, SciFi VC, A_Capital, Floodgate, Coinbase Ventures, 35 Ventures, Polygon Studios, Mischief VC, DAO Jones and Offline Ventures. http://axios.link/8aVW
• Crowdz, a Campbell, Calif.-based invoice financing marketplace, raised $10m. Citi and Global Cleantech Capital co-led, and were joined by Bold Capital Partners, TFX Ventures and Augment Ventures. http://axios.link/2O0X
• Chainflip Labs, a Berlin-based cross-chain decentralized exchange, raised $10m from Framework Ventures, Blockchain Capital and Pantera Capital. http://axios.link/9HJA
• Landgate, a "Zillow for land resources," raised $10m in Series B funding, per Axios Pro. NextEra Energy Resources led, and was joined by Kimmeridge. http://axios.link/mcaL
🚑 Reverence, a New York-based in-home care tech platform, raised $9.5m led by Target Global and bought staffing startup Hirehand. www.reverencecare.com
• Socket, a Stanford, Calif.-based open source software cybersecurity startup, raised $4.6m in seed funding from Unusual Ventures, Village Global and South Park Commons. http://axios.link/dfo6
• DevOcean, an Israeli cloud native security ops platform, raised $6m in seed funding led by Glilot Capital Partners.
🚑 SimpliFed, a New York-based baby feeding telehealth startup, raised $6m in seed funding. Morningside Ventures and The Venture Collective co-led, and were joined by NY Ventures, Elizabeth Street Ventures, Waterline Ventures and 3CC. www.simplifed.com
• Cachet, a Tallinn-based insure-tech focused on platform workers, raised €5.5m. Truffle Capital led, and was joined by Uniqa Ventures and Icebreaker.vc. www.cachet.me
• Full Harvest, an SF-based B2B marketplace for surplus and imperfect foods, raised $5m from Rabobank's Food & Agri Innovation Fund and JAL Innovation Fund. www.fullharvest.com
Private Equity Deals
• Adm Group, a German portfolio company of Equistone Partners Europe, bought both Lapine, a Stamford, Conn.-based customer engagement agency, and Effectus, a Miami-based business process and strategy consultancy. www.admgroup.com
• All States Ag Parts, a De Soto, Iowa-based portfolio company of Kinderhook Industries, bought Dominion Equipment Partners, a Richmond, Va.-based distributor of heavy construction equipment parts. www.tractorpartsasap.com
🚑 Angeles Equity Partners invested in Agile Occupational Medicine, a Gardena, Calif., operator of occupational health care clinics. www.agileoccmed.com
• Carlyle is in advanced talks to buy Chinese packaging firm HCP from Baring PE Asia for around $1b, per Bloomberg. http://axios.link/BAO7
• DigitalBridge Group agreed to buy Las Vegas-based data center operator Switch (NYSE: SWCH) for $11b (including debt), or $34.25 per share (15% premium to trading before initial media reports). http://axios.link/kcHy
• IFM Investors bought a majority stake in Render Networks, an Australian provider of construction management SaaS, for A$40m. www.rendernetworks.com
• Levine Leichtman Capital Partners invested in GLAS, a London-based provider of institutional debt administration services. www.glas.agency
• MakerBot is merging with fellow 3D printing company Ultimaker, backed by NPM Capital and current MakerBot owner Stratasys (Nasdaq: SSYS). http://axios.link/1FVL
• SK Capital Partners agreed to buy Valtris, an Independence, Ohio-based maker of specialty polymer additives and specialty chemicals, from H.I.G. Capital. www.valtris.com
🌎 Summit Carbon Solutions, developer of a massive carbon capture and storage project in the U.S. Midwest, secured $410m from TPG Rise Climate and SK E&S. http://axios.link/mTaA
Public Offerings
• Getaround, an SF-based P2P carsharing marketplace, agreed to go public at an implied $1.2b equity value via InterPrivate II Acquisition Corp. (NYSE: APVA). Getaround has raised over $800m from backers like PeopleFund, Braemar Energy Ventures, Reinvent Capital and SoftBank. http://axios.link/rgcd
🐉 Instacart, the SF-based grocery delivery company valued by VCs at $45b, says it filed confidential IPO papers. www.instacart.com
Liquidity Events
🐉 Checkout.com, a London-based online payments platform valued by VCs at $40b, bought Ubble, a French remote identity verification startup that had raised around $15m from firms like Partech and Breega. http://axios.link/LYg4
• Nexi (Milan: NEXI) acquired Orderbird, a German provider of POS products for restaurants, for what TechCrunch reports was between €130 million and €140m. Orderbird had raised over $50m from firms like Concardis, Metro, Digital+ Partners and LeadX Capital Partners. http://axios.link/9jGC
🍕 Peak Rock Capital sold TNT Crust, a Green Bay, Wis.-based maker of frozen pizza crusts with around $100m in annual revenue, to General Mills (NYSE: GIS). www.tntcrust.com
• TriWest Capital Partners sold Northern Mat & Bridge, a provider of temporary access solutions to Canadian industrials, to Exchange Income Corp. (TSX: EIF). www.northernmat.ca
More M&A
🚑 Bioventus (Nasdaq: BVS) terminated a proposed $415m senior notes offering, which was intended to help finance its planned purchase of CartiHeal, an Israeli cartilage repair implant maker. http://axios.link/cPmi
• Chicken Soup for the Soul Entertainment (Nasdaq: CSSE) agreed to buy antiquated video rental company Redbox (Nasdaq: RDBX) in an all-stock transaction valued at around $375m (including debt assumption). http://axios.link/wMJE
⚡ Shell (NYSE: SHEL) agreed to sell its Russian retail and lubricants businesses to Russian oil producer Lukoil. http://axios.link/dPN6
✈️ Spirit Airlines (NYSE: SAVE) set June 10 for a shareholder vote on its proposed merger with Frontier Group (Nasdaq: ULCC). http://axios.link/6LYn
• Vodafone (LSE: VOD) is in talks to merge its British operations with Three UK, a unit of CK Hutchison (HK: 0001), per the FT. http://axios.link/btBh
Fundraising
⚡ Black Bay Energy Capital of New Orleans raised $210m for its second fund. www.blackbayenergy.com
• Capital Dynamics raised $578m for its fifth midmarket co-investment fund. www.capdyn.com
🌎 Emerald Technology Ventures is raising €250m for a new fund, per Axios Pro. http://axios.link/DJax
• Good Startup, a Singapore-based VC firm focused on alt protein, raised $34m for its debut fund. http://axios.link/P0j5
• INX International, a maker of printing inks and coatings, launched a $50m corporate VC fund. www.inxinternational.com
• Kayne Anderson Real Estate raised $1.86b in capital commitments for its fourth flagship debt fund. www.kaynecapital.com
🚑 NovaQuest, a Raleigh, N.C.-based healthcare PE firm, raised $500m for its second fund. www.nqcapital.com
• YL Ventures, a cybersecurity-focused VC firm, raised $400m for its fifth fund. www.ylventures.com
It's Personnel
• Alvaro Bedoya was confirmed as a new FTC commissioner via a 51-50 vote in the U.S. Senate, giving Democrats a majority. Go deeper.
• Stephen Gold, former head of Honeywell's IoT and software services group, joined Ethos Capital as an executive partner. www.ethoscapital.com
Final Numbers: SoftBank snapshot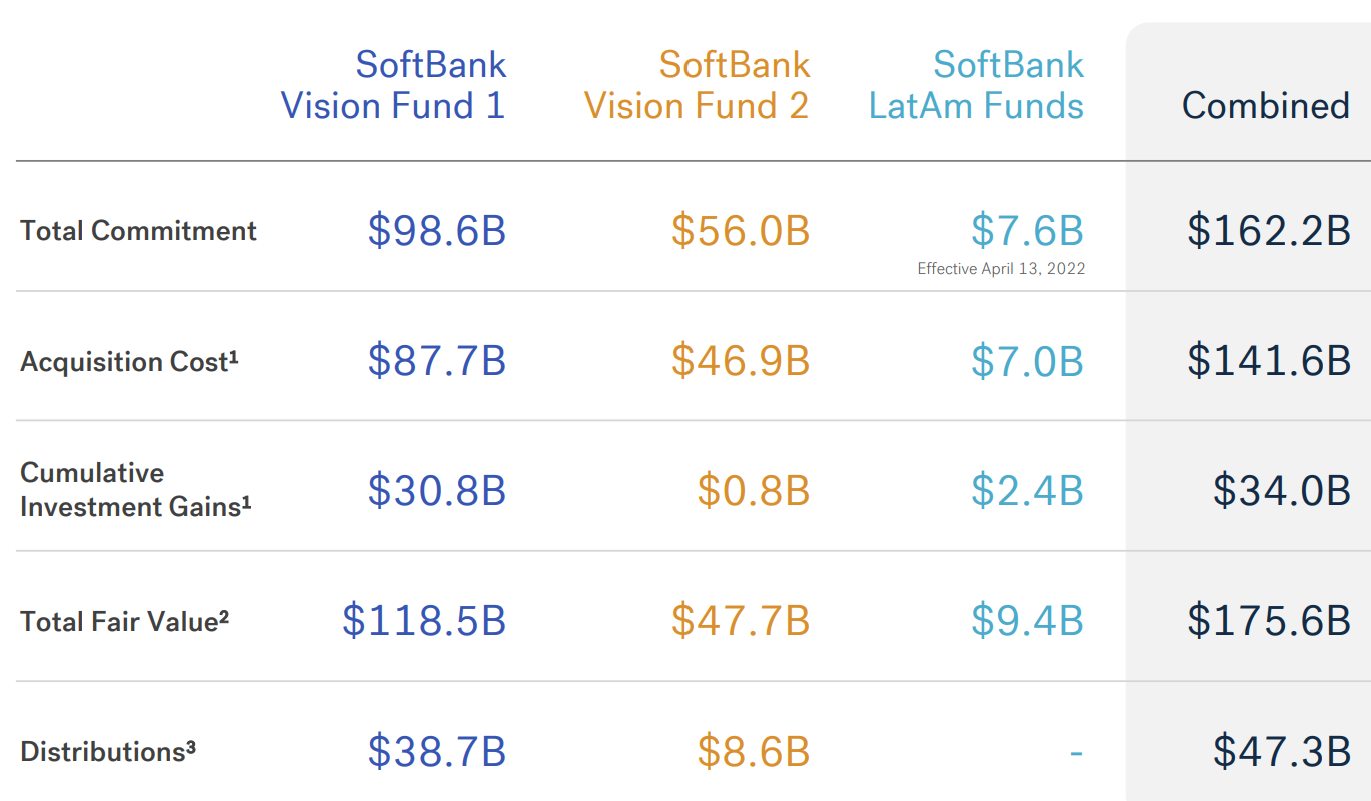 ✅ Thanks for reading Axios Pro Rata! Please ask your friends, colleagues and SoftBank portfolio company CEOs to sign up.