Axios Pro Rata
January 19, 2023
Top of the Morning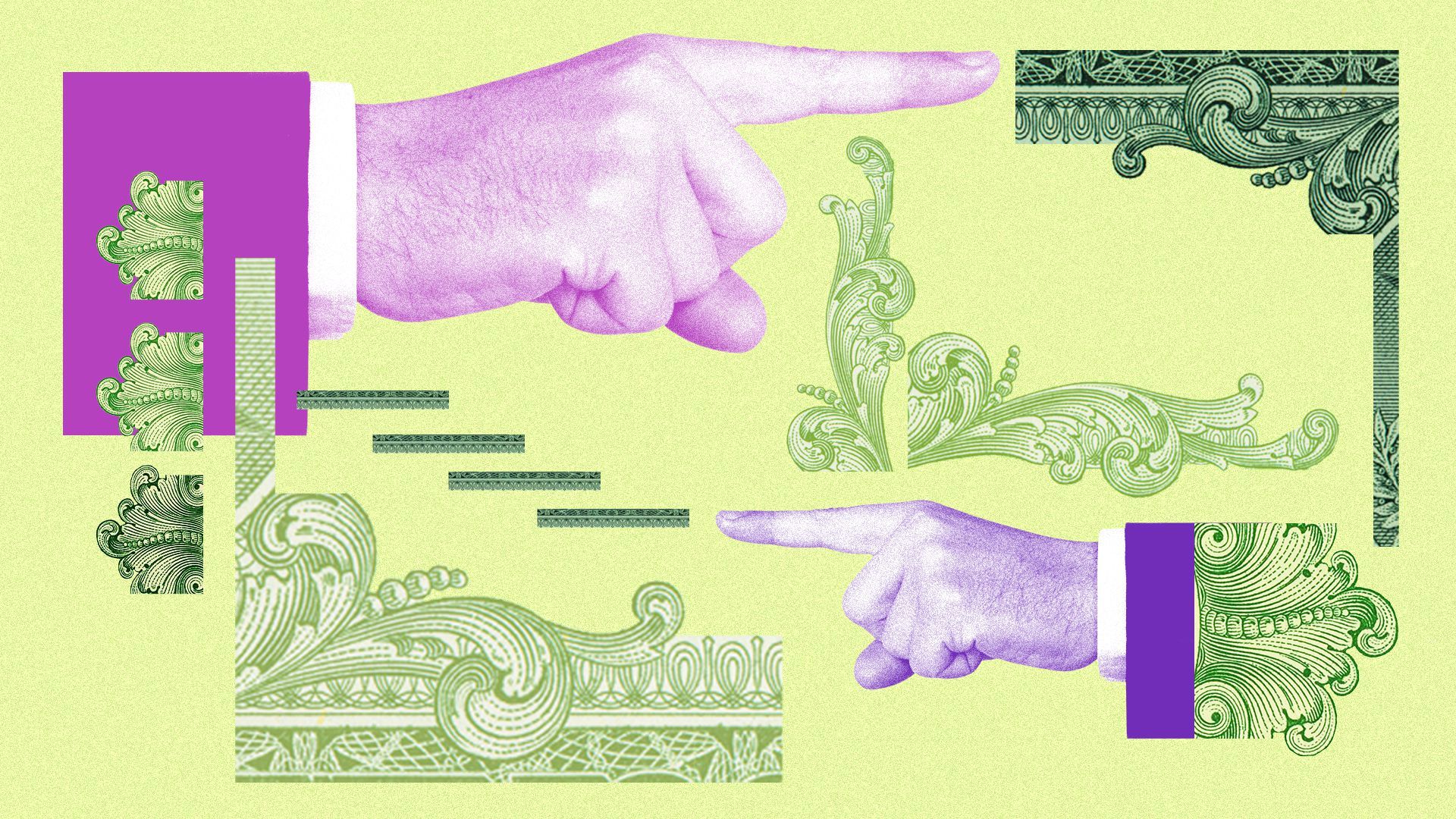 The private equity secondaries market is out of balance, with significantly more supply than demand. But the gap is beginning to shrink.
Driving the news: Blackstone raised $22.2 billion for its ninth global PE secondaries fund. That's a record-breaker, and twice what it raised for a predecessor fund in 2011.
The firm also announced $2.7 billion for a new GP-led continuation fund strategy.
Elsewhere, Spain's Arcano Asset Management announced €450 million for its 14th PE secondaries fund (topping a €300 million target). Plus, Moelis & Co. poached PE secondaries boss Skip Fahrholz from UBS.
The big picture: Active portfolio management also has become popular among limited partners. For example, many LPs now seek to offload older fund positions so they can focus on newer managers and/or funds. Particularly if there's been a change in the CIO office.
Moreover, many limited partners currently find themselves overallocated to private equity.
One major driver is the denominator effect caused by falling public equity and real estate values. Another is the IPO winter, which has led to longer hold times, less portfolio liquidity, and rapid growth of continuation funds.
By the numbers: Global secondary volume hit $108 billion in 2022, according to Jefferies. That fell a short of 2021, but still was the second most of all-time.
52% of the 2022 volume was LP portfolios, representing a larger market share than GP-led deals for the first time since 2019.
LP portfolio pricing discounts deepened by around 1,000 basis points between 2021 and 2022, with last year hitting around 81% of net asset value.
What they're saying: There's at least between $200 billion and $230 billion of demand out there, so we're very confident in our ability to deploy the capital," says Verdun Perry, global head of of Blackstone Strategic Partners. "We're seeing activity from LPs across the board, whether it be public pensions, insurance companies, sovereign wealth funds or family offices."
Perry adds that he expects 2023 volume to top 2022, although perhaps not 2021.
The BFD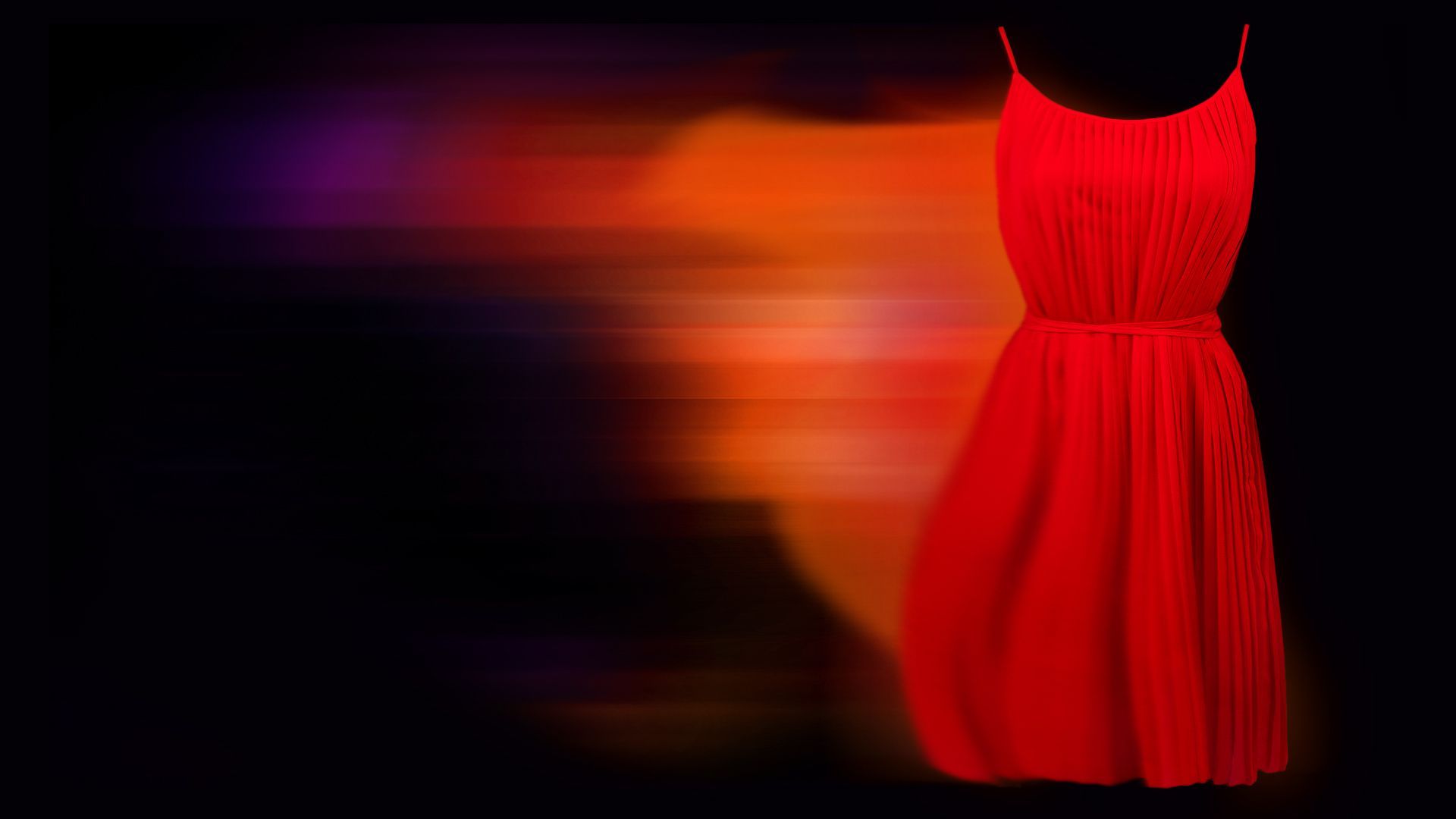 Shein, the fast fashion online retailer, is in talks to raise up to $3 billion at a $64 billion valuation, per the FT. Return backers would include Mubadala, Sequoia Capital China and General Atlantic.
Why it's the BFD: This would represent around a one-third valuation cut for Shein, which became the world's third most valuable startup last spring when it raised funding at a valuation north of $100 billion.
Details: Investors in the prior round would have their shares repriced to the lower valuation, thus increasing their ownership positions, while Shein works to close on between $1.5 billion and $3 billion in new capital.
Look ahead: This is all about getting Shein to the U.S. public markets, which it's hoping to accomplish by early next year.
The bottom line: "Fast fashion is a highly competitive, low-margin business that few have mastered. The most successful, Zara, charges much higher prices than does Shein." — Richard Collings, Axios Pro
Venture Capital Deals
• Vannevar Labs, a Palo Alto, Calif.-based ML startup focused on national security, raised $75m in Series B funding. Felicis Ventures led, and was joined by DFJ Growth, Aloft VC and insiders General Catalyst, Point72, Costanoa Ventures and Shield Capital. www.vannevarlabs.com
• Outrider, a Golden, Colo.-based developer of autonomous electric yard trucks, raised $73m in Series C funding. FM Capital led, and was joined by ADIA, Nvidia, B37 Ventures, Lineage Ventures, Presidio Ventures, Sumitomo Corp., ROBO Global Ventures and insiders Koch Disruptive Technologies and NEA. https://axios.link/3J0HlBs
• Cloudian, a San Mateo, Calif.-based hybrid cloud data management and storage provider, raised $60m in Series F funding from Digital Alpha, Eight Roads Ventures Japan, INCJ, Intel Capital, Japan Post Investment Corporation, Silicon Valley Bank, Tinshed Asia and Wilson Sonsini Investments. https://axios.link/3XntbOX
• Summit Nanotech, a Canadian developer of lithium extraction technology, raised US$50m in Series A2 funding. Evok Innovations and BDC Capital co-led, and were joined by Xora Innovation, Capricorn Investment Group, Volta Energy Technologies, NGP, Helios Climate Ventures and the Grantham Foundation. www.summitnanotech.ca
• MacroFab, a Houston-based electronic manufacturing tech platform, raised $42m. Foundry Group led, and was joined by BMW i Ventures, Edison Partners and ATX Venture Partners. www.microfab.com
• Anyfin, a Swedish loan refinancing platform, raised €30m in Series C funding. Northzone led, and was joined by fellow insiders Accel, EQT Ventures, FinTech Collective, Quadrille Capital and Augmentum FinTech. New investor Citi Ventures also participated. https://axios.link/3wekScp
• Link, an SF-based provider of open banking API solutions, raised $20m in Series A funding. Valar Ventures led, and was joined by Tiger Global, Amplo, Pareto Holdings and Quiet Capital. www.link.money
⚡ Noon Energy, a Palo Alto, Calif.-based developer of high-density carbon-oxygen batteries, raised $28m in Series A funding. Clean Energy Ventures and Aramco Ventures co-led, and were joined by Emerson Collective, At One Ventures, Mistletoe and Doral Energy-Tech Ventures. https://axios.link/3CU2jhy
• EarthOptics, an Arlington, Va.-based soil data provider, raised $27.6m. Conti Ventures led, and was joined by Rabo Food & Ag Innovation Fund, CNH Industrial, Louis Dreyfus Company Ventures, CHS and Growmark's Cooperative Ventures. www.earthoptics.com
• ContractSafe, a Malibu, Calif.-based contract management platform, raised $27.5m from Five Elms Capital. www.contractsafe.com
• Amberflo.io, a usage-based pricing startup, raised $15m in Series A funding. Norwest Venture Partners led, and was joined by Homebrew. www.amberflo.io
• Chord, a commerce platform-as-a-service, raised $15m in Series A extension funding. Bright Pixel Capital and Eclipse co-led, and were joined by GC1 Ventures, TechNexus Venture Collaborative, Anti Fund VC, Imaginary Ventures, Foundation Capital and White Star Capital. www.chord.co
• Ulvetanna, a provider of zero knowledge proofs acceleration hardware, raised $15m co-led by Paradigm and Bain Capital. www.ulvetenna.io
⚡ SunRoof, a Swedish solar roofing startup, raised €13.5m from World Fund, Nordic Alpha Partners and L&G Capital. https://axios.link/3QSKKUw
• Oro, a Malaysian B2B e-commerce platform, raised $13m. Zubr Capital led, and was joined by insider Highland Europe. https://axios.link/3kx0VL6
🚑 ModifyHealth, an Atlanta-based provider of medically tailored meals, raised $10m in Series B funding. RRC Capital led, and was joined by Nashville Capital Network. https://axios.link/3Hffhch
🚑 Censinet, a Boston-based provider of health care risk management tools, raised $9m. MemorialCare Innovation Fund, Rex Health Ventures and Ballad Ventures co-led, and were joined by LRVHealth, HLM Venture Partners, Schooner Capital, Excelerate Health Ventures and Cedars Sinai. www.censinet.com
🚑 Rx Redefined, a medical supplies platform, raised $8m in Series A funding. Crosscut Ventures led, and was joined by Tusk Venture Partners, Silverton Partners, Pisgah Fund and Jeff Immelt. https://axios.link/3ZNOomJ
🚑 Biohm, a Cleveland-based microbiome startup, raised $7.5m. VTC Ventures led, and was joined by Felton Group, Jobs Ohio Growth Capital Fund, Aztec Capital Management, Cleveland Life Science Advisors, Valley Growth Ventures and Jump Start. www.poweredbybiohm.com
• Scenario, an AI platform for generating gaming art assets, raised $6m in seed funding. Play Ventures led, and was joined by backers like Anorak Ventures, Founders Inc. and The VR Fund. https://axios.link/3IYk7f6
🚑 Knownwell, an obesity-inclusive primary care startup, raised $4.5m in seed funding, as first reported by Axios Pro. Flare Capital Partners led, and was joined by such backers as Flybridge, Oxeon and Larry Summers. https://axios.link/3QROoxZ
🚑 Sunfish Technologies, a Santa Monica, Calif.-based fertility financing support startup, raised $3.8m in seed funding, per Axios Pro. Walkabout Ventures led, and was joined by Hannah Grey VC and Fiat Ventures. https://axios.link/3XDDYo6
• Zitti, a food supply chain management platform for restaurants, raised $3.5m in seed funding. Oceans Ventures and Serena Ventures co-led, and were joined by Crossbeam. https://axios.link/3XohO9E
• MarketReader, a New York-based market analytics startup, raised $3.1m in seed funding from former OppenheimerFunds CEO Art Steinmetz and Michael Smith of Oakridge Management Group. marketreader.com
• Slay, a Berlin-based "positive" social media app for teens, raised €2.5m in pre-seed funding. Accel led, and was joined by 20VC. https://axios.link/3ZQuUOn
🚑 Cari Health, a San Diego-based developer of wearables for remote medication monitoring, raised $2.3m in seed funding. San Diego Angel Conference led, and were joined by NuFund Venture Group, Cove Fund, Chemical Angel Fund and Medical Devices of Tomorrow. www.carihealth.com
• Yeekatee, a Swiss social investing startup, raised $1.9m in pre-seed funding from such backers as Avaloq co-founder Ronald Strässler. https://axios.link/3ktBIl6
Private Equity Deals
• Air Conditioning Specialist, a Milledgeville, Ga.-based portfolio company of Hidden Harbor Capital Partners, acquired P-F Plumbing (Winston-Salem, N.C.) and Precision Air (Murfreesboro, Tenn.). www.theairconditioningspecialist.com
• Axcel, an SF-based portfolio company of Alpine Investors, acquired Accelebrate, an Atlanta-based IT training company. www.axcel-learning.com
• Bitwarden, a Santa Barbara, Calif.-based open-source password manager that last year raised $100m from PSG, acquired Swedish authentication startup Passwordless.dev. https://axios.link/3WeVDRO
• FNZ, a London-based portfolio company of Motive Partners and CPPIB, acquired Fondsdepot Bank, a German credit firm. https://axios.link/3wdoueK
• Global Switch, a London-based data center operator owned by Chinese groups, has slowed takeover talks after bids came in below $10b, per Bloomberg. Suitors have included EQT, KKR and PAG. https://axios.link/3D0On5k
• Gridiron Capital invested in Legacy Service Partners, a Tampa, Fla.-based provider of residential HVAC, plumbing and electrical services. www.legacyservicepartners.com
• Relation Insurance Services, portfolio company of Aquiline Capital Partners, acquired the assets of Kilgore, Texas-based Laird Insurance Agency. www.relationinsurance.com
• Rockit Pest, a New York-based portfolio company of Halle Capital, acquired Petri Pest Control Services, a provider of pest control solutions in Florida. www.rockitpest.com
• StenTech, a Canadian portfolio company of Align Capital Partners, acquired Advanced Tooling Design, a San Jose, Calif.-based maker of stencils, tooling and other parts for the electronics assembly industry. www.stentech.com
• Versaterm Public Safety, a Canadian portfolio company of Banneker Partners, acquired Visual Labs, a Menlo Park, Calif.-based provider of smartphone body and dash camera software. Visual Labs had been seeded by firms like Lightspeed Venture Partners. www.versaterm.com
• Visiting Media, a Carlton, Ore.-based provider of visual sales and marketing solutions for the hospitality and event industries, raised growth funding from JMI Equity. www.visitingmedia.com
⚡ WildFire Energy, a portfolio company of Warburg Pincus and Kayne Anderson, is paying $1.43b in cash to buy certain South Texas assets of Chesapeake Energy (Nasdaq: CHK), per Reuters. https://axios.link/3IUzBRo
Public Offerings
🚑 Mineralys Therapeutics, a Radnor, Pa.-based developer of hypertension treatments, filed for a $100m IPO. It plans to list on the Nasdaq (MLYS), and raised in VC funding from firms like Catalus Pacific (32.9% pre-IPO stake), Samsara BioCapital (13.2%), HBM Healthcare Investments (10.7%), Adams street Partners (8.3%), Andara Partners (7.1%), RA Capital (7.1%), SR One, Rock Springs Capital, Ysios Capital, Boulder Ventures and Sectoral Asset Management. https://axios.link/3GMhnie
• Sanhua, a Shenzhen-listed maker of components for appliances, picked CLSA to lead a Zurich float, per Bloomberg. https://axios.link/3iPsr6h
⚡ TXO Energy Partners, an oil and gas E&P operating in the Permian and San Juan basins, set IPO terms to 5 million shares being offered at $19-$21. It would have a $600m market cap, were it to price in the middle. Backers include Global Endowment Management and Luther King Capital Management. https://axios.link/3WAw8e5
Liquidity Events
🚑 Bayer acquired Blackford Analysis, a British AI radiology imaging platform backed by investors like Old College Capital and Scottish Enterprise. https://axios.link/3wcRbZ4
• Hellman & Friedman is close to launching a sale process for TeamSystem, an Italian payroll and accounting software firm that could fetch "several billion euros," per Reuters. https://axios.link/3CYSsXy
• Kevin's Natural Foods, a Modesto, Calif.-based maker of sous-vide entrées, is considering either an IPO or sale process, the company's CEO tells Axios Pro. Backers include TowerBrook Capital Partners and NewRoad Capital Partners. https://axios.link/3GRJ9K6
🚑 Nordic Capital is seeking a buyer for Sunrise Medical, a German wheelchair maker that could fetch upwards of $2b, per Bloomberg. https://axios.link/3WoLkL9
• RSA Security is seeking a buyer for Archer, a risk and compliance software unit that could fetch more than $2b, per Reuters. RSA backers include STG Partners, Clearlake Capital, Ontario Teachers' Pension Plan and AlpInvest Partners. https://axios.link/3ZQKxpk
Bankruptcy blurbs
• Genesis Global Capital, the crypto lending company owned by Barry Silbert's Digital Currency Group, reportedly is on the verge of filing for bankrupcy.
DCG also reportedly is seeking a buyer for crypto-focused media company CoinDesk.
• Party City (NYSE: PRTY) filed for Chapter 11 bankruptcy protection. https://axios.link/3IY7ctC
Fundraising
• Audax Private Debt raised $3b for its second direct lending fund. www.audaxprivatedebt.com
• B Capital Group raised $2.1b for its third flagship growth equity fund and related vehicles. https://axios.link/3ZPBVzd
• Capital Square Partners and Basil Technology Partners, both Singaporean PE firms, merged via a $700m continuation fund. https://axios.link/3kqiJHV
• Courtside Ventures raised $100m for its third fund, which focuses on sports, gaming and lifestyle startups. www.courtsidevc.com
It's Personnel
• Moritz Baier-Lentz joined Lightspeed Venture Partners as a partner and its head of gaming. He previously was a partner with Bitkraft Ventures, and before that co-led Goldman Sachs' global gaming practice. https://axios.link/3XCu3Px
• Chris Bartlett stepped down as head of Verizon Ventures in order to become CFO of Verizon Business Group. He'll be succeeded by Madison Rezaei, while John Nitti will serve as Verizon Ventures' CIO. https://axios.link/3iMxFQ8
• Vittorio Colao rejoined General Atlantic as vice chair or EMEA. The onetime Vodafone CEO most recently served as the Italian government's minister of tech innovation and digital transition. www.generalatlantic.com
• James Gwertzman is stepping down as a general partner with Andreessen Horowitz, where he focused on gaming deals. He'd joined the VC firm in late 2021 after serving as Microsoft's GM for gaming cloud.
• Tyler Hogge, former head of product at Divvy (acquired by Bill.com for $2.5b), joined Pelion Venture Partners as a venture partner. www.pelionvp.com
• Josh Leyenson joined Council Capital as portfolio chief of staff. He previously was director of biz ops at Circulo Health. www.councilcapital.com
🌎 John Morton rejoined climate investment and advisory firm Pollination as a managing director and global head of advisory. He spent the past two years as climate counselor to U.S. Treasury Secretary Janet Yellen. www.pollinationgroup.com
• Aaron Tai joined Elliott Investment Management to focus on activism in Japan, per Bloomberg. He previously was with Cornwall Capital. https://axios.link/3wg1dsI
• Anita Umarji joined Bessemer Venture Partners as a partner and head of IR. She previously was with Sandbox Industries. www.bvp.com
• Brian Zhan joined venture firm CRV as an investor. He previously worked in product for both Starburst and Facebook. www.crv.com
• CapitalG, the growth equity fund of Alphabet, promoted Jill Chase and Chengpeng Mou to investment partners. www.capitalg.com
• GV, the VC arm of Alphabet, promoted Sangeen Zeb to general partner. www.gv.com
• Osceola Capital promoted Patrick Watkins to partner, and Will Newbrander to partner and CFO. It also hired Kurt Schwab, formerly as Cold Bore Capital, as a vice president. www.osceola.com
Final Numbers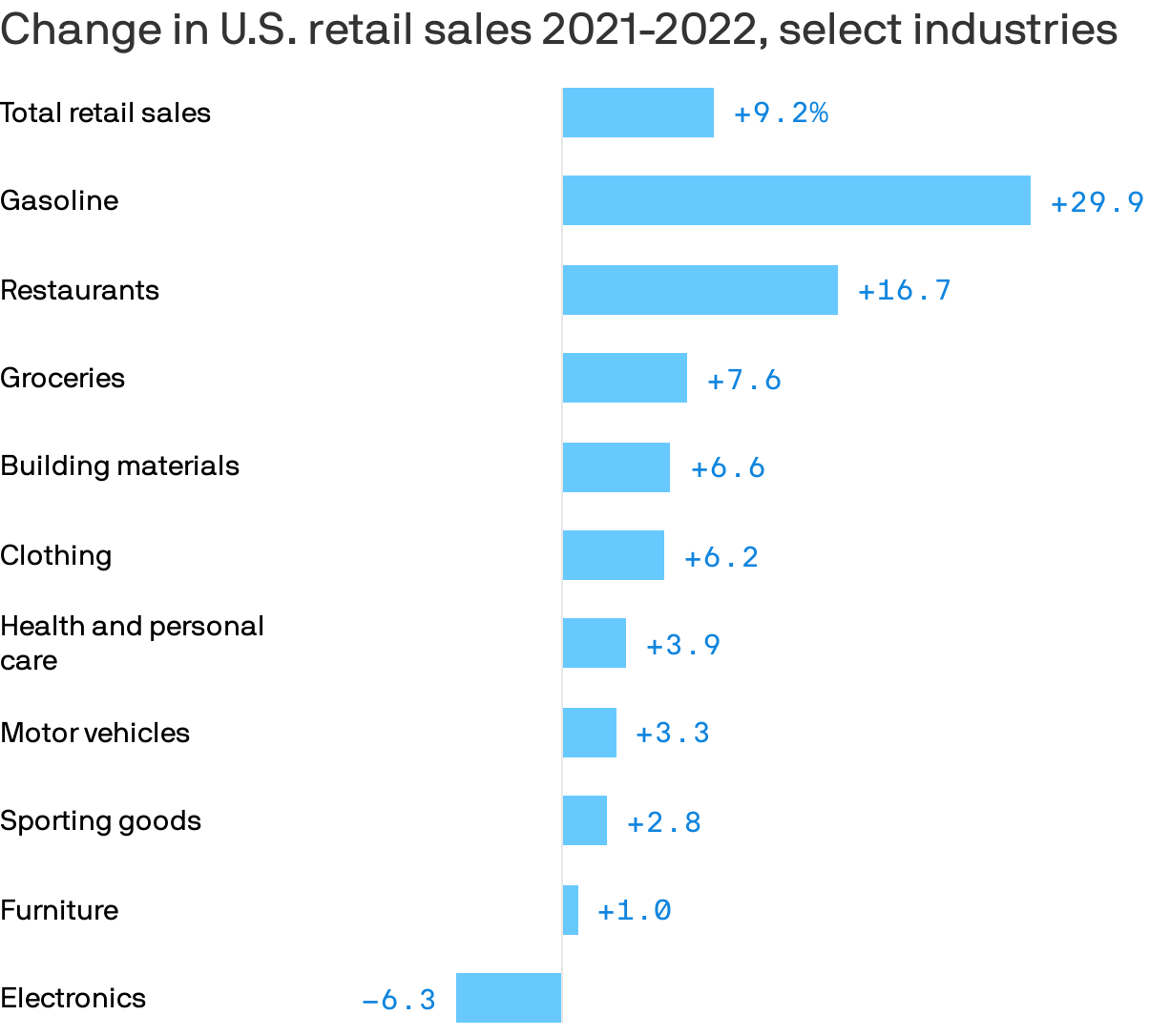 U.S. retail sales in December fell 1.1%, representing the largest monthly dip of 2022, but remained up 5.2% year-over-year. Go deeper.
Thanks for reading Axios Pro Rata, and to copy editors Mickey Meece and Bryan McBournie! Please ask your friends, colleagues and secondary sellers to sign up.