Axios Pro Rata
May 19, 2020
🖥️ You're invited to a live virtual event on the challenges and opportunities of remote learning, this Thursday at 12:30pm ET. Our guests include Rep. Jahana Hayes (D-Conn.) and Ted Mitchell, president of the American Council on Education. Register here.
🎧 Pro Rata Podcast digs into shopping mall misery, including J.C. Penney and which retailer to watch as a bellwether. Listen via Apple or via Axios.
Top of the Morning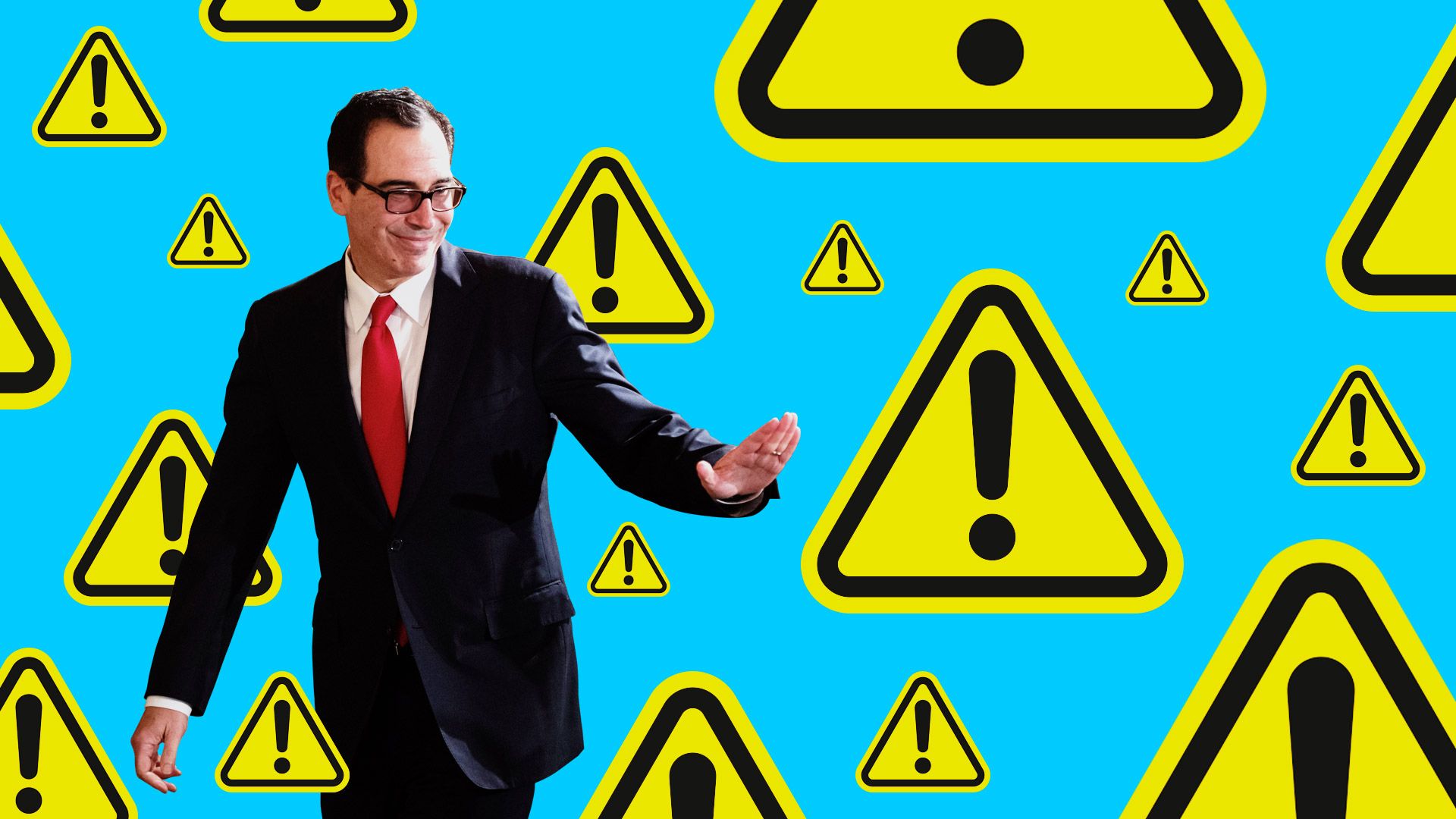 Small business loan recipients, or at least their lawyers, will be glued to their laptop monitors today, as both Treasury Secretary Steve Mnuchin and Fed Chair Jay Powell testify "in front" of the Senate Banking Committee.
On the grill: Expect lots of questions about PPP, in terms of application, effectiveness, and possible changes.
SBA did finally release forgiveness guidelines on Saturday, a scant 20 days past its legislated deadline.
It included some clarification and simplification of the "covered period," which is eight weeks.
There has been a growing push to expand the "covered period" to upwards of 24 weeks, particularly for businesses that received PPP loans but have not yet reopened.
That was a constant refrain yesterday from restaurant owners and CEOs during a White House roundtable whose headlines got hijacked by President Trump's personal medical regimen. Every time Trump pivoted to meal deductibility or payroll tax cuts, the restauranteurs brought it back to the covered period. And, in doing so, indirectly criticized Mnuchin, who was sitting directly to Trump's left.
Mnuchin said that he was negotiating a covered period extension, but it would likely be short of 24 weeks.
Around $164 billion of PPP2 was spoken for as of Saturday night, with no indications that the replenished pot will be exhausted. Overall, the PPP program has approved over 4.3 million loans totaling around $513 billion, with average loan sizes of $118,000.
California's small businesses received the most loans and loan dollars, followed by Texas, New York, and Florida.
Two lenders have approved more than $25 billion in loans each, although SBA did not disclosed their identities. There still has been no disclosure of individual loan recipients, nor a public commitment by SBA to do so.
Also: Both Mnuchin and Powell will be asked about the larger company lending programs, and why so many of the allocated dollars haven't been disbursed. Should be interesting to see if issues like affiliation and leverage limits get raised, as both remain top of mind for private equity.
The bottom line: The CARES Act was bipartisan, which means both sides of the aisle have a vested interest in its success.
The BFD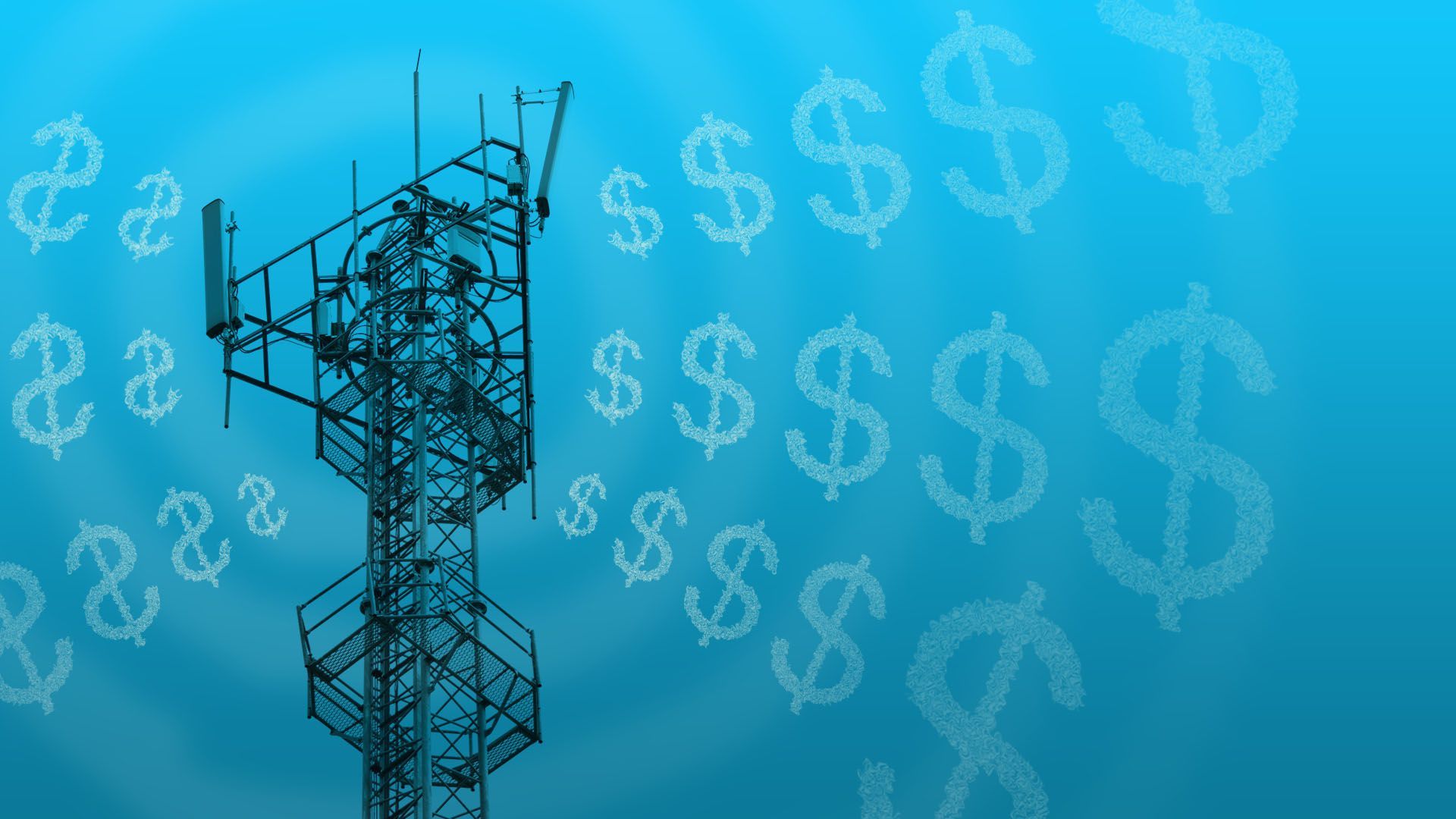 SoftBank Group reportedly is seeking to sell around $20 billion worth of shares in T-Mobile US, which it acquired via T-Mobile's recently closed merger with Sprint. One buyer is expected to be Germany's Deutsche Telekom, which currently holds a 43.6% stake in T-Mobile US.
Why it's the BFD: This could give Deutsche Telekom a majority stake in America's second-largest mobile carrier (depending on how you crunch the numbers), and give SoftBank some much-needed liquidity.
So, this happened: SoftBank CEO Masayoshi Son compared himself to both Jesus and the Beatles, during an investor call, in terms of being initially misunderstood and eventual redemption.
The bottom line: "News of the sale comes on the same day that SoftBank reported $13 billion in total annual losses for its main business with $18 billion in losses for its massive venture arm, the Vision Fund." ⁠— Lauren Feiner, CNBC
Pro Rata for Kids
Today's project is for your kids to make paper bag monster puppets. For ideas, just Google image search "paper bag monster puppets." And if you don't have small paper bags, use a grocery bag to make something that can go over your their heads (like a sad sports fan would wear).
Per usual, please email me pics of what you come up with (apologies for lack of photos today – hope to get back to them tomorrow, so be sure to send 'em).
Venture Capital Deals
• Carta, a startup that manages employee equity for other startups, raised $175 million in new funding co-led by Lightspeed Venture Partners and Tribe Capital. Earlier reports were that it was seeking $200 million at a $3.5 billion valuation. http://axios.link/o82A
• Brex, a San Francisco-based corporate credit card company focused on startups, raised $150 million in new Series C funding from insiders like DST Global and Lone Pine Capital. http://axios.link/8Jjk
• Keep, a Chinese fitness app, raised $80 million in Series E funding at a $1 billion valuation. Jeneration Capital Management led, and was joined by return backers GGV Capital, Tencent, Morningside VC, and Bertelsmann Asia Investments. http://axios.link/gByD
• Cyberbit, an Israeli provider of cyber range training and simulation platforms, raised $70 million. Charlesbank Capital Partners led, and was joined by return backer Claridge Israel. Some of the money was used to buy shares from Elbit Systems. http://axios.link/FxOZ
🚑 Amplyx Pharma, a San Diego-based developer of developer of treatments for life-threatening fungal infections, raised $53 million in new Series C funding. Sofinnova Venture Partners led, and was joined by Pfizer and Adage Capital Management. www.amplyx.com
• GO1.com, a San Francisco-based enterprise learning platform, raised $40 million in Series C funding. Madrona Venture Group and SEEK, co-led, and were joined by Salesforce Ventures and return backers M12 and Our Innovation Fund. http://axios.link/Rwz7
• Arculus, a German developer of a modular production platform, raised €16 million in Series A funding. Atomico led, and was joined by Visionaries Club and La Famiglia. http://axios.link/SLV1
🚑 CathVision, a Denmark-based developer of cardiac electrophysiology technologies, raised €13 million from backers like Vaekstfonden. http://axios.link/FBoh
• United Dwelling, a Los Angeles-based affordable housing startup, raised $10 million. Alpha Edison led, and was joined by Lightspeed Venture Partners. http://axios.link/nSfj
• Electric, a New York-based platform for putting enterprise IT in the cloud, raised $7 million in Series B funding from 01 Advisors and Slack Fund. http://axios.link/3qef
• Lingxi, a Beijing-based financial services AI startup, raised $6.2 million in Series A funding. ByteDance and Rocket Internet co-led, and were joined by Lazada, Jumia, Junsan Capital, and GSR Ventures. http://axios.link/ulPc
• Regulus Cyber, an Israeli provider of anti-virus software for satellite navigation, raised $4 million in Series B funding. SPDG Ventures led, and was joined by Sierra Ventures, Canaan Partners Israel, F2 Capital, and Technion. www.regulus.com
🍅 Tomato Jos, a Nigerian developer of tomato paste for the African market, raised €3.9 million in Series A funding. Alitheia Capital led, and was joined by Acumen Capital Partners and VestedWorld. http://axios.link/o6cS
• MicroGen Biotech, an Ireland-based ag-tech startup focused on reducing heavy metals in soil and food, raised $3.8 million in Series A funding. Fulcrum Global Capital led, and was joined by The Yield Lab Europe. http://axios.link/dPKc
• Encamp, an Indianapolis-based provider of EHS software, raised $3.1 million in Series A funding. Allos Ventures and High Alpha Capital co-led, and were joined by IU Ventures. www.encamp.com
Private Equity Deals
• Advent International delayed the close of its $1.9 billion agreement to buy Forescout Technologies (Nasdaq: FSCT), a San Jose, Calif.-based device visibility and control company, as the two sides renegotiate. http://axios.link/PRpy
• Amherst Holdings, a single-family home landlord backed by Stone Point Capital, secured a $200 million preferred equity investment from Koch Real Estate Investments, per Bloomberg. This comes after Amherst terminated its $2.3 billion acquisition agreement for rival Front Yard Residential (NYSE: RESI). http://axios.link/98
• Ardian is leading an investor group that's in talks to buy a 16% stake in Telecom Italia's wireless tower unit for around €1.5 billion, per Bloomberg. http://axios.link/BXDr
• Casual Dining Group, a British restaurant chain operator owned since 2018 by KKR, said it is preparing for bankruptcy. http://axios.link/KCQt
• Clayton Dubilier & Rice acquired Radio Systems Corp., a Knoxville, Tenn.-based maker of electric fences and other pet products, from TSG Consumer Partners. www.radiosystemscorporation.com
🚑 Newlight Partners invested in Zing Health, a Chicago-based Medicare Advantage HMO plan. www.myzinghealth.com
• Prometheus Group, a Raleigh, N.C.-based portfolio company of Genstar Capital, acquired Viziya, a Canadian provider of enterprise asset management software, from Quarterhill (TSX: QTRH). www.prometheusgroup.com
Public Offerings
🚑 Applied Molecular Transport, a San Francisco-based biotech focused on immune-mediated inflammation and metabolic diseases, filed for a $100 million IPO. It plans to trade on the Nasdaq (AMTI) with BofA Securities as lead underwriter, and has raised nearly $100 million in VC funding from firms like EPIQ Capital (25.91% pre-IPO stake) and Founders Fund (20.74%). http://axios.link/Lg3b
• JDE Peet's, the world's second-largest packaged coffee maker, said it plans to raise at least €700 million via an Amsterdam IPO next week. http://axios.link/7fSS
• Vroom, a New York-based platform for buying and selling used vehicles, filed for a $100 million IPO (likely a placeholder amount). It plans to trade on the Nasdaq (VRM) with Goldman Sachs as lead underwriter, and reports a $41 million net loss on $376 million in revenue for Q1 2020. The company has raised over $700 million from firms like L Catterton, General Catalyst, Durable Capital Partners, T Rowe Price, Annox Capital, Autonation, Nue Capital, Fraser McCombs Capital, and Detroit Venture Partners. http://axios.link/4wrq
Liquidity Events
🚑 Francisco Partners is exploring a sale of QGenda, an Atlanta-based provider of scheduling software for physician offices, per PE Hub. http://axios.link/H8Oe
• Verizon (NYSE: VZ) completed its acquisition of BlueJeans, a San Jose, Calif.-based business videoconferencing platform, for just under $500 million. BlueJeans had raised around $175 million in VC funding, including at around a $725 million valuation in 2015, from firms like Accel, Battery Ventures, NEA, and Norwest Venture Partners, Wing Venture Partners, and Derek Jeter. http://axios.link/ug8Z
More M&A
⛽ Mitsui & Co. is considering a sale of its majority stake in Indonesian power producer PT Paiton Energy, per Bloomberg. http://axios.link/Rrmp
• Pier 1 Imports, a Fort Worth, Texas-based retailer, said it will wind down operations after failing to find a buyer. http://axios.link/Xpky
• Sony (Tokyo: 6758) is launching a $3.72 billion tender offer to turn its listed financial unit, Sony Financial Holdings (T: 8729) into a wholly owned subsidiary. http://axios.link/2cta
Fundraising
• Cohere Capital Partners, a Boston-based middle-market private equity firm, raised $200 million for its debut fund. www.coherecapital.com
🚑 Cowen Healthcare Investments raised $493 million for its third fund. www.cowen.com
• Eos Venture Partners raised $58 million for a VC fund that will back insure-tech startups. www.eosventurepartners.com
• MBK Partners raised $6.5 billion for its fifth North Asia-focused private equity fund, per AVCJ. http://axios.link/GLjg
• Onex Credit priced its 18th U.S. collateralized debt obligation for approximately $400 million. www.onex.com
It's Personnel
• Tom Alabaster joined Ropes & Gray as a London-based partner and head of investment funds for EMEA. He previously was with Linklaters. www.ropesgray.com
• Matt Benson joined Silver Lake as head of communications after 20 years with Sard Verbinnen. www.silverlake.com
• Benedict Evans joined London-based Entrepreneur First as a venture partner. He previously was with Andreessen Horowitz. http://axios.link/fhF6
• Marc Pressler joined Monroe Credit as a Chicago-based managing director. He previously was with Associated Bank. www.monroecredit.com
Final Numbers
Moderna Therapeutics (Nasdaq: MRNA) drove stocks higher yesterday, by releasing encouraging early Phase 1 clinical trial data for its COVID-19 vaccine.
After market close it launched a $1.25 billion secondary public offering.
Moncef Slaoui, who resigned as a Moderna director after being picked to oversee the White House's coronavirus drug and vaccine development initiative, said he would divest all of his Moderna stock, effective this morning.
An HHS spokesperson said that Slaoui will "donate to cancer research all incremental value accrued from his Moderna shares between" his being named to the WH position and the time of sale. She didn't respond to questions about when he agreed to divest, or why the divestiture was scheduled for this morning.
Go deeper: Moderna takes flight while shorts circle
🙏 Thanks for reading Axios Pro Rata! Please ask your friends, family, and tomato growers to sign up.