https://www.axios.com/newsletters/axios-pro-rata-10e82482-85c6-443d-8dbd-869d6033cea1.html?chunk=0#story0
Top of the Morning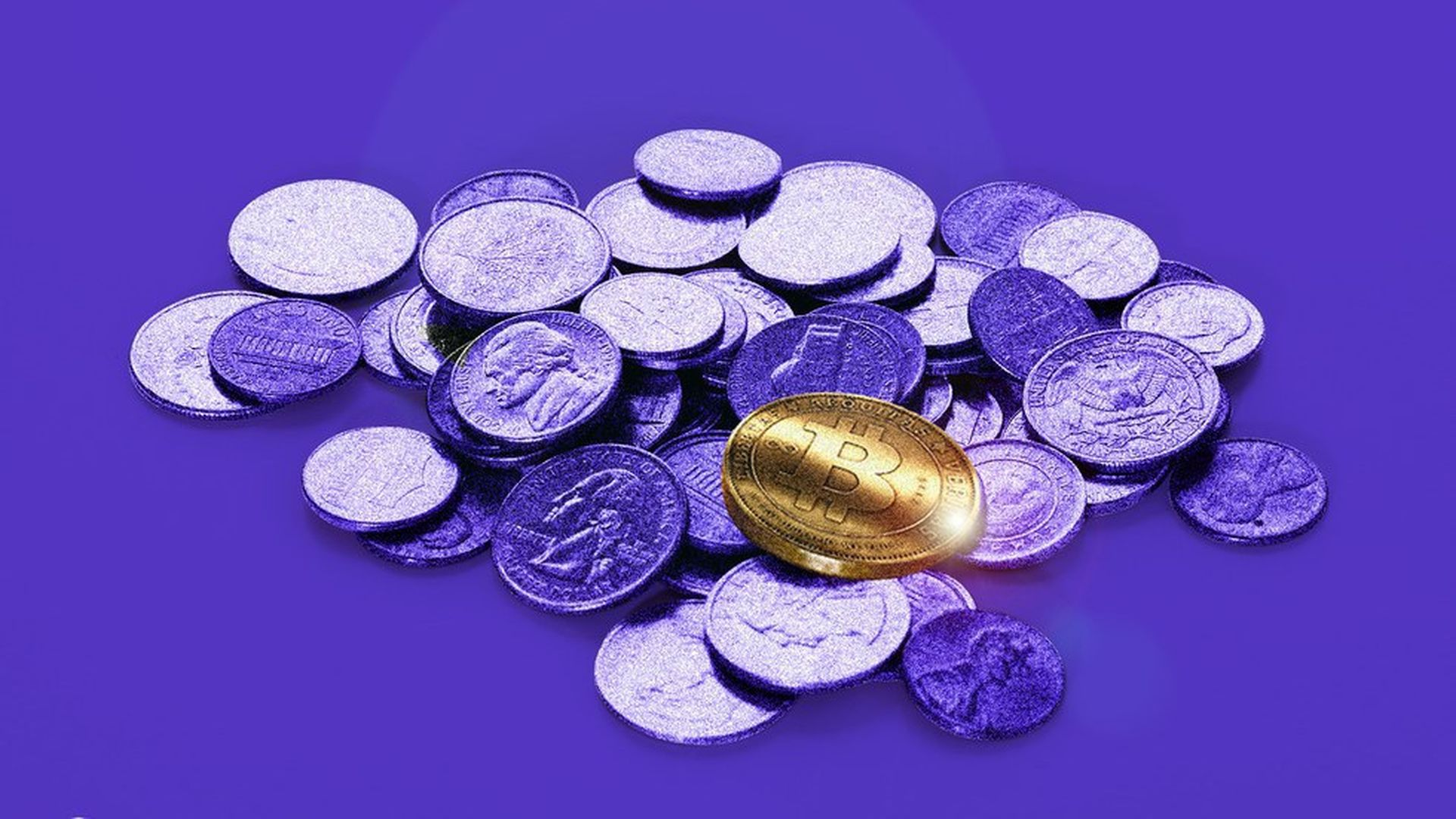 New York Fed president William Dudley said this morning that the Federal Reserve is exploring the creation of its own digital currency. Yup, a central bank is considering something based on decentralized technology. Let that sink in for a moment.
Best name suggestion so far comes from @shep_ben: AmeriCoin.
More crypto: TechCrunch founder Michael Arrington has launched a crypto hedge fund that will be denominated in Ripple XRP. He is partnering with former TechCrunch CEO Heather Harde on the effort, which has $100 million target with $50 million already committed. Most crypto hedge funds use a cryptocurrency as their reserve (rather than using fiat), but it's unusual to use crypto for both investments and disbursements. Read more.
• NBA-to-VC: When basketball player David Lee retired from the NBA last week, he said this to NBC Sports:
"I got a call from a couple of my very good friends that I met while I was a Golden State Warrior -- that run an unbelievable venture capital firm and are doing incredible things in the Bay -- and offered to have me come work for them... I decided to roll the dice and to try something new and I'm really excited about my decision."
Word is that the venture firm in question is Social Capital, which is led by Warriors minority owner Chamath Palihapitiya, but no deal has been formalized yet.
• Cordray consequences: The parent company of payday lender Speedy Cash yesterday set its IPO terms, and was sure to note that the recent resignation of Consumer Finance Protection Bureau boss Richard Cordray could be beneficial.
From the filing: The company argues that Cordray's successor – whether Mick Mulvaney or someone else – "could suspend, delay, modify or withdraw" strict new rules on payday lending that are slated to become effective in mid-2019.
Sarah Huckabee Sanders said during a Monday presser that the White House has a list CFPB actions under Cordray that it believes were inappropriate over-reach, but so far all she's pointed us to are a pair of tweets (one on auto loans, one on community banks). Still hoping to obtain the full list, to see if payday rules are included.
Excess example: Speedy Cash charges $273.01 in fees on a $500 online installment loan in Nevada, as we previously discussed.
IPO terms: 6.67 million shares at $14-$16, which would give it an initial market cap of $713 million at the high end. Private equity firm FFL Partners, which holds a 35% pre-IPO stake, is not planning to sell any shares.
• Tax talk: Just a reminder that neither the House nor Senate tax bills really close the carried interest loophole, as President Trump had promised to do during the campaign.
• All hail breaks loose: Benchmark Capital and Menlo Ventures have signaled that they will sell a portion of their shares to SoftBank via the tender, either at the initial offering price or wherever it ends up (the price can only be raised, not lowered). This info comes via SoftBank, which is not under the same gag order that it requested of the shareholders, and includes no specifics as to how many shares the firms would sell.
Do not underestimate how concerned VC firms are of crossing SoftBank. Not only has it become venture's largest and most aggressive player, but it also has become a vital source of interim liquidity.
Dara Khosrowshahi is in a strange position. He badly wants the SoftBank deal to get done, which means he will do what is required to support the discounted valuation. At the same time, however, he has fiduciary obligations to increase the company's value. This conflict can be rationalized, but it can't be ignored.
SoftBank got a shot in the arm yesterday when the Waymo vs. Uber trial was delayed after a mysterious letter from a former employee of the ride-hailing company surfaced. Kia has more.
Uber's Q3 financials are out. Gross revenue +11% over Q2 to $9.71 billion and net revenue +21% to $2.01 billion. But quarterly losses also are up 38% to $1.46 billion.
https://www.axios.com/newsletters/axios-pro-rata-10e82482-85c6-443d-8dbd-869d6033cea1.html?chunk=1#story1
The BFD
Cineworld Group (LSE: CINE), a British movie theater operator, said that it is in talks to buy U.S. peer Regal Entertainment (NYSE: RGC) for around $3.6 billion in cash, or $23 per share (26% premium over yesterday's closing price).
Why it's the BFD: Because it would create the world's second-largest movie theater chain, behind Dalian Wanda's AMC.
Bottom line: "Regal and fellow U.S. theater chains are under pressure as movie attendance has stagnated and many films this year have failed to meet expectations at the box office. The summer season -- usually the most lucrative for the industry -- was the worst since 2006." — Bloomberg
https://www.axios.com/newsletters/axios-pro-rata-10e82482-85c6-443d-8dbd-869d6033cea1.html?chunk=2#story2
Venture Capital Deals
🚑 ElectroCore, a Basking Ridge, N.J.-based developer of a bioelectronic device for treating pain associated with episodic cluster headaches, has raised over $70 million in Series B funding. Core Ventures led, and was joined by Merck Global Health Innovation Fund, Gakasa, American Investment Holdings and the Vinik Family Foundation. www.electrocore.com
• ALO7, a China-based provider of English language learning products, has raised $37.5 million in Series D funding. Legend Capital led, and was joined by GuoHe Capital, UG Investment, Qualcomm, New Oriental and Vickers Venture Partners. www.alo7.com
• Thrive Global, sleep-focused "behavior change" startup led by Arianna Huffington, has raised $30 million in Series B funding at what Recode reports is a $90 million pre-money valuation. IVP led, and was joined by Marc Benioff, Phil Fernandez and return backers Lerer Hippeau Ventures, Greycroft Partners,Advancit Capital and Sean Parker. http://axios.link/FVuv
• Spot.IM, a New York-based provider of social engagement solutions for publishers, has raised $25 million in Series C funding. Insight Venture Partners led, and was joined by return backers Altair VC and Norma Investments (on behalf of Roman Abramovich). www.spot.im
🚑 Prognos, a New York-based developer of AI software for medical diagnosis, has raised $20.5 million in Series C funding. Backers include Cigna, GIS Strategic Ventures, Hermed Alpha Industrial, Hikma Ventures, Select Investments, Merck Global Health Innovation Fund and Safeguard Scientifics. http://axios.link/pyBa
• InstaCarro, a Brazilian used car marketplace, has raised $22 million in first-round funding co-led by Lumia Capital and seed backer FJ Labs. http://axios.link/cowI
• Rx Savings Solutions, an Overland Park, Kan.-based pharmacy transparency startup, has raised $18.4 million in funding led by McCarthy Capital. www.rxsavingssolutions.com
• BetterLesson, a Cambridge, Mass.-based provider of teacher development software, has raised $10 million in Series B funding. Owl Ventures led, and was joined by the Michael & Susan Dell Foundation, New Markets Venture Partners and Reach Capital. http://axios.link/GIT4
• Seebo, an Israeli Internet-of-Things platform for launching "smart products," has raised $8 million in new Series A funding (round total now $16.5m). Backers on the new tranche include TPY Capital, Viola Ventures, Pritzker Group Venture Capital and Global IoT Technology Ventures. www.seebo.com
• Omniex, a San Francisco-based provider of investment and trading infrastructure solutions for the crypto asset market, has raised $5 million in seed funding. Wicklow Capital led, and was joined by Sierra Ventures, Digital Currency Group, Clocktower Technology Ventures and ThirdStream Partners. http://axios.link/ZuY9
🚑 Drawbridge Health, a Menlo Park, Calif.-based developer of a single device for drawing, collecting and stabilizing blood samples, has been launched by GE Ventures. No financial information was disclosed. http://axios.link/50NX
https://www.axios.com/newsletters/axios-pro-rata-10e82482-85c6-443d-8dbd-869d6033cea1.html?chunk=3#story3
Private Equity Deals
• Bain Capital and PAI Partners are among the bidders for French packaging group Albea, which is being sold by Sun Capital Partners for around $1.5 billion, according to Reuters. Other suitors include Onex Partners and Partners Group. Lazard is managing the process. http://axios.link/Kx5l
• Eurazeo (Paris: RF) has agreed to pay $270 million for a 30% stake in New York-based buyout firm Rhone Group. The deal includes $100 million in cash and 2 million shares of Eurazeo stock. http://axios.link/dsaU
• Link Real Estate Investment Trust (HK: 823) has agreed to sell a portfolio of Hong Kong shopping malls for $2.9 billion to an investor consortium led by Gaw Capital Partners (52% stake). Other buyers include Goldman Sachs and Chinas Great Wall Asset Management. http://axios.link/6TWP
• Marlin Equity Partners has agreed to acquire Bazaarvoice (Nasdaq: BV), an Austin, Texas-based maker of online and social media marketing software, for $521 million, or $5.50 per share (14.6% premium over Friday's closing price). http://axios.link/lUTk
• Munich Re's Ego unit has abandoned plans to sell its run-off life insurance policy portfolio, saying the non-binding bids it received were too low. Cinven had been one of the rumored suitors. http://axios.link/WiMN
• Red Monkey Foods, a Springfield, Mo.-based portfolio company of San Francisco Equity Partners, has acquired specialty salt maker San Francisco Salt Co. from its founder. www.redmonkeyfoods.com
🚑 Sun Capital Partners has agreed to acquire ClearChoice, a Greenwood Village, Colo.-based operator of dental implant centers, from L Catterton. www.clearchoice.com
https://www.axios.com/newsletters/axios-pro-rata-10e82482-85c6-443d-8dbd-869d6033cea1.html?chunk=4#story4
Public Offerings
🚑 Siemens AG is prepping a Frankfurt IPO for its healthcare business, which could be worth upwards of $47 billion, per the WSJ. http://axios.link/RmGo
https://www.axios.com/newsletters/axios-pro-rata-10e82482-85c6-443d-8dbd-869d6033cea1.html?chunk=5#story5
Liquidity Events
• Apax Partners announced plans to sell around half its remaining 22% stake in British cybersecurity company Sophos (LSE: SOPH). http://axios.link/RpBm
https://www.axios.com/newsletters/axios-pro-rata-10e82482-85c6-443d-8dbd-869d6033cea1.html?chunk=6#story6
More M&A
• Goldman Sachs is among the bidders for ScotiaMetals, the metals trading business of Bank of Nova Scotia that could be valued at upwards of US$1 billion, per Reuters. http://axios.link/w3ul
• Mars Inc. has agreed to acquire a minority stake in Kind, a New York-based snack-bar maker, at a valuation north of $4 billion. http://axios.link/lkBm
🚑 Philips has acquired Analytical Informatics, a Baltimore-based provider of workflow software for medical imaging departments. http://axios.link/dytR
• The Vietnamese government next month will launch a sale of a majority stake in local beer brewer Sabeco, which it hopes could garner around $5 billion. http://axios.link/XRGF
https://www.axios.com/newsletters/axios-pro-rata-10e82482-85c6-443d-8dbd-869d6033cea1.html?chunk=7#story7
Fundraising
🚑 KKR has closed its first healthcare-focused growth equity fund with $1.45 billion in capital commitments. www.kkr.com
🚑 Optum, the consulting and services arm of UnitedHealth Group (NYSE: UNH), is starting a $250 million venture capital fund. http://axios.link/VyQX
• Yukon Partners has closed its third mezzanine fund with nearly $559 million in capital commitments. www.yukonpartners.com
https://www.axios.com/newsletters/axios-pro-rata-10e82482-85c6-443d-8dbd-869d6033cea1.html?chunk=8#story8
It's Personnel
🚑 Maina Bhaman has joined France-based VC firm Sofinniva Partners as a partner. She previously was director of healthcare investments for London-based Touchstone Innovations. www.sofinnova.fr
• Kyle Doherty has joined venture firm General Catalyst as a managing director. He previously was with Coatue Management. www.generalcatalyst.com
• Virginie Morgon will be promoted to CEO of Eurazeo effective next March, succeeding Patrick Sayer. She currently is deputy CEO. www.eurazeo.com
• John Porcari, former U.S. Deputy Secretary of Transportation, has joined Corsair Infrastructure Partners as an operating partner. www.corsair-infrastructure.com
• Xavier Rolet has stepped down as CEO of the London Stock Exchange. http://axios.link/48Vm
https://www.axios.com/newsletters/axios-pro-rata-10e82482-85c6-443d-8dbd-869d6033cea1.html?chunk=9#story9
Final Numbers