Axios Pro Rata
April 27, 2022
🍷 Publishing note: I'm in Napa Valley for the rest of the week, so Kia will steer these morning missives. Please send her news and scoop ([email protected]), and we'll chat again on Monday.
Top of the Morning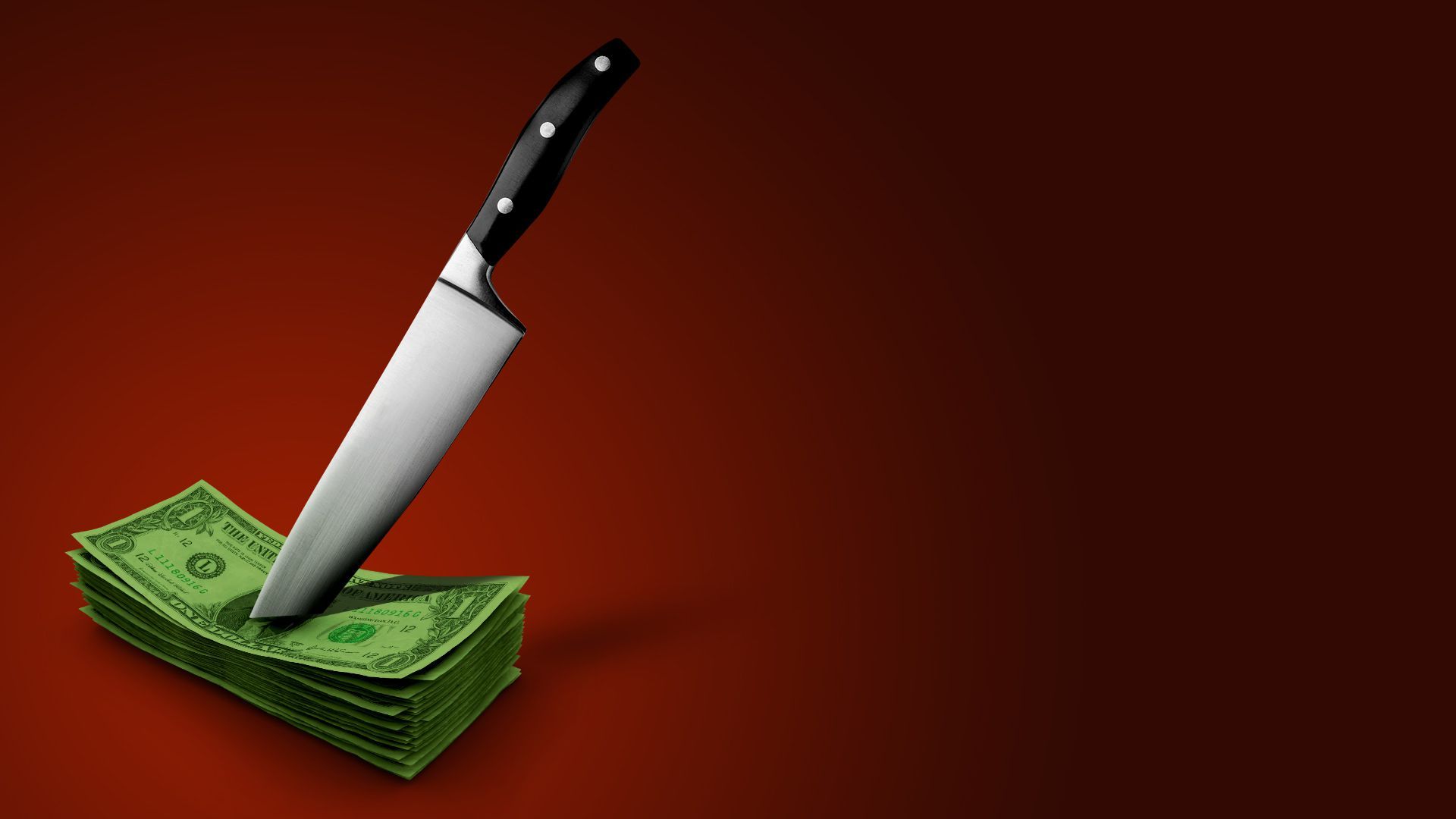 The Silicon Valley mob hasn't come for Ryan Breslow or Bolt Financial. Instead, the attack is coming from New York.
Driving the news: Authentic Brands Group, the retail and brand management juggernaut led by Jamie Salter, has sued Bolt for breach of contract.
At issue is the one-stop checkout tech Bolt agreed to build for ABG brands like Forever 21 and Lucky, and a deal whereby ABG could get a 5% equity stake in Bolt were it to hit certain gross transaction volumes.
By the numbers: Bolt most recently was valued at $11 billion by venture capitalists, which would put ABG's piece at $550 million (on just a $29 million cost basis).
In the suit, ABG alleges that the software wasn't ready when promised, and that Bolt changed the terms of the $750 million GMV threshold needed to exercise the warrants.
Axios has obtained a memo sent from Bolt's general counsel to company employees, which says in part: "We disagree with ABG's assertions, and stand behind the incredible work our teams have put into this relationship. Furthermore, we believe our position is strong, and look forward to prevailing in court as the legal process plays out."
The memo adds that ABG continues to work with Bolt, including plans to launch this year with the Nautica brand.
This could be bad for Bolt because the company has regularly touted ABG as one of its flagship customers and tech validators. ABG is now publicly saying the company regularly fails to meet its deadlines, is dishonest and a lousy partner.
Plus, if ABG can prove that Bolt missed deadlines, it raises questions about Breslow's evangelism for the four-day workweek.
This could be bad for private equity-backed ABG if it diminishes the equity value of Bolt, via a lawsuit designed to secure equity in Bolt. Maybe that's why ABG originally filed this suit under seal (a judge later disagreed).
It also could complicate ABG's future ability to sign deals with tech upstarts, if it's viewed as too litigious.
Neither company agreed to comment on the record about the suit.
Thanks to my Axios Pro colleagues Lucinda Shen (Fintech) and Richard Collings (Retail) for helping on this story.
The BFD
Mattel (Nasdaq: MAT), the toymaker behind Barbie and Hot Wheels, has spoken with private equity firms L Catterton and Apollo Global Management about a possible sale, per the WSJ.
Why it's the BFD: This could be part of a major reshuffling of the U.S. toy market, with rival Hasbro battling activist investor Alta Fox over its own future.
By the numbers: Mattel shares spiked more than 11% in early trading today, giving it a market cap north of $8.5 billion.
The bottom line: What's still unclear is how private equity would extract value from a company that's already instituted such deep cuts, including factory closures and layoffs of around one-third of its workforce. One possibility could be spinning off its American Girl unit, as its retail piece is a bit of an odd fit with the rest of Mattel, or just banking on big revenue from film projects tied to existing IP.
Venture Capital Deals
• Mavrck, a Boston-based influencer marketing platform for enterprise consumer brands, raised $135m led by Summit Partners. The investment supports a merger with Later, a social media marketing and commerce platform for small business owners and creators. http://axios.link/Qi02
⚡ FreeWire Technologies, an Oakland-based maker of EV chargers, raised $125m from firms like BlackRock, Riverstone and BP. http://axios.link/4KlO
• Johnnie-O, a Santa Monica, Calif.-based men's lifestyle apparel brand, raised $108m from Wasatch Global Investors and Ares Management. http://axios.link/bXq3
• 0x Labs, an SF-based decentralized exchange infrastructure provider, raised $70m in Series B equity funding led by Greylock. www.ox.org
🚑 Ashvattha Therapeutics, a Redwood City, Calif.-based developer of hydroxyl dendrimer therapeutics, raised $69m in Series B funding. Huadong Medicine led, and was joined by insiders Natural Capital, Plum Alley and Tribe Capital. www.avttx.com
• BandLab, a Singapore-based social music platform, raised $65m in Series B funding at a $315m post-money valuation. Vulcan Capital led, and was joined by Prosus Ventures, Caldecott Music Group and K3 Ventures. http://axios.link/RPMW
• Reveal, a French partner ecosystem startup, raised $50m in Series A funding. Insight Partners led, and was joined by Eight Roads, Chalfen Ventures, and Dig Ventures. http://axios.link/pOB1
• QuotaPath, an Austin and Philadelphia-based provider of commission tracking software, raised $41m in Series B funding. Tribe Capital led, and was joined by insiders Insight Partners, ATX Venture Partners, Stage 2 Capital and Integr8d Capital. http://axios.link/AOoY
• Eurora Solutions, an Estonian cross-border e-commerce compliance platform, raised $40m in Series A funding. Connected Capital led, and was joined by Change Ventures and Equity United. http://axios.link/qRBw
🚑 Waltz Health, a GoodRx rival led by former OptumRx CEO Mark Thierer, raised $35.4m in Series A funding. GV led, and was joined by Define Ventures, Echo Health Ventures and Blue Venture Fund. http://axios.link/19K5
• Source Defense, an Israeli web application client-side protection, raised $27m in Series B funding. Springtide Ventures led, and was joined by insiders JVP, AllegisCyber, Global Brain, Connecticut Innovations, NightDragon and Capital One Ventures. www.sourcedefense.com
⚡ Zeno Power, a Washington, D.C.-based developer of radioisotope power systems, raised $20m in Series A funding led by Tribe Capital. http://axios.link/1ACn
• Conjura, an Irish e-commerce data analytics startup, raised €15m in Series A funding. Act VC and MiddleGame Ventures co-led, and were joined by Tribal VC. http://axios.link/mb6U
• Seaplane, a Mountain View, Calif.-based cloud app optimization startup, raised $15m in Series A funding. Sequoia Capital led, and was joined by 8VC and Atlantic Bridge. http://axios.link/ZIYZ
⚡ South 8 Technologies, a San Diego-based developer of electrolyte formulations for lithium batteries, raised $12m in Series A funding. Anzu Partners led, and was joined by LG Technology Ventures, Shell Ventures, Foothill Ventures and TNSC. http://axios.link/BnVs
• Afriex, a Nigerian developer of a blockchain-based payments platform, raised $10m from Dragonfly Capital, Sequoia Capital and Stellar. http://axios.link/dAXX
🚑 Pillsorted, a London-based personalized delivery pharmacy startup, raised $6m in seed funding from Pear VC, Hoxton Ventures and Edison Partners. http://axios.link/cerR
• JustiFi, a Minneapolis-based payment processing startup, raised $4m. Crosslink Capital led and was joined by Rally Ventures and Emergence Capital. www.justifi.ai
⚡ Yotta Energy, an Austin, Texas-based energy storage technology startup for the rooftop C&I market, raised $3.5m in new Series A funding (round total $16.5m) from backers like APsystems. www.yottaenergy.com
• Loops, an email sending platform designed for startups, raised $3.2m in seed funding. Craft Ventures led, and was joined by Sahil Bloom. www.loops.so
🚑 Frame Fertility, an SF-based virtual reproductive support startup, raised $3m in seed funding, per Axios Pro. Looking Glass Capital led, and was joined by Flare Capital Partners, Great Oaks Venture Capital, Healthworx and Brand Foundry Ventures. http://axios.link/7NsE
⚡ BattGenie, a Seattle-based battery charging startup, raised $1.5m in seed funding co-led by Powerhouse Ventures and VoLo Earth Ventures. www.battgenie.life
Private Equity Deals
• ICV Partners invested in Beacon Global Strategies, a Washington, D.C.-based strategic advisory firm. www.bgsdc.com
• IK Partners entered exclusive talks to buy Batisanté, a French provider of compliance and safety services to residential buildings and professional customers, from 21 Partners and LGT European Capital. http://axios.link/gIt9
• May River Capital formed an acquisition platform called AHS to buy handling equipment and automation companies, including Spiroflow and Cablevey Conveyors. www.automatedhandlingsolutions.com
• Providence Equity Partners agreed to buy Airties, a Turkish provider of cloud-based managed WiFi solutions, from backers like Invus. www.airties.com
• Resurgens Technology Partners invested in i-Sight, a Canadian provider of case management software for HR, compliance and corporate security teams. www.i-sight.com
• Snow Peak Capital bought a majority stake in Sandy Alexander, a Clifton, N.J.-based multi-channel marketing communications company. www.sandyinc.com
• Sterling Investment Partners bought Kendall Vegetation Services, a Lawrenceville, Ga.-based provider of vegetation management services, from Blue Point Capital Partners. www.kendallco.net
• Surge Private Equity bought Bar Partners, a provider of vending and amusement equipment for entertainment venues, and will merge it with existing portfolio company Amuze Products. The deal is valued at around $50m. www.amuzeproducts.com
• TPG Growth acquired a majority stake in Morrow Sodali, a New York-based shareholder proxy firm. http://axios.link/RzcQ
🚑 Vivian Health, healthcare jobs marketplace owned by IAC, raised $60m led by Thoma Bravo, as first reported by Axios Pro. http://axios.link/PehZ
• Worldwide Produce, an LA-based portfolio company of Sole Source Capital, acquired Chef's Choice Produce, a distributor of fresh produce and dairy products in Northern California. www.wwproduce.com
Today in Twitter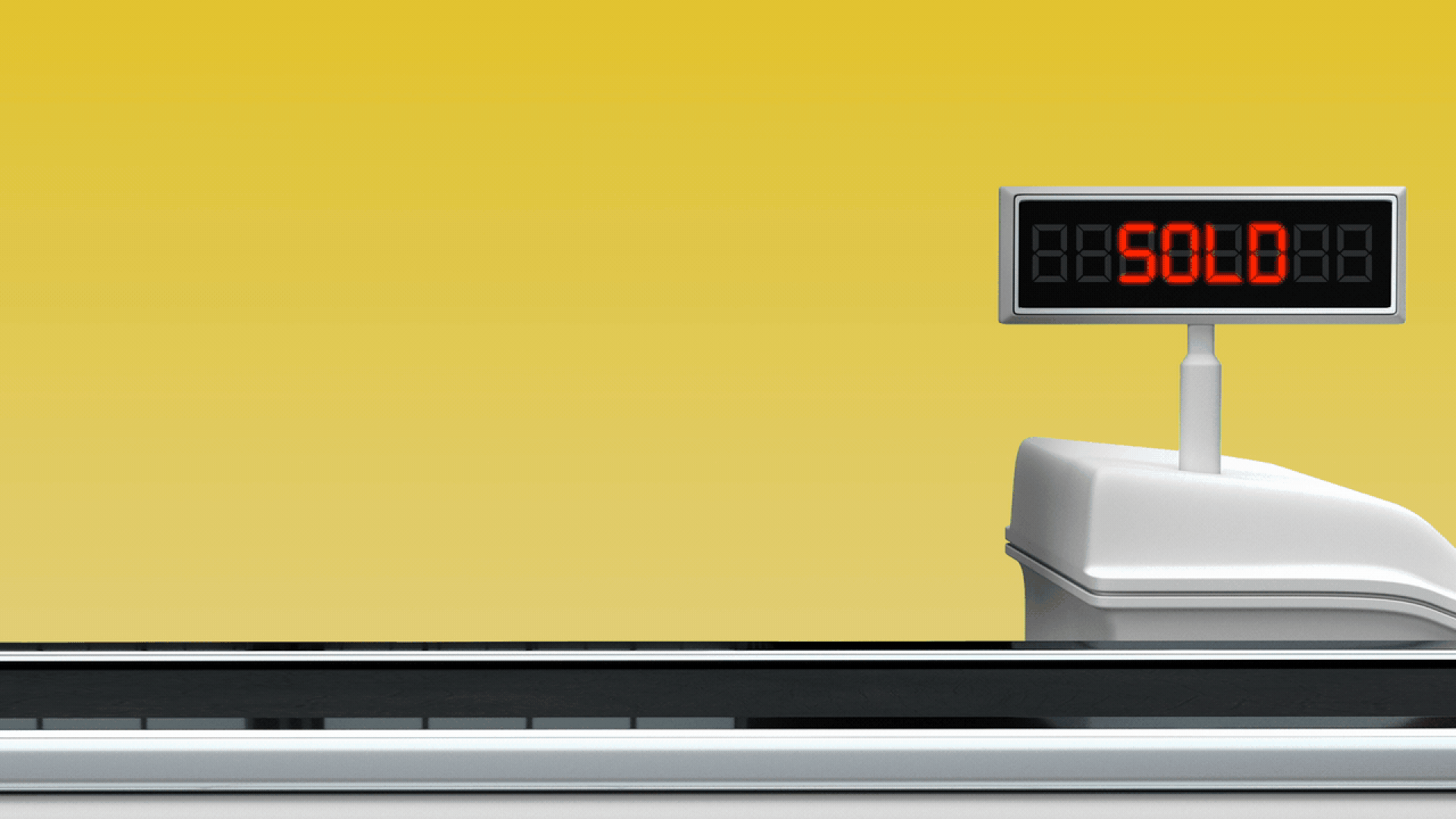 Three new developments since we last discussed Elon Musk's takeover of Twitter.
Deal terms: The merger agreement is now public, and it includes $1 billion breakup fees for both Twitter and Musk (under a fairly limited set of circumstances). The deal is slated to close by Oct. 24, although could be extended if there are regulatory delays.
Also worth noting that Musk isn't allowed to disparage the company or its representatives in tweets about the transaction — an agreement he's arguably already violated — although there's no reason to believe Twitter would enforce such a clause.
Money: Tesla shares fell more than 12% yesterday, as investors digested the Twitter news. That represents a $21 billion paper loss for Musk, which is the same amount he's committed to the Twitter deal. In other words, at the moment, Twitter would cost Musk twice what he expected.
Reaction: Twitter co-founder and former CEO Evan Williams last night made his first public comments since Musk's initial approach, saying he's "excited to see what happens."
SPAC Stuff
🚑 Cytovia, a Cambridge, Mass.-based oncology biotech, agreed to go public at an implied $602m valuation via Isleworth Healthcare Acquisition (Nasdaq: ISLE). www.cytoviatx.com
• EON Reality, an Irvine, Calif.-based AR/VR company, agreed to go public at an implied $655m valuation via Arogo Capital Acquisition (Nasdaq: AOGO). www.eonreality.com
🚑 OneMedNet, an Eden Prairie, Minn.-based platform for sharing confidential medical information, agreed to go public at an implied $317m valuation via Data Knights Acquisition Corp. (Nasdaq: DKDCA). www.onemednet.com
• SuperBac, a Brazilian developer of bacteria for agricultural and industrial purposes, agreed to go public at an implied $500m valuation via XPAC Acquisition Corp. (Nasdaq: XPAC), a SPAC formed by XP Investimentos. http://axios.link/n03O
• Graf Acquisition II, an industrials SPAC led by James Graf, withdrew registration for a $225m IPO. http://axios.link/Wdk0
• Ripplewood, a U.S. private equity firm, said it would launch a SPAC in Amsterdam. http://axios.link/16Gr
• Queen's Gambit Growth Capital II, a sustainable business SPAC, withdrew registration for a $300m IPO. http://axios.link/pni7
• Siddhi Acquisition, a food and beverage SPAC, withdrew registration for a $200m IPO. http://axios.link/rbbQ
Liquidity Events
• Pfingsten Partners agreed to sell Dynapower, a South Burlington, Vt.-based provider of energy storage and power conversion systems, to Sensata Technologies (NYSE: ST) for $580m in cash. www.dynapower.com
More M&A
🚑 3M (NYSE: MMM) is again considering a sale process for Health Information Systems, its health care revenue cycle management arm, per Axios Pro. http://axios.link/Rx33
• Air India, owned by Tata Group, offered to buy the outstanding equity of low-cost carrier AirAsia India, in which Tata is majority owner. http://axios.link/rHmO
• Larry Johnston, former CEO of grocery chain Albertsons, acquired a 50% stake in restaurant chain Peach Cobbler Factory. http://axios.link/SPsN
• Reckitt Benckiser (LSE: RKT) is seeking a buyer for its baby formula unit, which could fetch more than $7b, per the FT. http://axios.link/AlJu
It's Personnel
• Jake Elmhirst joined Coller Capital as a partner. H previously was with UBS. http://axios.link/paKq
• Omri Green joined Dell Technologies Capital as a partner. He previously was with Grove Ventures. http://axios.link/5zIf
• Jump Capital, a Chicago-based VC firm, hired Austin Chung (ex-Touchdown Ventures) as a VP and Robb Hutchins (ex-Amazon) as VP of Growth. www.jumpcap.com
• Vishal Gupta joined TA Associates as a Mumbai-based director. He previously was with SoftBank Vision Fund. www.ta.com
• Andy Kalbaugh joined TowerBrook Capital Partners as a member of the firm's management advisory board. He's a former managing director with LPL Financial. www.towerbrook.com
• Julia Kahr joined Cinven as a partner and head of North America. She previously was a senior managing director at Blackstone. www.cinven.com
• Charlie Tingue stepped down as a PE secondaries partner with Ares Management, where he's said to be a keyman on the Landmark funds, per Secondaries Investor. http://axios.link/TScZ
Final Numbers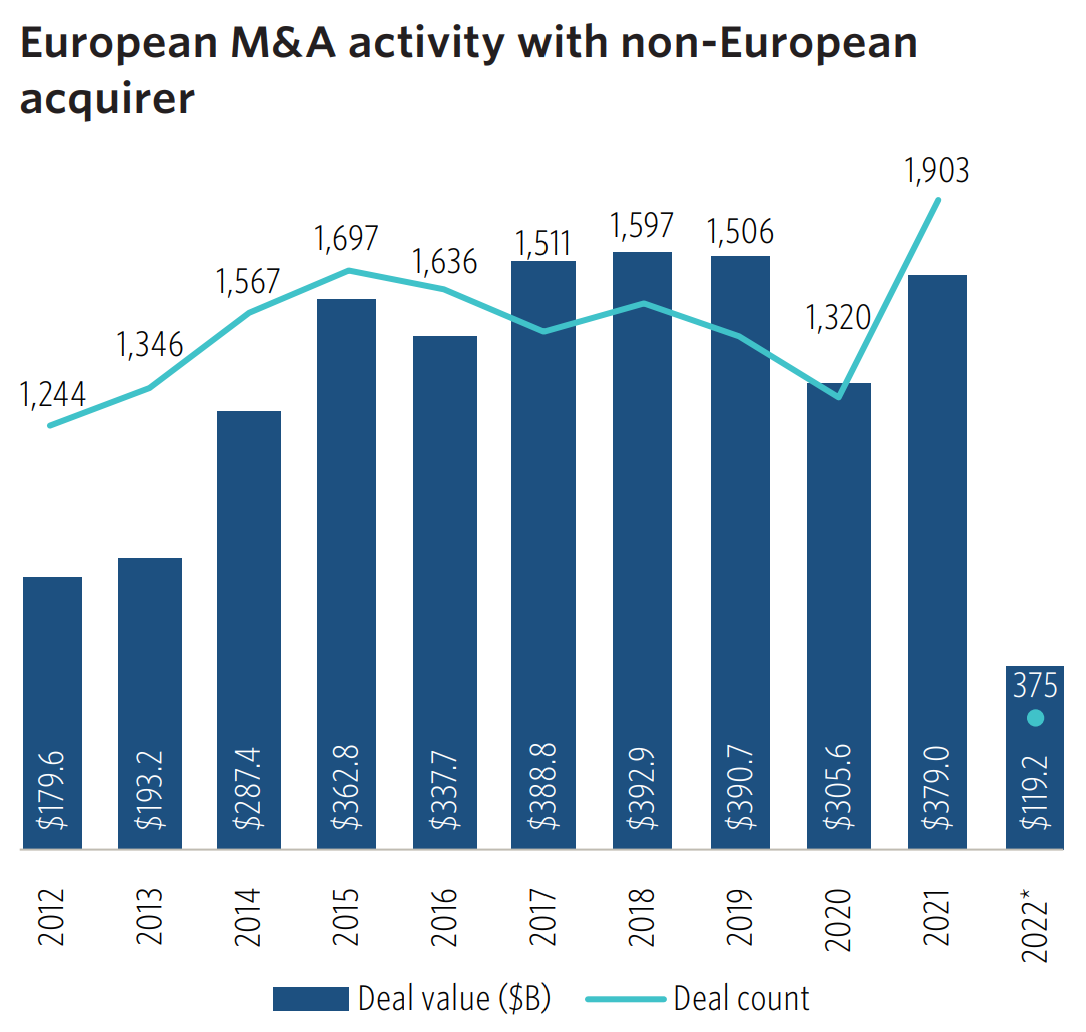 Russia's invasion of Ukraine didn't slow European M&A, which hit a new quarterly record in Q1 2022 (including a sizable slice of non-European acquirers), per PitchBook.
But, but, but: Mergers can take months to negotiate. The new data suggests that the war didn't sidetrack existing deal talks, but we don't yet know its impact on new deal-sourcing.
✅ Thanks for reading Axios Pro Rata! Please ask your friends, colleagues and Fisher Price players to sign up.