Axios Pro Rata
April 23, 2018
Greetings from the home office, where spring has finally sprung. Please tell your colleagues that they can sign up for these morning missives at http://GetProRata.axios.com. Okay, here we go...
Top of the Morning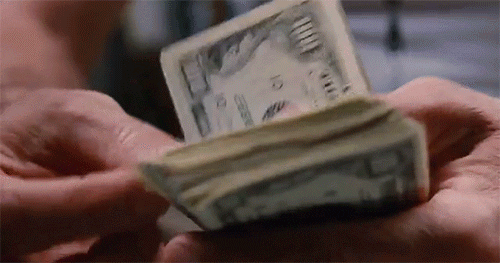 If it feels like sovereign wealth funds are popping up in more and more large transactions, it's probably because they now manage a ridiculous amount of cash.
Assets under management for SWFs now totals a whopping $7.45 trillion, up 13% from last year, according to a new report from Preqin. Of that, $5.49 trillion is managed by just 10 funds.
71% of SWFs have seen asset increases over the past year (up from 51% a year ago). Much of that rise can be attributed to the bull market for public equity.
51% of the total capital is held by hydrocarbon-funded SWFs.
The top asset classes for SWFs are public equities (82%) and fixed income (78%).
60% of SWFs invest in private equity. A notable exception remains Norway's GPFG, which also is the world's largest SWF with $1.06 trillion in AUM.
Only 35% invest in hedge funds, although that percentage has increased in each of the past two years.
• Fund scoop: 8VC, the San Francisco-based venture firm led by Joe Lonsdale, has quietly closed its second flagship fund with $640 million in capital commitments, Axios has learned.
• Don't mess with monks: Buddhist activists have forced a Chinese provincial government to scrap IPO plans for a tourism venture associated with a holy mountain.
Go deeper in the FT: "The halt to the IPO marks a rare success in the fight to stop businesses from profiting from Buddhist holy sites in China — many of which have already been fully commercialized."
• Toy story: Fairfax Financial has reached a tentative agreement to purchase 82 Canadian stores from Toys "R" Us for C$237 million.
Bratz founder Isaac Larian, who we discussed last week, says he will continue pursuing his efforts to buy around 200 performing U.S. stores via a sweetened bid. His original offer, which was not accepted, had included Canada (but he plans to drop that part).
The BFD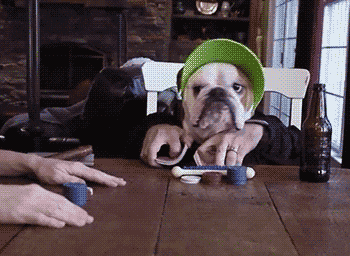 The Stars Group (Nasdaq: TSG) has agreed to acquire Sky Betting & Gaming from CVC Capital Partners and Sky PLC (LSE: SKY) for US$4.7 billion in cash and stock.
Why it's the BFD: Because this will create the world's largest publicly-listed online gambling company, and comes as the U.S. Supreme Court weighs a case that could allow states to legalize sports betting.
Bottom line: "After its failed attempt to take control of Sky rival William Hill, Stars Group is gaining a significant foothold in the UK — the largest regulated gaming market — and a trove of potential new customers for its online casino and poker offerings. The acquisition also helps accelerate [Stars'] strategy to decrease reliance on the unstable poker business, which accounted for two-thirds of revenue last year. " — Bloomberg
Venture Capital Deals
• FuboTV, a New York-based seller of a "skinny bundle" streaming service, raised $75 million in new VC funding from AMC Networks, 21st Century Fox, Discovery, Northzone and Luminary Capital. http://axios.link/HtRr
• Formlabs, a Somerville, Mass.-based 3D printing company, raised $30 million in Series C funding led by Tyche Partners. http://axios.link/EmYZ
• Chai Point, an Indian owner of a chain of tea and snacks stores, raised $20 million in Series C funding. Paragon Partners led, and was joined by return backers Saama Capital, DSG Consumer Partners and Eight Road Ventures. http://axios.link/m2zm
🚑 Emboline, a Santa Cruz, Calif.-based developer of a device for embolic protection during transcatheter aortic valve replacement, raised over $10 million in Series B funding co-led by SV Tech Ventures and ShangBay Capital. www.emboline.com
• FlexyBeauty, a Paris-based provider of SaaS for hair and beauty professionals, raised €7 million from Serena Capital and Newfund. http://axios.link/10GA
• Slite, an internal documentation app for enterprises, raised $4.4 million in seed funding led by Index Ventures. http://axios.link/BRLL
Private Equity Deals
🔨 ACON Investments completed its previously-announced purchase of a majority stake in Chicago-based hardware retailer True Value. http://axios.link/PHrq
• Apollo Global Management and Blackstone Group are the two remaining bidders for Spanish gaming hall operator Cirsa, "raising doubts about whether the sale will go ahead," according to Reuters. http://axios.link/7jj4
🚑 Axcel Management has agreed to acquire the diagnostic testing unit of Finnish drug maker Orion for €163 million. http://axios.link/sBNw
• BC Partners and Ontario Teachers' Pension Plan have agreed to recapitalize Canadian liquid waste management company GFL Environmental at an enterprise value of around $5.125 billion. http://axios.link/gNmD
• Bertelsmann has hired Goldman Sachs to manage an auction for call enter business Arvato, according to Reuters. Interested suitors reportedly include KKR-owned Webhelp and Carlyle-controlled Comdata. http://axios.link/8VTt
• Fastener Distribution Holdings, a Marina Del Rey, Calif.-based portfolio company of Audax Private Equity, has acquired Blue Sky Industries, a Monterey Park, Calif.-based distributor of c-class parts to aerospace and defense MRO and OEM customers. www.blueskyindustries.com
• Fulcrum Capital Partners acquired Athletica, a Canadian provider of dasher board systems for hockey arenas and multi-sport athletic facilities. www.athletica.com
🚑 Henry Schein (Nasdaq: HSIC) plans to spin off its animal health business and merge it with Vets First Choice, a Portland, Maine-based provider of tech-enabled healthcare services for veterinary medicine. Henry Schein shareholders will own around 63% of the combined company, while Vets First Choice backers like Clayton, Dubilier & Rice and Hillhouse Capital will own the remainder. http://axios.link/A819
🚑 Humana (NYSE: HUM), TPG and Welsh Carson Anderson & Stowe have agreed to jointly purchase Curo Health Services, a hospice operator with 245 locations in 22 states, for around $1.4 billion from Thomas H. Lee Partners. www.curohealthservices.com
🚑 Summit Partners has agreed to acquire Sound Inpatient Physicians, a Tacoma, Wash.-based provider of acute medical care, from Germany's Fresenius for $2.15 billion. http://axios.link/blI8
Public Offerings
• Six companies are expected to price IPOs on U.S. exchanges this week, seeking to raise a combined $1.3 billion. They are: DocuSign, Ceridian HCM, Smartsheet, Goosehead Insurance, nLight and aitan Liposome. http://axios.link/3PMs
• The Lovesac Co., a Stamford, Conn.-based seller of beanbag chairs, filed for a $40 million IPO. It plans to trade on the Nasdaq under ticker LOVE, with Roth Capital as sole underwriter. The company reports a $5.5 million net loss on around $102 million in revenue for its most recent fiscal year. Shareholders include Satori Capital and Mistral Equity Partners. www.lovesac.com
🚑 Ping An Healthcare & Technology, operator of Chinese mobile medical app Ping An Good Doctor, plans to raise up to $1.12 billion in its Hong Kong IPO. http://axios.link/xcXY
• Tencent Music is prepping an IPO for the second half of 2018, per the WSJ. http://axios.link/k2sb
Liquidity Events
🚑 AAC Capital has hired JPMorgan to find a buyer for Envirotainer, a Swedish renter of shipping containers for temp-sensitive healthcare products, per Reuters. The deal could be worth up to €1 billion. http://axios.link/RSR6
🚑 Alvogen, a German generic pharma company owned by CVC Capital Partners and Temasek, is seeking a buyer for its Central and Eastern European unit, which could fetch up to $1 billion, per Reuters. http://axios.link/4y4G
More M&A
⛽ CenterPoint Energy (NYSE: CNP) is in talks to acquire rival gas and electric utility Vectren (NYSE: VVC), according to Reuters. http://axios.link/s5mD
• General Electric (NYSE: GE) reportedly is in talks to sell its $7 billion rail business to Wabtec (NYSE: WAB). http://axios.link/Cxzs
🚑 Fresenius of Germanty has terminated its $4.75 billion takeover of Illinois-based generic drug-maker Akorn (Nasdaq: AKRX) and said it will not renegotiate. The move comes after an investigation found data integrity "breaches" at Akorn. http://axios.link/xY72
⛽ Subsea 7 (Oslo: SUBC) has made a $2 billion hostile takeover offer for Houston-based offshore oil services company McDermott (NYSE: MDR), which already has a deal to merge with Chicago Bridge & Iron (NYSE: CBI). http://axios.link/HdfX
Fundraising
• NIO, a Chinese electric car company, reportedly is raising up to $500 million for an offshore fund that will invest in automotive technologies. http://axios.link/fHbX
It's Personnel
• Armance Bordes has joined Sofinnova Partners as general counsel. She previously was with Eurazeo.
• Martha Coultrap has joined Dorsey & Whitney as a New York-based partner focused on private fund formation. She previously was with Sullivan & Worcester. www.dorsey.com
• Katherine Grass has joined Thayer Ventures as a Madrid-based venture partner. She previously was global head of innovation and ventures at Amadeus Group. www.thayerventures.com
• Dylan Love, a former executive recruiter for both Facebook and Uber, has joined Lightspeed Venture Partners as VP of executive talent, per his LinkedIn profile. www.lsvp.com
• Thomas Stierwalt has rejoined Cowen & Co. as director of tech investment banking, after having spent a year with Deutsche Bank, per his LinkedIn profile.
In Memoriam
Whitney Bowman, a partner with Texas-based private equity firm Gauge Capital, passed away last Friday morning from sudden cardiac arrest. He was just 41 years-0ld, and leaves behind his wife Brittanie and six children.
Final Numbers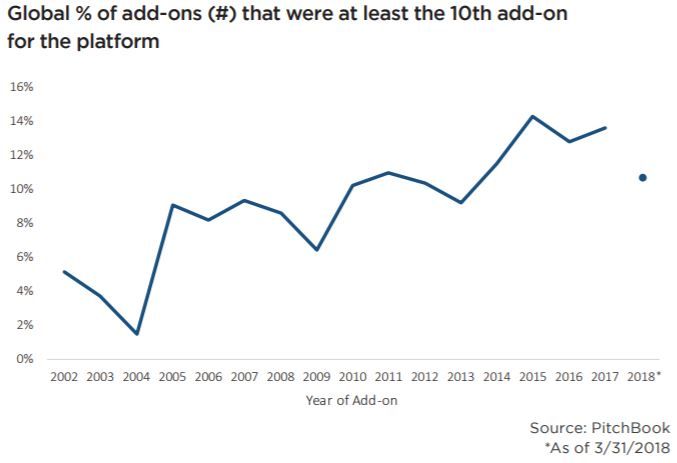 More data from PitchBook:
Nearly 30% of all PE-backed companies now complete at least one add-on acquisition, compared to less than 20% in the early aughts.
Around 1/4 of add-on private equity deals since 2014 were at least the platform's fifth deal.
Bottom line: "As PE investors have come to terms with the stark reality that the use of leverage, financial engineering and multiple expansion are no longer adequate to deliver strong returns, they have become more willing to pursue value creation initiatives that are more capital- and labor-intensive—and that take longer to bear fruit."