October 08, 2021
Top of the Morning
Early greetings from 35,000 feet, as I'm on a last-minute assignment for "Axios on HBO." Just a few quick notes to kick us off:
1. Global venture capital funding hit an all-time record in Q3, topping $158 billion, per a report from CB Insights.
That's more than double the Q3 2020 total, and more than any full-year totals before 2018. Or, put another way, startups raised more in three months of 2021 than during the entire dotcom boom years of 1999 or 2000. Imagine how fat these issues of Red Herring would be...
Mega-rounds (of $100 million or more are driving the surge, accounting for just 4% of total deals but 58% of dollar volume.
The median late-stage deal valuation hit $1.1 billion, more than the 2020 median. This means the median late-stage deal now creates a unicorn (also, one-third of new unicorns are in fintech).
The quarter's busiest firm in Q3 wasn't Tiger Global or Insight Partners. It was Sequoia Capital China, averaging an insane 1.5 deals per day.
2. Founder share sadness: Congress is working on legislation that would ban brokers or investment advisers from recommending SPACs whose sponsors receive more than 5% ownership, per Institutional Investor.
It only would apply to recommendations made to unaccredited investors.
3. That didn't last long. Visionrare launched earlier this week as an NFT marketplace whereby people could pay real money for fake equity in hot startups. Basically a monster mash of fantasy sports and Sand Hill Road. Or the Hollywood Stock Exchange, but with financial consequence.
One day later, Visionrare announced a temporary shutdown and money returns, saying it had "underestimated the legal complexities."
The BFD
Saudi Arabia's Public Investment Fund led a £305 million acquisition of Premier League soccer club Newcastle United, alongside PCP Capital Partners and RB Sports & Media. The seller is British billionaire Mike Ashley.
Why it's the BFD: This deal was agreed to over a year ago, but got held up due to geopolitical tensions between Saudi Arabia and Qatar, nominally over broadcast rights. Now that the two countries have rebuilt diplomatic and economic relations, and PIF satisfied Premier League concerns over state control, the broadcast rights dispute has dissipated.
Bottom line: "Newcastle have not been English champions since 1927 and have not won any domestic silverware since 1955, and fans believe this takeover will move them out of mediocrity. In seven games this Premier League season, Newcastle are yet to win a game and are 19th in the table, above only Norwich City." ⁠— James Olley, ESPN
Venture Capital Deals
• Chronosphere, an Issaquah, Wash.-based data observability startup, raised $200 million in Series C funding at a valuation north of $1 billion. General Atlantic led, and was joined by Founders Fund and insiders Addition, Greylock and Lux Capital. http://axios.link/9pkT
• Modern Treasury, an S.F.-based provider of payments operations software, raised $85 million in Series C funding. Altimeter Capital led, and was joined by insiders Benchmark and Quiet Capital. www.moderntreasury.com
• The Mom Project, a Chicago-based online talent marketplace for women, raised $80 million in Series C funding. Leeds Illuminate led, and was joined by 7GC, Initialized Capital, OCA Ventures, Citi, High Alpha, Grotech Ventures and SVB. http://axios.link/NTBW
• Gretel AI, a Poway, Calif.-based privacy engineering-as-a-service startup, raised $50 million in Series B funding. Anthos Capital led, and was joined by Section 32 and insiders Greylock and Moonshots Capital. http://axios.link/3hfk
• BrightHire, a New York-based job interview platform, raised $20.5 million in Series B funding. 01 Advisors led, and was joined by Index Ventures and Zoom Apps Fund. http://axios.link/ZmIq
🚑 Brave Care, a Portland, Ore.-based pediatric healthcare platform, raised $25 million led by Mednax (NYSE: MD). www.bravecare.com
• Pursuit, a New York-based provider of SaaS that connects companies with law and other professional services firms, raised $20 million in Series A funding led by OpenView Venture Partners. www.persuit.com
• Trioscope, an Atlanta-based animated drama engine, raised $5 million. BitKraft Ventures led, and was joined by Sony Innovation Fund, Transcend Fund, Cordillera Investment Partners and Axis Mundi Capital. www.trioscopestudios.com
• Otto, a Dallas-based startup that lets users leverage their car equity for loans, raised $4.5 million in seed funding. Uncommon Capital led, and was joined by Pelion Venture Partners, 1930 Capital, Bloom VP, Spacecadet Ventures and Mark Cuban. http://axios.link/YD85
• Stader Labs, an Indian cryptocurrency staking management platform, raised $4 million in seed funding. Pantera Capital led, and was joined by Coinbase Ventures, True Ventures, Jump Capital and Ledgerprime. http://axios.link/eaiB
• Facemoji, an avatar startup, raised $3 million in seed funding. Play Ventures led, and was joined by Twitter and Roosh Ventures. http://axios.link/0oE7
Private Equity Deals
🚑 1-800 Contacts, an Orem, Utah-based portfolio company of KKR and Leonard Green & Partners, acquired Ditto, an Oakland-based provider of virtual try-on and frame recommendation tech that had raised VC funding from GingerBread Capital, August Capital and National Vision. www.ditto.com
• Ara Partners bought Fluitron, an Ivyland, Pa.-based maker of industrial gas compression and dispensing equipment. www.fluitron.com
🎵 The Blackstone Group is in talks to invest around $1 billion to bankroll a music catalog acquisition platform led by music manager Merck Mercuriadis, per Bloomberg. http://axios.link/QIfe
• Centerbridge Partners and TowerBrook are considering a joint €1.7 billion takeover offer for German real estate lender Aareal Bank, per Bloomberg. http://axios.link/giBi
• Genesys, a Daly City, Calif.-based customer experience orchestration company backed by Hellman & Friedman and TCV, agreed to buy both Pointillist (Boston) and Exceed.ai (Sunnyvale, backed by Glilot Capital Partners). www.genesys.com
🐶 Hellman & Friedman matched EQT's €3.4 billion takeover offer for listed German online pet supplies retailer Zooplus. http://axios.link/wqCG
• Incline Equity Partners invested in Perfect Power Wash, an Akron, Ohio-based provider of exterior residential cleaning services. www.perfectpowerwash.com
• Insurity, a Hartford, Conn.-based portfolio company of GI Partners, acquired Maprisk, a Portland, Maine-based provider of geospatial data and analytics software for insurers. www.insurity.com
• Permira agreed to invest in Motus, a Boston-based provider of reimbursement software for remote workers, with existing backer Thoma Bravo to reinvest. www.motus.com
• Riskonnect, a Kennesaw, Ga.-based portfolio company of Thoma Bravo, bought ICIX, a San Bruno, Calif.-based provider of supply chain risk management and compliance software. Sellers include Arrowroot Capital, Wesfarmers, DFJ and Starfish Ventures. www.icix.com
Public Offerings
• Allvue Systems, a Coral Gables, Fla.-based investment management software firm owned by Vista Equity Partners, formally withdrew a $275 million IPO it had previously postponed. http://axios.link/9tzs
• AutoStore, a Norwegian warehouse robotics company, said it could be valued at up to $12 billion in its upcoming Oslo IPO. Backers include SoftBank, EQT and Thomas H. Lee Partners. http://axios.link/jF2K
🚑 IsoPlexis, a Branford, Conn.-based developer of single-cell functional proteomics, raised $125 million in its IPO. It priced in the middle of its $14-$16 range, for a $583 million market value. It will list on the Nasdaq (ISO) and had raised nearly $200 million from Connecticut Innovations, Danaher, BlackRock, Northpond Ventures, Perceptive Advisors, Spring Mountain Capital and North Sound Ventures. http://axios.link/DHwP
SPAC Stuff
• Onyx Acquisition I, an industrials and construction SPAC, filed for a $200 million IPO. http://axios.link/7hNI
• Semper Paratus Acquisition, a SPAC led by former UPS CFO Richard Peretz, filed for a $300 million IPO. http://axios.link/9iWV
Liquidity Events
• Alteryx (NYSE: AYX) acquired Hyper Anna, an Australian cloud platform for generating automated insights. Hyper Anna raised $16 million in Series A funding from Sequoia Capital China, Firemark Ventures, Insurance Australia Group and AirTree Ventures. www.hyperanna.com
• Bain Capital is restarting an auction for Oedo Onsen Monogatari, a Japanese operator of hot spring inns that could fetch at least $1 billion, per Bloomberg. http://axios.link/Hiwi
• Greenbriar Equity Group is seeking a buyer for Philadelphia-based logistics firm BDP International, which could fetch more than $1.5 billion, per Bloomberg. http://axios.link/MBGw
• Microsoft (Nasdaq: MSFT) bought Ally, a Seattle-based employee goals management software that had raised $76 million from Accel, Founders Co-op, Tiger Global, Vulcan Capital and Addition. http://axios.link/6Bvk
More M&A
⚡ Chief Oil & Gas, which operates in the Marcellus Shale in northeastern Pennsylvania, is seeking a buyer in a deal that could fetch more than $3 billion, including debt, per Reuters. http://axios.link/dhYh
🚑 Chubb (NYSE: CB) agreed to buy the Turkish business of health insurer Cigna (NYSE: CI) for $5.75 billion in cash. http://axios.link/9kQj
• EY-Parthenon acquired CMA Strategy, a Boston-based boutique advisory for the digital infrastructure sector. www.cmacap.com
• GLS, a parcel delivery unit of Canada's Royal Mail, agreed to buy freight carrier Rosenau Transport for C$360 million. http://axios.link/sdAj
• Instacart agreed to buy FoodStorm, an order management SaaS for catering and grocery. http://axios.link/8gPC
• Momentive Global (Nasdaq: MNTV), the SurveyMonkey owner with a $3.2 billion market cap, is considering a sale, per Bloomberg. http://axios.link/nkqW
• Stratasys (Nasdaq: SSYS) acquired production-scale 3D printing group Xaar 3D from Xaar (LSE: XAR). www.stratasys.com
• Zynga (Nasdaq: ZNGA) acquired StarLark, a Chinese gaming studio behind mobile golf title Golf Rival, for $525 million from Betta Games. http://axios.link/DWQy
It's Personnel
• Paul Luce (ex-Partners Group) joined Vision Ridge as a managing director. www.vision-ridge.com
• Ela Musat joined Zurich-based food investment firm Blue Horizon as general counsel. She previously was global head of legal for Partners Group. www.bluehorizon.com
• Chris Trendler joined Madison Dearborn Partners as a managing director and head of portfolio talent. He previously was a partner with GhSmart. www.mdcp.com
Final Numbers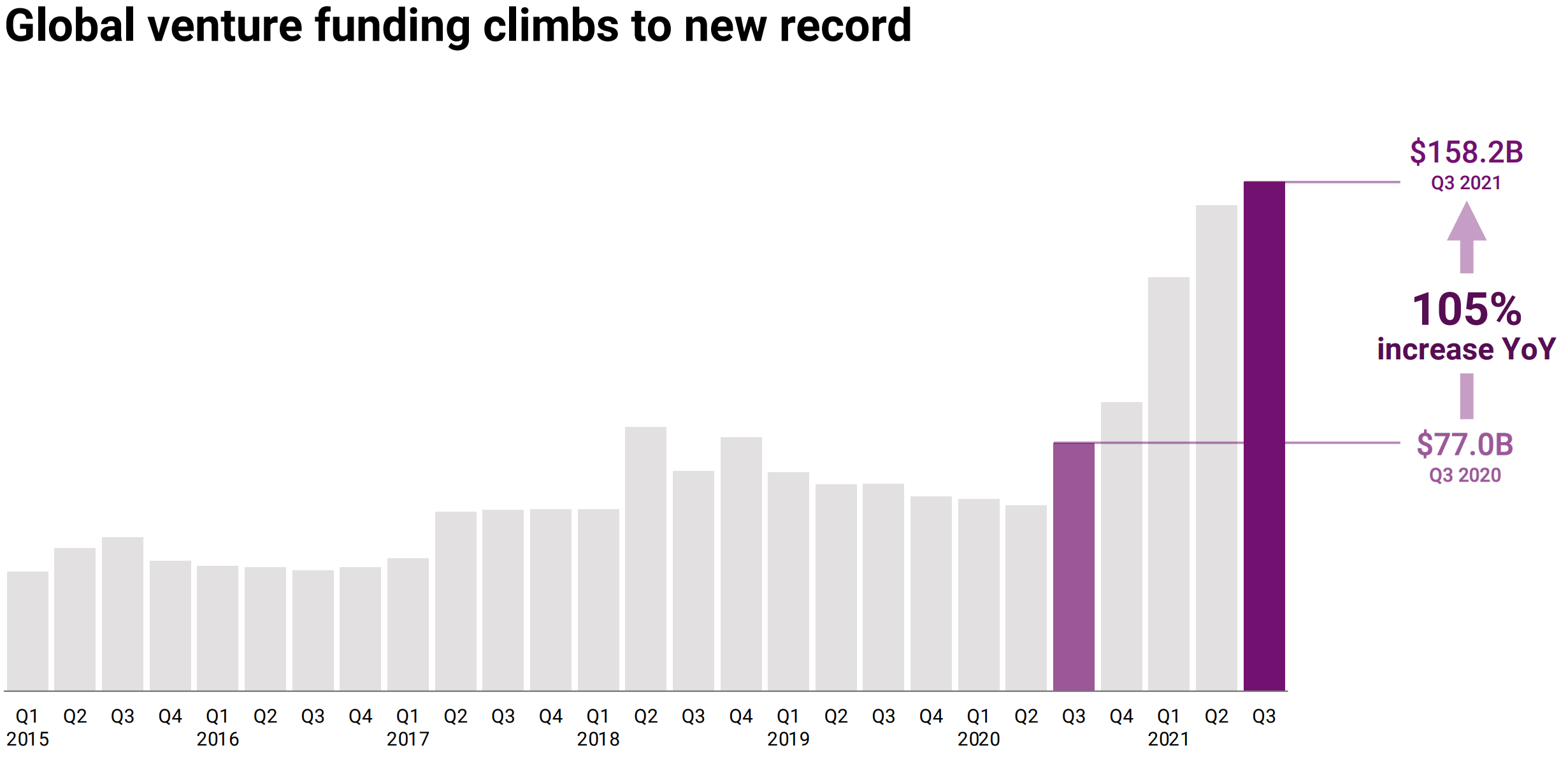 🙏 Thanks for reading Axios Pro Rata! Please ask your friends, colleagues and flight attendants to sign up at GetProRata.axios.com.