Axios Pro Rata
November 09, 2020
🚨 Situational awareness: Pfizer and BioNTech announced that their COVID-19 vaccine has shown to be more than 90% effective in preventing the virus among those without prior infection.
We expect to have Pfizer CEO Albert Bourla on this afternoon's Axios Re:Cap podcast. Be sure to subscribe.
📺 Axios on HBO: Tonight's episode includes interviews with Reps. James Clyburn, Ro Khanna and Kevin McCarthy. Plus Georgia Senate candidate Jon Ossoff and Joe Biden's sister, Valerie Biden Owens. 11pm ET/PT on all HBO platforms.
Top of the Morning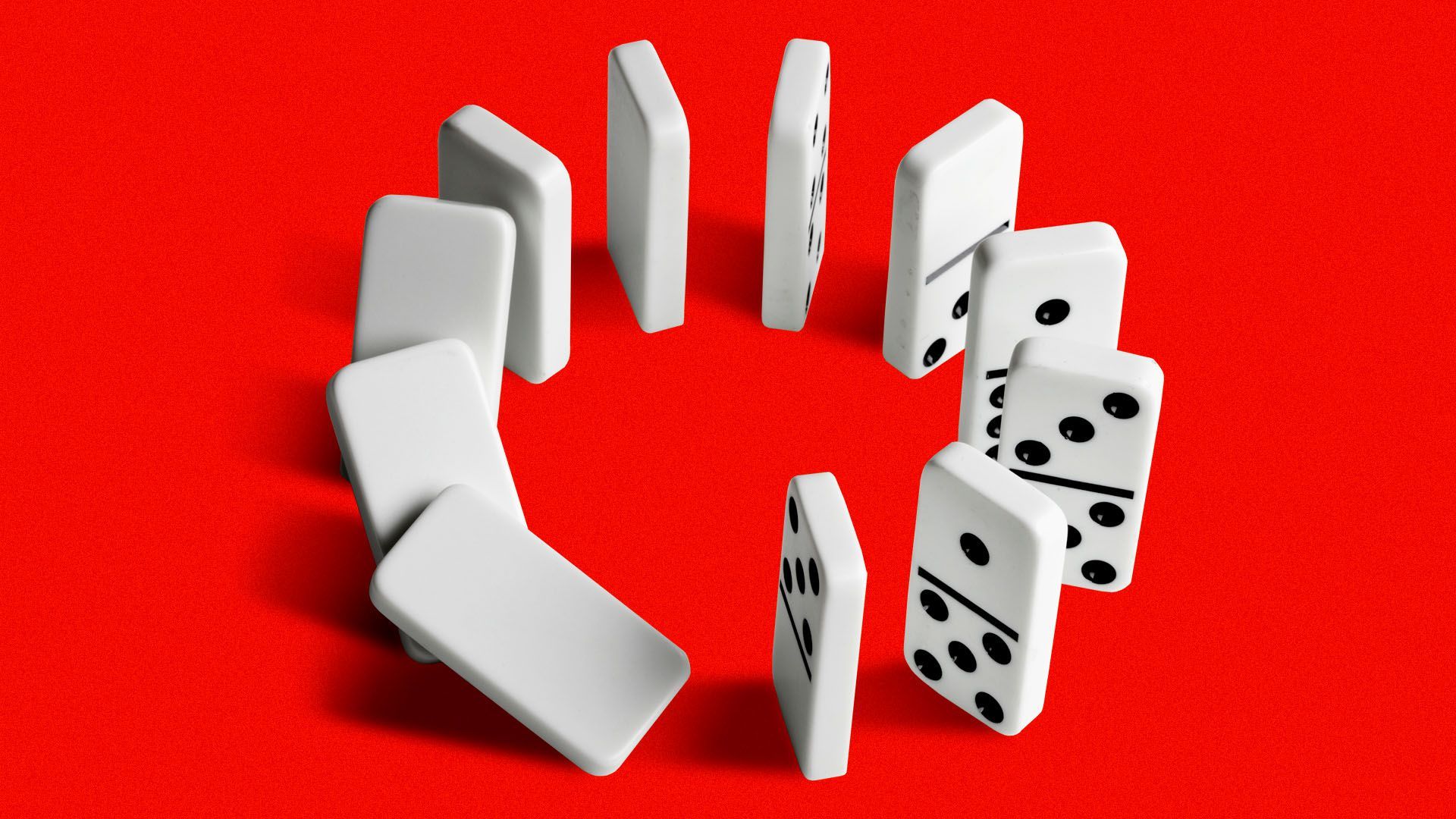 The election is over, which means the last IPO surge of 2020 is about to begin.
Calendar: Companies cannot launch IPO roadshows, virtual or otherwise, until 15 days after publicly filing registration papers. Assuming no issuer wants to pitch or price the weeks of Thanksgiving or Christmas, the filing window's outer limit is next Friday.
What's coming: The two most highly-anticipated names are Airbnb and DoorDash, and both must be feeling much better about their prospects than they were just a few days ago.
Airbnb already had seen a rebound from the spring's pandemic pits, particularly in terms of longer-term domestic rentals, and hospitality stocks are surging this morning on the Pfizer vaccine news.
DoorDash got a big victory in California last week with Prop 22, which removed what would have been a major risk factor to its business model. Plus, Republicans may hold onto the Senate, thus making it less likely that there would be a federal recharacterization of gig economy workers from independent contractors to employees.
What else is coming: Don't know yet, but any companies that were on the fence — fearful of post-election volatility — are likely on the phone with their bankers and lawyers right now, preparing to file.
In context: The year's U.S. IPO market is already going gangbusters, at least compared to 2019. Renaissance Capital reports that pricings are up 25.2%, proceeds are up 47.5%, and filings are up 18.1%.
The bottom line: The IPO market hasn't slowed down in 2020, despite all of America's economic pain and disruption. Don't expect that to change as we move into the final stretch.
The BFD
Permira and Triton are among several private equity firms circling Reebok, the U.S. sneaker and sports apparel company owned by Germany's Adidas, per the FT.
Why it's the BFD: This would represent the end of Adidas' long and largely fruitless relationship with Reebok, which it bought in 2006 for $3.8 billion. The goal was to build a global juggernaut to compete with Nike, but could never quite make the pieces fit.
The bottom line: "Part of the appeal of Reebok to potential bidders was its deep archive of classic footwear and apparel styles and the potential to draw on demand among younger consumers for 1980s-style retro trainers, raising their profile worldwide... Those assets are also a source of concern for Adidas, whose executives are wary of spinning out a potential rival." — Sara Germano & Kaye Wiggins, FT
Venture Capital Deals
🚑 Decibel Therapeutics, a Boston-based biotech focused on hearing loss and balance disorders, raised $82 million in Series D funding. OrbiMed led, and was joined by BlackRock, Casdin Capital, Janus Henderson, Samsara BioCapital, Surveyor Capital, and return backers Foresite Capital, GV, S-Cubed Capital, Sobrato Capital, SR One, and Third Rock Ventures. http://axios.link/t0LB
• Cellwize, an Israeli mobile network automation and orchestration platform, raised $32 million in Series B funding from Intel Capital, Qualcomm Ventures, Verizon Ventures, and Samsung Next. http://axios.link/lRtV
🚑 Inmagene Biopharma, a Shanghai-based developer of immunology drugs, raised $21 million in Series B funding. Vertex Ventures China led, and was joined by Panacea Venture, Kunlun Capital, and SCVC. http://axios.link/h7VC
• Provizio, an Ireland-based car safety hardware and software startup, raised $6.2 million from backers like the European Innovation Council and ACT Venture Capital. http://axios.link/YGYD
• Slintel, a Mountain View, Calif.-based sales intelligence tool, raised $4.2 million in seed funding. Accel led, and was joined by Sequoia Capital India and Stellaris Venture Partners. http://axios.link/a8kR
• Nektar.ai, a Singapore-based productivity platform for sales teams, raised $2.2 million in seed funding. Nexus Venture Partners led, and was joined by Insignia Venture Partners, Arka Venture Labs, Better Capital and Vietnam Investments Group. http://axios.link/IBdO
Private Equity Deals
• General Atlantic invested in Gen II Fund Services, a New York-based private equity fund administrator. www.gen2fund.com
• Hudson Hill Capital acquired a majority stake in InXpress Holdings, a British franchisor of transportation and logistics services. www.inxpress.com
• PAI Partners acquired and merged Addo, a British savory pastries purveyor, and British chilled food supplier Winterbotham Dairy (from Equistone) www.addofoodgroup.com
⚡ Priority Power Management, a Midland, Texas-based portfolio company of Ara Partners, acquired Texas Power Consultants, a Tyler, Texas-based energy advisory and consulting firm. www.prioritypower.net
⚡ Riverstone Holdings agreed to buy International-Matex Tank Terminals, a New Orleans-based bulk liquids storage and handling company, from Macquarie Infrastructure, for nearly $2.7 billion. www.imtt.com
⚡ TDR Capital made a non-binding $146 million takeover offer for Target Hospitality (Nasdaq: TH), a Texas-based provider of oilfield workforce housing and related services. http://axios.link/wkuX
• Wheel Pros, a Lakewood, Colo.-based portfolio company of Clearlake Capital Group, acquired Performance Replicas, a distributor of replica wheels.
www.wheelpros.com
• Wynnchurch Capital acquired Drew Foam, a Monticello, Ark.-based fabricator of custom foam products, from Branford Castle Partners. www.drewfoam.com
Public Offerings
• Two companies, In8bio and Inhibikase Therapeutics, are expected to go public on U.S. exchanges this week. http://axios.link/8dsu
• Paysafe, a London-based payments processor owned by The Blackstone Group and CVC Capital Partners, has restarted talks to go public either via a U.S. IPO or reverse merger with a SPAC led by Bill Foley, per Bloomberg. Late last year it began prepping an offering designed to value the company north of $10 billion. http://axios.link/fU0Z
• SUSE, a German enterprise software firm owned by EQT Partners, is prepping an IPO at a €5 billion valuation, per Bloomberg. http://axios.link/l6aw
SPAC Stuff
• CBRE Acquisition Holdings, a SPAC sponsored by commercial real estate giant CBRE, filed for a $400 million IPO. http://axios.link/M19s
More M&A
• 40 North offered to buy W.R. Grace & Co. (NYSE: GRA) for $4 billion in cash, or $60 per share (36% premium to Friday's closing price). 40 North currently holds a 14.9% stake in Grace. http://axios.link/72QU
• Abertis and Manulife Investment Management will pay $625 million for a 50% stake in Elizabeth River Crossings, a Virginia tunnel and toll-road project operator, from Nordic construction firm Skanska. http://axios.link/zaaR
• Elliott Management has amassed an undisclosed stake in F5 Networks (Nasdaq: FFIV), a Seattle-based applications services firm with a market cap of around $8.8 billion, per the WSJ. http://axios.link/2sTP
• Orange (Paris: ORAN) agreed to buy a 54% stake in Telekom Romania Communications from a unit of Deutsche Telekom (DE: DTEG) at a €497 million enterprise value. http://axios.link/xfIf
• Take-Two Interactive (Nasdaq: TTWO) offered to buy British videogame developer Codemasters (AIM: CDM) for £739 million. http://axios.link/qjnr
• Traton, the listed commercial truck unit of Volkswagen, agreed to buy Navistar (NYSE: NAV), the Lisle, Ill.-based truck maker in which it already holds 16.9% stake, at an upsized price of $3.7 billion. Sellers will include Icahn Capital and MHR Fund Management. http://axios.link/Y1Iw
• Uzabase (Tokyo: 3966) agreed to sell business news site Quartz to its co-founder and editor-in-chief for an undisclosed amount, less than three years after buying it from Atlantic Media for up to $110 million. http://axios.link/wFea
• VF Corp. (NYSE: VFC) agreed to buy Colorado-based streetwear fashion label Supreme for $2.1 billion. http://axios.link/Ii8u
• Walmart (NYSE: WMT) agreed to sell its Argentina retail operations to supermarket chain Grupo de Narváez. http://axios.link/zWt5
It's Personnel
• Michael Abramson stepped down as a partner with Sequoia Capital, where he co-led U.S. growth equity investing. The firm is expected to promote from within, to co-lead that group with Pat Grady. www.sequoiacap.com
• Meri Khananashvili joined Atwater Capital as a principal. She previously focused on film financing and distribution at Creative Artists Agency. www.atwater-capital.com
Final Numbers
✔️ Thanks for reading Axios Pro Rata! Please ask your friends, colleagues and President-elect Biden to sign up.