Axios Pro Rata
April 05, 2021
🚨 Announcement: Axios Pro Rata is adding a weekend edition, written by Kia Kokalitcheva. First one hits inboxes this Saturday!
🏀 Our March Madness contest is coming to a close. If Gonzaga wins tonight, the crown goes to Thomas Schmidt, a risk analyst at a unit of Koch Industries. If Baylor prevails, it will come down to the final score. One of our Baylor pickers is Casey Armstrong, CMO of ShipBob, while the other goes by "srfrijol."
Top of the Morning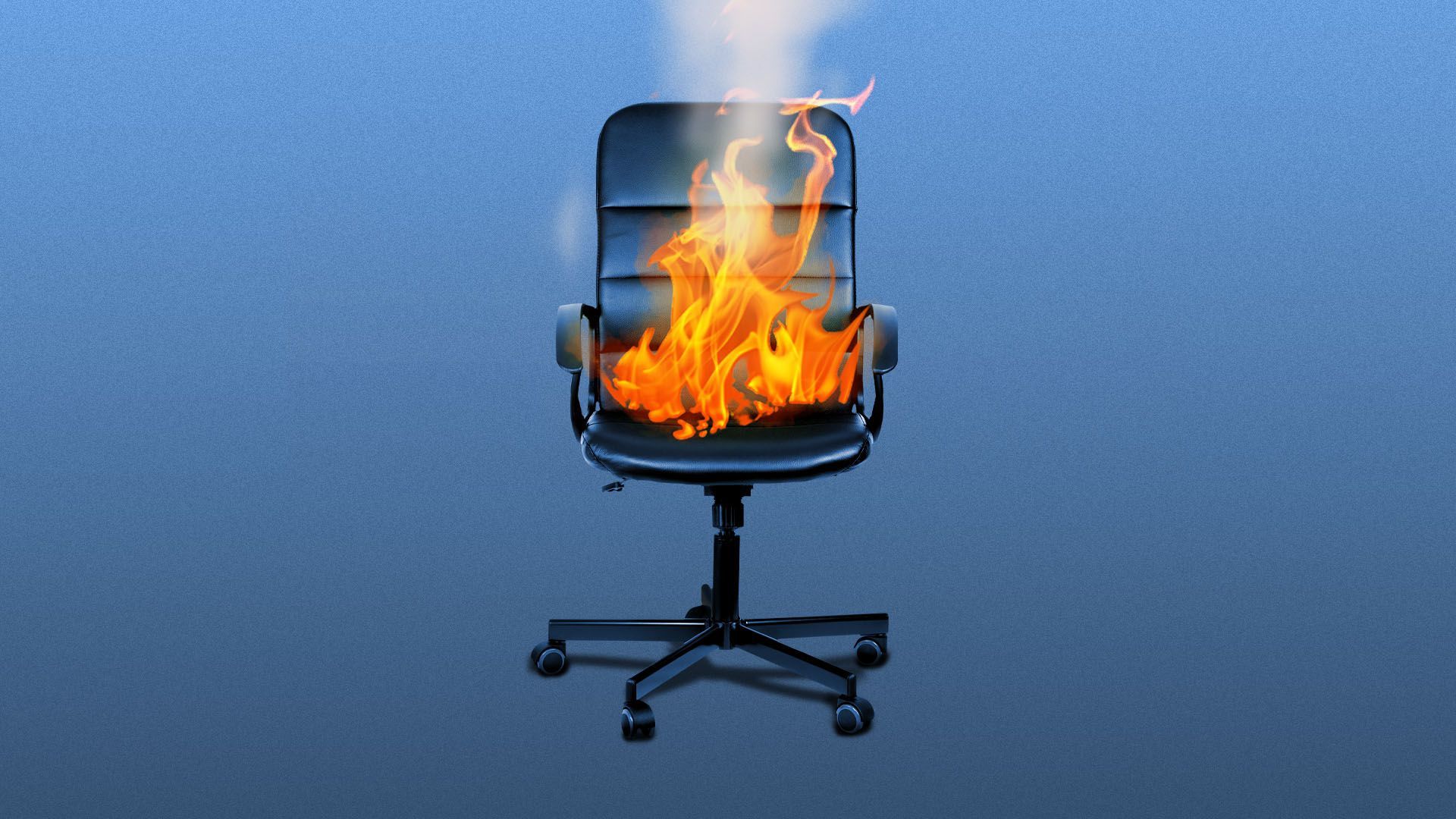 Founders have two options after being forced out of their company by what they view as unscrupulous investors. One is to keep a stiff upper lip. The other is to lash out.
Amol Sarva took what was behind Door No. 2.
Sarva was founder and CEO of Knotel, a flexible workspace company that had been valued at around $1.6 billion by venture capitalists.
He also was known to gleefully troll rival WeWork, once parking a Knotel bus outside of WeWork's headquarters. When WeWork's IPO plans imploded in late 2019, he said: "Now the music is over, and it's time to dance."
Knotel got hammered by the pandemic. At the end of last March, it laid off or furloughed half of its 500-person staff and prepared for things to get even worse.
Things got even worse. Knotel, which primarily leased out office space to enterprise clients, stopped paying rent at certain sites and got sued by landlords. A rumored $100 million financing fell through.
By this past February, the company was forced to file for bankruptcy, despite having previously raised nearly $600 million in VC funding.
Commercial real estate firm Newmark Group bought Knotel out of bankruptcy, and installed former WeWork vice chair Michael Gross as CEO.
It also added Gross' brother Eric, also a former WeWork exec, as co-president, alongside the founder of a hospitality company backed by ex-WeWork CEO Adam Neumann.
Sarva hadn't just lost his job and his company. He'd lost it to his arch enemies. This past Friday night he sent a searing note to former colleagues and clients. It read, in part:
Over the last few months, Newmark was a stalking horse on a process that used bankruptcy to take control of Knotel with around $100mm of new capital. This process undermined lots of important relationships and hurt lots of customers and partners. I'm so disappointed that this was the direction pressed. The process made clear to me that I would not choose to be part of the new owners' way of moving forward.
Only to confirm that judgment, they have literally hired a group of Adam Neuman-era WeWork bros to lead the company forward. The Knotel alumni will spawn a number of intriguing companies, and I am among them now.
Axios reached out to Sarva, Gross and a Newmark rep for comment, but didn't hear back.
The bottom line: Flexible workspace is an industry predicated on people wanting to sit side-by-side, but seems to be full of execs who'd prefer to remain far apart.
The BFD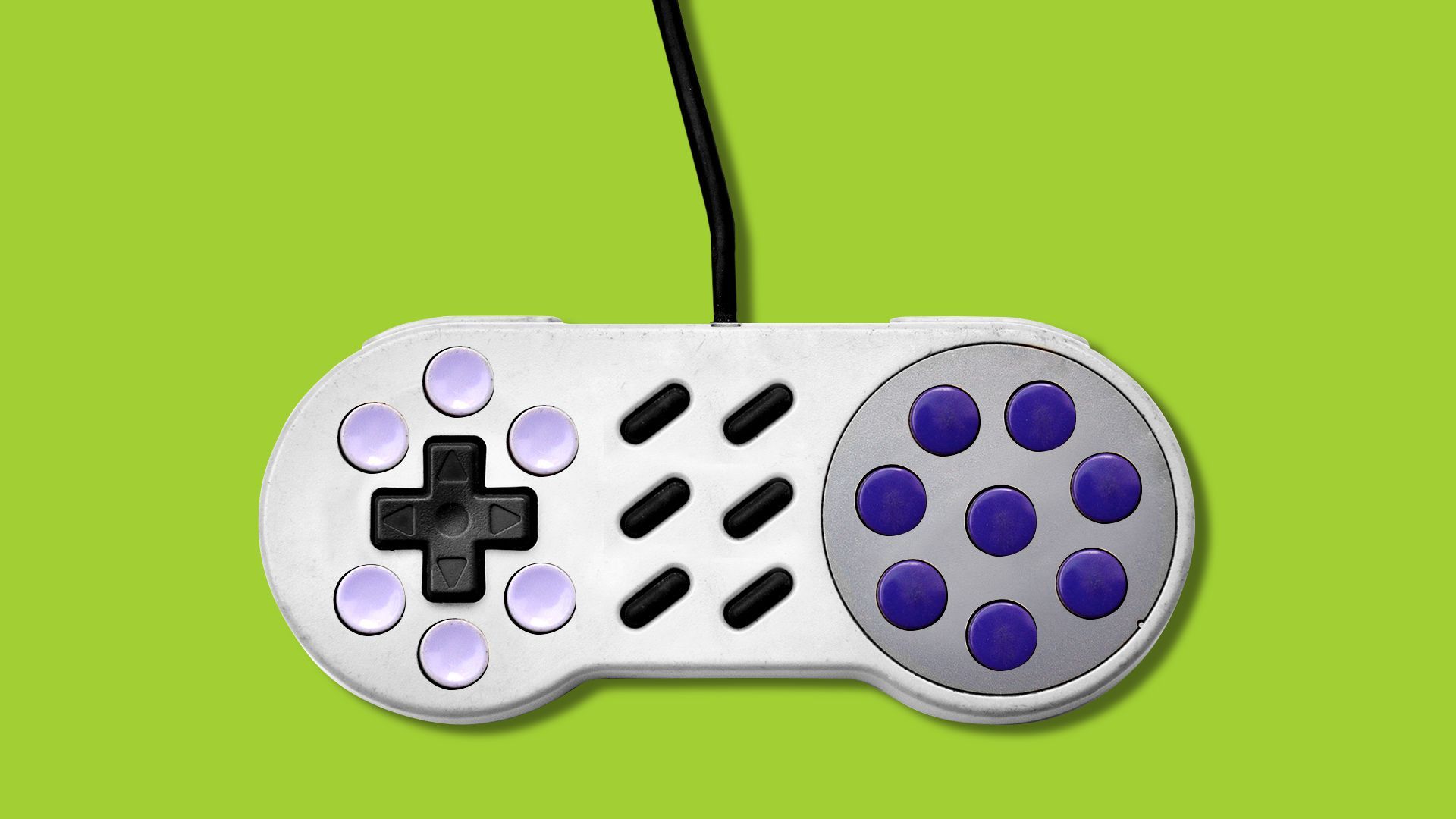 GameStop (NYSE: GME) disclosed plans to sell up to 3.5 million shares via a secondary public offering.
Why it's the BFD: It reflects how GameStop has morphed from a passive player in the Reddit revolt to a fully-engaged participant, using its soaring stock price as predicate to restructure management, strategy and finances.
Market reax: That sound after the ghost gets Pac-Man. GameStop shares fell as much as 16% on the news in premarket trading, and opened down 10.3%. The company says it could raise up to $1 billion in the offering, but 3.5 million shares works out to $601 million at today's opening price.
Bottom line: "The Grapevine, Texas-based company said its sales grew roughly 11% for the nine weeks ended April 3 from the comparable period a year earlier, when its operations took a hit from temporary store closures at the dawn of the COVID-19 pandemic. GameStop had roughly 13% fewer stores this year than the year prior." — Dave Sebastian, WSJ
Venture Capital Deals
• Swiggy, an Indian food delivery company, raised $800 million in new funding at nearly a $5 billion valuation from Falcon Edge Capital, Goldman Sachs, Think Capital, Amansa Capital, and Carmignac, and existing investors Prosus Ventures and Accel. http://axios.link/akwr
• Meesho, an Indian social e-commerce company, raised $300 million in Series E funding at a $2.1 billion valuation. SoftBank Vision Fund 2 led, and was joined by insiders Facebook, Prosus Ventures, Shunwei Capital, Venture Highway and Knollwood Investment. http://axios.link/VCnk
• dLocal, a Uruguayan cross-border payments company, raised $150 million at a $5 billion valuation. Alkeon Capital led, and was joined by Bond, D1 Capital Partners and Tiger Global. http://axios.link/treN
🚑 Inbox Health, a New Haven, Conn.-based patient payments startup, raised $15 million in Series A funding. Commerce Ventures led, and was joined by Vertical Venture Partners, Healthy Ventures, Collaborative Fund, Fairview Capital, CT Innovations, and I2BF Global Ventures. www.inboxhealth.com
🚑 Medxoom, an Atlanta-based healthcare marketplace, raised $8 million. Castellan Group led, and was joined by insiders Las Olas VC and TTV Capital. www.medxoom.com
• FinanZero, a Brazilian online credit marketplace, raised $7 million from VEF, Dunross & Co. and Atlant Fonder. http://axios.link/AKZ4
🚑 Olive Union, a Carson City, Nev.-based maker of a 2-in-1 smart hearing aid and wireless earbud, raised $7 million in Series B funding from Beyond Next Ventures, Bonds Investment Groups and Japan Policy Finance. www.oliveunion.com
• ConductorOne, a Portland, Ore.-based access request automation startup, raised $5 million in seed funding. Accel led, and was joined by Fuel Capital, Fathom Capital, and Active Capital. http://axios.link/Mz4H
🚑 Anima, a London-based healthcare triage startup, raised $2.5 million in seed funding. Hummingbird Ventures led, and was joined by Amino Collective. http://axios.link/WDiA
Private Equity Deals
• Hertz picked a sweetened $1.6 billion equity plan from Centerbridge Partners, Warburg Pincus and Dundon Capital Partners, which would fund the car rental company's exit from Chapter 11 bankruptcy protection. http://axios.link/cl3H
⚡ KKR is paying $3.37 billion for a 20% stake in an infrastructure unit of Sempra Energy (NYSE: SRE). http://axios.link/Ljqj
• Magna Legal Services, a Philadelphia-based portfolio company of CIVC Partners, acquired Kim Tindall & Associates, a provider of court reporting and record retrieval services. www.magnals.com
• Platinum Equity agreed to buy Cabinetworks, an Ann Arbor, Mich.-based maker of kitchen and bath cabinets, from American Industrial Partners and GIC. www.cabinetworks.com
• Providence Strategic Growth invested in Singlewire, a Madison, Wis.-based provider of mass notification software for safety, emergency and workflow communications. www.singlewire.com
Public Offerings
• Alkami, a Plano, Texas-based provider of digital banking solutions for banks and credit unions, set IPO terms to 6 million shares at $22-$25. It would have an initial market cap of $1.95 billion, were it to price in the middle, and plans to list on the Nasdaq (ALKT). Alkami reports a $51 million net loss on $112 million in revenue for 2020 and raised around $250 million from firms like General Atlantic (24.1% pre-IPO stake), S3 Ventures (23.9%), Argonaut PE (16.2%) and D1 Capital Partners (5.6%). http://axios.link/1o1E
🚑 Impel NeuroPharma, a Seattle-based developer of treatments for CNS disorders, filed for a $75 million IPO. The pre-revenue company plans to list on the Nasdaq (IMPL) and raised from 5AM Ventures, Vivo Capital, VenBio Partners, KKR and Norwest Venture Partners. http://axios.link/bA57
🚑 Rain Therapeutics, a Newark, Calif.-based cancer drug developer, filed for a $100 million IPO. The pre-revenue company plans to list on the Nasdaq (RAIN), and raised $92 million from BVF Partners (21.4% pre-IPO stake), Boxer Capital (16.7%), Cormorant (12.5%), Perceptive Advisors (10.7%), Sansara BioCapital (6.3%), Janus Henderson and Logos Capital. http://axios.link/0Pq4
SPAC Stuff
• Aurvandil Acquisition, a space SPAC, filed for a $250 million IPO. http://axios.link/QNrt
• Black Dragon Acquisition, a SPAC led by Louis Hernandez (Black Dragon Capital), filed for a $250 million IPO http://axios.link/CKRf
• Juniper II, a SPAC led by ex-Honeywell vice chair Roger Fradin, filed for a $400 million IPO. http://axios.link/Dw8V
• Osiris Acquisition, a special situations SPAC formed by Fortinbras, filed for a $250 million IPO. http://axios.link/bYIJ
• Tristar Acquisition I, a SPAC sponsored by Navigation Capital Partners, filed for a $250 million IPO. http://axios.link/jeZQ
Liquidity Events
🚑 Advocate Aurora Enterprises, acquired Senior Helpers, a Towson, Md.-based provider of personal care workers, from Altaris Capital Partners. http://axios.link/6p1S
• Byju, an Indian online learning platform valued by VCs at around $12 billion, bought Indian brick-and-mortar test prep provider Aakash Educational Services from backers like The Blackstone Group for nearly $1 billion in cash and stock. http://axios.link/MKht
• Pinterest (NYSE: PINS) is in talks to buy photo-sharing app VSCO, per the NY Times. Oakland-based VSCO raised around $90 million in VC funding, most recently in 2015, from firms like Glynn Capital, Accel, Obvious Ventures and WTI. http://axios.link/TSk4
⚡ Quantum Energy Partners agreed to sell Kicking Horse Oil & Gas to Whitecap Resources (TSX: WCP) for C$300 million in stock and cash. http://axios.link/xO3X
More M&A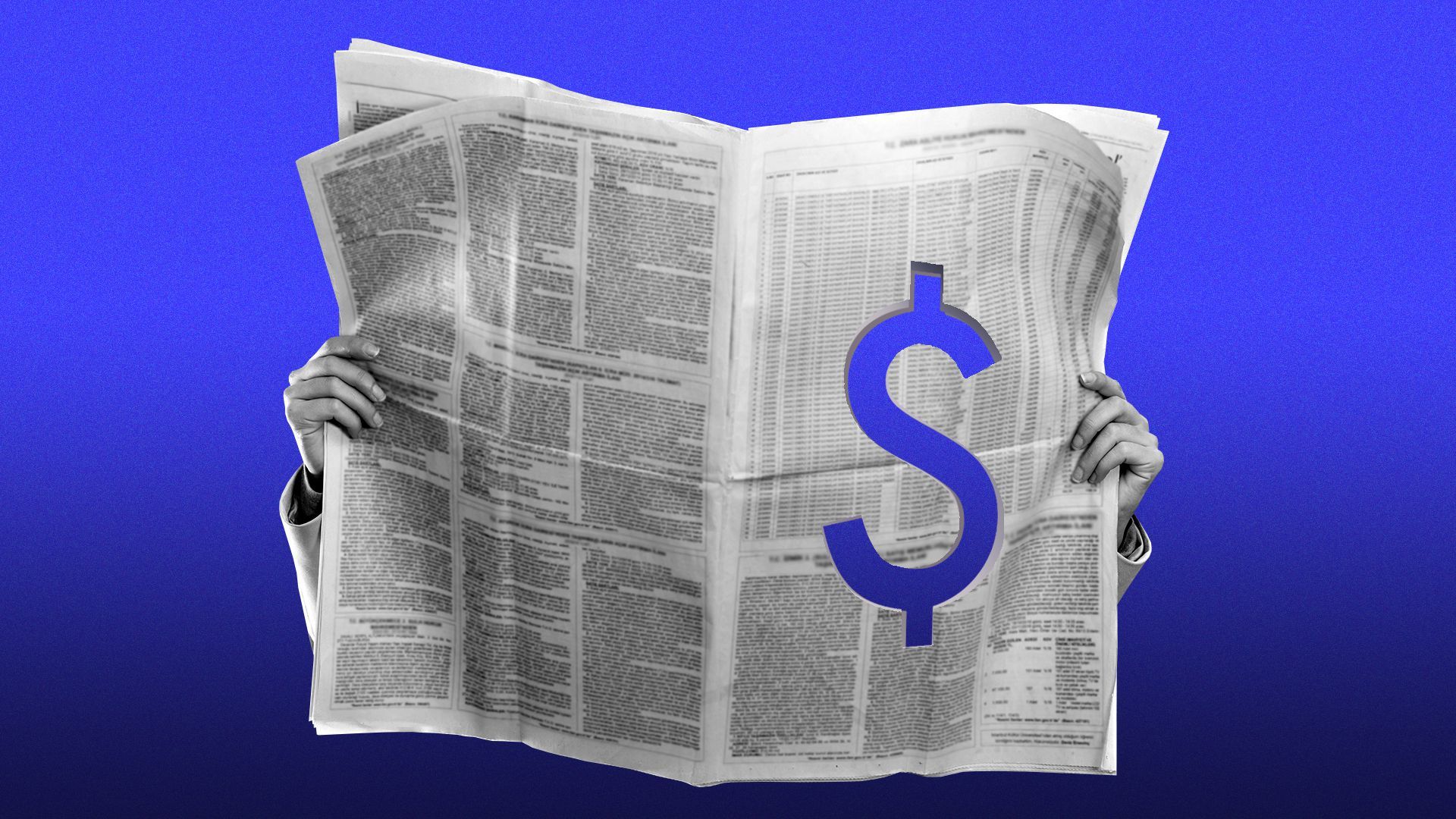 • Alden Global has competition for Tribune Publishing (Nasdaq: TPCO), after Maryland hotel magnate Stewart Bainum and Swiss billionaire Hansjörg Wyss secured enough financing to top Alden's $630 million bid. Go deeper.
• Air Canada (TSX: AC) scrapped its C$189 million takeover of Canadian tour operator Transat (TSX: TRZ), citing difficulties in getting EU regulatory approval. http://axios.link/nLxQ
Fundraising
• F7 Ventures, a VC firm led by ex-Facebook execs Kelly Graziadei and Joanna Lee Shevelenko is raising $50 million for its debut fund, per an SEC filing. www.f7ventures.com
• Genstar Capital raised $10.2 billion for its 10th flagship buyout fund. It also secured $1.5 billion for an overage fund. www.gencap.com
• Hark Capital, a unit of Aberdeen Standard Investments, raised $400 million for its third NAV-based loan fund. www.harkcap.com
• Providence Strategic Growth is raising $4 billion for its fifth fund, per WSJ. http://axios.link/Enkm
It's Personnel
• Blake Byers stepped down as a general partner with Google Ventures, which he first joined in 2011, and plans to form his own firm. http://axios.link/FfzD
• Margaux Georgiadis joined CIVC Partners to focus on biz dev. She previously was with Meraki Group Ventures and, before that, KKR. www.civc.com
• Aris Kekedjian, former chief investment officer at GE, has agreed to join Icahn Enterprises as CEO and COO, per Bloomberg. http://axios.link/Vwn5
• Matt Pauker, co-founder of Earn.com, joined Cleo Capital as its second general partner. Cleo is raising $20 million for its second fund, and just held a $6.7 million first close. http://axios.link/GRBB
Final Numbers
ICYMI: On Saturday we published an Axios Deep Dive on the Fed, and why it matters now more than ever. Take a look.
✏️ This newsletter is written in Smart Brevity®. Learn how your team can communicate in the same smart, clear style with Axios HQ.
✔️ Thanks for reading Axios Pro Rata! Please ask your friends, colleagues and penpals to sign up.