Axios Pro Rata
October 22, 2020
🎧 Axios Re:Cap talks USA vs. Google with Rep. David Cicilline (D-Calif.), chair of the House subcommittee on antitrust. Listen via Apple, Spotify, or Axios.
🖥️ You're invited: Axios tomorrow at 3:30pm ET hosts a virtual event on the upcoming election, with former national security adviser H.R. McMaster, Voto Latino CEO and president María Teresa Kumar, and Rep. Karen Bass (D-Calif.). Register here.
Top of the Morning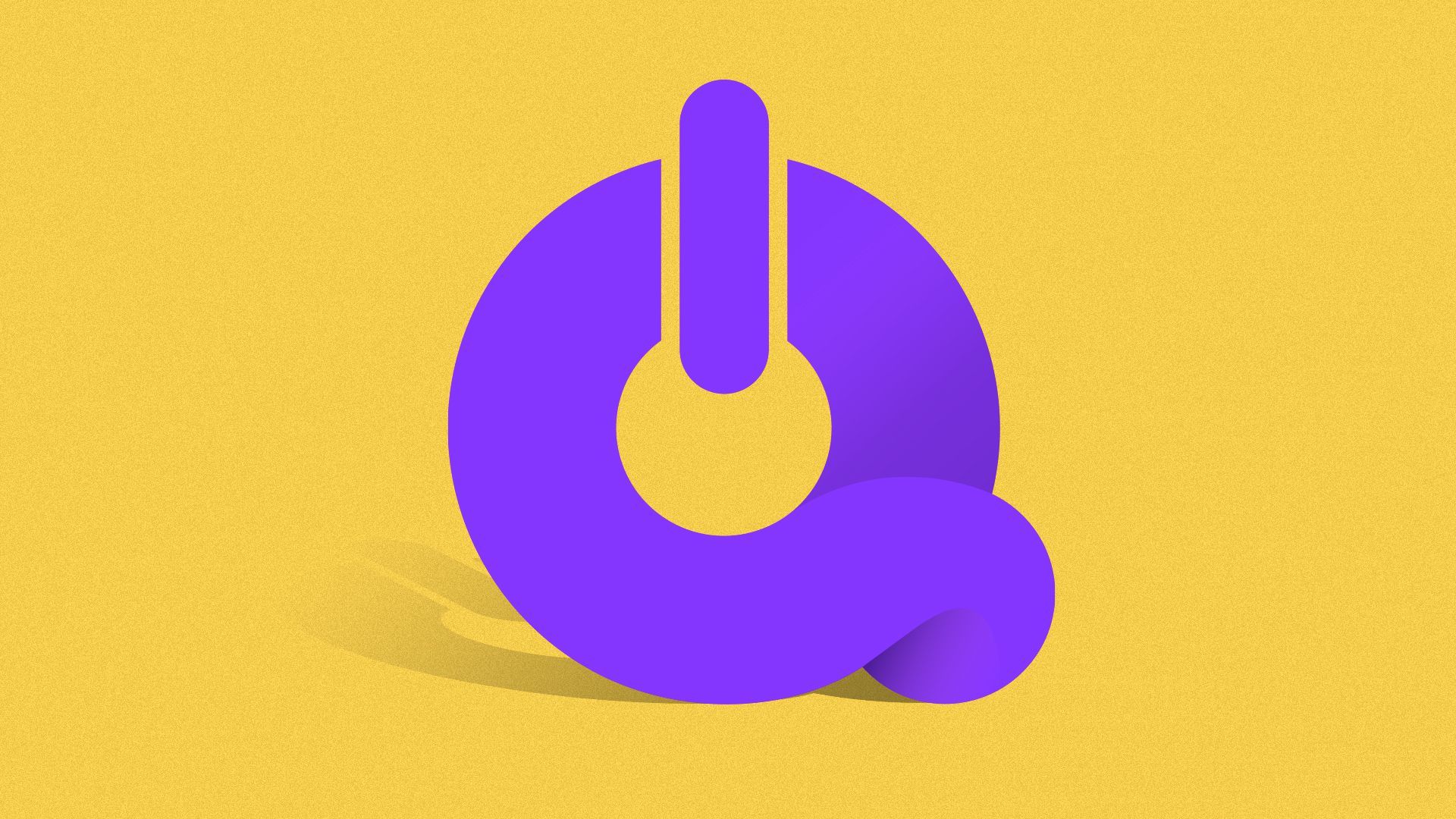 Quibi, we hardly knew ye. And that was a big part of the problem.
Driving the news: The short-form streaming app announced that it will cease operations, just six months after launch.
Quibi had raised around $1.75 billion in venture capital funding, from Alibaba, Hollywood studios, and financial firms like Madrone Capital Partners, Greenspring Associates, Breyer Capital, JPMorgan Chase, and Goldman Sachs.
Investors were told that they'll get some of their money back, even though Quibi still owes payment to some content creators.
The worst-case scenario is around 20 cents on the dollar, per sources familiar with the situation.
The best case could be closer to 50 cents, if Quibi can find another streamer to buy some of its content rights. The pandemic has hampered the filming of new scripted content — so it's possible that a Netflix or Hulu might want to buy some short-form episodes, and then stitch them together for a more traditional presentation.
What happened: Poor execution married to terrible timing.
Quibi was a punchline before it even launched, but it could have survived the Twitter snark and Hollywood haters had its shows and marketing been better.
It struggled to overcome early missteps like not enabling screenshots or clips. We all want a vaccine, but not for viral videos.
The pandemic served as a drag, since Quibi viewed itself as something of a commuter product. As the April launch approached, some pundits suggested a delay that never came.
There were conflicts almost from the jump between CEO Meg Whitman and chairman Jeffrey Katzenberg, and many insiders were scared of speaking millennial or Gen Z consumer truth to boomer power.
Oh, and spending $5.6 million on one of the worst 30-second Super Bowl ads in recent memory. In my house, I was the only one who already knew what Quibi was beforehand. After the ad, my friends were confused — introduced to a new brand without much info on what the actual product was.
The bottom line: Quibi made a lot of mistakes. Calling it quits, rather than burning through the rest of its funding in a quixotic ride for relevance, isn't one of them.
Go deeper: Quibi says it's shutting down
Coming attractions: Whitman and Katzenberg will appear on CNBC today at 11am ET, for their only scheduled interview.
The BFD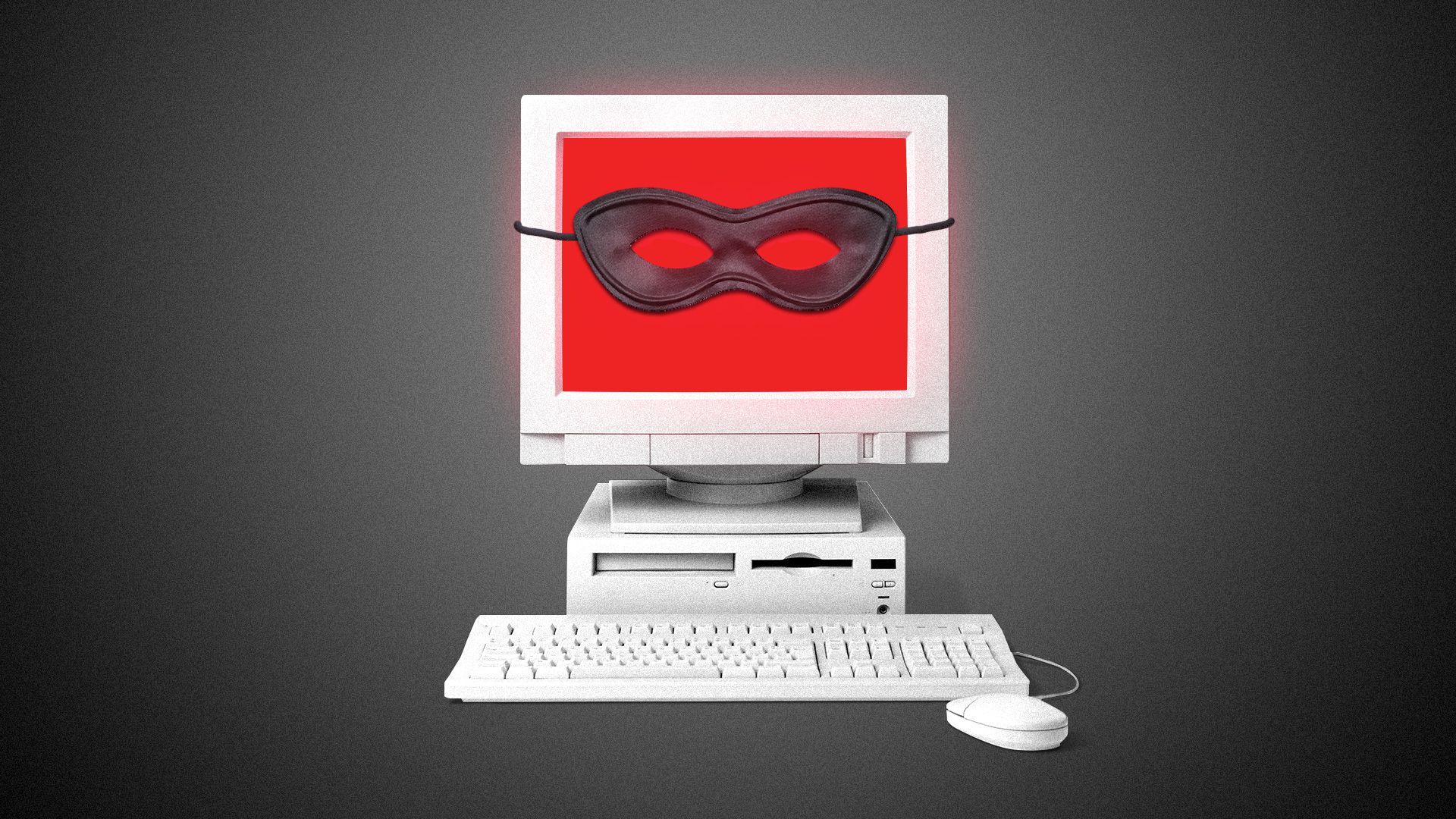 McAfee, a San Jose, Calif.-based provider of antivirus and endpoint security software, raised $740 million in its IPO at an initial market value of $8.6 billion.
Why it's the BFD: The company's IPO prospectus lists "brand recognition" as its top competitive strength, even though its eponymous founder was recently arrested on tax evasion and firearms charges. John McAfee, who also was a "person of interest" in a 2012 murder in Belize, is no longer involved with the company.
Details: McAfee priced at $20 per share, within its $19-$22 range, and will list on the Nasdaq (MCFE), used Morgan Stanley and Goldman Sachs as lead underwriters. It reports $31 million of net income on $1.4 billion in revenue for the first half of 2020. Backers include TPG, Thoma Bravo, Intel, and GIC.
Context: This comes in the midst of boom times for cybersecurity stocks, with the Global X Cybersecurity ETF (Nasdaq: BUG) up 34% year to date.
The bottom line: "McAfee's stock offering comes in the form of a complex 'Up-C' arrangement, which is common among private equity-backed companies and meant to provide tax benefits to insiders. Intel and private equity investors will retain about 82.2 per cent of the company's voting power." — Miles Kruppa & Richard Henderson, FT
Venture Capital Deals
🚑 AavantiBio, a Cambridge, Mass.-based gene therapy startup focused on rare genetic diseases, raised $107 million in Series A funding from Perceptive Advisors, Bain Capital Life Sciences, RA Capital, and Sarepta Therapeutics. www.aavantibio.com
🚑 Bind Benefits, a Minneapolis-based health insurance startup, raised $105 million in Series B funding from backers like Ascension Ventures. http://axios.link/X8Pn
• Newfront Insurance, a San Francisco-based business and personal insurance brokerage, raised $28 million at a $500 million valuation co-led by Founders Fund and Meritech Capital. http://axios.link/oKkd
🚴 Dance, a European e-bike subscription service, raised €15 million in Series A funding led by Holtzbrinck Ventures. http://axios.link/JV4w
• Lili, a New York-based banking app for freelancers, raised $15 million. Group 11 led, and was joined by from Foundation Capital, AltaIR Capital, Primary Venture Partners, Torch Capital, and Zeev Ventures. http://axios.link/d7RH
• Loyal, an Atlanta-based provider of health care utilization software, raised $12.5 million in Series A funding led by Concord Health Partners. www.loyalhealth.com
• O(1) Labs, a San Francisco-based "lightweight blockchain" startup, raised $10.9 million co-led by Bixin Ventures and Three Arrows Capital. http://axios.link/esA7
⚡ Budderfly, a Shelton, Conn.-based energy efficiency-as-a-service, raised $7.8 million. Edison Partners and Balance Point Capital co-led, and were joined by Connecticut Innovations. http://axios.link/QluM
• AiDash, a Santa Clara, Calif.-based satellite analytics startup, raised $6 million in Series A funding co-led by Benhamou Global Ventures and National Grid Partners. www.aidash.com
• Secureframe, a San Francisco-based compliance automation startup, raised $4.5 million. Base10 Partners and Gradient Ventures co-led, and were joined by BoxGroup, Village Global, Soma Capital, Liquid2, Chapter One, Worklife Ventures, and Backend Capital. http://axios.link/4pFM
• WoHo, a Cambridge, Mass.-based building construction startup, raised $4.5 million in seed funding led by The Engine. http://axios.link/9yX4
• DataChat, a Madison, Wis.-based data analytics platform, raised $4 million in seed funding co-led by WRVI Capital and Nepenthe Capital. http://axios.link/MRzU
• Silverflow, a British card payment processing startup, raised €2.6 million in seed funding from Crane Venture Partners and Inkef Capital. http://axios.link/uVAx
Private Equity Deals
• Abry Partners agreed to buy Clearspan, the cloud communications unit of Mitel, a Canadian portfolio company of Searchlight Capital Partners (which will retain a Clearspan stake). www.clearspancloud.com
• Bain Capital and Cinven are making a joint run at Lonza Group's specialty chemicals unit, which could fetch around $3.9 billion, per Bloomberg. http://axios.link/Hpn3
• Brookfield Asset Management and The Carlyle Group are final bidders for Siemens' mechanical drive unit (Flender), which could fetch up to €2 billion, per Bloomberg. http://axios.link/O8bV
🚴 Canyon Bicycles, a German bike maker, has drawn takeover interest from several private equity firms, including The Carlyle Group and KKR, per Bloomberg. Existing backers include TSG Consumer Partners. http://axios.link/EmKr
• Core Industrial Partners acquired J&K Ingredients, a Paterson, N.J.-based maker of baked goods ingredients. www.jkingredients.com
• Levine Leichtman Capital Partners acquired two companies from First Dutch Innovations: Triskelion, a Dutch provider of food and feed testing services, and NMi, a Dutch provider of legal metrology testing and inspection services. These are separate deals, and the companies will be operated independently. www.llcp.com
• Madison Dearborn Partners acquired a majority stake in Carnegie Learning, a Pittsburgh-based education and formative assessment company, from CIP Capital (which retains a minority position). www.carnegielearning.com
🚑 Oakley Capital agreed to buy WindStar Medical, a German OTC consumer health company, from ProSiebenSat.1's NuCom Group. www.windstar-medical.com
• TIBCO Software, a Palo Alto-based portfolio company of Vista Equity Partners, agreed to buy Information Builders, a New York-based provider of business intelligence and data analytics software, from Goldman Sachs Private Capital. http://axios.link/90q3
• Vision, a Chicago-based portfolio company of H.I.G. Capital, acquired DX Marketing, a Savannah, Ga.-based digital marketing firm. www.visionps.com
Public Offerings
• Guild Holdings, a San Diego-based mortgage lender and services provider, raised $98 million in its IPO. The company priced 6.5 million shares at $15 (below $17-$19 range), and will list on the NYSE (GHLD) with Wells Fargo as lead underwriter. Guild reports $110 million of net income on $604 million in net revenue for the first half of 2020. http://axios.link/4T9P
• Leslie's, a Phoenix-based pool supplies retailer owned by L Catterton, set IPO terms to 40 million shares at $14-$16. It would have an initial market cap of $2.8 billion, were it to price in the middle, and plans to list on the Nasdaq (LESL) with Goldman Sachs as lead underwriter. Leslie's reports $16.5 million of net income on $731 million in revenue for the nine months ending June 27, 2020. http://axios.link/JNwV
• ThredUp, a San Francisco-based clothing resale marketplace, said it filed confidential IPO docs. It has raised over $330 million from firms like Redpoint Ventures, Highland Capital Partners, Trinity Ventures, Upfront Ventures, Goldman Sachs, Irving Investors, and Park West Asset Management. http://axios.link/OVds
SPAC Stuff
• CarLotz, a Richmond, Va.-based vehicle consignment and retail remarketing company, agreed to go public via a reverse merger with Acamar Partners Acquisition (Nasdaq: ACAM), at a $827 million valuation. CarLotz, which received a PPP loan, raised VC funding from firms like TRP Capital Partners and Mulberry Investment Group. http://axios.link/bQgj
🚑 BCLS Acquisition, a health care-focused SPAC formed by Bain Capital Life Sciences, raised $125 million in its IPO. http://axios.link/ZtqD
• Cerberus Telecom Acquisition, a SPAC formed by Cerberus Capital Management, raised $250 million in a repeatedly downsized IPO. It had originally targeted $400 million. http://axios.link/M0ad
• Rice Acquisition, an energy-focused SPAC formed by Rice Investment Group, raised $215 million in an upsized IPO. http://axios.link/YYUg
• Yellowstone Acquisition, a financial and real estate-focused SPAC formed by Boston Omaha Corp., raised $125 million in a downsized IPO. http://axios.link/ADAF
Liquidity Events
🚑 Advent International hired Rothschild and HSBC to find a buyer for Dutch medical supplier Mediq, which could fetch €1.2 billion, per Reuters. http://axios.link/SeXS
More M&A
• Adidas is seeking a buyer for its Reebok unit, per a German media report. http://axios.link/hxu7
• Cognizant (Nasdaq: CTSH) agreed to buy Bright Wolf, a Durham N.C.-based provider of custom industrial IoT solutions. www.brightwolf.com
• Deutsche Bank is in talks to sell Postbank, its IT services unit, per Reuters. http://axios.link/DXCN
• Salvatore Ferragamo's family owners are seeking to sell around a 20% stake in the Italian shoemaker, per Reuters. http://axios.link/so5v
• Sun Life Financial (TSX: SLF) agreed to buy a 51% stake in alt credit manager Crescent Capital for upwards of $338 million ($276m upfront). http://axios.link/xT9N
Fundraising
• The Pennsylvania Public School Employees' Retirement System is stopping new commitments to Apollo Global Management funds, due to Apollo CEO Leon Black's personal dealings with Jeffrey Epstein, per the FT. http://axios.link/B460
• Boston Seed Capital is raising $55 million for its fourth fund, per an SEC filing. www.bostonseed.com
• Clayton Dubilier & Rice may secure $14 billion for its 11th flagship buyout fund, per the WSJ. It's already hit its $13 billion target. http://axios.link/Y4q9
• EQT Partners raised €13 billion for its ninth flagship buyout fund, with fundraising now "materially concluded." http://axios.link/GkW1
• New Enterprise Associates is in talks to sell a minority stake in itself, per Bloomberg. http://axios.link/CB1y
It's Personnel
• Michael Doppelt joined Constitution Capital Partners as a managing director or fundraising and IR, per his LinkedIn page. He previously was a partner with Irving Place Capital. www.concp.com
• Chad Horstman (ex-CEO of Yandy) and Perry Jacobson (ex-managing partner of Brookstone Partners) joined VC firm Canal Partners as partners. www.canalpartners.com
Final Numbers: PE compensation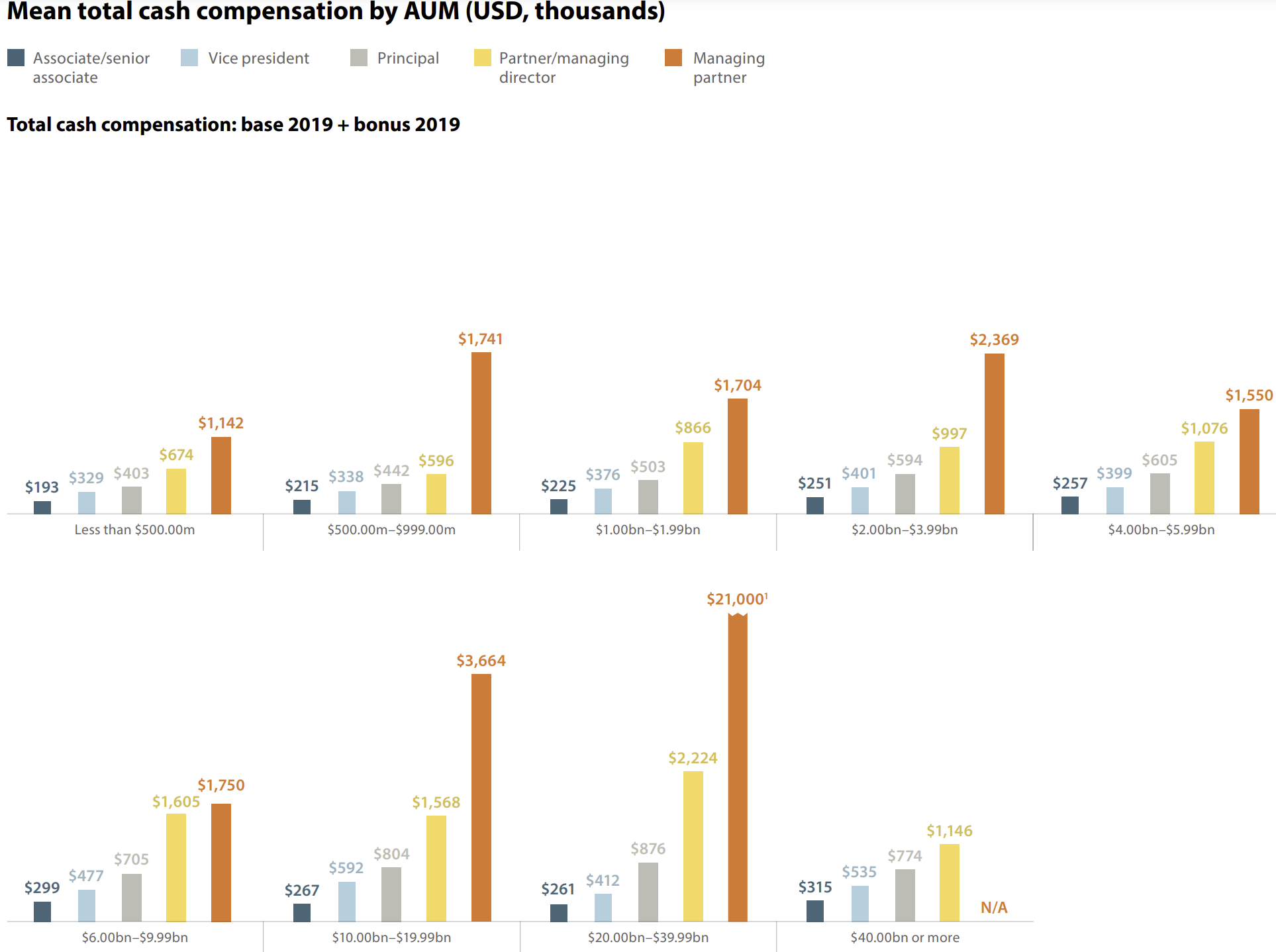 ✔️ Thanks for reading Axios Pro Rata! Please ask your friends, colleagues, and that one neighbor who tried Quibi to subscribe.