April 17, 2020
🎧 Pro Rata Podcast chats with Forbes' Alex Konrad about the latest Midas List, and if this is the last dance of the unicorns. Listen here.
Top of the Morning
Yesterday I said to expect the Paycheck Protection Program to run out of money by lunchtime. But I forgot to mention that I tend to eat a very early lunch.
The $349 billion federal bailout fund for small businesses was gone by 10:30 am ET. It didn't even last two weeks.
New applications aren't being accepted by the Small Business Administration, unless and until congressional Democrats and Republicans settle their differences and pass a $250 billion expansion.
For many small businesses, this moratorium could prove lethal.
President Trump has repeatedly boasted that PPP has been wildly successful. And he's right, despite the many glitches that he's loathe to acknowledge.
The CARES Act wasn't even law at this time three weeks ago. Standing up and executing such a massive program, which involved over 1.5 million small businesses and around 5,000 lenders, in such a short amount of time is an extraordinary accomplishment.
It's also true that there have been inequities.
Some small businesses were at a disadvantage if they picked "the wrong" bank, or didn't have the right relationship with that bank.
Small businesses with in-house finance or accounting professionals likely had a leg up. Same goes for ones with savvy institutional investors, depending on what their lawyers told them about affiliation rules, and that will engender understandable bitterness from bootstrapped mom-and-pops.
If there's still $250 billion of demand, that means there are well over 1 million small businesses in need (based on the initial pot's average loan size).
Congress is playing chicken with people's livelihoods.
Congressional Democrats have a strong case that more funding is needed for hospitals and state/local governments, and that congressional Republicans are being improperly intransigent on tying those monies to PPP+.
But now they're letting the perfect be the enemy of the good, and it's bound to cause widespread pain.
The bottom line: If that $250 billion doesn't materialize by Monday, then PPP may be remembered as much for those it left behind as for those it helped.
The BFD
Verizon (NYSE: VZ) agreed to buy BlueJeans, a San Jose, Calif.-based business videoconferencing platform, for just under $500 million. The two sides had been in talks since last year.
Why it's the BFD: Even though sources say the sale price rose slightly during the final weeks of negotiation, it's downright embarrassing that BlueJeans was valued higher by venture capitalists five years ago than it fetched in this white-collar WFH era.
ROI: BlueJeans had raised around $175 million in VC funding, including at around a $725 million valuation in 2015, from firms like Accel, Battery Ventures, NEA, and Norwest Venture Partners, Wing Venture Partners, and Derek Jeter.
Net non-neutrality: There was some tech chatter yesterday that Verizon could prop up BlueJeans by throttling Zoom speeds. Interesting theory, but that would mean intentionally impairing an integral part of the user experience for its giant broadband business. Not a smart trade-off.
The bottom line: BlueJeans was partially victim of its own history, having originally been founded in 2009 as an enterprise cloud infrastructure company whose core architecture wasn't intended for the sort of self-service signups that would propel Zoom to Passover Seder domination.
Pro Rata for Kids
Today's project is really a weekend project: Use all of your Legos. You heard me, all of them. They can be from kits or from boxes of loose ones. They can be turned into something recognizable, or just a massive boulder of rigid plastic delight.
Per usual, please send me photos by Sunday night. Inspiration came from the children of Axios editor-in-chief Nick Johnston (well, at least he says it was them):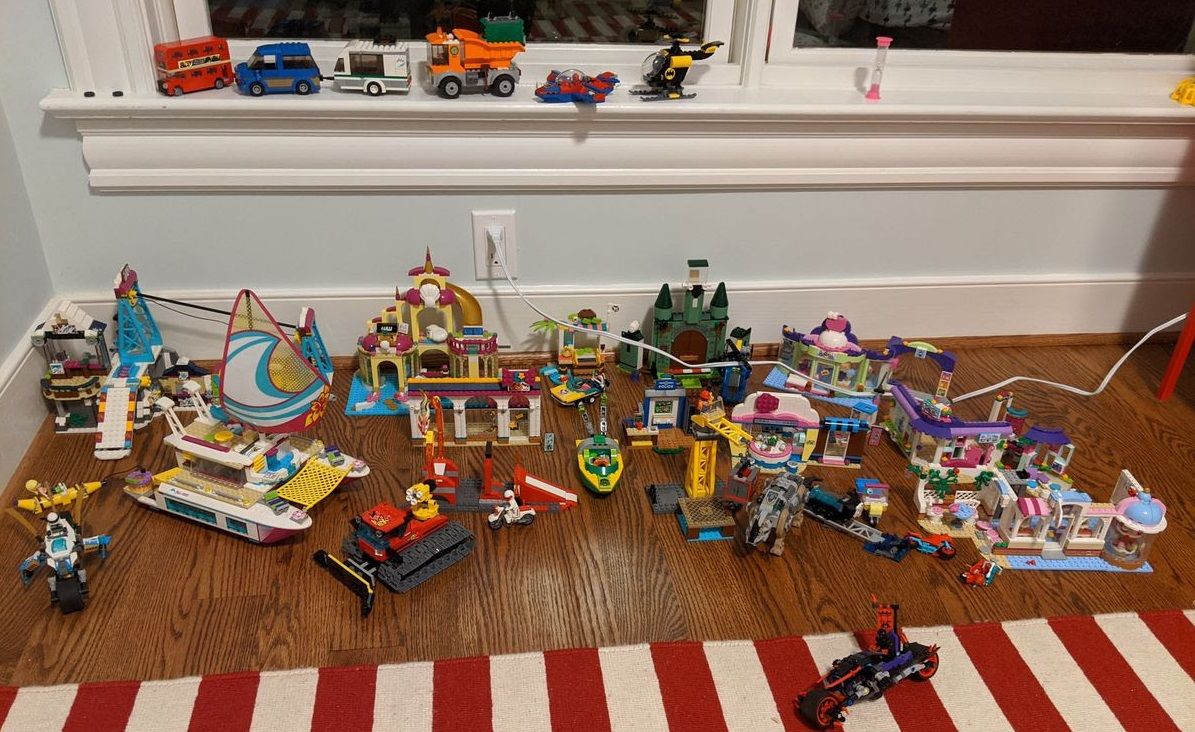 Yesterday I asked your kids to make a food house, but never considered that someone would be so creative as to include a bagel. Impressive job Brooklyn (age 9):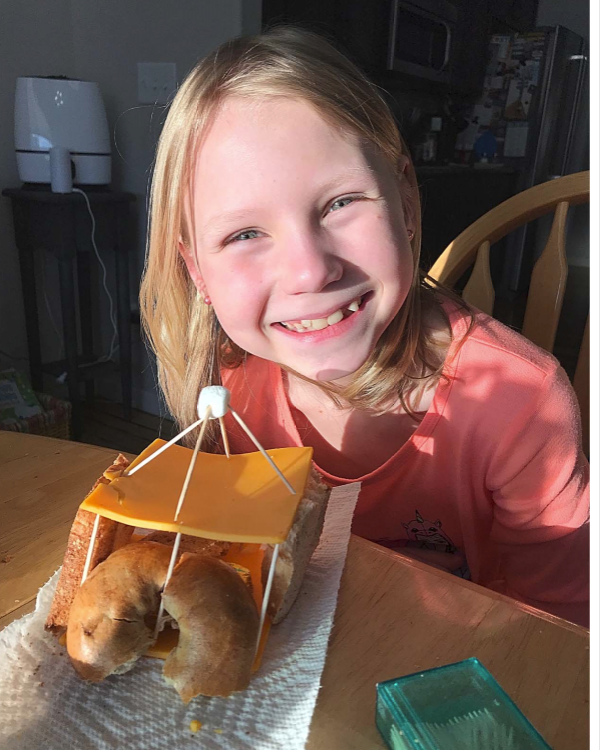 Venture Capital Deals
• Trade Republic, a German no-fee stock trading app, raised €62 million in Series B funding co-led by Accel and Founders Fund. http://axios.link/oshK
• Glassbox, a London-based customer experience analytics platform, raised $40 million in Series C funding. Brighton Park Capital led, and was joined by return backers Updata Partners, Ibex Investors, Gefen Capital, and CEIIF. http://axios.link/8DM6
• Movandi, an Irvine, Calf.-based developer of 5G millimeter wave networks, raised $27 million in Series C funding. WRVI Capital led, and was joined by Cota Capital and DNX Ventures. http://axios.link/ibzv
• Bridgecrew, a San Francisco-based provider of cloud security deployment solutions, raised $14 million in Series A funding. Battery Ventures led, and was joined by NFX, Sorensen Ventures, DNX Ventures, Tectonic Ventures, and Homeward Ventures. http://axios.link/7uy5
🚑 RDMD, a San Francisco-based startup focused on accelerating research on rare diseases, raised $14 million in Series A funding. Spark Capital led, and was joined by Maveron and seed backers Lux Capital, Village Global, and Garuda Ventures. http://axios.link/0Gx5
• Kebotix, a Cambridge, Mass.-based chemicals and materials discovery platform, raised $11.4 million in Series A funding led by Novo Holdings. www.kebotix.com
• Everee, a Salt Lake City-based payroll platform for small and mid-sized businesses, raised $10 million in Series A funding co-led by Origin Ventures and Signal Peak Ventures. http://axios.link/l10X
• Grain, a maker of software for capturing and sharing Zoom call content, raised $4 million in seed funding from Acrew Capital, Founder Collective, Peterson Partners, Slack Fund, and individuals. http://axios.link/lQB4
Private Equity Deals
• Apcoa Parking, a car park manager owned by Centerbridge Partners, is in talks to receive funding via a German government loan program for pandemic-affected companies, per Bloomberg. http://axios.link/dLQn
• Hellman & Friedman completed its $1.15 billion purchase of Checkmarx, a Paramus, N.J.-based provider of software security solutions for DevOps, from Insight Partners. www.checkmarx.com
• Neiman Marcus skipped a debt payment due this week, thus putting it in default, as it continues to talk with lenders about filing for Chapter 11 bankruptcy. The Dallas-based luxury retailer is struggling under the weight of $4.3 billion in debt, related to its 2013 takeover by Ares Management and Canada Pension Plan Investment Board. http://axios.link/TRO8
🚑 TPG agreed to buy LifeStance Health, a Bellevue, Wash.-based provider of behavioral health services, for around $1.2 billion. Existing LifeStance backers Summit Partners and Silversmith Capital Partners will retain minority stakes. http://axios.link/AN4I
Public Offerings
🚑 Lantern Pharma, a Dallas-based developer of drugs for multidrug treatment resistance cancers, filed for a $29 million IPO. It plans to trade on the Nasdaq (LTRN) with ThinkEquity and and Dougherty & Co. as underwriters, and raised around $7 million in VC funding from firms like BIOS Partners and GPG Ventures. http://axios.link/SVDs
• Rackspace, a San Antonio-based cloud hosting company, has filed confidential IPO papers, per Reuters. The company could seek a valuation north of $10 billion, and is backed by Apollo Global Management, Searchlight Capital Partners, and Abry Partners. http://axios.link/hfE2
More M&A
• Nokia (NYSE: NOK) shares jumped on a TMT Finance report that it had hired Citi to defend itself from a hostile takeover, although Nokia itself declined to comment on the report. http://axios.link/SaVQ
• Nvidia (Nasdaq: NVDA) received Chinese regulatory approval for its $6.9 billion takeover of rival Silicon Valley chipmaker Mellanox Technologies (Nasdaq: MLNX), thus meaning it has no more regulatory hurdles to clear. http://axios.link/sp8O
• T-Mobile US and Sprint won approval from California regulators for their recently closed $23 billion merger. http://axios.link/YUHs
• Virgin Australia (ASX: VAH), Australia's second-largest airline, received a takeover offer from an unidentified private equity firm that partnered with "a strategic airline investor," per a local media report. A second bidder also is circling the troubled carrier, which has been seeking A$1.4 billion in loans from the Australian government. http://axios.link/FgQn
Fundraising
• Francisco Partners, a tech-focused private equity firm, is raising $6.6 billion for its sixth flagship fund and another $1.35 billion for its second fund focused on smaller deals, per SEC flings. www.franciscopartners.com
• Sterling Road, a San Francisco-based pre-seed fund focused on B2B startups, raised $9 million for its debut fund. It's led by Ash Rust (ex-SendHub, Klout). www.sterlingroad.com
It's Personnel
• Megan Quinn stepped down as a general partner with Spark Capital's growth fund, in order to join Pokémon Go maker Niantic as chief operating officer. http://axios.link/x64r
Final Numbers
Go deeper:
🙏 Thanks for reading Axios Pro Rata! Please ask your friends, colleagues, and Lego architects to sign up.