Situational awareness: Apple Inc, the world's most valuable publicly listed company, is in danger of being beaten by Amazon.com Inc to the $1 trillion mark. [Reuters]
https://www.axios.com/newsletters/axios-pm-ffb819d9-58ba-426b-a027-f2d631c9c46b.html?chunk=0#story0
1 big thing: Trade war, but quieter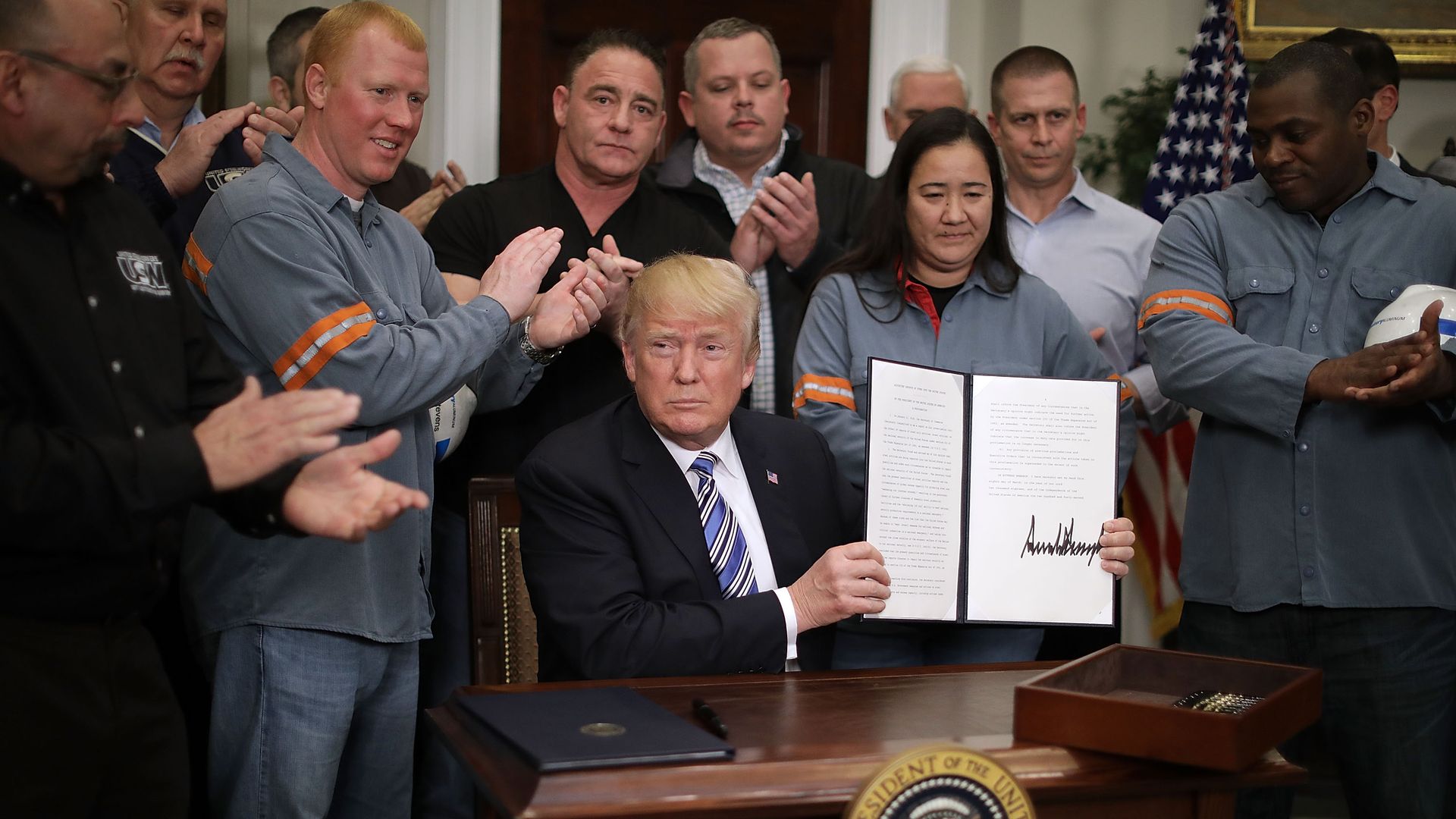 The Trump trade war is officially here, but it's watered-down compared to the global tariffs expected after last week.
Details:
The tariffs go into effect on March 23, one imposing a 25% tariff on steel and the other a 10% tariff on aluminum.
President Trump confirmed that Canada and Mexico are exempt from the tariff increases, citing national security agreements — specifically ongoing NAFTA negotiations.
Trump: "The actions we are taking today are not a matter of choice, they are a matter of necessity for our security."
The proclamations will be "flexible," allowing the U.S. to address security relationships in an "ironclad way" to defend its steel and aluminum industries, said a senior administration official.
The administration is open to allowing some countries to negotiate for exemptions on a "case-by-case" basis, pending separate, bilateral agreements.
Quick fallout: House Speaker Paul Ryan put out a statement expressing his disapproval, while Senate Democrat Joe Manchin approved. [Go deeper].
The big picture, from Axios' Jonathan Swan: This will still meet fierce opposition from free traders and large sections of the business community. But it's not nearly so bad as it originally appeared. Trump initially wanted to impose these tariffs on everyone with no exceptions and no room for exclusions. There's now plenty of wiggle room.
https://www.axios.com/newsletters/axios-pm-ffb819d9-58ba-426b-a027-f2d631c9c46b.html?chunk=1#story1
2. What you missed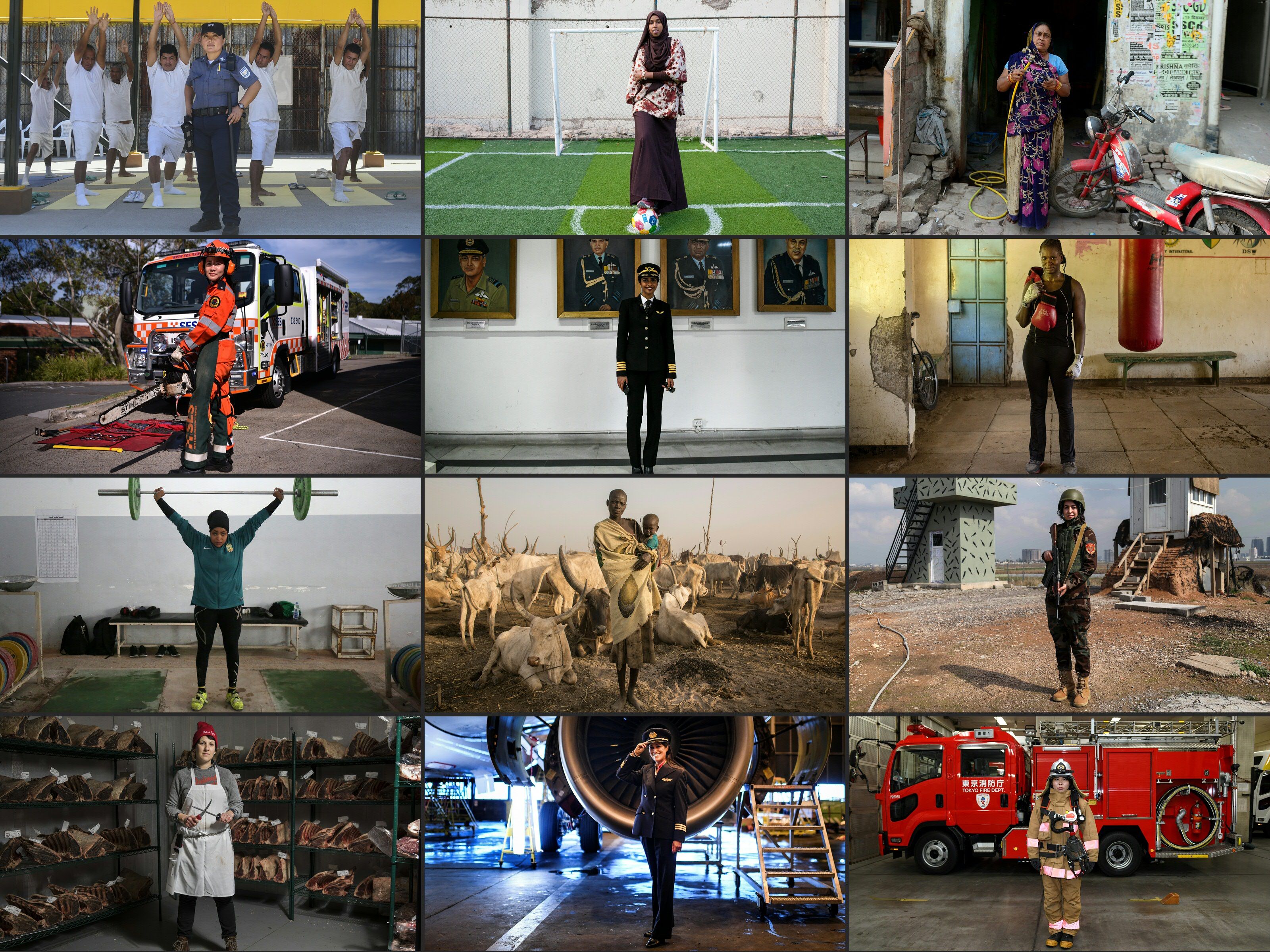 In honor of National Women's Day, a series of photos depicting women performing roles or working in professions more traditionally held by men. Photos: AFP / Getty Images
https://www.axios.com/newsletters/axios-pm-ffb819d9-58ba-426b-a027-f2d631c9c46b.html?chunk=2#story2
3. 1 equal thing across the 🌎
"Women across Europe and Asia [demonstrated] for equality, respect and empowerment Thursday to mark International Women's Day," the A.P. reports.
"In a protest reminiscent of the #MeToo movement... [Russian opposition presidential candidate Ksenia] Sobchak staged a solo picket outside the lower house of the Russian parliament to demand the resignation of a prominent lawmaker..."
"In China, students at Tsinghua University used the day to make light of a proposed constitutional amendment to scrap term limits for the country's president..."
"At rallies in ... Pakistan ... women denounced violence against them..."
"Hundreds of activists in pink and purple shirts protested in downtown Manila against Philippine President Rodrigo Duterte..."
"Hundreds of South Koreans, many wearing black and holding black #MeToo signs, rallied in central Seoul."
"In India, hundreds of women, including students, teachers and sex workers, marched through the capital to bring attention to domestic violence, sexual attacks and discrimination in jobs and wages."
"In Africa, Ugandan President Yoweri Museveni urged men to stop physically abusing their wives."
"Asia Argento, an Italian actress who helped launch the #MeToo movement, said she is launching a new movement, #WeToo, which aims to unite women against the power imbalance in favor of men."