August 01, 2022
Good Monday afternoon. Today's PM — edited by Kate Nocera and copy edited by Lisa Hornung — is 542 words, a 2-minute read.
1 big thing: Progressive star fights for political life
It's a tale as old as congressional redistricting — an incumbent must court new voters after getting new boundaries. But this rising-star House member has never represented an inch of this district in Lower Manhattan and Brooklyn.
Rep. Mondaire Jones (D-N.Y.), one of Congress' most prominent progressives, could lose his seat just two years after making history as one of the first two openly gay Black members of Congress, Axios' Andrew Solender reports.
Jones, 35, who currently represents the suburban Lower Hudson Valley, is now in a packed Aug. 23 primary in New York City's newly open, solidly Democratic 10th district.
He's facing serious progressive competition in a crowded primary field — including former Rep. Elizabeth Holtzman, who is trying to re-enter Congress after 40 years.
What's happening: Jones won his seat in 2020 against a big field of credible challengers by positioning himself as the clear progressive and beat the runner-up by more than 25 points. He'd been on track for an easy renomination this year.
But after redistricting, Democratic Congressional Campaign Committee Chair Sean Patrick Maloney opted to run in Jones' blue-tinted district over his old swing district.
Jones has racked up support from national groups and congressional colleagues — and added Speaker Pelosi today. But he has few local endorsements.
Jones had $3 million to spend as of the beginning of July. But opponents argue money can't make up for a lack of local reputation.
Many undecided voters who spoke to Axios said a candidate parachuting into the district is an automatic dealbreaker for them.
Others said a district full of transplants and immigrants will gladly make room for one more.
2. 🏈 NFL values skyrocket
Half of all NFL franchises — 16 — are now worth at least $4 billion each, Axios' Sports' Jeff Tracy writes.
The Dallas Cowboys ($7.64 billion) are yet again the world's most valuable sports franchise.
3. Catch up quick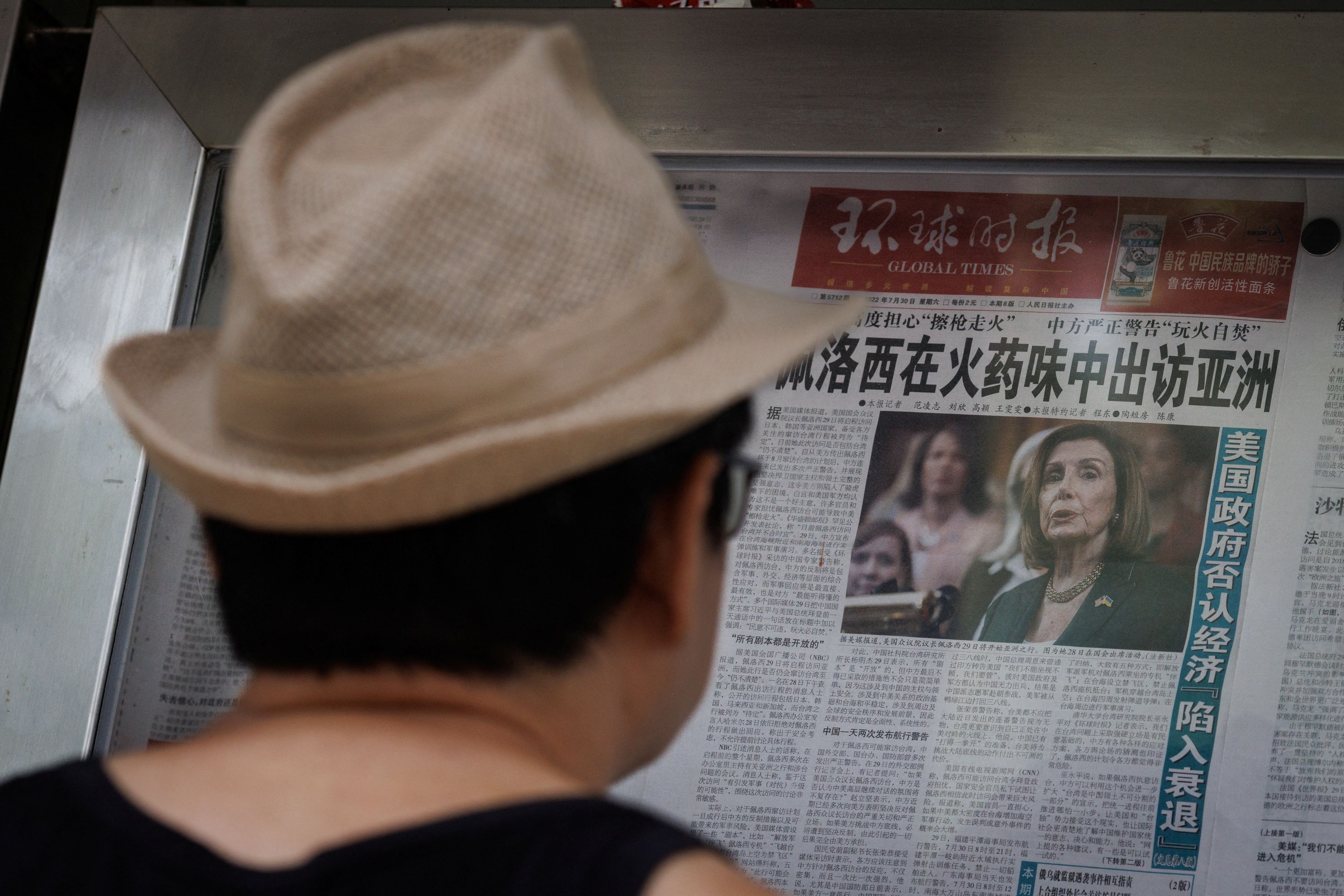 ✈️ Above: A man in Beijing reads a front-page story about Speaker Pelosi's Asia swing, with the headline: "Pelosi visits Asia in the smell of gunpowder." She was in Singapore today, with Taiwanese media reporting she's headed there. Get the latest.
🇺🇳 U.N. Secretary-General António Guterres warned humanity is "one miscalculation away from nuclear annihilation," as he opened the 10th review conference on the nuclear non-proliferation treaty (NPT), in New York. Go deeper.
🏈 Cleveland Browns QB Deshaun Watson was suspended for six games following accusations by two dozen women in Texas of sexual misconduct. Keep reading.
4. 🥚 1 food thing: $2,000 McDonald's breakfast
A passenger traveling from Bali to Australia was fined nearly $2,000 (U.S.) for arriving in the country with two McDonald's egg and beef sausage McMuffins and a ham croissant.
Australia has strict restrictions on bringing meat products into the country due to fears of foot and mouth disease, CNN reports.
A detection dog named Zinta found the forbidden breakfast in the passenger's backpack.
"This will be the most expensive Maccas meal [what Aussies call Mickey D's] this passenger ever has," Minister for Agriculture, Fisheries and Forestry Murray Watt said in a statement. "I have no sympathy for people who choose to disobey Australia's strict biosecurity measures."