Axios AM
March 20, 2022
Good Sunday morning. Smart Brevity™ count: 1,193 words ... 4½ mins. Edited by Fadel Allassan.
1 big thing: China mints more new billionaires than U.S.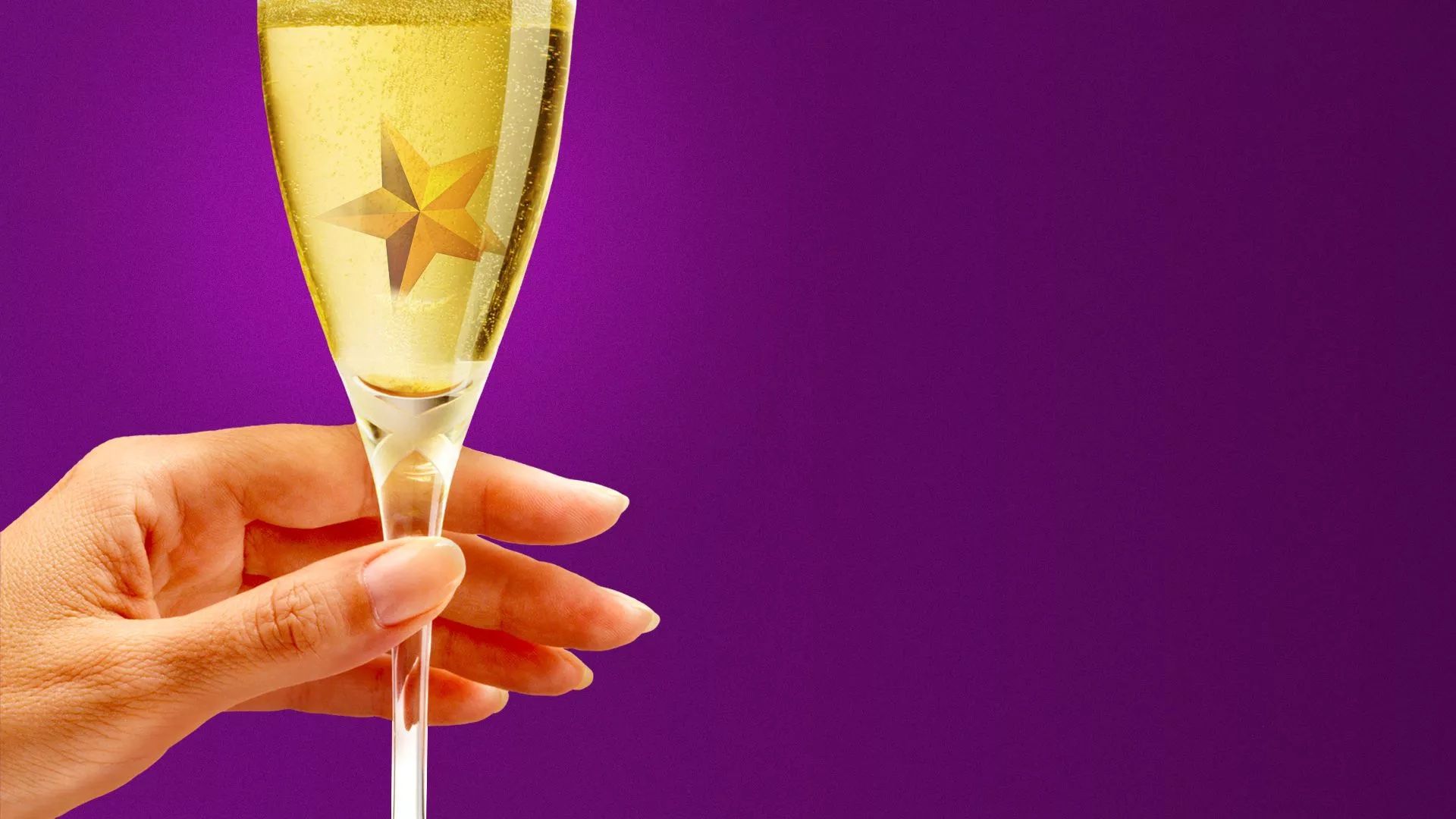 China has been producing new billionaires — especially female billionaires — much faster than any other country in the world, Axios business reporter Hope King writes.
The U.S., second by a large margin, produces billionaires and companies with much bigger global influence.
The three cities with the biggest billionaire populations are now all in China: Shenzhen just overtook New York City for third place. Beijing and Shanghai are the top two. London is fifth.
China and the U.S. together have produced 55% of the world's "known" billionaires, according to Hurun's 2022 Global Rich List. 
China has more total billionaires: 1,133 to the U.S.' 716. And its billionaire population is growing about three times faster than America's, according to Hurun.
"True economic firepower" is better measured by the value of companies than individuals, Rupert Hoogewerf, chairman and chief researcher of the Hurun Report, told Axios. There, the U.S. has a huge edge:
Real estate, industrial products and health care have been behind most of the big money in China.
Wealth from the top billionaires living in the U.S. come mainly from global tech providers, as well as financial services and entertainment.
🔎 Between the lines: Of the most successful self-made female billionaires in the world, 60-70% are Chinese — a rate that's stayed consistent for the last 16 years.
A few reasons: The previous one-child rule meant women had to take fewer career breaks. And the societal structure where families live together, or close to one another, gives women more childcare options.
Go deeper on the Rich List ... Share this story.
2. Researchers: War hits stalemate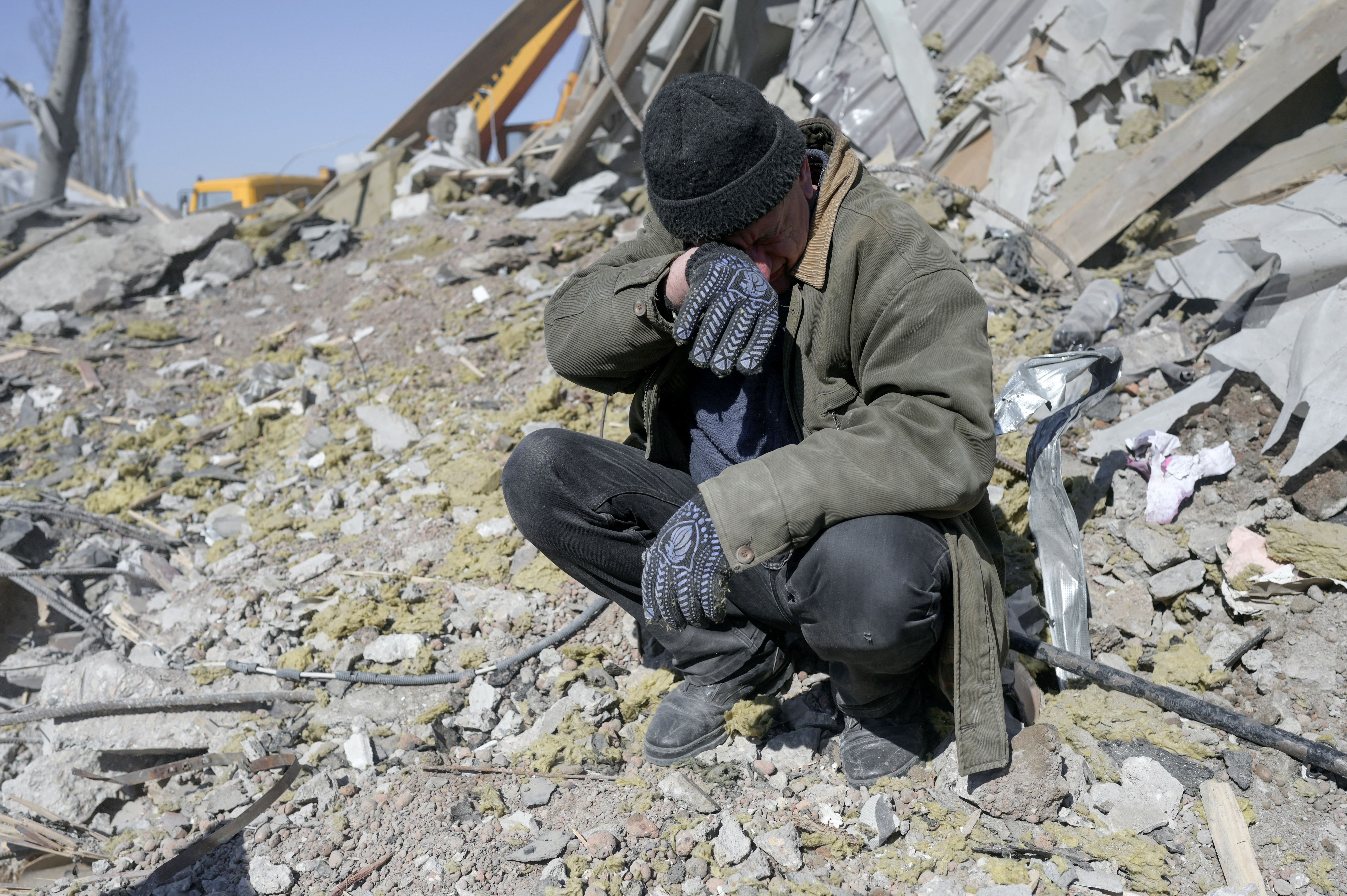 "The war in Ukraine has reached a stalemate after more than three weeks of fighting, with Russia making only marginal gains and increasingly targeting civilians," the N.Y. Times writes (subscription).
That was the assessment yesterday from the Institute for the Study of War, a widely respected D.C. research group:
"Ukrainian forces have defeated the initial Russian campaign of this war," the note says. "That campaign aimed to conduct airborne and mechanized operations to seize Kyiv, Kharkiv, Odessa, and other major Ukrainian cities to force a change of government in Ukraine." That failed.
"Russian forces continue to make limited advances in some parts of the theater but are very unlikely to be able to seize their objectives in this way."
Reality check: "Stalemate will likely be very violent and bloody," the institute adds.
"Stalemate is not armistice or ceasefire. ... If the war in Ukraine settles into a stalemate condition Russian forces will continue to bomb and bombard Ukrainian cities, devastating them and killing civilians."
"The World War I battles of the Somme, Verdun, and Passchendaele were all fought in conditions of stalemate and did not break the stalemate."
What happened: Yaroslav Hrytsak, a Ukrainian historian and professor at Ukrainian Catholic University, writes in a N.Y. Times op-ed (subscription) that Putin made two huge miscalculations:
"First, he was hoping that, as had been the case with his war against Georgia, the West would tacitly swallow his aggression against Ukraine. A unified response from the West was not something he expected."
"Second, since in his mind Russians and Ukrainians were one nation, Mr. Putin believed Russian troops needed barely to enter Ukraine to be welcomed with flowers. This never materialized."
Go deeper: Read the "stalemate" assessment.
3. Afghanistan's last finance minister is now a D.C. Uber driver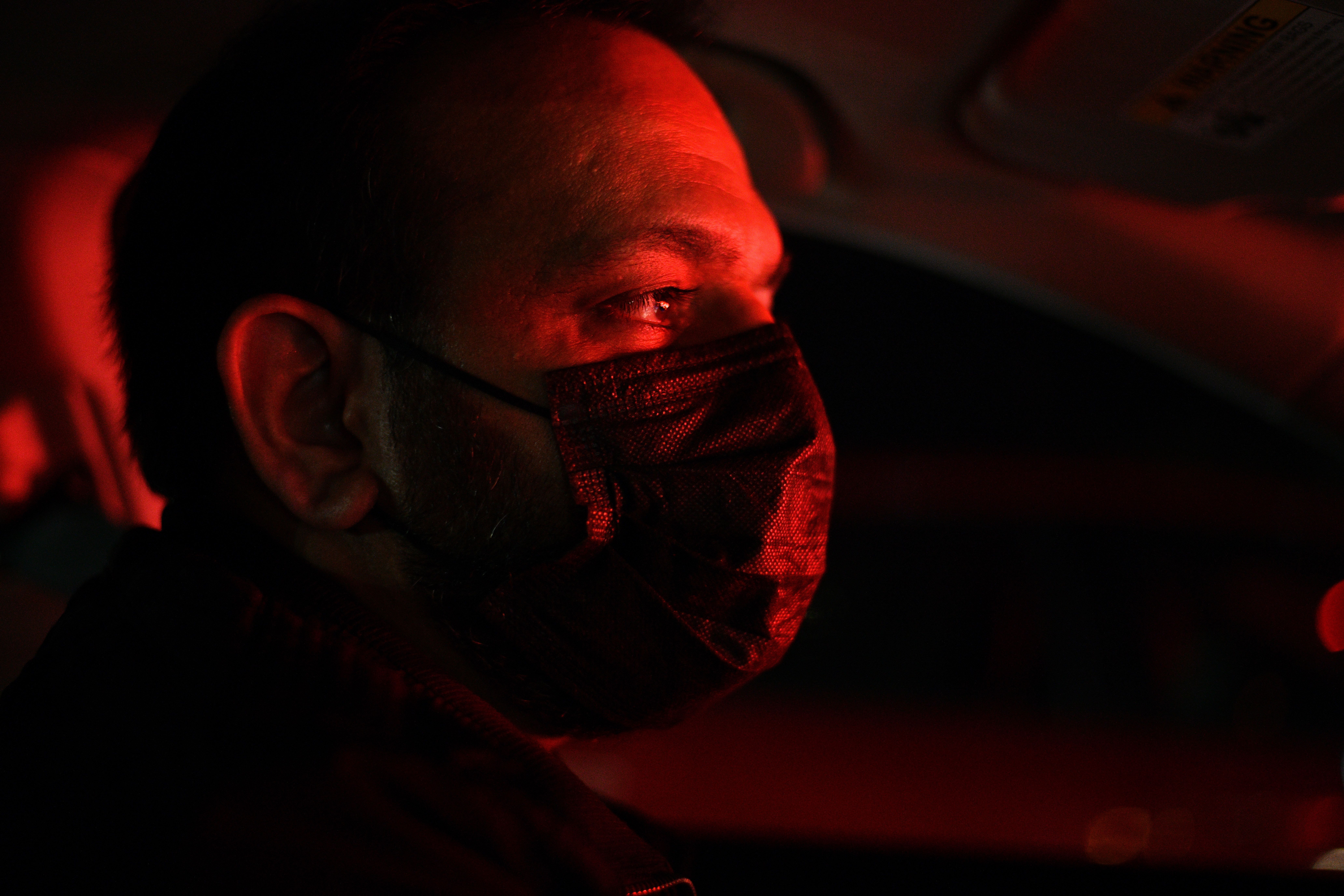 "Until last summer, Khalid Payenda was Afghanistan's finance minister, overseeing a $6 billion budget," The Washington Post's Greg Jaffe writes on today's front page.
"Now, seven months after Kabul had fallen to the Taliban, he was at the wheel of his Honda Accord ... Payenda swiped at his phone and opened the Uber app, which offered his 'quest' for the weekend. For now his success was measured in hundreds of dollars rather than billions."
"If I complete 50 trips in the next two days, I receive a $95 bonus," Payenda, 40, told Jaffe amid Friday-night traffic.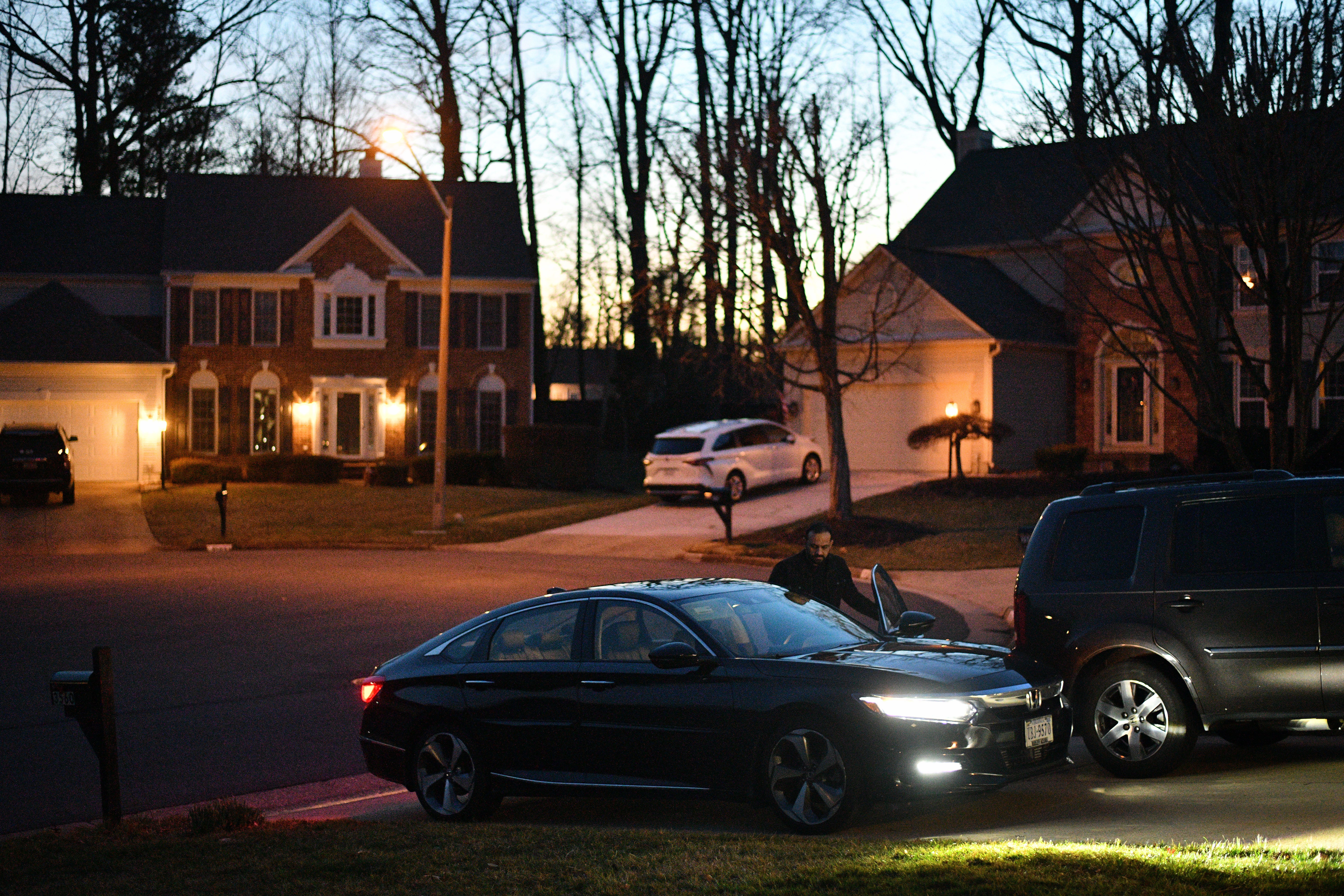 Why it matters: Senior U.S. officials have "largely moved on from the Afghanistan war, which began 20 years earlier with high-minded promises of democracy, human rights and women's rights."
Payenda told Jaffe he partly blames his fellow Afghans: "We didn't have the collective will to reform, to be serious."
4. 📷 1,000 words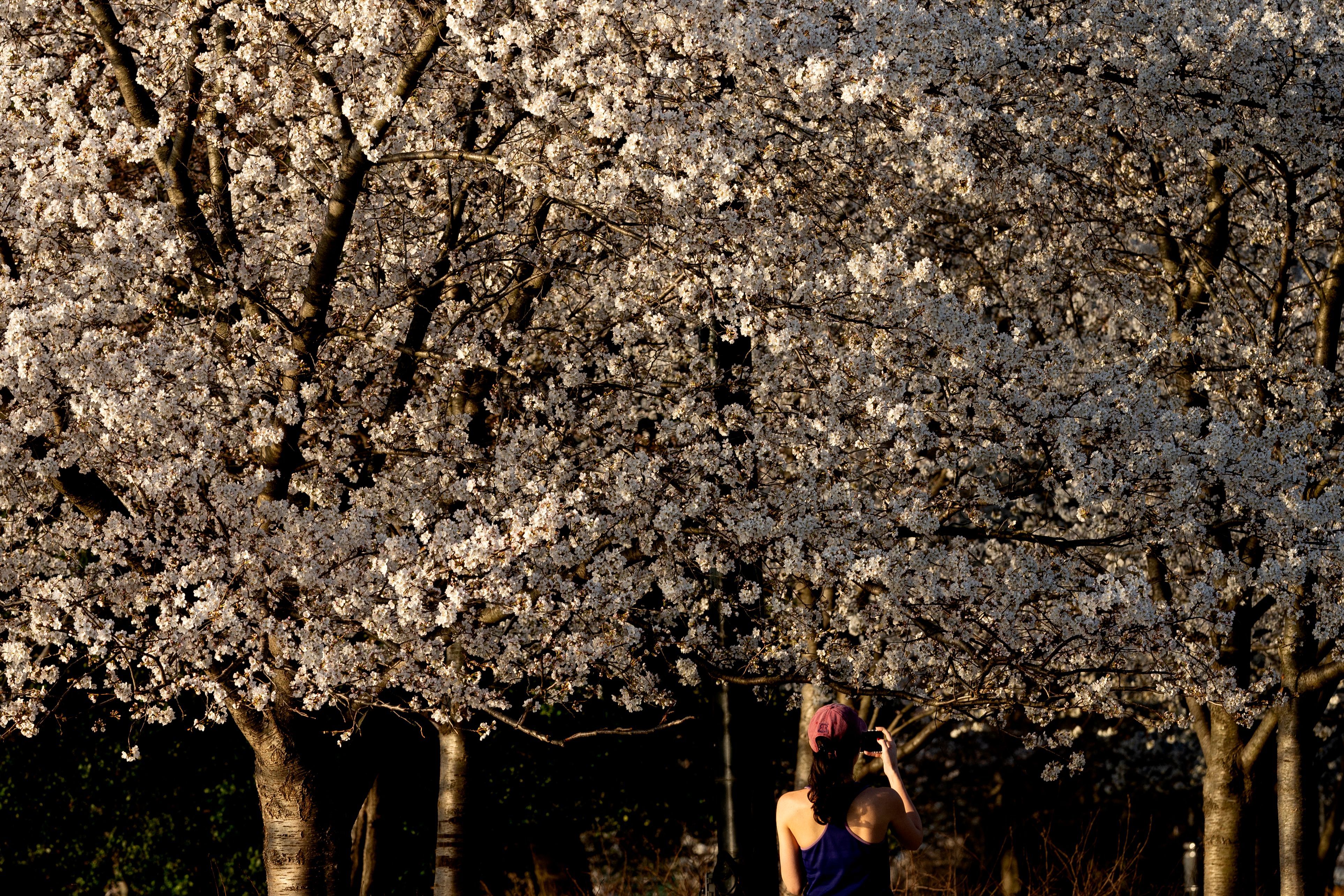 An early riser photographs cherry blossoms blooming at sunrise in Washington yesterday.
🌸 The National Park Service projects peak blooms for this Tuesday through Friday.
5. Pope: Women can lead Vatican departments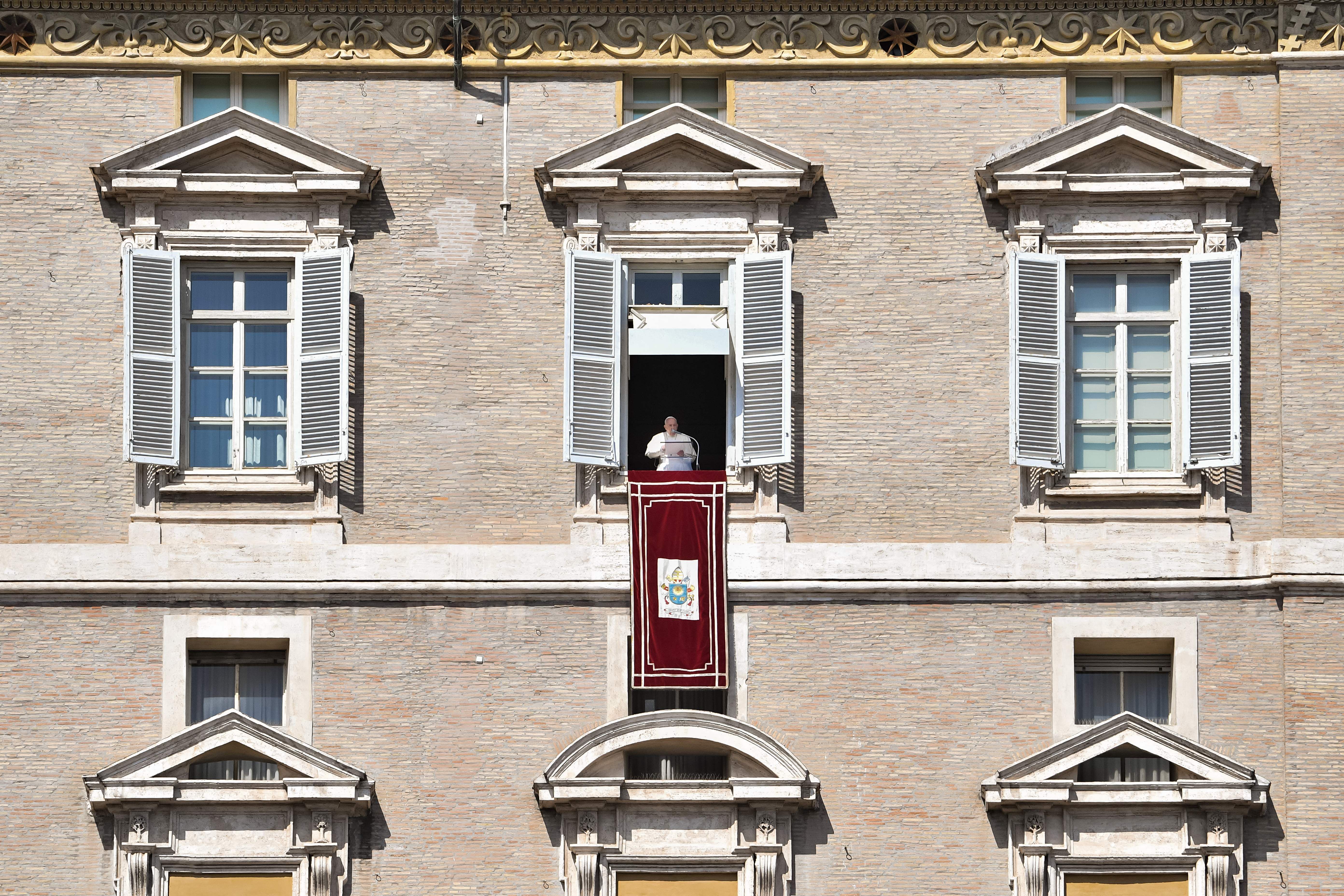 Pope Francis introduced a landmark reform yesterday that will allow any baptized lay Catholic, including women, to head most Vatican departments under a new constitution for the Holy See's central administration, Reuters' Philip Pullella reports from Vatican City.
Why it matters: For centuries, the departments have been headed by male clerics, usually cardinals or bishops. That could change beginning June 5, when the new charter takes effect after more than nine years of work.
The 54-page constitution, called "Praedicate Evangelium" (Preach the Gospel), was released on the ninth anniversary of Francis' installation as pope in 2013, and replaces one issued in 1988 by Pope John Paul II.
6. 🏀 $hining moments now monetized in real time

New Mexico State guard Teddy Allen — who scored 37 points in an upset of UConn on Thursday, flexing, dancing and waving goodbye to Huskies fans — shows college stars' new ability to monetize themselves.
By Friday night, T-shirts and hoodies (photo above) were for sale online with a graphic of Allen and "BYE BYE," AP's Ralph Russo writes.
Why it matters: The NCAA last summer lifted the ban on athletes earning money off their name, image and likeness. This first March Madness with NIL is likely to set a blueprint for schools and athletes to better position themselves for sudden stardom in years to come.
What's happening: All kinds of business opportunities have sprung up, from modest online endorsement deals to national sponsorships to booster-funded collectives that can pay athletes thousands of dollars.
Case in point: The Teddy T-shirt is made by The Players Trunk, an online merchandise store for college athletes to sell gear and memorabilia.
Co-founder Hunter Pomerantz, a former student-manager for the Syracuse basketball team, said his company reaches out to athletes and offers them a contract to make a cut of the sales of the apparel. He wouldn't say what percentage goes to the players.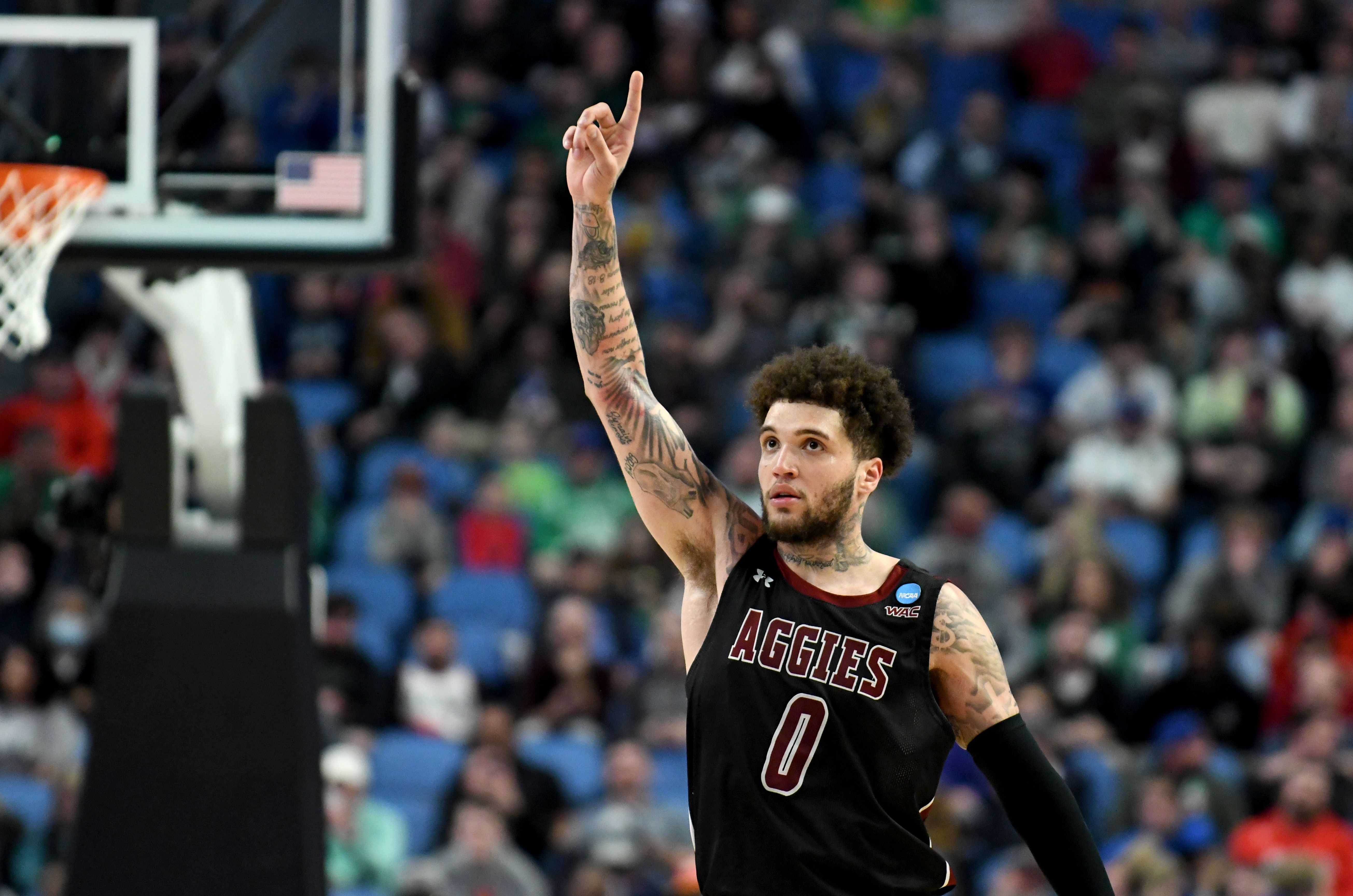 Of course, merch is just the start for March's shooting stars.
There's a potentially lucrative market for March Madness NFTs and digital collectibles.
But that takes planning and coordination, and the current state of the NIL market isn't set up to allow athletes to efficiently take advantage.
👀 What we're watching: The NCAA, which doesn't have detailed rules governing NIL compensation, has instructed member schools to follow state laws — or create their own rules in states without them.
The bottom line: "This will be the last year that kids aren't fully ready for it," said Blake Lawrence, CEO of Opendorse, which works with schools and athletes to manage NIL activities.
P.S. "Teddy Buckets" had a brief tournament run: New Mexico State lost to Arkansas in the second round yesterday.
📬 Invite your friends to sign up here to get their daily essentials — Axios AM, PM and Finish Line.