Situational awareness: First Lady Melania Trump is recovering at Walter Reed Medical Center after surgery to treat a benign kidney condition, her office said this afternoon. She is expected to be there through the week.
https://www.axios.com/newsletters/axios-pm-e0f7bcd5-3a0e-4da2-94e7-2b2d66203997.html?chunk=0#story0
1 big thing: Why Trump's White House doesn't say sorry
The Trump White House is blazing a trail with its refusals to apologize for stupid or cruel comments, including Kelly Sadler's callous remark about John McCain last week.
Axios' Jonathan Swan explains the motivations that drive this behavior:
The big picture: Once you've worked for Trump for a while you know that the worst thing you can do, the biggest show of weakness, is to apologize. He never does and never did (with one exception — the "Access Hollywood" tape). So staff knows that if they publicly apologize they're actually MORE likely to incur Trump's wrath than if they just move on.
In this specific case I'm told that White House Press Secretary Sarah Sanders — whose team is leaking with unprecedented velocity — was so furious about the leak that she didn't want to say anything publicly to validate it. And other White House staffers like Mercedes Schlapp defended Sadler privately because they believed she was being viciously targeted by colleagues.
 Swan asked a senior administration official about the phenomenon this morning. Here's how he explained it:
"Not apologizing is a core operating principle for Trump. The basic belief is that you never actually get 'credit' — from the Left, the media, political opponents, etc. — for apologizing, so why do it? Even the Access Hollywood response video included a defiant Trump going after the 'actions' of Bill Clinton and 'bullying of victims' by Hillary, and ended with 'See you at the debate!'"
https://www.axios.com/newsletters/axios-pm-e0f7bcd5-3a0e-4da2-94e7-2b2d66203997.html?chunk=1#story1
2. The Israel split screen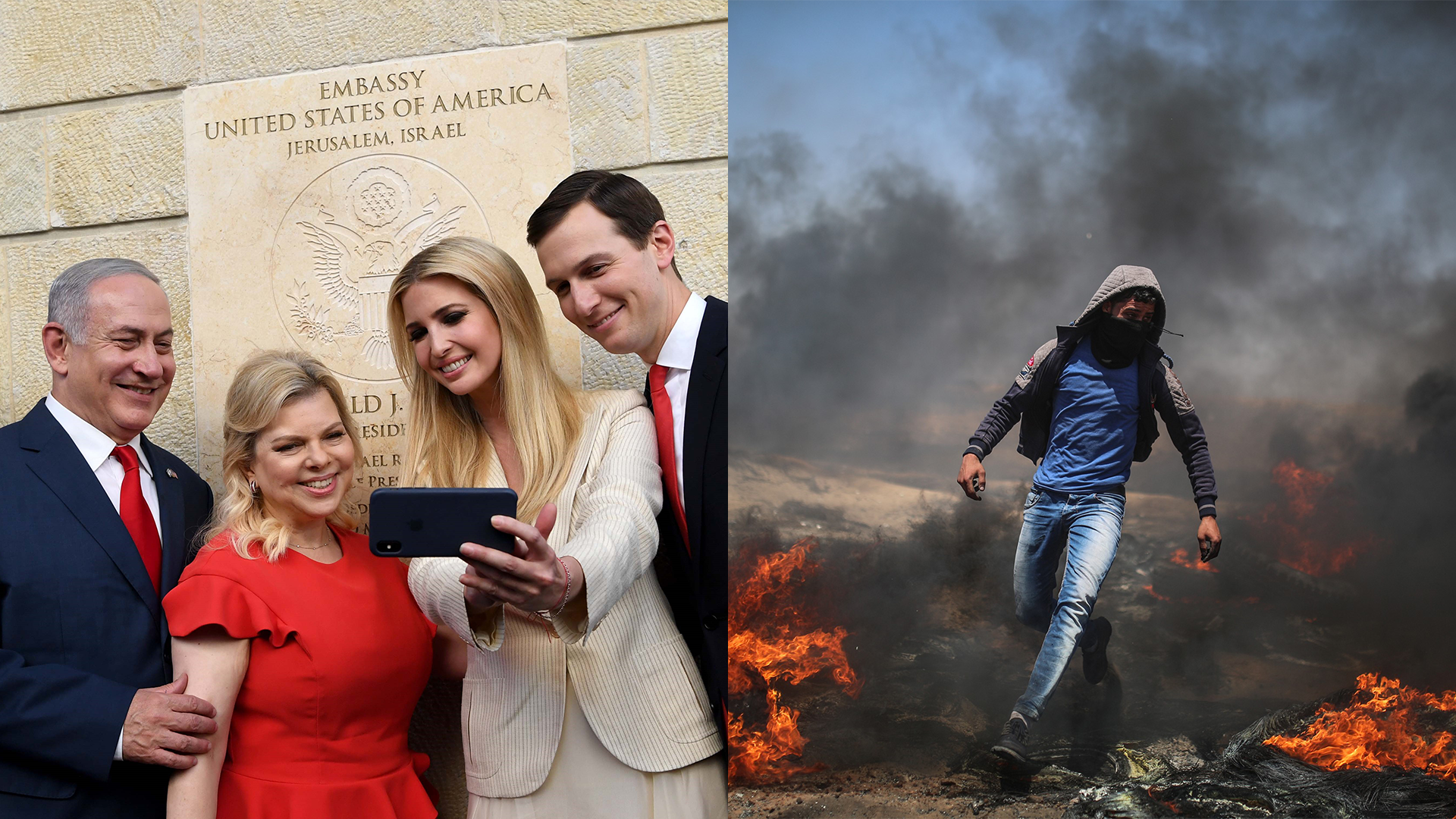 A historic day for the United States and Israel was marked by the deaths of 52 Palestinians at the Gaza-Israel border.
In Jerusalem, top Israeli officials joined the U.S. delegation to inaugurate the new U.S. embassy in Jerusalem.
Israeli Prime Minister Benjamin Netanyahu: "What a glorious day... President Trump, by recognizing history, you have made history..."
Jared Kushner: "As we have seen from the protests of the last month and even today those provoking violence are part of the problem and not part of the solution."
In Gaza, thousands of protesters came out a day early to mark the the embassy opening, along with the 70th anniversary of the "nakba," which refers to the displacement of Palestinians during the war that founded Israel, the AP reported.
"The Israeli military said that some in the crowds were planting or hurling explosives, and that many were flying flaming kites into Israel..."
"By midafternoon, the protest nearest to Gaza City had turned into a pitched battle — a chaotic panorama of smoke, sirens and tear gas that stretched along the fence."
The big picture: Health officials in the strip, which is controlled by Hamas, told reporters more than 1,000 people were hurt and 52 killed over the course of the day.
https://www.axios.com/newsletters/axios-pm-e0f7bcd5-3a0e-4da2-94e7-2b2d66203997.html?chunk=2#story2