Axios PM
May 16, 2023
👋 Good Tuesday afternoon! Today's PM — edited by Erica Pandey — is 596 words, a 2-min. read. Thanks to Sheryl Miller for the copy edit.
1 big thing: OpenAI pushes for rules
OpenAI CEO Sam Altman, in his first appearance at a congressional hearing, today urged lawmakers to regulate the technology he is pioneering and confessed:
"My worst fear is we cause significant harm to the world," Altman, 38, told the Senate Judiciary subcommittee on privacy, technology and the law.
Several senators said Congress failed to take early action on social media regulation — a mistake they're determined not to repeat with AI, Axios' Ashley Gold reports.
Sen. Dick Durbin (D-Ill.) called it "historic" that a company was coming to Congress asking for regulation.
🥊 Reality check: There's a slim chance lawmakers will unite and act on AI regulation before the technology gallops ahead.
Altman dined with around 60 lawmakers in the Capitol the night before his testimony. OpenAI's ChatGPT sparked this year's frenzy of attention to chatbots and machine learning.
Altman was thoughtful and exacting in his responses to senators, even when members got a little combative.
The CEO both explained how ChatGPT works and urged Congress to work with companies like his to figure out guardrails.
"The U.S. government should consider a combination of licensing or registration requirements for development and release of AI models above a crucial threshold of capabilities, alongside incentives for full compliance with these requirements," he said.
Sen. John Kennedy (R-La). said: "This is your chance, folks, to tell us how to get this right. Please use it. ... Talk in plain English and tell us what rules to implement."
2. 🚗 Cars' long lives
The future is electric. But the gas-powered past isn't fading away quickly.
Americans are keeping their vehicles longer than ever — good news for repair shops, but bad news for anyone expecting a rapid phaseout of gas-powered cars in favor of greener tech.
🧮 By the numbers: The average age of cars on the road is at an all-time high of 12½ years, up three months from 2022, Axios' Nathan Bomey and Joann Muller write from S&P Global Mobility data.
Two decades ago, the average was 9.7 years.
🖼️ The big picture: Sticker prices for new cars are rising, and existing vehicles are lasting longer — giving owners more reasons to hold onto their current ride.
That means it'll likely take until at least 2050 — and possibly longer — before most gas-powered cars are off the road, says Todd Campau of S&P Global Mobility.
3. Catch me up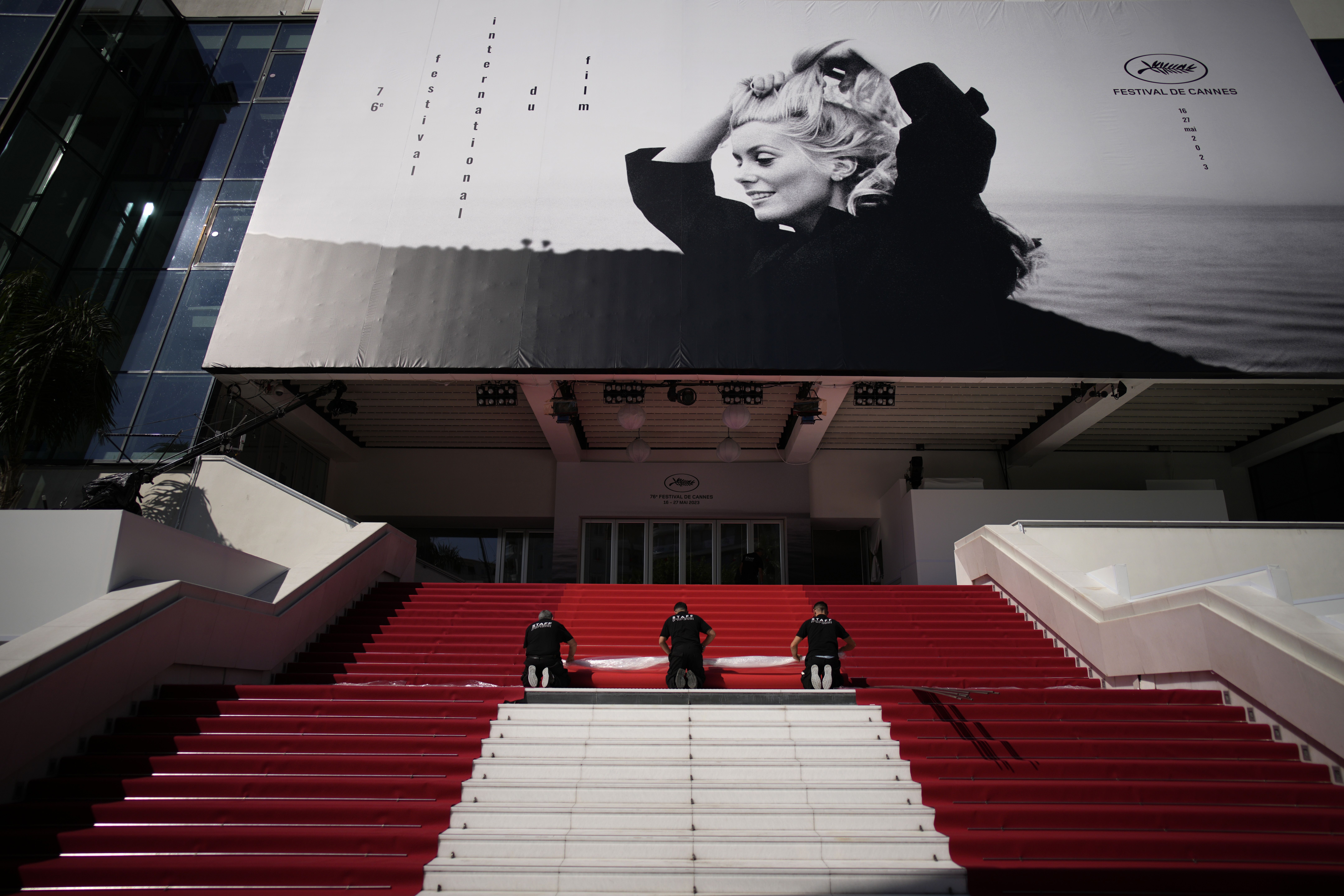 🎥 Above: Workers roll out the red carpet for the 76th international Cannes film festival, which opened today on the French Riviera. Top 10 premieres.
🛍️ Retail sales are on the upswing for the first time since January. Online retailers (+1.2%), and restaurants (+0.6%) are among the categories with the biggest monthly jumps in spending. Go deeper.
💼 Companies seem to have reached a hybrid work equilibrium: Office occupancy rates at the beginning of 2023 crossed 50% for the first time since the start of the pandemic — but they've barely budged since then, The Wall Street Journal reports (subscription).
4. ⚖️ Freeing Taco Tuesday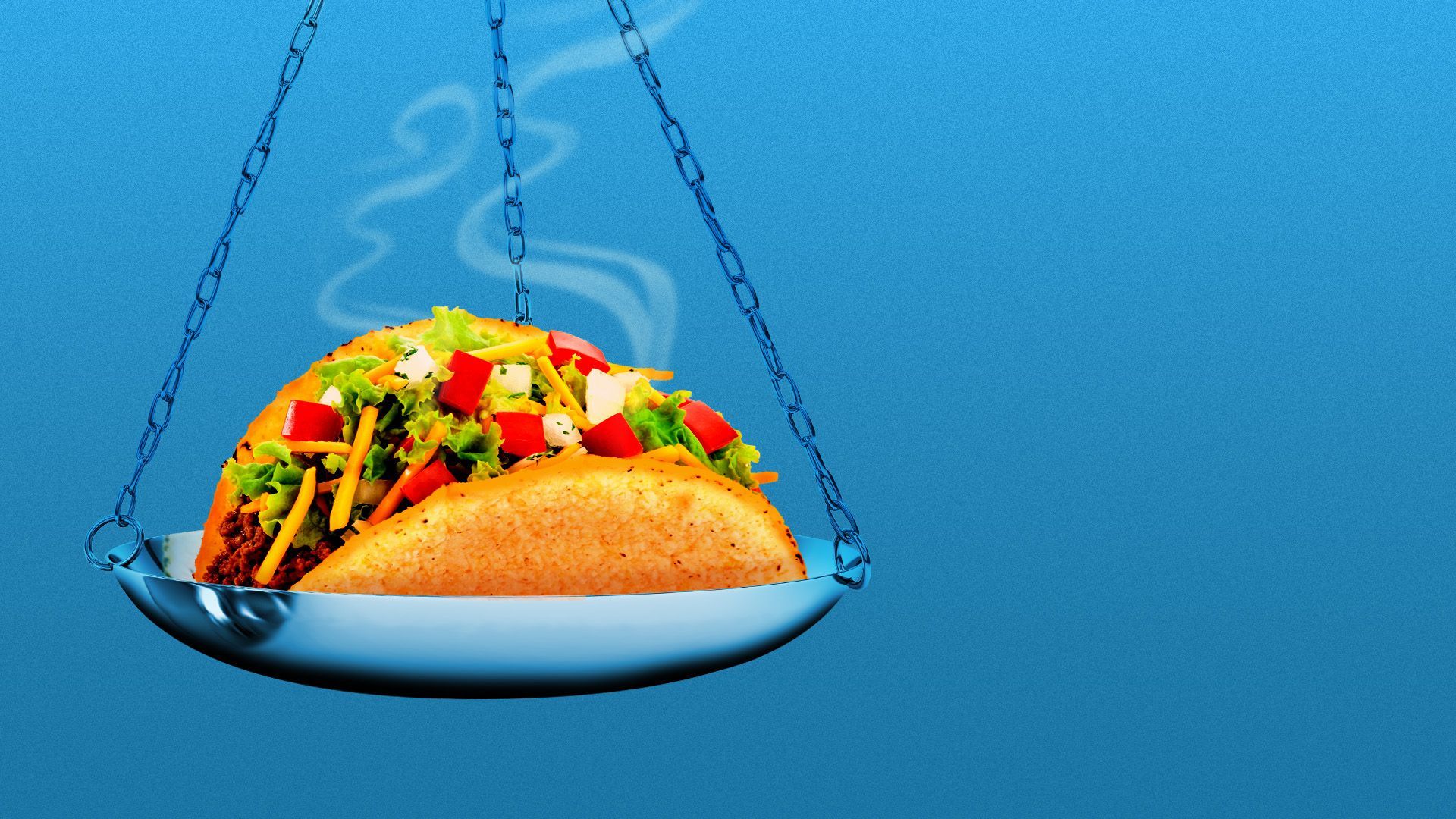 Taco Bell has filed to free "Taco Tuesday" — a trademark that a small competitor has owned since 1989, Axios' Kelly Tyko writes.
The mega-chain today (a Tuesday, of course) asked the U.S. Patent and Trademark Office to cancel the trademark registration that Wyoming-based Taco John's has had for 34 years.
Taco Bell says it "believes 'Taco Tuesday' should belong to all who make, sell, eat and celebrate tacos."