March 23, 2018
Situational awareness: The Dow dropped another 400 points today. The market is down more than 3,000 points from its January peak.
1 big thing: What gets missed in the chaos
This was quite a week for the president!
The chaotic:
He threatened to veto the $1.3 trillion omnibus over the wall and Dreamers. (After his administration announced its support).
He congratulated Russian President Vladimir Putin for winning re-election, even after being briefed "DO NOT CONGRATULATE."
He ousted his national security adviser in favor of noted hawk John Bolton.
And he tweeted a ton about cable news.
The concrete:
He signed the $1.3 trillion omnibus today, averting a shutdown.
His steel and aluminum tariffs are becoming more clear, with a big list of temporarily exempted countries — including all E.U. member countries, Brazil, Australia, South Korea, Canada and Mexico, allowing them to negotiate — and a more definite timeline for what comes next.
His anti-China tariffs over intellectual property practices are on their way, with up to $60 billion in Chinese goods facing tariffs and the strong possibility of retaliatory action from the Chinese.
Be smart: Don't view this as part of a grand scheme.
Axios' Jonathan Swan emails: "Trump is doing what he used to do at Trump Tower. He's waking up, watching cable news, making phone calls, watching more cable news, having some meetings, taking more calls (sometimes from cable news hosts and guests), watching more cable news. And improvising all the way."
And the N.Y. Times' Maggie Haberman tweets: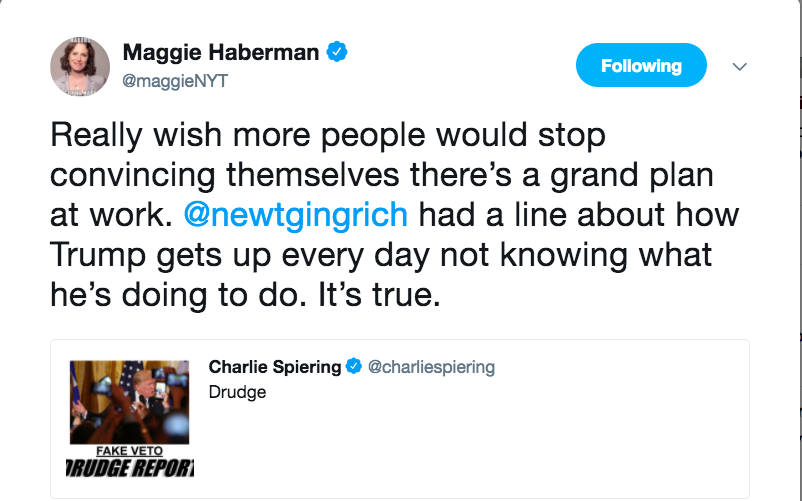 2. What you missed
David Hogg, the Parkland survivor and anti-gun violence activist, told me today that his high school is "like a prison" since the shooting last month, with increased security and safety measures. The March for Our Lives is tomorrow. Quotes. ... New polling on guns...
Leaders on two congressional committees separately called on Mark Zuckerberg to testify, and Elon Musk deleted Tesla and SpaceX's Facebook pages.
The E.U. has directly accused Russia of poisoning ex-spy Sergei Skripal with a nerve agent on British soil in a show of support for the U.K. More.
Dropbox went public earlier today: Axios spoke with Dropbox co-founder and CEO Drew Houston on their big day. Read up.
A gunman killed at least three people in a French supermarket before being fatally shot by police. Go deeper.
3. 1 fun thing
Step aside, prestige television, because documentaries are having their moment, the A.P.'s Mark Kennedy notes.
"Once considered more medicinal than entertaining and consigned to high-brow places like PBS and art house theaters, documentaries are scattered across the film and TV spectrum, as well as online portals like Facebook Watch or YouTube Red and on video streaming apps like go90."
"It feels like the golden age of documentary right now... It's an amazing time to be making documentary stories."
— Josh Koury, a professor at Pratt Institute and a documentary filmmaker