October 31, 2021
🎃 Happy haunting! Smart Brevity™ count: 1,189 words ... 4½ minutes. Edited by Fadel Allassan.
1 big thing: If Roe goes
Abortion would immediately become illegal in at least 12 states if the Supreme Court were to overturn Roe v. Wade, with more likely to follow quickly, Axios' Oriana Gonzalez reports.
Why it matters: States have been preparing contingency plans for a post-Roe landscape, as Republicans around the country ramped up efforts to get the landmark ruling overturned.
The court tomorrow hears oral arguments in two challenges to a Texas law effectively banning abortions after six weeks of pregnancy.
In December, the court will hear another major abortion case, challenging Mississippi's ban on abortion after 15 weeks.
Where it stands: If the court were to overturn the precedents that established the constitutional right to an abortion, a patchwork of state laws would govern the procedure.
Oklahoma tomorrow becomes the 12th state with a "trigger law" — an abortion ban that would kick in right away if the court overturns its precedents. Four states have even amended their constitutions to prohibit any protections for abortion rights.
Several other states don't have trigger laws, but would likely move quickly to ban or tightly restrict the procedure if the court clears the way. Florida, Indiana, Montana, Nebraska and Wyoming would be prime candidates, according to new analysis from the Guttmacher Institute, a reproductive rights research organization.
2. Biden's Trump-like poll numbers
President Biden, nine months into his presidency, is getting a clear verdict in public polls: America sees him similarly to the guy he beat — Donald Trump.
Why it matters: Independents are turning on Biden. Shocking numbers of people see the nation headed in the wrong direction. And people see incompetence and chaos.
The latest: An NBC News poll out this morning finds 54% of Americans disapprove of Biden's performance — on the brink of midterms, and as he's trying to close the deal on a historic expansion of government.
"Biden's favorable/unfavorable rating in the poll (40 percent positive, 48 percent negative) is almost identical to Trump's in the same survey (38 percent positive, 50 percent negative)," NBC reports.
71% in the NBC poll — including 70% of independents and even 48% of Democrats — believe the nation is headed in the wrong direction.
An especially worrisome stat for the White House: Just 18% strongly approve of Biden, while nearly half (46%) strongly disapproval.
The big picture: Gallup says Biden's 42% approval rating is the lowest for any president in October of their first year going back to Dwight Eisenhower in 1953 — except Trump, who was at 37%.
Zoom in: FiveThirtyEight's poll tracker has Biden at 51% disapprove.
Between the lines: Biden faces signs the U.S. is turning against big government — just as he's trying to make government much bigger:
Gallup reported this month that 52% of Americans said government is "trying to do too many things" — a flip from last year, when a majority said government should be doing more to solve problems.
National Journal's Josh Kraushaar points out this reflects historical American patterns: "Aside from a surge of pro-government sentiment during the pandemic, majorities of Americans going back decades have favored more restrained government."
The bottom line: Polls are consistently showing Americans in a downbeat mood about their reality — and their president. Like with Trump, it's only diehard party loyalists who seem into the man in charge.
3. 👻 Trick-or-treat is back. Parties, not so much
The second COVID-era Halloween comes just days before kids are set to begin getting vaccinated, and trick-or-treaters plan to be out in force, readers told Axios Local reporters in 14 cities across America.
But Halloween parties remain scarcer.
CDC Director Rochelle Walensky has encouraged families to celebrate the holiday, albeit in smaller outdoor settings.
In Charlotte, of 277 readers responding, 65% said Halloweens is back to normal. Only 9% said they'd used solely candy chutes or other social-distancing mechanisms. 26% said they'd be doing a little of both.
In the Twin Cities, Rose and Gary Allen kept the lights off at their St. Paul home last year. Today, they're prepared for "lots of kids."
In Tampa Bay, Florida Politics editor Peter Schorsch, known for massive Halloween displays at his St. Petersburg house, said: "You are going to see a little bit of the euphoric hot vax summer we didn't have."
4. Pictured: Biden abroad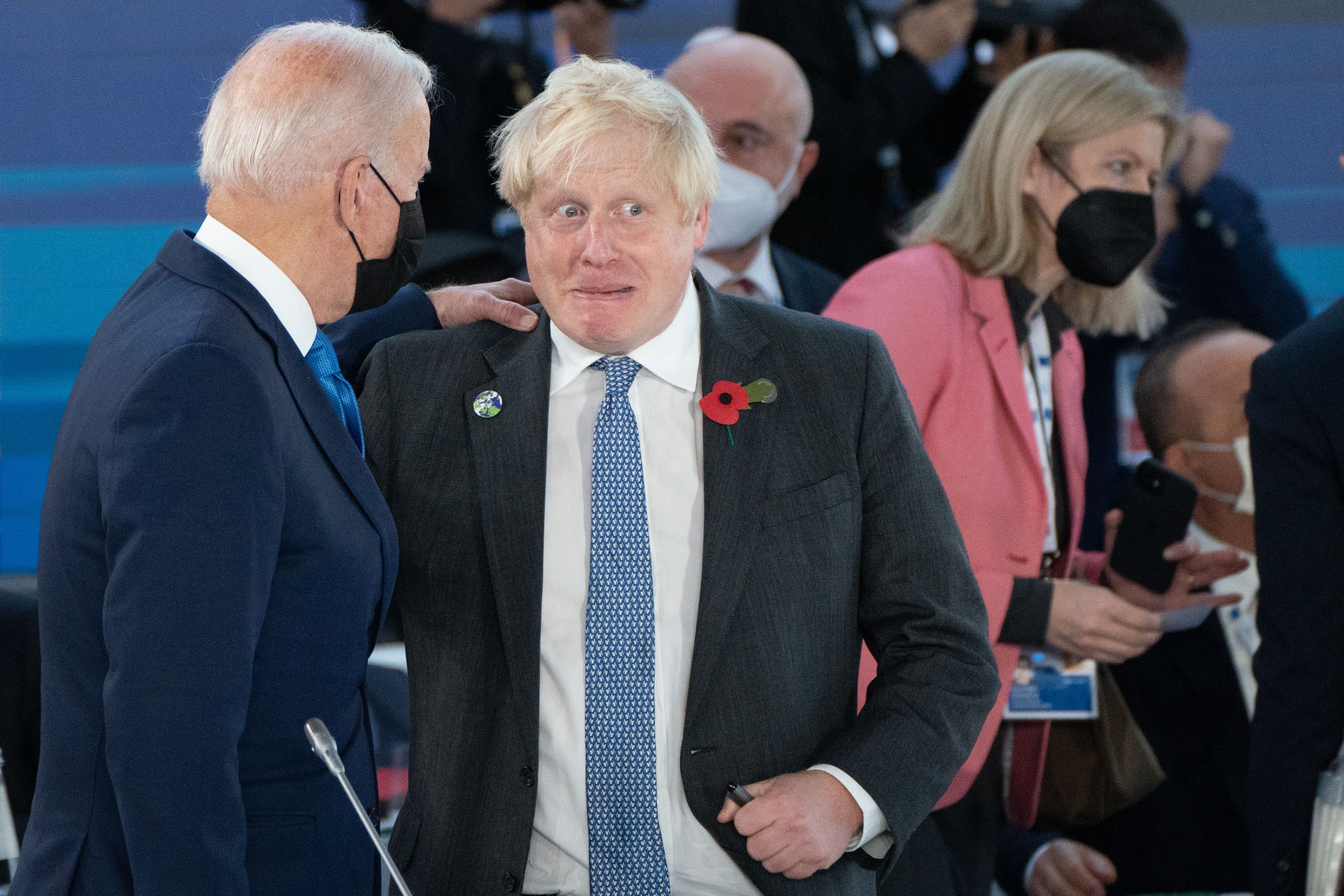 President Biden chats with British Prime Minister Boris Johnson during the G20 economic summit in Rome.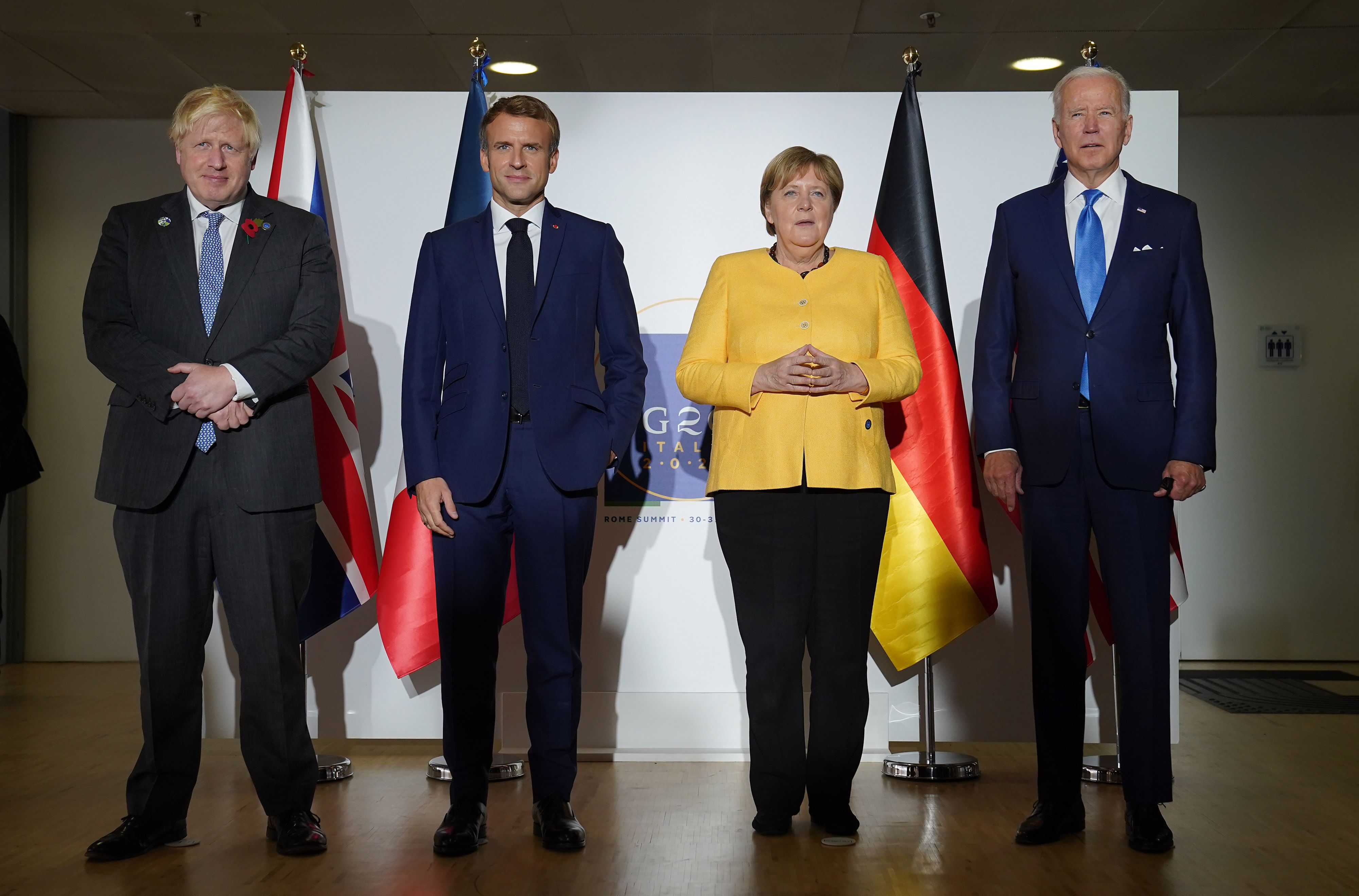 World leaders drop their masks: Biden poses with Boris Johnson, French President Emmanuel Macron and outgoing German Chancellor Angela Merkel.
5. COVID memorials grow as world approaches 5 million deaths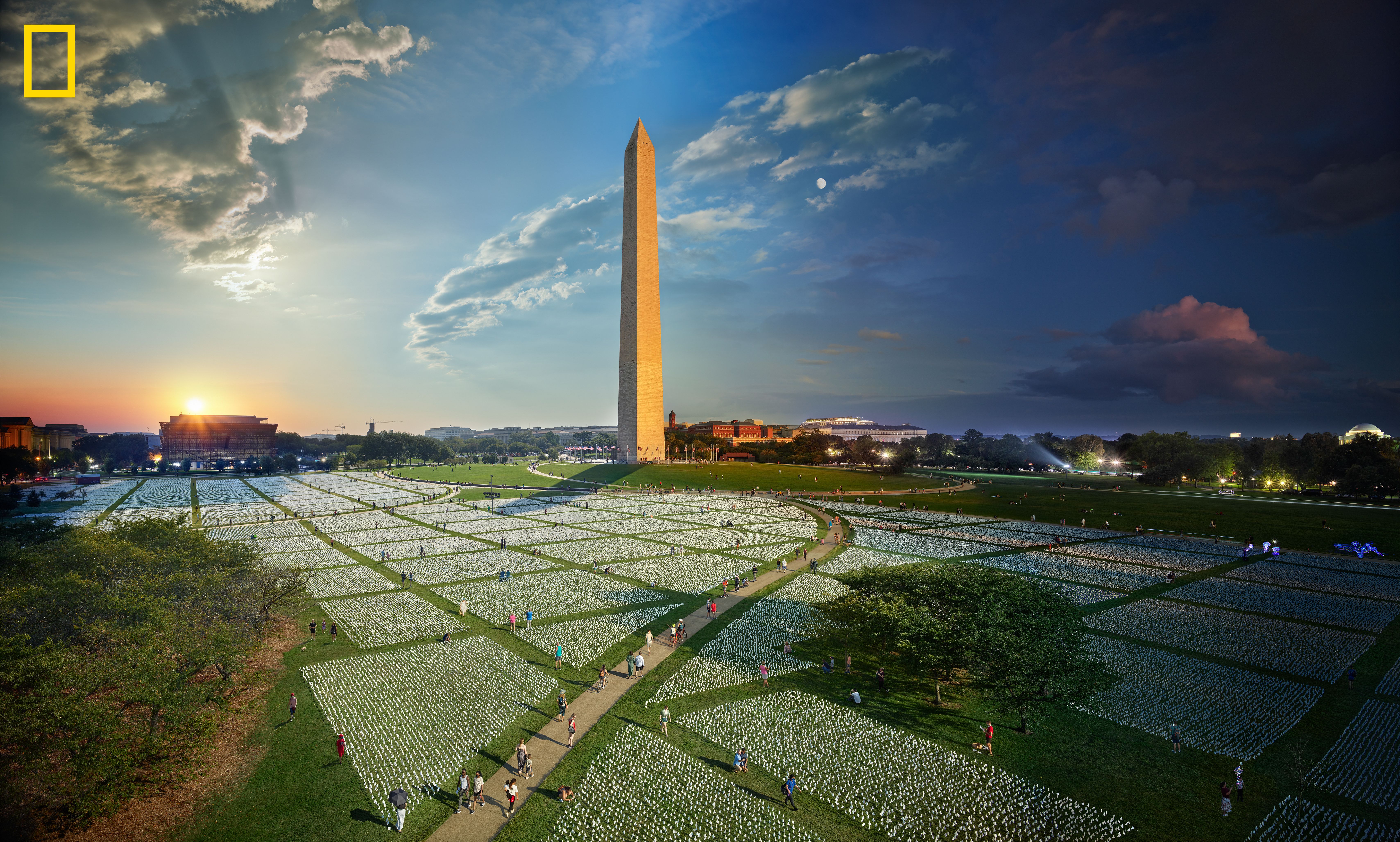 Today or tomorrow, the world is expected to reach the tragic tally of 5 million deaths to COVID.
Eye-catching memorials — honoring individual victims with flags, hearts, ribbons, rocks, quilt panels and other simple objects — have sprouted from London to L.A., Indonesia to Argentina, AP reports.
The photo above — taken for National Geographic by "Day to Night" photographer Stephen Wilkes — stitches 4,882 photos taken over 30 hours at the "In America: Remember" art installation on the National Mall.
The exhibit blanketed the mall from Sept. 17 to Oct. 3 with 660,000+ white flags, each honoring an American lost to COVID.
6. 🚬 Stat of the day: Pandemic puffing eases
After an unusual uptick during the pandemic's first year, U.S. cigarette sales are dropping again as smokers spend more time away from home, The Wall Street Journal reports (subscription):
Total cigarette industry sales fell 6.5% last quarter compared with a year earlier, according to data from Marlboro maker Altria Group.
The FTC had reported earlier last week that annual cigarette sales in the U.S. increased last year for the first time in 20 years — from 202.9 billion in 2019 to 203.7 billion in 2020.
7. 🍿 What we're reading: Two juicy media profiles
"What Happened to Matt Taibbi? The former darling of the liberal media is now one of its loudest critics. He says he hasn't changed," by Ross Barkan in New York Magazine: "Few journalists, in polarized 2021, divide the New York-D.C. nexus more. Taibbi is viewed in more liberal quarters with increasing suspicion bordering on outright disdain, a remarkable development for a magazine star once considered Rolling Stone's successor to Hunter S. Thompson." Dive in.
"How Patrick Soon-Shiong Made His Fortune Before Buying the L.A. Times," by Stephen Witt in The New Yorker: "Ask him a question about medicine and you will receive an answer about business; ask him a question about business and you will receive an answer about medicine ... [H]e has been sued by Cher. ... Cher could not be reached for comment." Treat yourself.
8. Parting shot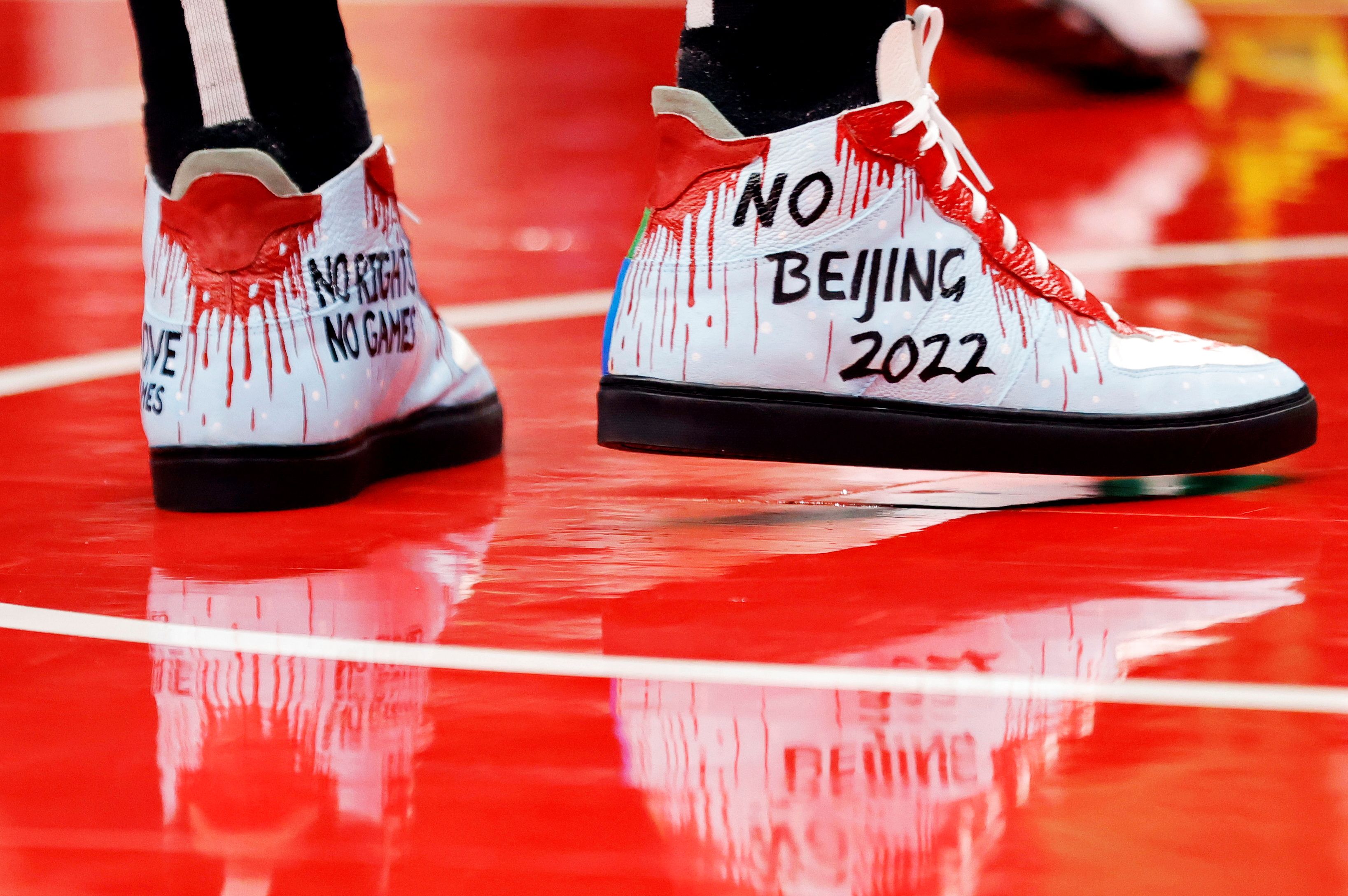 Boston Celtics center Enes Kanter warms up yesterday before losing (115-112 in double overtime) to the Washington Wizards at Capital One Arena.
The Celtics were blocked in China 10 days ago after Kanter called for Tibetan independence. He also called Xi Jinping a "dictator."
Context: Human rights groups are urging sponsors and athletes to boycott the Winter Olympics in Beijing in February, dubbing them the "genocide games."
📬 Was this email forwarded to you? Sign up here for your own copy of Axios AM and Axios PM.