https://www.axios.com/newsletters/axios-pm-6ed99b51-298e-4684-a866-3ff2390ce86a.html?chunk=0#story0
1 big thing: Trump's "loving" trade war
President Trump today, in a White House press conference with Swedish Prime Minister Stefan Löfven:
On his threatened steel and aluminum tariffs:
"The United States has been taken advantage of by other countries, both friendly and not so friendly."
"The European Union has been particularly tough on the United States. They make it almost impossible for us to do business with them and yet they send their cars and everything back into the United States."
"When we're behind on every single country, trade wars aren't so bad."
"We're going to do it in a very loving way... They'll like us better and respect us more."
On Russia and voting:
"The Russians had no impact on our votes whatsoever."
"[Y]ou have to be very vigilant. It's always good to have a paper back-up system of voting. It's called paper. Not highly complex computers. Paper."
On his West Wing:
"Believe me, everybody wants to work in the Oval Office. They all want a piece of that ... I like conflict, I like seeing that."
P.S. ... Trump earlier in the day on North Korea: "We're going to see. We're going to see. They seem to be acting positively but we're going to see."
https://www.axios.com/newsletters/axios-pm-6ed99b51-298e-4684-a866-3ff2390ce86a.html?chunk=1#story1
2. What you missed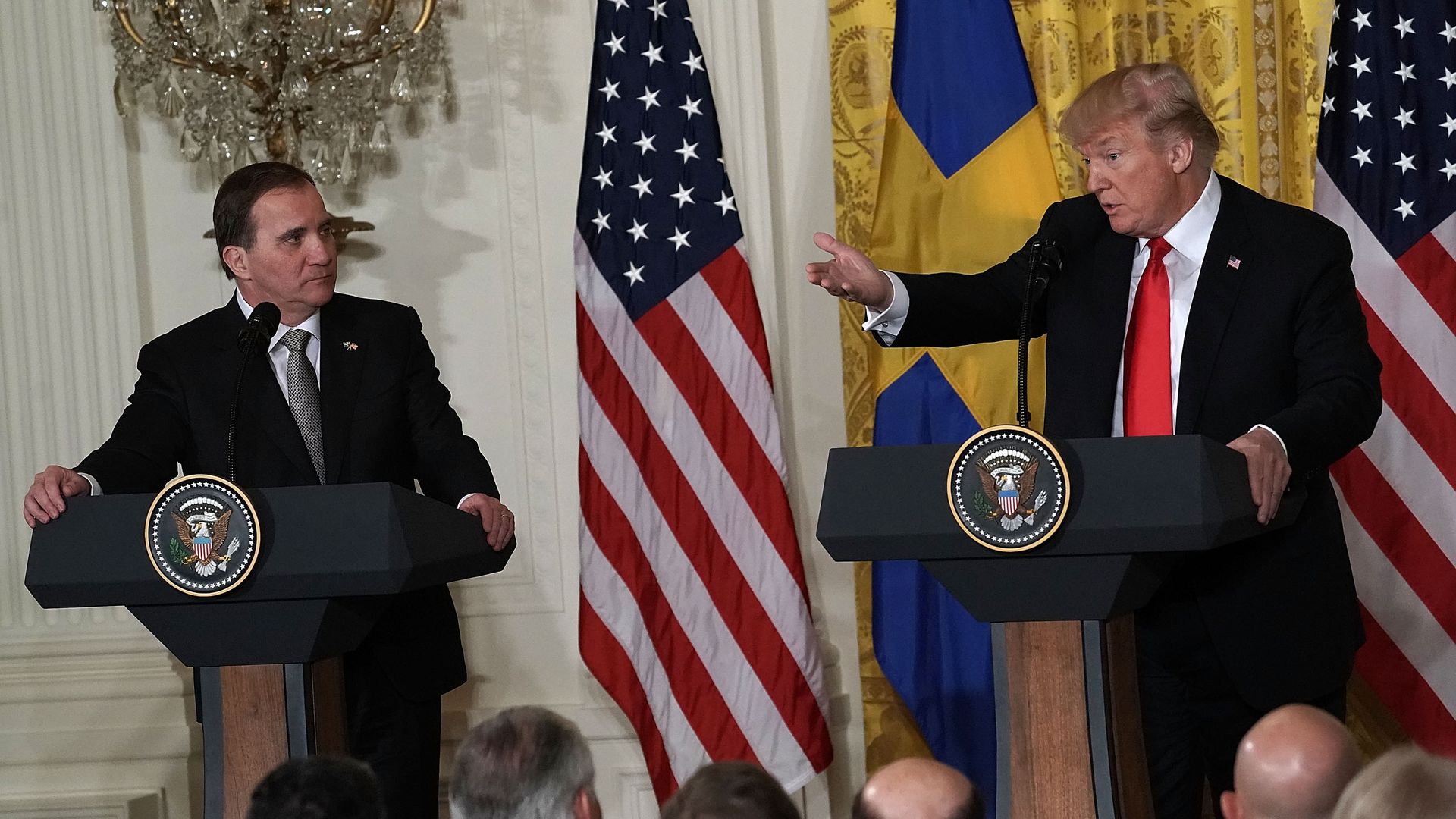 https://www.axios.com/newsletters/axios-pm-6ed99b51-298e-4684-a866-3ff2390ce86a.html?chunk=2#story2
3. 1 flying thing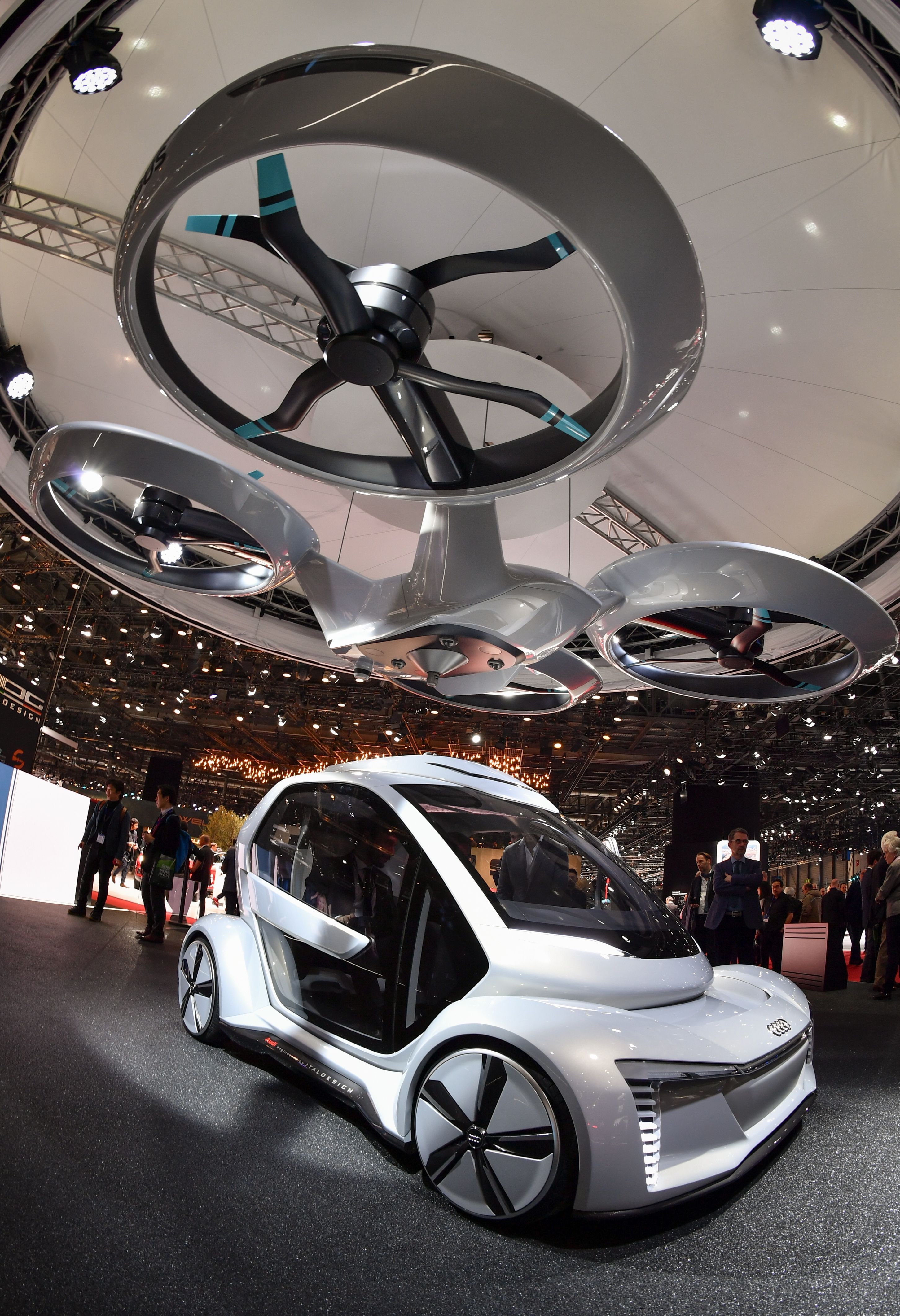 The 'Pop.up next' concept flying car, a hybrid vehicle that blends a self-driving car and passenger drone, in Geneva, Switzerland. Photo: Fabrice Coffrinia/AFP/Getty Images
"Robert Dingemanse... CEO of a Dutch company developing a flying car... is unveiling the first production model of the PAL-V Liberty, a three-wheeled, two-seat car and gyroplane rolled into one, at the Geneva motor show," the A.P.'s Mike Corder reports.
"The PAL-V Liberty is one of several flying cars in development around the world such as The Transition, a folding wing two-seater being developed by U.S.-based Terrafugia, and an all-electric vertical take-off and landing jet being developed by German startup Lilium."
"In the air, the PAL-V is pushed forward by a rear mounted propeller driven by two engines. It is stabilized by a larger roof-mounted rotor that bolsters safety."
"Its makers say the PAL-V will drive at up to 170 kilometers per hour (105 mph), fly up to 180 kmh (110 mph) and can fly about 500 kilometers (310 miles) on a single tank of regular unleaded gas."
"[P]rice tag expected to be around 500,000 euros ($615,000) for the first production run of 90..."
Vroom, vroom...