June 22, 2022
Happy Wednesday afternoon. Today's PM — edited by Kate Nocera — is 570 words, a 2-minute read.
1 big thing: New gas hurdle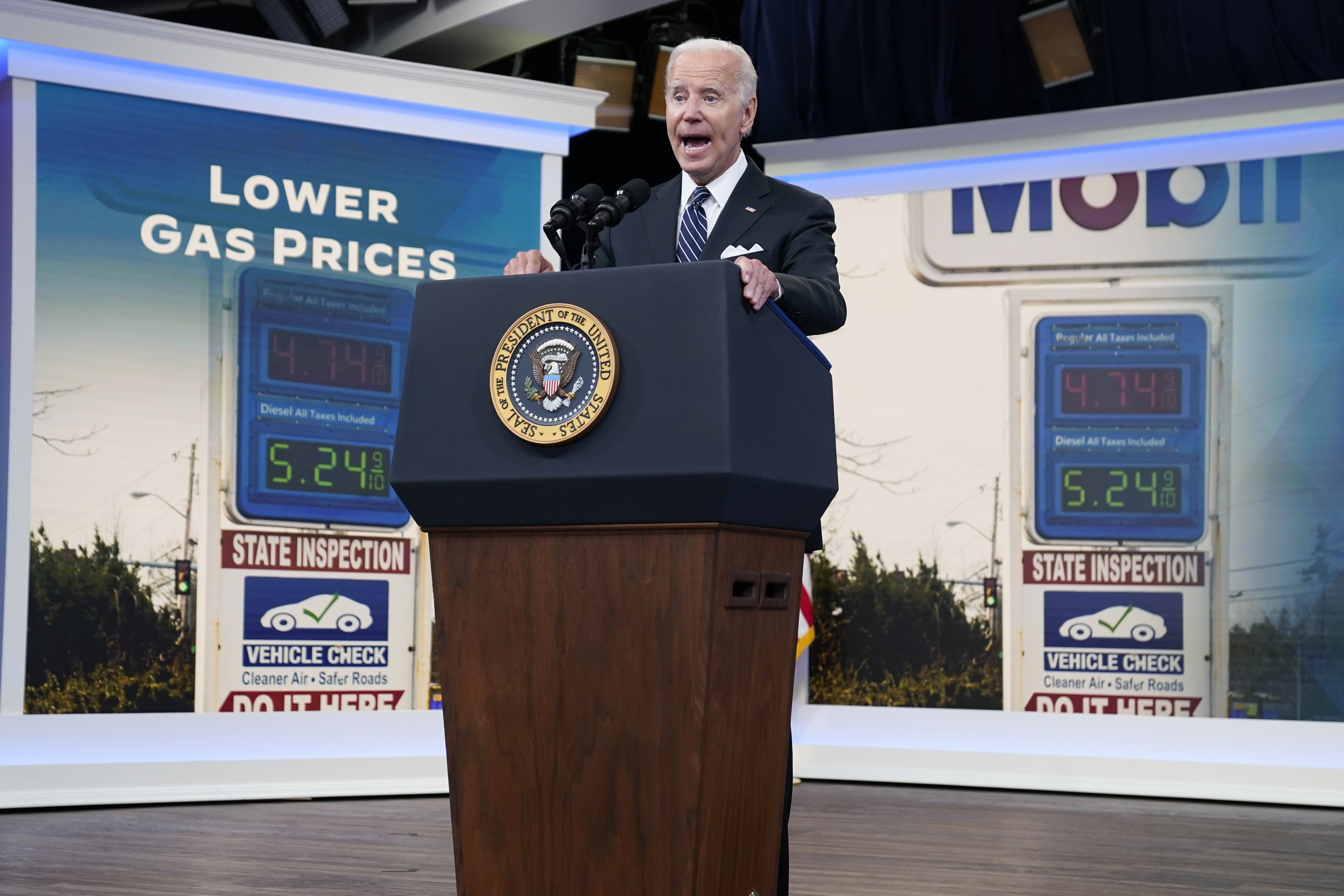 President Biden's proposed gas tax holiday would have limited benefits, Axios' chief economic correspondent Neil Irwin writes.
Biden today proposed a three-month break from the federal government's 18.4-cent-per-gallon tax on gas, equivalent to around 3.7% discount on the current national average price.
Reality check: The problem is too much demand for fuel and too little supply. Many of the policy ideas being floated to address high gas prices don't wrestle with that basic disconnect.
Biden said he wants companies to pass on "every penny" in savings on to customers. 
But much of the tax holiday benefit "would be captured by producers rather than consumers," Tobin Marcus, a strategist at Evercore ISI, writes in a research note.
Electric vehicles could help, Axios' Nathan Bomey writes — virtually eliminating the need for gasoline. But most people still don't own one and can't afford one.
EVs are expected to make up about 1 in 20 new-vehicle sales this year.
The bottom line: The tax holiday is likely to go nowhere in Congress.
2. 🏈 Snyder faces subpoena
Washington Commanders owner Dan Snyder can expect a subpoena from the House Oversight Committee after he declined to testify voluntarily at a hearing today, chair Carolyn Maloney (D-N.Y.) announced.
The committee, investigating NFL workplace misconduct, released new findings alleging Snyder and his lawyers launched a "shadow investigation" to influence the league's own internal investigation, Axios' Jacob Knutson reports.
Snyder and lawyers created a "100-slide dossier with private emails, text messages, telephone records, and social media posts" from those who had made accusations of harassment against the team, the committee found.
Women were fired for consensual relationships, while men did not face similar punishment. The committee claimed Snyder didn't take action against a member of the coaching staff accused of groping a public relations employee.
The committee alleges Snyder then went on to share that information with the law firm conducting the NFL's investigation.
NFL commissioner Roger Goodell, testifying under oath, said it was clear the workplace was "unprofessional and unacceptable in numerous respects: bullying, widespread disrespect toward colleagues, use of demeaning language, public embarrassment, and harassment."
3. Catch up quick
A devastating earthquake in Afghanistan killed at least 1,000 people and wounded more than 1,500 others. The disaster is a new test for Taliban rulers. Go deeper.
Samples of the polio virus were found during recent London sewage testing, threatening Britain's 20-year, polio-free status. Go deeper.
Fed chair Jerome Powell told lawmakers a recession is a "possibility," as the central bank aggressively hikes rates to try to bring down inflation — but said it's not the "intended outcome." Go deeper.
4. "Great resignation" hits higher-ups
C-suite executives feel as frazzled and depressed as the workers who report to them, Axios What's Next co-author Jennifer A. Kingson writes.
A report released today by Deloitte and market research firm Workplace Intelligence found 70% of C-level executives were seriously considering leaving for a job that better supports their well-being.
The big picture: 76% of higher-ups said the pandemic has negatively affected their overall health.
57% of employees in the Deloitte survey said they were fed up enough to quit, too.