June 30, 2020
Good afternoon: Today's PM — edited by Justin Green — is 450 words, a 2-minute read.
1 big thing: Fauci's warning ... 100k cases a day
Straight talk from Anthony Fauci:
America doesn't have the coronavirus under control.
Outbreaks in various parts of America put "the entire country at risk."
He wouldn't "be surprised" if we hit 100K new cases a day, up from 40K.
Why it matters: Suppression of the virus has failed, and the U.S. is missing presidential leadership on social distancing and face masks.
Fauci today:
"I can't make an accurate prediction, but it is going to be very disturbing, I will guarantee you that, because when you have an outbreak in one part of the country even though in other parts of the country they're doing well, they are vulnerable."
"We can't just focus on those areas that are having the surge. It puts the entire country at risk."
Fauci further warned against states skipping steps on reopening.
The big picture: Top leaders are beating the drum in favor of face masks, including...
VP Mike Pence
Senate Majority Leader Mitch McConnell
House Speaker Nancy Pelosi
Former VP Joe Biden
Not on that list: President Trump
Sen. Lamar Alexander (R-Tenn.) specifically urged Trump on Sunday to wear a mask in order to "help to get rid of this political debate," Axios' Jacob Knutson reports.
Between the lines: Hospitalizations and deaths are a lagging indicator, so by the time the fresh outbreaks reach crisis levels, it'll already be too late.
The bottom line: Bars are "really not good, really not good. ... We really have got to stop that," Fauci told Congress today.
2. Pic du jour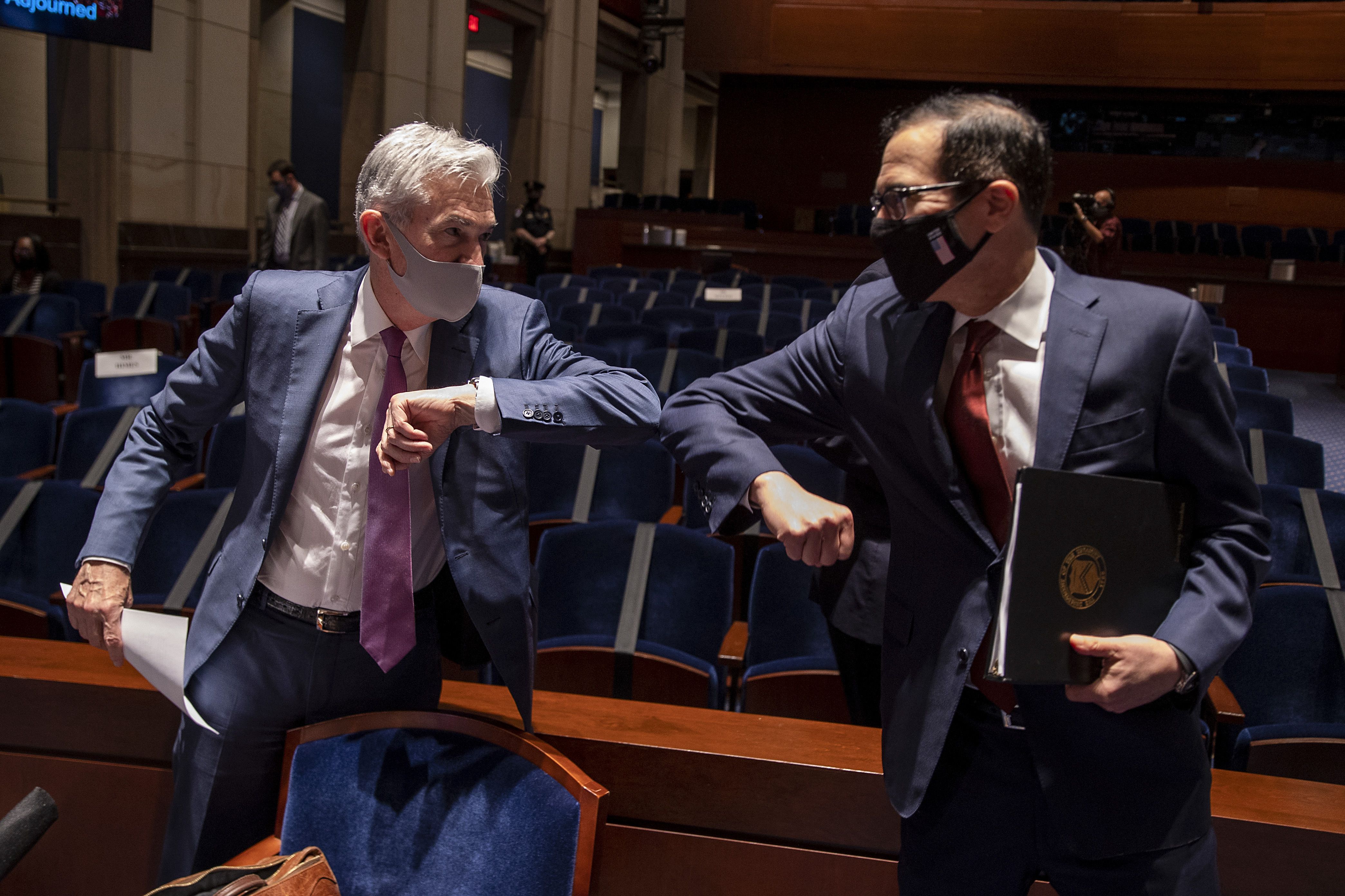 Fed chair Jerome Powell and Treasury Secretary Steven Mnuchin greet each other after testifying before the House Financial Services Committee.
Mnuchin said the $134 billion in leftover funds from the Paycheck Protection Program should be repurposed and extended to businesses that have suffered the most during the coronavirus pandemic, including "restaurants and hotels."
4. "The Covid 15"
Relatable: "Google searches for 'elastic waist' spiked in recent weeks," the Wall Street Journal reports, citing Google Trends data.
"Body-measuring apps are reporting a jump in people redoing their profiles and choosing looser fits. Some retailers say they are increasing orders of bigger sizes."
Why it matters: "People are realizing they still need to look good from the waist up on their Zoom calls," Nimble-Made co-founder Tanya Zhang told the WSJ, "but if they've gained a few pounds their shirts are too tight."