You're invited: I'm hosting a conversation Friday in D.C. on raising the educational bar in America. Guests include Govs. John Hickenlooper of Colorado, Roy Cooper of North Carolina and C.L. "Butch" Otter of Idaho. Doors open at 7:30 a.m. RSVP!
https://www.axios.com/newsletters/axios-pm-429003de-bafb-42e1-b705-7a21eeb92363.html?chunk=0#story0
1 big thing: Billy Graham, America's evangelist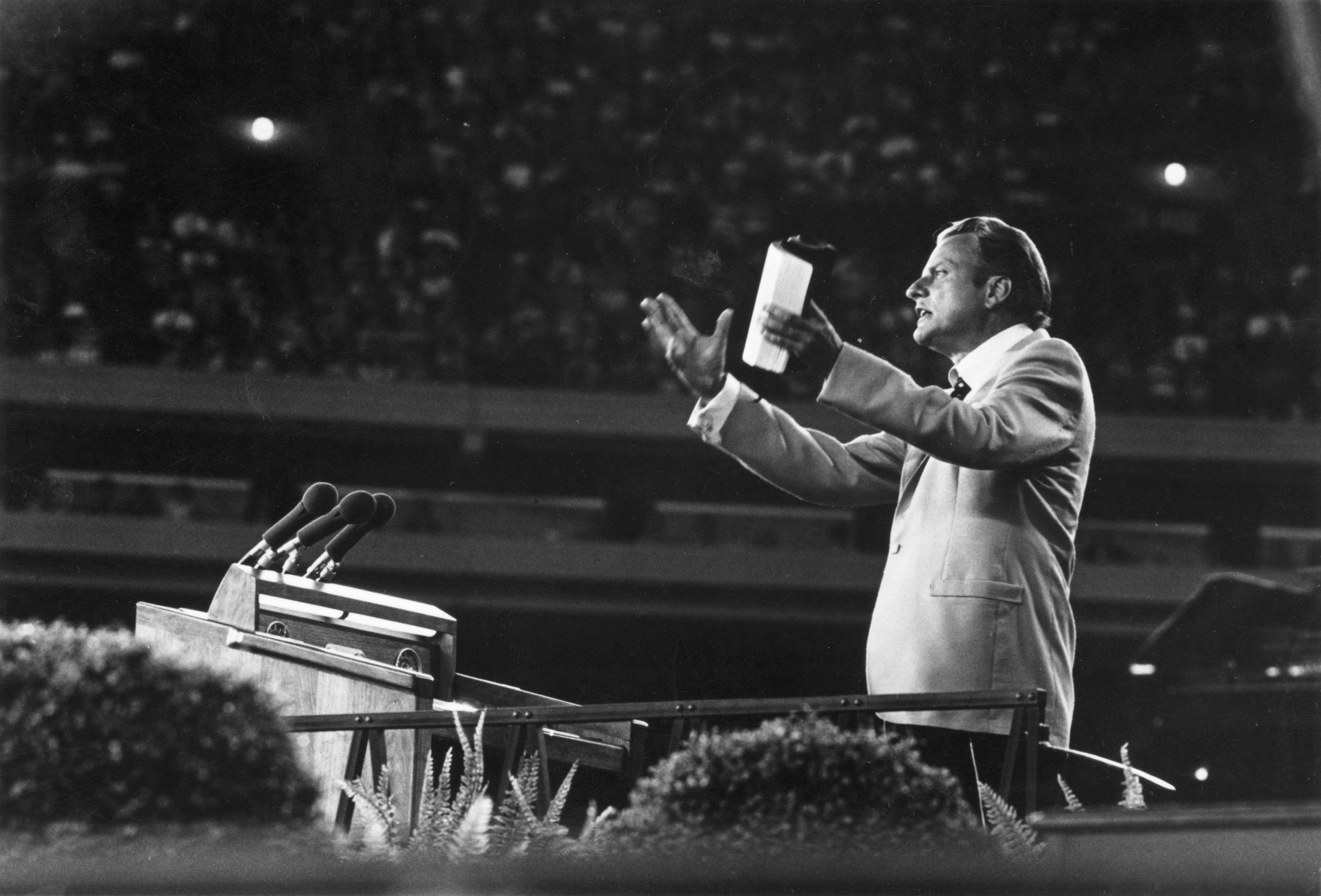 Billy Graham addressing a meeting in the 1950s. Photo: Keystone / Getty Images
Rev. Billy Graham, a farmer's son who became the face of American evangelicalism and preached to an estimated 200 million people over the course of his lifetime, died today at 99.
Why he mattered: Graham was a spiritual adviser to presidents dating back to Harry Truman. He racially integrated his services and bailed Dr. Martin Luther King Jr. out of jail. He was a Southern Baptist who spoke for no particular church, but whose organization was at the forefront of reviving religion's role in American public life.
How he did it, per the NYT:
"In a typical exhortation, he declared: 'Are you frustrated, bewildered, dejected, breaking under the strains of life? Then listen for a moment to me: Say yes to the Savior tonight, and in a moment you will know such comfort as you have never known. It comes to you quickly, as swiftly as I snap my fingers, just like that.'
"Mr. Graham always closed by asking his listeners to 'come forward' and commit to a life of Christian faith. When they did so, his well-oiled organization would match new believers with nearby churches. Many thousands of people say they were first brought to church by a Billy Graham crusade."
His example to others, noted by the evangelical Jonathan Merritt:
"Mr. Graham died in the house where he lived for decades and was known for wearing modest attire... He lived without a hint of scandal — notoriously faithful to his wife, Ruth... Mr. Graham found a way to exert influence in the public square while remaining nonpartisan."
Worthy of your time: The N.Y. Times obituary on Graham, written by NYT religion reporter Laurie Goodstein.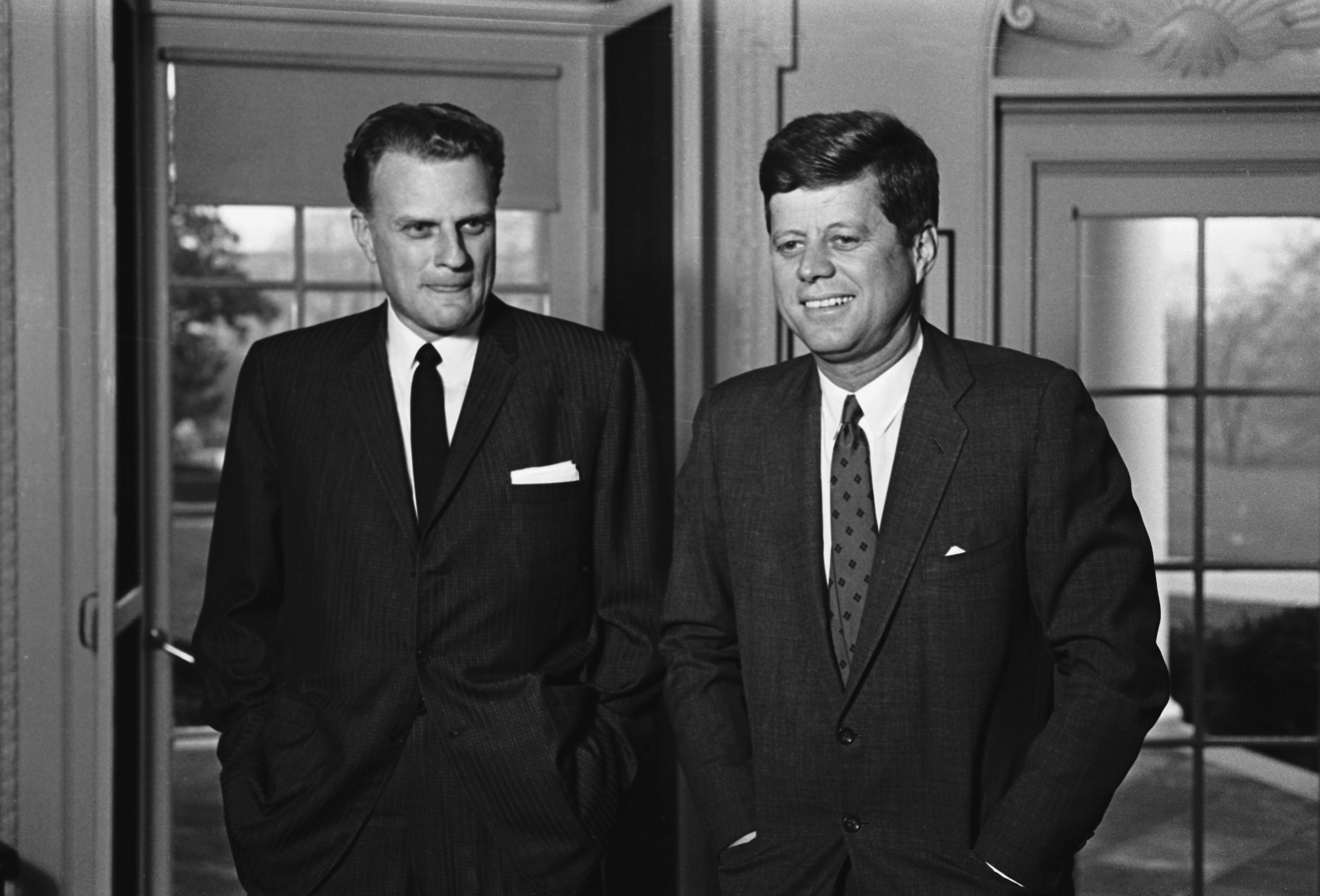 Billy Graham chats with President John Kennedy during an unannounced visit to the White House December 12, 1961. Photo: Bettmann Archive via Getty Images
https://www.axios.com/newsletters/axios-pm-429003de-bafb-42e1-b705-7a21eeb92363.html?chunk=1#story1
2. The future: Teens lead charge against guns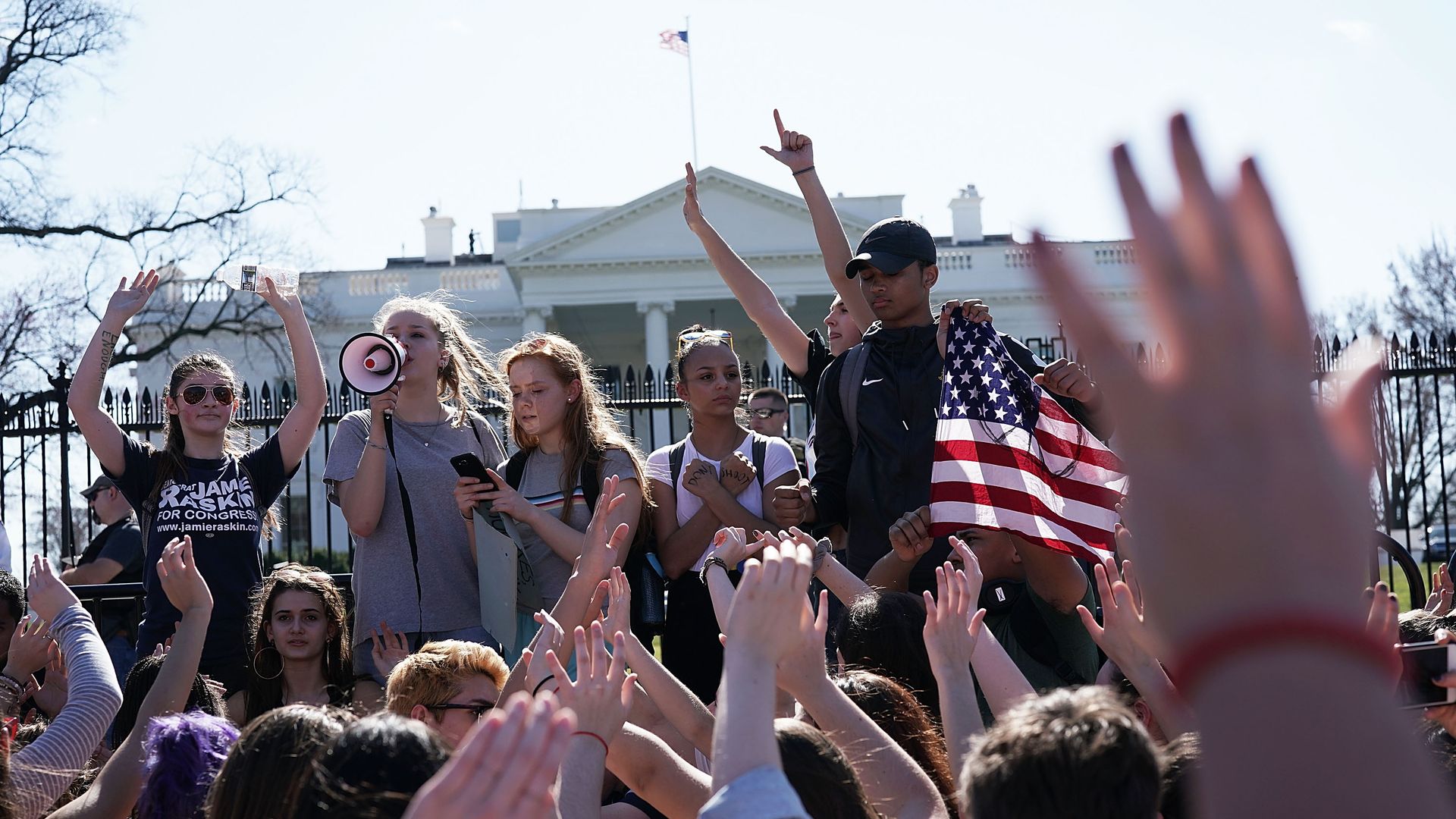 High school and middle school students from across the United States staged walk-outs across the country today to show support to the students of Stoneman Douglas High School and to demand action on gun laws.
Go deeper: Photos and details from the walkouts.
P.S. Several of the students who survived the Florida shooting have become targets of conspiracy theories online. BuzzFeed's Charlie Warzel explains why the conspiracy theorists have met their match with this group of kids.
P.P.S.: 14 teachers and staff have lost their lives in school shootings over the last six years. At least 15 more have been injured. Details.
https://www.axios.com/newsletters/axios-pm-429003de-bafb-42e1-b705-7a21eeb92363.html?chunk=2#story2