February 23, 2022
Good afternoon: Today's PM — edited by Justin Green — is 494 words, a 2-minute read.
📲 Join Axios' Erica Pandey tomorrow at 12:30 p.m. ET for a virtual event on the future of the workforce for the next generation. Register here.
1 big thing: Putin's energy edge
Russia's moves against Ukraine threaten to create a wider European energy crisis.
Why it matters: Russia is by far the largest natural gas supplier to Europe, providing roughly 40% of the continent's gas imports, mostly through pipelines, Axios Generate co-author Ben Geman reports.
Europe struggles with high energy costs and has to import the vast majority of its gas.
Gas prices surged to record levels last year.
The big picture: Putin said this week that Russia aims to continue being a reliable energy supplier to world markets.
But he has shown willingness in the past to use his nation's energy as a geopolitical weapon, and a major military conflict could disrupt some supplies.
Roughly a quarter of Russian gas exports to Europe go through Ukraine.
🚨President Biden will reverse last year's decision to waive sanctions on the corporate entity and CEO behind the Nord Stream 2 pipeline — which will flow from Russia to Germany if allowed to open, Axios' Zachary Basu reports.
The bottom line: There would be no fast solution to a major loss of Russian supplies, even as Europe's liquefied natural gas imports rise and it takes longer-term moves away from fossil fuels.
2. Trucking toward D.C.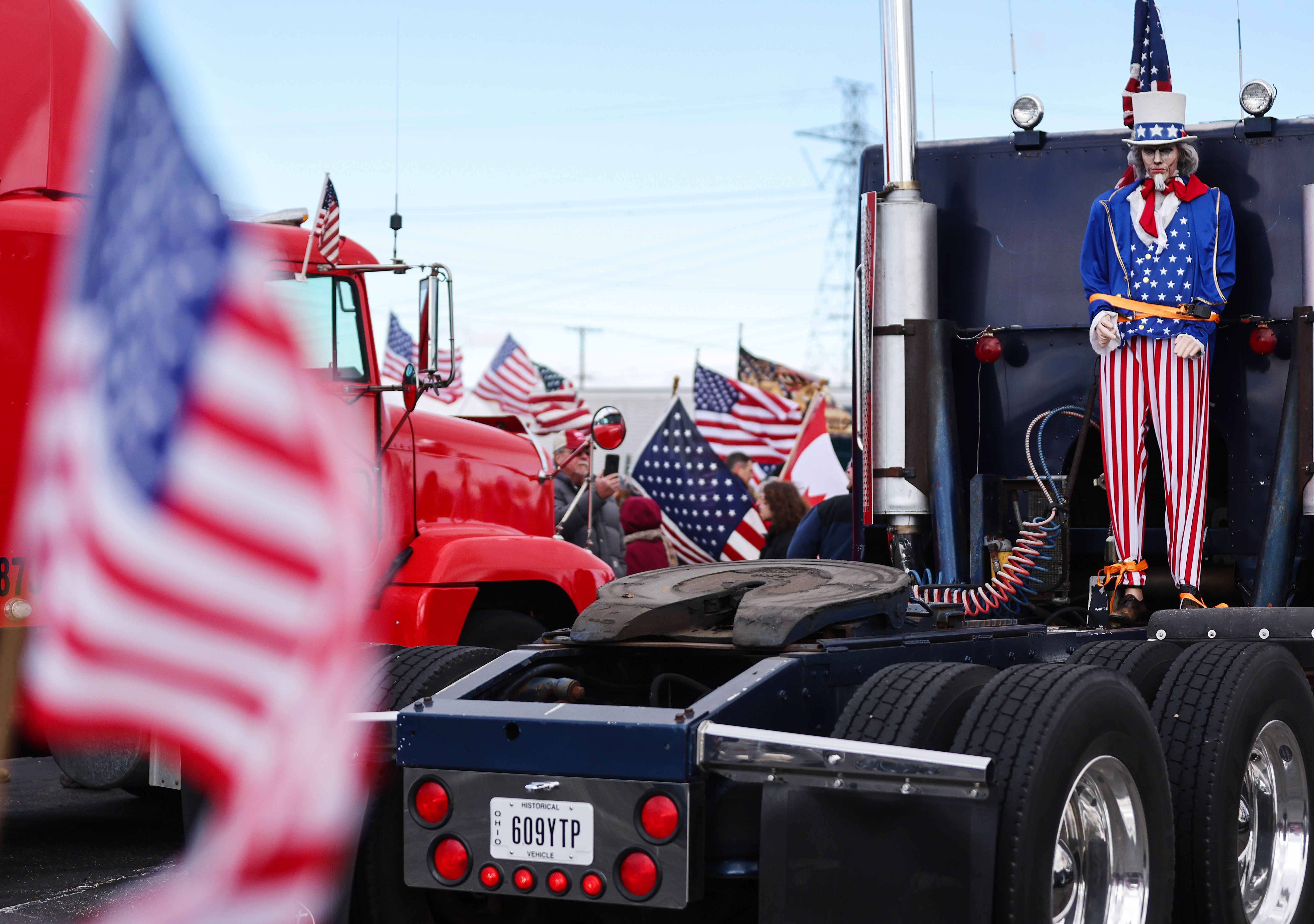 The Pentagon approved the deployment of about 700 unarmed D.C. National Guard troops ahead of potential trucker protests timed around the State of the Union, Axios' Andrew Solender and Shawna Chen report.
The truck drivers and supporters are gathering for a "People's Convoy" that demands an end to COVID restrictions and mandates.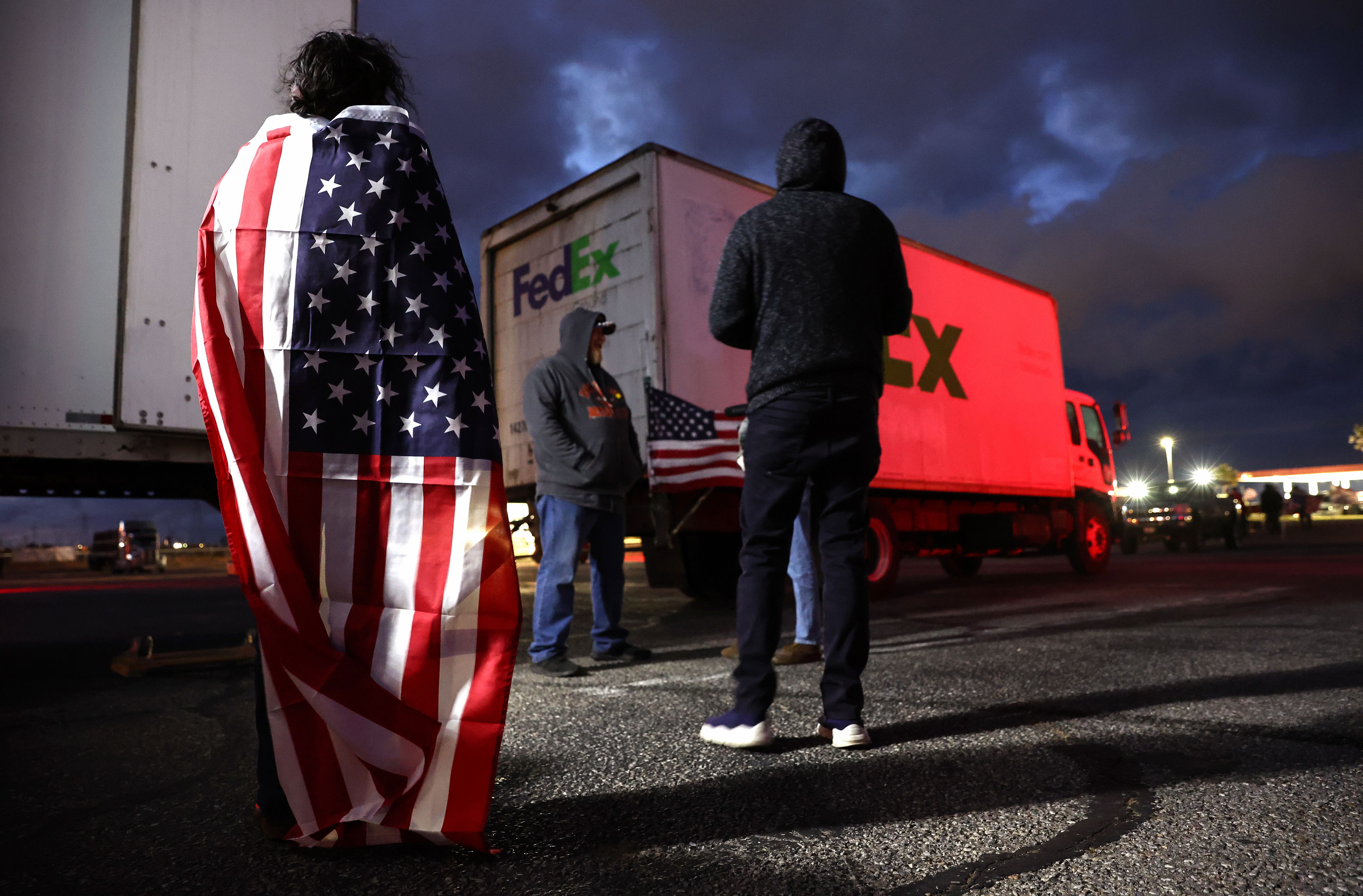 Above: Truck drivers and supporters gather last evening before a convoy leaves Adelanto (San Bernardino County), Calif., en route to D.C.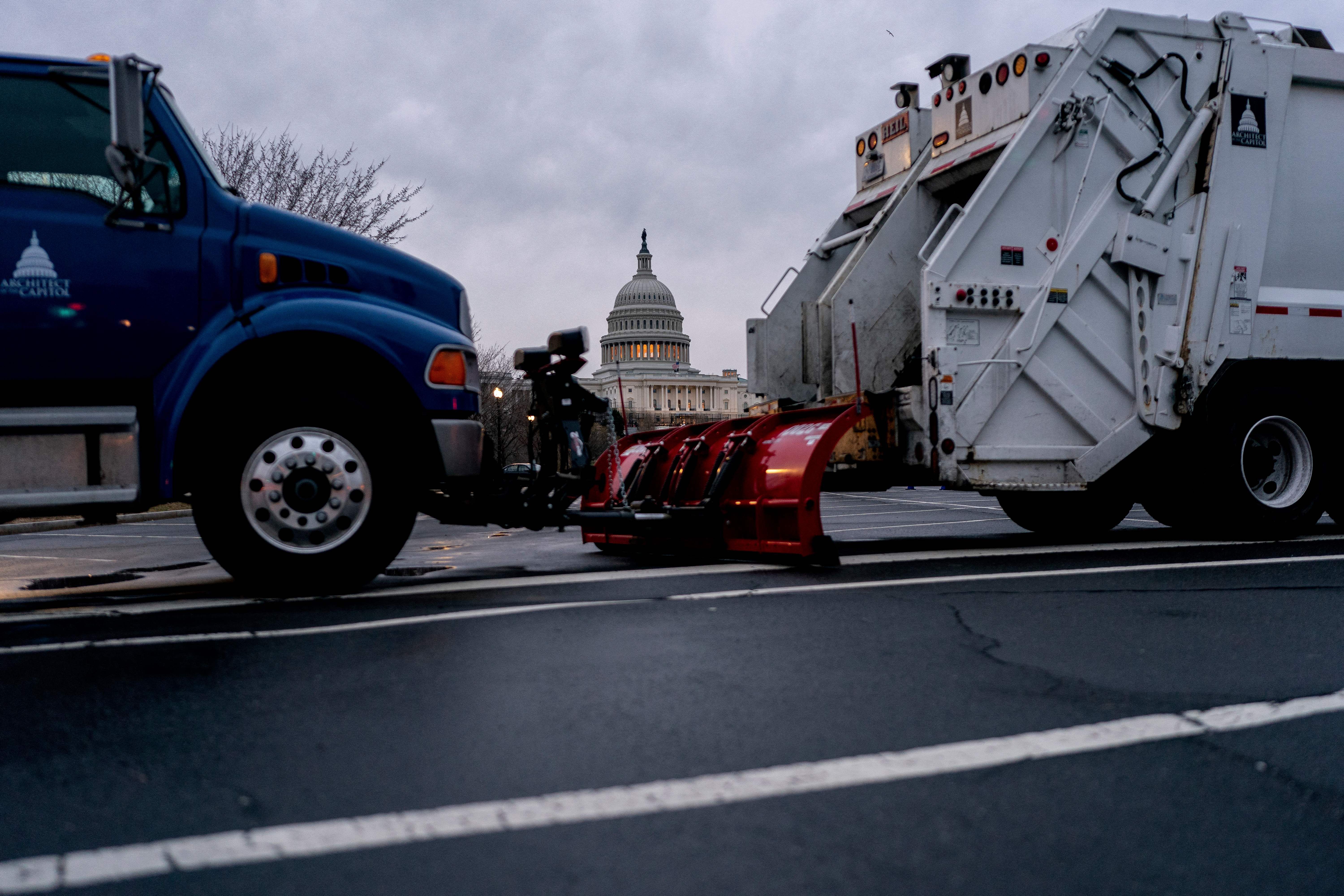 Above: Parked trucks cut off vehicle traffic near the Capitol today as authorities prepare for three possible truck convoys.
The bottom line: The Capitol riot has left officials wary of miscalculating security risks. The National Guard members will help with traffic control, the Pentagon said.
3. The Emancipator is revived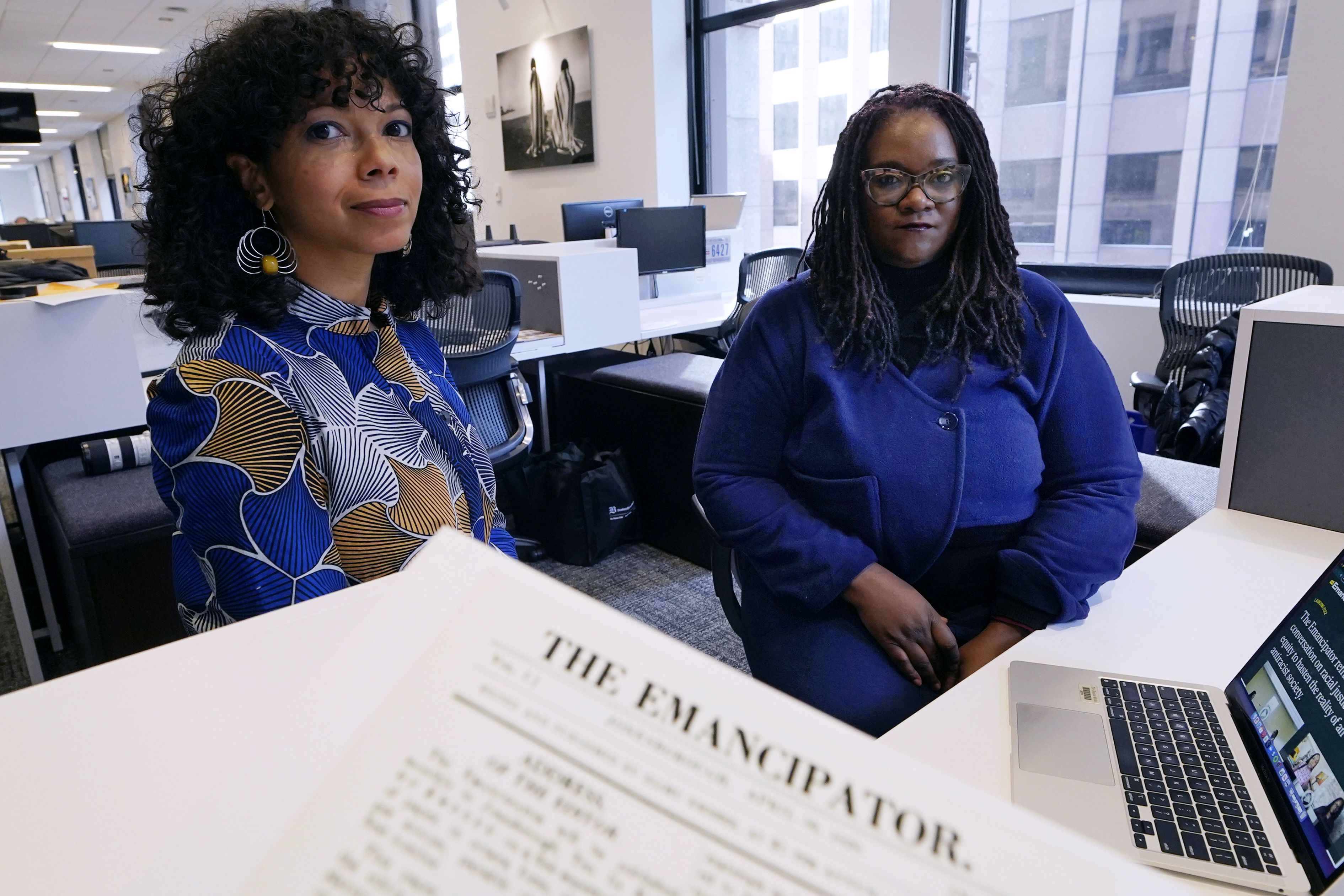 America's first newspaper dedicated to ending slavery is being resurrected and reimagined more than two centuries later, AP reports.
The revived version of The Emancipator is a joint effort by Boston University's Center for Antiracist Research and The Boston Globe's Opinion team. It's expected to launch in the coming months.
Above: Amber Payne (left) and Deborah Douglas — co-editors-in-chief of the new online publication — are seen at their Boston Globe office.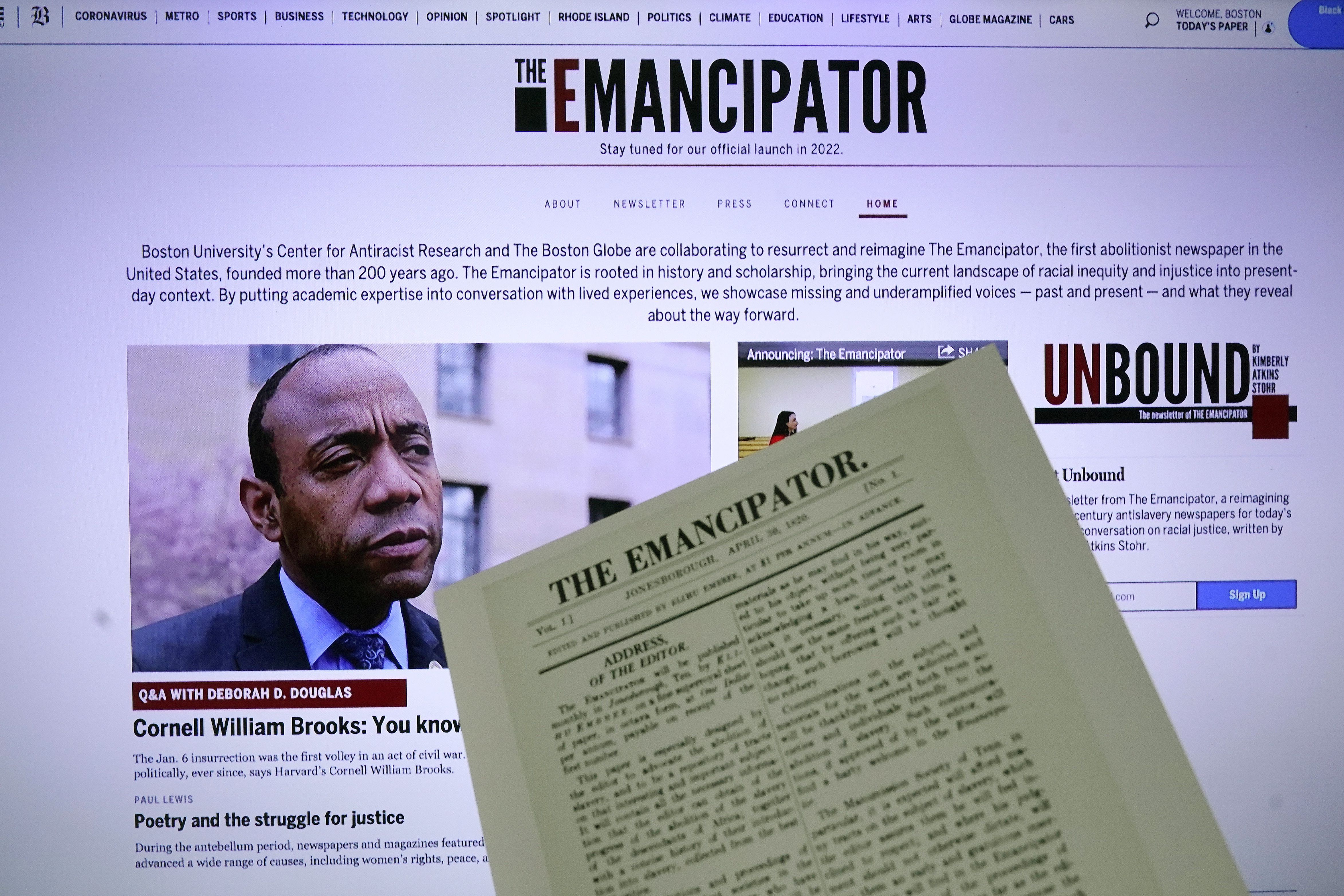 Above: The online publication is pictured with a copy of the first print edition, from April 30, 1820.
4. 📷 Parting shot: Restored Michelangelo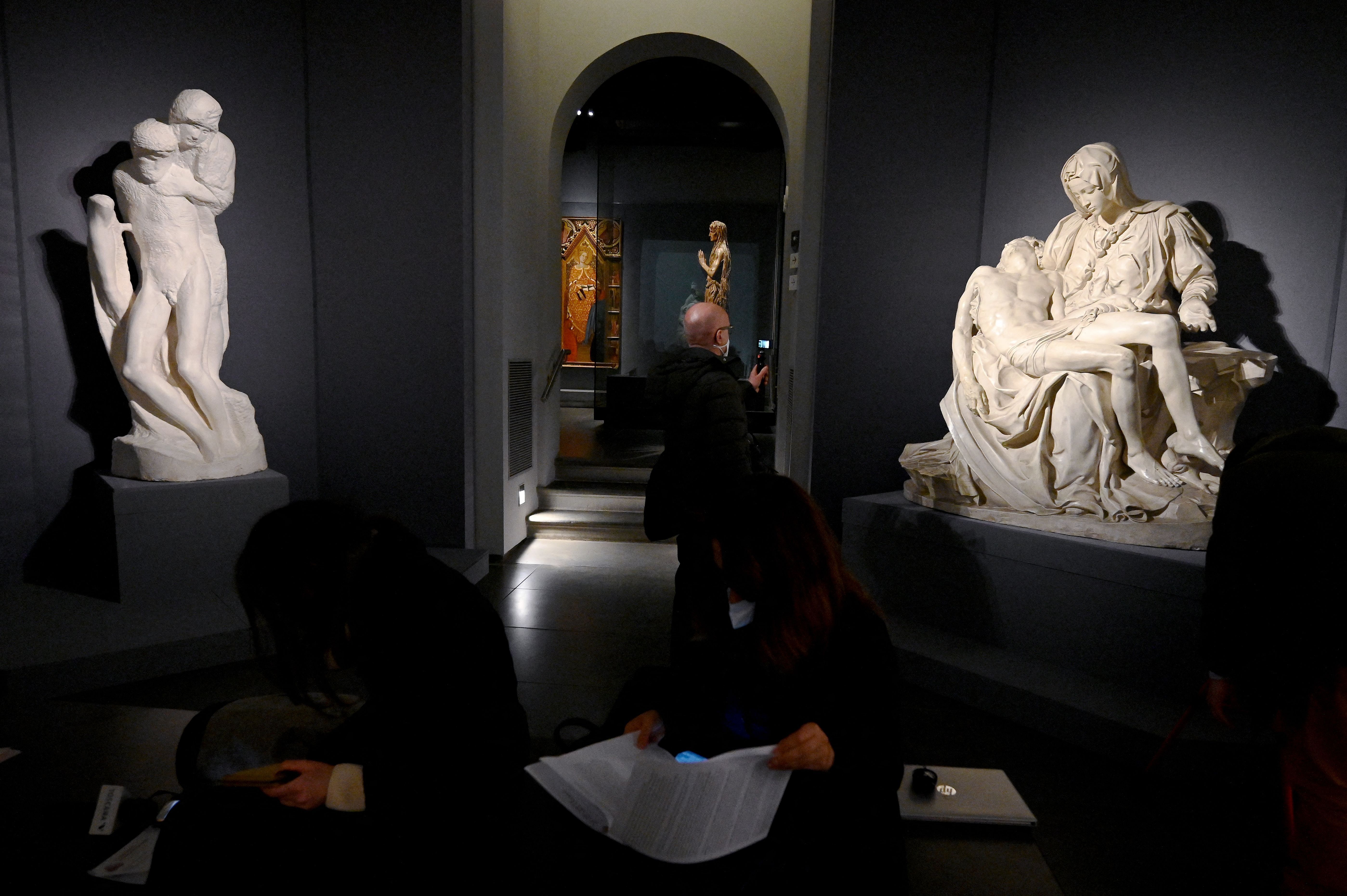 "The Three Pietàs of Michelangelo" will be displayed for the first time at Opera del Duomo Museum in Florence, Italy.
The exhibition includes Michelangelo's newly restored original "Pietà Bandini" (below) and the casts of the "Pietà Vaticana" (above right) and the "Pietà Rondanini" (above left), from the Vatican collection.