December 13, 2019
Good afternoon: Today's PM — edited by Justin Green — is 455 words, a 2-minute read.
Situational awareness: The Supreme Court will take on whether President Trump can block the release of his financial records. (The Washington Post)
1 big thing: Trump's day in history
President Donald John Trump's 1,063rd day in office — Wednesday — won't be his favorite, if the scheduling plays out right.
As of now, the impeachment vote is expected to happen on Wednesday, sandwiched between a Tuesday vote on funding the government and a Thursday vote on the USMCA trade deal.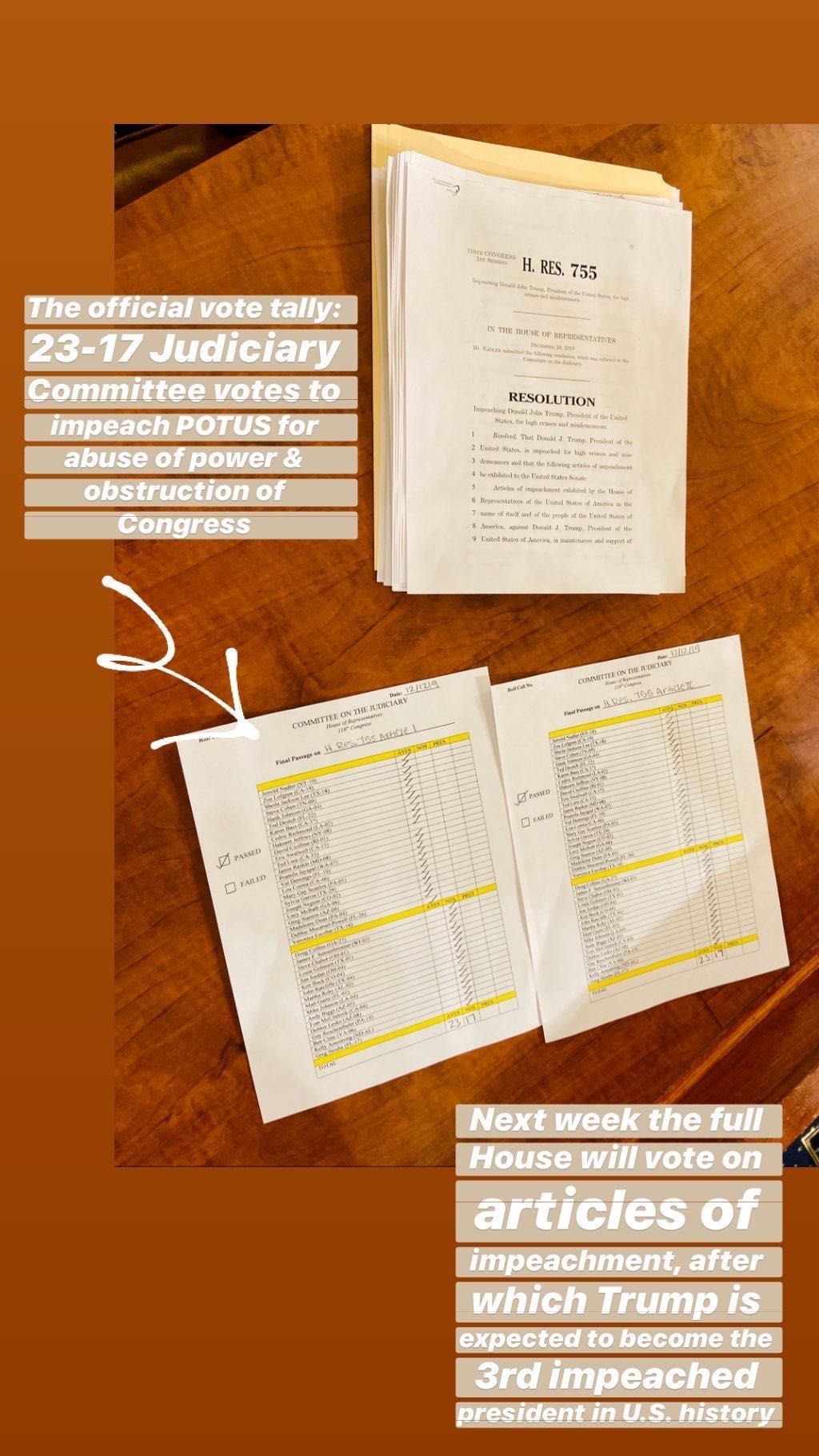 Trump's reactions in real time to the House Judiciary advancing the articles of impeachment for abuse of power and obstruction of Congress:
"I think it's a horrible thing to be using the tool of impeachment which is supposed to be used in an emergency."
"It's a scam. It's something that shouldn't be allowed. It's a very bad thing for our country. And you're trivializing impeachment. And I tell you what, someday there will be a Democrat president and there will be a Republican House and I suspect they're going to remember it."
"It's a very sad thing for our country. It seems to be very good for me politically."
The big picture: Impeachment is becoming more commonplace, as Axios' Alayna Treene and Margaret Talev reported this morning. It's also becoming solidly partisan.
As of now, most Democratic members and committee staffers guess that only four to six moderate Democrats will break ranks.
Don't expect a single House Republican to cross the aisle, and members of "the Resistance" shouldn't get their hopes up about Senate Republicans.
Go deeper: House Dems attend Trump's holiday party amid impeachment
Bonus: 2020 Dems threaten to skip DNC debate
All seven Democratic candidates who have qualified for next week's debate are threatening to skip, due to a union dispute, Axios' Alexi McCammond reports.
A labor union is angry about "stalled contract negotiations for food service" at the venue where the debate will be held.
In a letter, the union warned that 2020 Democrats "will be greeted with picket lines."
A source familiar with the negotiations told Axios that it was "not made aware of the issue until after the letter was sent" and that the DNC is looking into it.
3. 1 fun thing
Taylor Swift used the Billboard Women in Music stage to address a series of issues including her ongoing beef with Scooter Braun and criticizing his supporters, AP reports.
"The definition of the toxic male privilege in our industry is people saying 'But he's always been nice to me,' when I'm raising valid concerns about artists owning their rights to own their music," Swift said.
"Of course he's nice to you. If you're in this room, he has something that he needs."