June 20, 2022
Happy Monday, and thanks for checking in on Juneteenth (0bserved). Today's PM — edited by Kate Nocera — is 553 words, a 2-min. read.
1 big thing: Summer school could become norm
After two-plus years of learning disrupted by COVID, schools are capitalizing on summer by adding enrichment programs that may become permanent.
What's happening: Summer-school offerings grew last summer, but were largely focused on recovery for kids who had fallen behind, Axios' Erin Doherty writes.
Zoom in: Miami-Dade County Public Schools partnered with community organizations for expanded "Summer305" (the area code), including breakfast and lunch.
Seattle Public Schools offers a range of in-person and online programs, including skills courses for high school students.
Lyons School District 103 outside Chicago is providing a "summer engagement coach" to help families with "questions, platforms and motivation."
Plus: Tutoring programs are booming in districts nationwide.
👀 What to watch: "This is going to be a multi-summer trend, where you're going to see essentially the expansion of the school year," said Burbio president Dennis Roche.
2. Extreme heat won't let up
Extreme heat currently roasting the Upper Midwest and northern Plains is forecast to shift south and southeast during the week, Axios' Andrew Freedman reports.
Atlanta, Nashville, Memphis, Little Rock and St. Louis could set new temperature records by mid-to-late week.
Why it matters: Heat waves are an acute public health threat — heat is the top weather-related killer in the U.S.
The National Weather Service calls the highs "well above average."
As the U.S. bakes, an even fiercer heat wave is hitting Europe, setting dozens of monthly high-temperature records and several all-time high-temperature records as well.
3. Catch up quick
In Missouri, U.S. Senate candidate Eric Greitens (R) posted an ad that simulates a SEAL raid and urges supporters to go "RINO hunting," referring to "Republicans in name only." Twitter has a warning ahead of the video, saying it violates rules about "abusive behavior." Facebook removed the video "for violating our policies prohibiting violence and incitement." Go deeper.
Less than a month before a visit by President Biden, Israel's weakened coalition government will dissolve parliament and call a new election — the country's fifth in three years. Go deeper.
In a historic deal with the Biden administration, Native American tribes will now co-manage Bears Ears National Monument in Utah. Go deeper.
4. 📷 1 fish thing: World's largest freshwater catch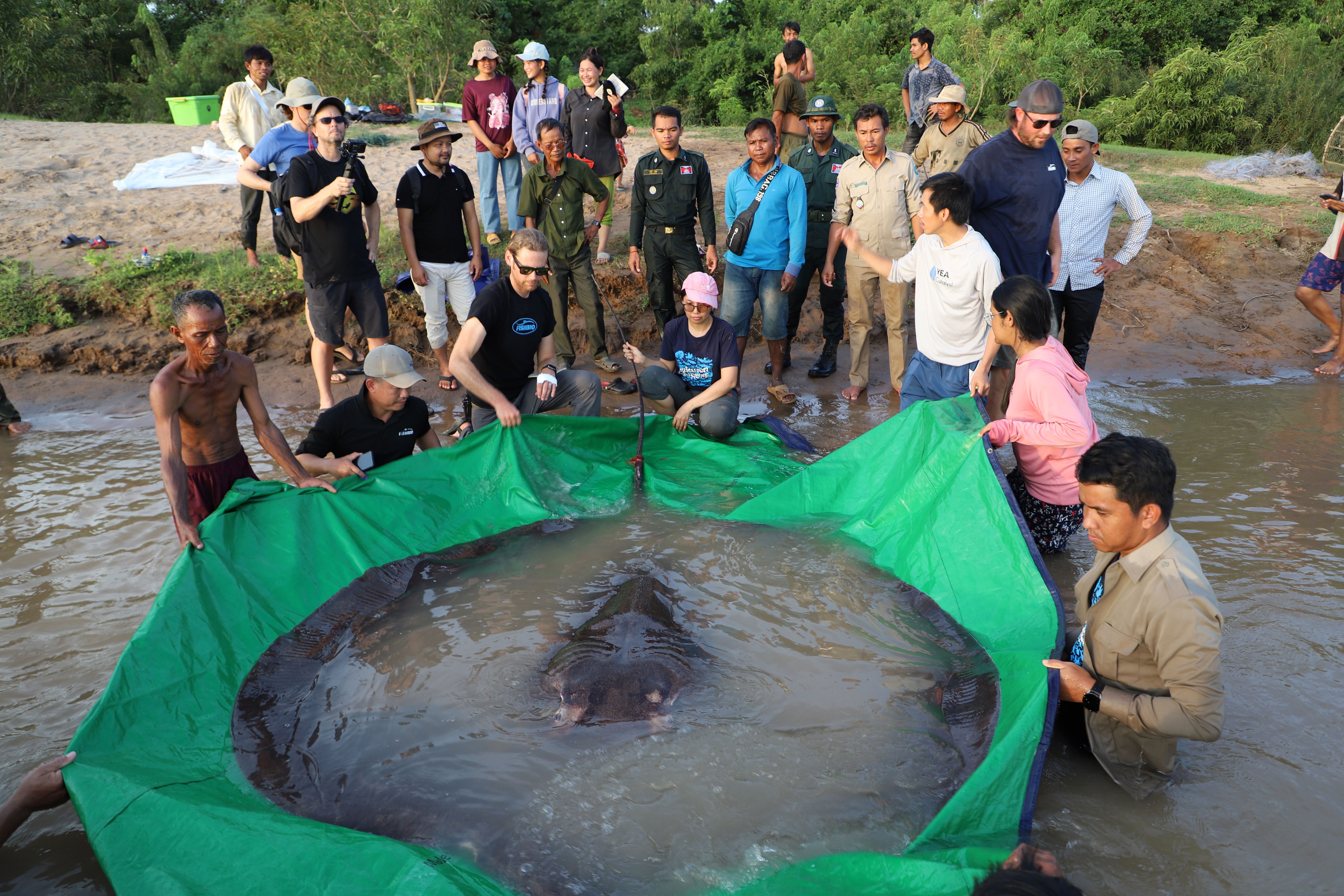 The world's largest recorded freshwater fish, a giant stingray, has been caught — and released — in the Mekong River in Cambodia, AP reports.
The stingray, caught last week, measures 13 feet from snout to tail and weighs 660 pounds, according to a statement today by Wonders of the Mekong, a joint Cambodian-U.S. research project.
The previous record for a freshwater fish was a 646-pound Mekong giant catfish, discovered in Thailand in 2005.
The stingray was snagged by a local fisherman south of Stung Treng in northeastern Cambodia.
The fisherman alerted a nearby team of scientists.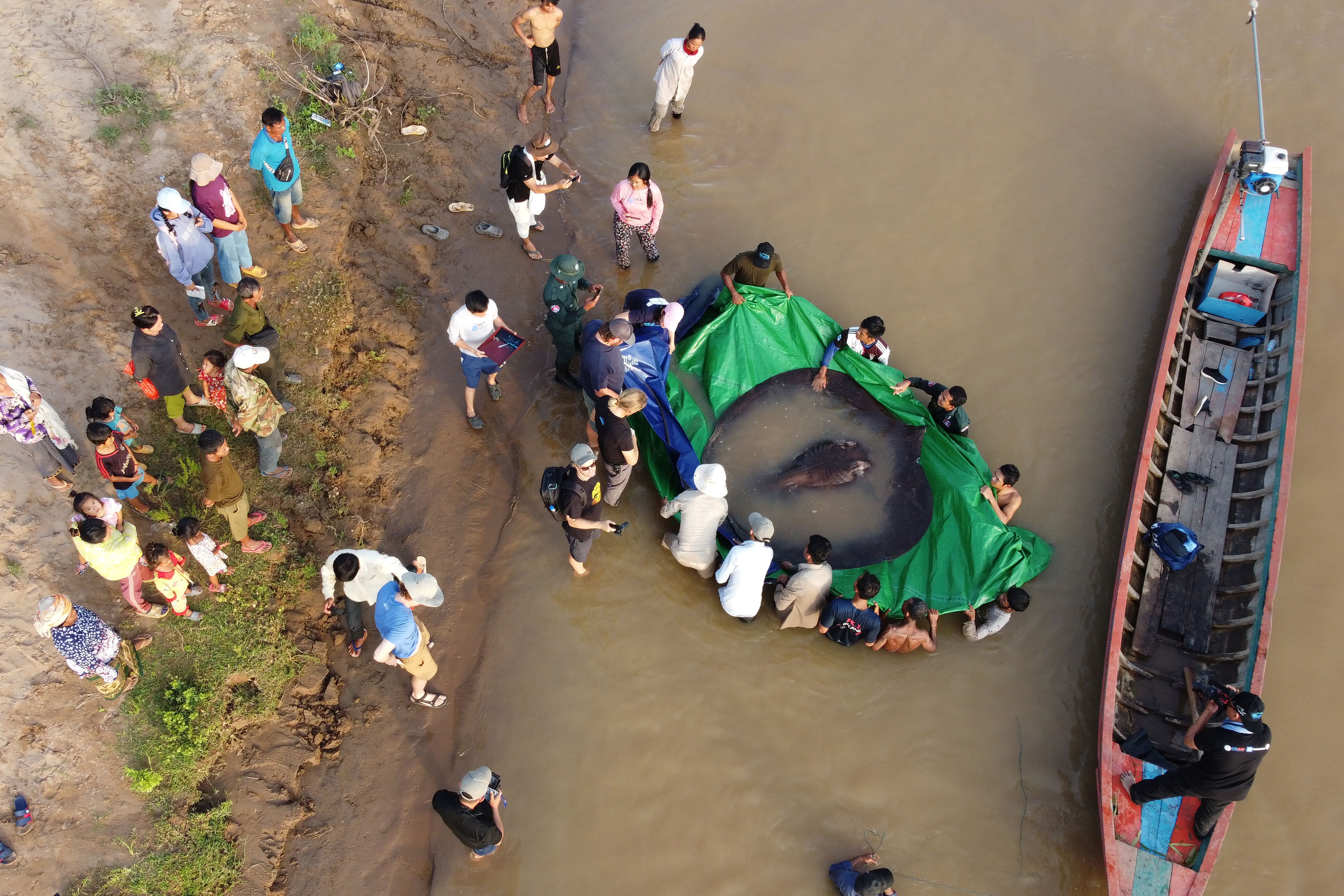 The team that rushed to the site inserted a tagging device near the tail of the mighty fish before releasing it. The device will send tracking information for the next year, providing unprecedented data on giant stingray behavior in Cambodia.
Local residents nicknamed the stingray "Boramy," or "full moon," because of its round shape and because the moon was on the horizon when it was freed on June 14.
The lucky fisherman was compensated at market rate — around $600.