Situational awareness: Stocks inched up again today, closing a strong week for the Dow. It's still only made up half its losses from the recent market correction.
https://www.axios.com/newsletters/axios-pm-1a5e4775-233c-4eab-ac0e-8d10755ab038.html?chunk=0#story0
1 big thing: Russia probe hits Russians
The latest round of Russia probe indictments charged 13 Russian nationals and 3 Russian entities with breaking the law in attempting to interfere with the 2016 U.S. presidential election.
Why it matters: It's the fifth indictment from the Russia probe, but it "represents the first charges by [Robert Mueller] for meddling in the 2016 presidential election — the fundamental crime that he was assigned to investigate." [NYT]
Details from the 37-page indictment:
In July 2016 more than 80 Russian agents were assigned to travel to the U.S. to gather information on Americans.
The Russians made fake Facebook, Instagram and Twitter accounts that were made to appear as if they were controlled by politically and socially active Americans.
They purchased political ads and paid Americans to engage in political rallies, protests, activities and campaigns paid for with stolen identities and bank accounts.
The initial goal of the defendants, per the indictment, was to "sow discord in the US. political system."
"They engaged in operations primarily intended to communicate derogatory information about Hillary Clinton, to denigrate other candidates such as Ted Cruz and Marco Rubio, and to support Bernie Sanders and then-candidate Donald Trump."
"On or about November 3, 2016, Defendants and their co-conspirators used the ORGANIZATION-controlled Instagram account "Blacktivist" that read in part: 'Choose peace and vote for Jill Stein. Trust me, it's not a wasted vote.'"
The big picture:
While the defendants were in touch with Americans, including members of the Trump campaign, "the Americans did not know they were communicating with Russians," Deputy Attorney General Rod Rosenstein explained.
Rosenstein added that the indictment does not state that their suspected interference changed the outcome of the election.
Trump reacts on Twitter: "Russia started their anti-US campaign in 2014, long before I announced that I would run for President. The results of the election were not impacted. The Trump campaign did nothing wrong - no collusion!"
Be smart, from Axios' Jonathan Swan: The White House is right that the indictments show no evidence of collusion between Trump campaign officials and Russian influence operatives. But Trump is wrong to claim this conclusively proves there was no collusion. That question remains open until Mueller closes the investigations.
Go deeper:
https://www.axios.com/newsletters/axios-pm-1a5e4775-233c-4eab-ac0e-8d10755ab038.html?chunk=1#story1
https://www.axios.com/newsletters/axios-pm-1a5e4775-233c-4eab-ac0e-8d10755ab038.html?chunk=2#story2
3. 1 fun thing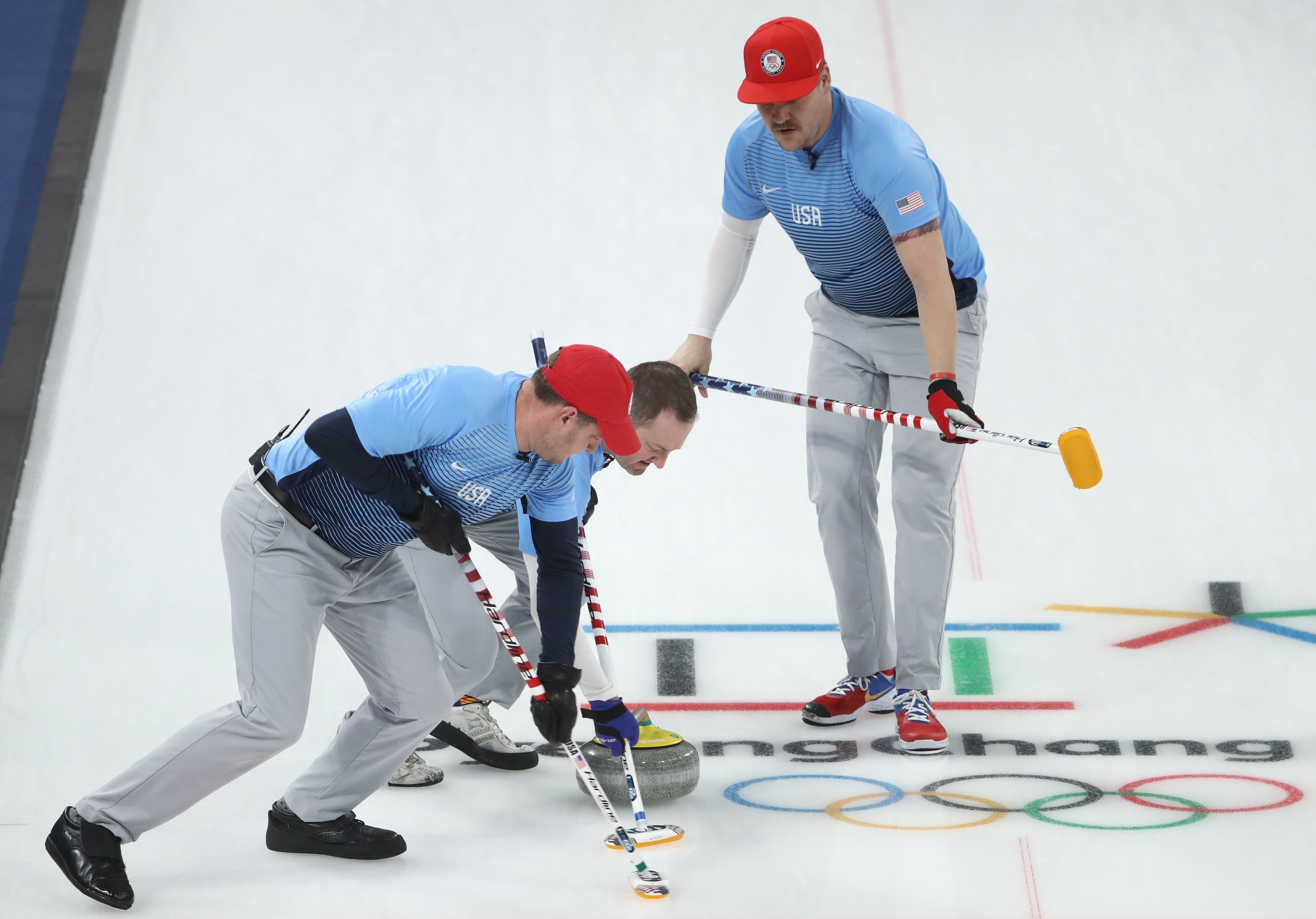 John Shuster, Tyler George and Matt Hamilton of the United States compete in the Curling Men's Round Robin Session 5 today in Gangneung, South Korea. Photo: Robert Cianflone / Getty Images
The AP's Kristen Gelineau reports from Pyeongchang that "in an era of vitriol and venom, curling may be the perfect antidote to our troubled times."
"Officials rarely get involved in matches because players call themselves out for fouls... Aileen Geving, a member of the U.S. Olympic curling team, says it would be unthinkable for her not to own up to such a goof."
"For the fans, seeing such displays of warmth... can be a welcome respite from the harshness of the outside world."
"Here is how a typical game starts at Gangneung: Opponents turn to each other, share a handshake and wish each other 'Good curling!' A bouncy organ tune blasts across the arena and the stadium announcer cheerfully bellows, 'Good luck and GOOD CURLING!' The crowd whoops with glee."
"Even if you have no idea what is happening, it is almost impossible not to smile."
"These days, rivals still socialize after matches, with the winner generally buying the loser a round."