Axios PM
November 24, 2022
🍗 Without readers, a wise colleague once pointed out, a newsletter is just a diary.
So thank you for your loyalty, critiques and encouragement through these epic times. My huge gratitude to our Axios colleagues — whose reporting, wisdom and life experience are reflected in each issue of AM and PM.
🌽 Husker hat tip to editor Justin Green, who brings you PM from hunting blinds, airports and any cold waters that hold trout.
And, please, any time, let us know how we can serve you better.
Smart Brevity™ count: 496 words ... < 2 mins. Copy edited by Kathie Bozanich.
1 big thing: Black Friday vanishing act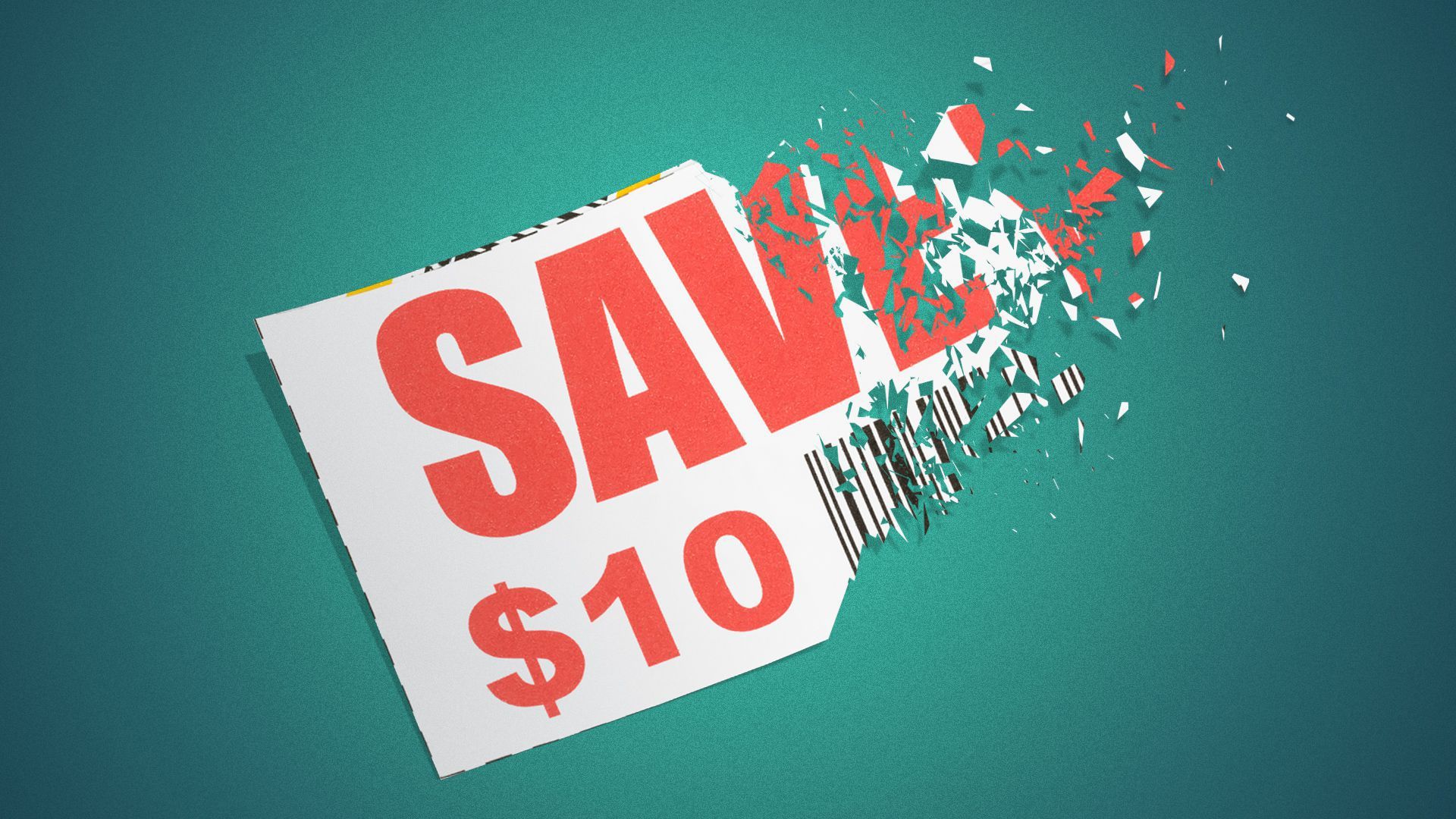 The easiest shortcut to spotting Black Friday deals is vanishing before our eyes, Axios' Kelly Tyko reports.
Sales circulars were a mainstay for holiday shoppers. But retailers are phasing them out, so discounts can shift with inventory.
Why it matters: Now it's way harder to find what's on sale. Kelly discovered this when she was making her own bargain plans.
🗞️ In the past, we could flip through paper or digital ads.
Now they're gone from Best Buy and Walmart. So customers have to wade through websites and categories and products.
🛍️ Where they're left: Target, Kohl's and JCPenney have large circulars posted online. Lowe's, Home Depot and Macy's have circulars in some newspapers.
The Washington Post at Mike's door in Arlington, Virginia, this morning included Kohl's, Macy's, Home Depot and Lowe's.
The (Raleigh) News & Observer (bought on the way to brother Scott's house — I'm typing this in the airport) had those + a few others. But Thanksgiving papers are nothing like the monsters of yore.
Newspapers recently started charging extra on Thanksgiving to bring you the "biggest paper of the year." (Today's Post is $5; the N&O is $5.99.)
✂️️ Zoom out: Clippable coupons are dying.
And it's not just Black Friday: CVS, Walgreens and Dick's Sporting Goods are trimming weekly circulars.
2. 🦃 Turkeytowns, USA
Five counties in America have more than 100 turkeys per person, Axios' Erin Davis and Herb Scribner found.
Besides the three on the map, the other two are Sanpete County, Utah, and Carroll County, Arkansas.
3. ⚖️ America's big birds
4. 🕶️ 1 for the road: Turkey disasters
Washington Post readers, asked for tales of Thanksgiving meals gone awry, told of exploding oven doors and lots of critter encounters — raccoons, squirrels, a ravenous Labrador puppy.
"How did that dish towel wind up inside the main course?"
A theme of the responses: It's "almost always the blasted turkey that trips people up," both because they're often big (unwieldy and tricky to cook all the way through), and not something we're used to cooking.
🍷 Happy ending: Many readers ended with some variation of: "That was 43 years ago, we love that memory and still laugh about it" or "To this day, when either of us sees a turkey in the oven, we say 'Remember when … '"
🍽️ Thanks for sharing your holiday with us. Now please take a second to thank someone who makes your life better.