July 24, 2019
Good afternoon. Today's Axios PM — edited by Justin Green — is 622 words, a 3 minute read.
Situational awareness:
1 big thing: The Mueller moments that mattered
For all of his problems — slow, halting, constantly asking to repeat the question — Robert Mueller was pretty disciplined in not straying beyond his report today.
Why it matters: These kinds of congressional hearings only work if there's either a surprise revelation or at least a dramatic video clip. Mueller gave them neither, Axios' David Nather emails.
Democrats planned to have him read the report out loud. Mueller declined in advance, denying them the political theater.
Republicans kept asking about tangential topics like Fusion GPS and the Steele Dossier. Mueller declined, steering them back to his report.
Top 5 headline quotes, gathered by Axios' Zachary Basu:
"No" — Mueller on whether his probe exonerated Trump.
"Not a witch hunt" — Mueller on the Russia probe.
"Disturbing and also subject to investigation" — Mueller on Trump and Trump Jr.'s repeated praise of stolen WikiLeaks material.
"Welcome everyone to the last gasp of the Russian collusion conspiracy theory" — Rep. Devin Nunes (R-Calif.) in his opening statement.
"They're doing it as we sit here" — Mueller on continued Russian election interference.
Top 4 Mueller moments:
Denied he'd been a candidate for FBI director, contradicting Trump.
Said he'd "generally agree" that lies by Trump campaign and administration officials who were interviewed "impeded" the investigation.
Said he didn't indict Trump because of the Justice Department's opinion that a sitting president cannot be indicted — then attempted to clarify his answer in the 2nd session: "As we say in the report, we did not reach a determination as to whether the president committed a crime."
Mueller said he didn't subpoena Trump for an interview "because of the necessity of expediting" the investigation. "If we did subpoena the president, he would fight the subpoena and we would be in the midst of the investigation for a substantial period of time."
What they're saying:
David Axelrod tweets: "This is delicate to say, but Mueller, whom I deeply respect, has not publicly testified before Congress in at least six years. And he does not appear as sharp as he was then.
Fox News' Chris Wallace: The hearing was "a disaster" for Democrats as well as Mueller, calling him "very uncertain with his brief."
NBC's Chuck Todd: "On optics, this was a disaster."
The bottom line: House Democrats control what's next. 92 publicly support an impeachment inquiry, along with Justin Amash.
Go deeper:
Bonus: Pics du jour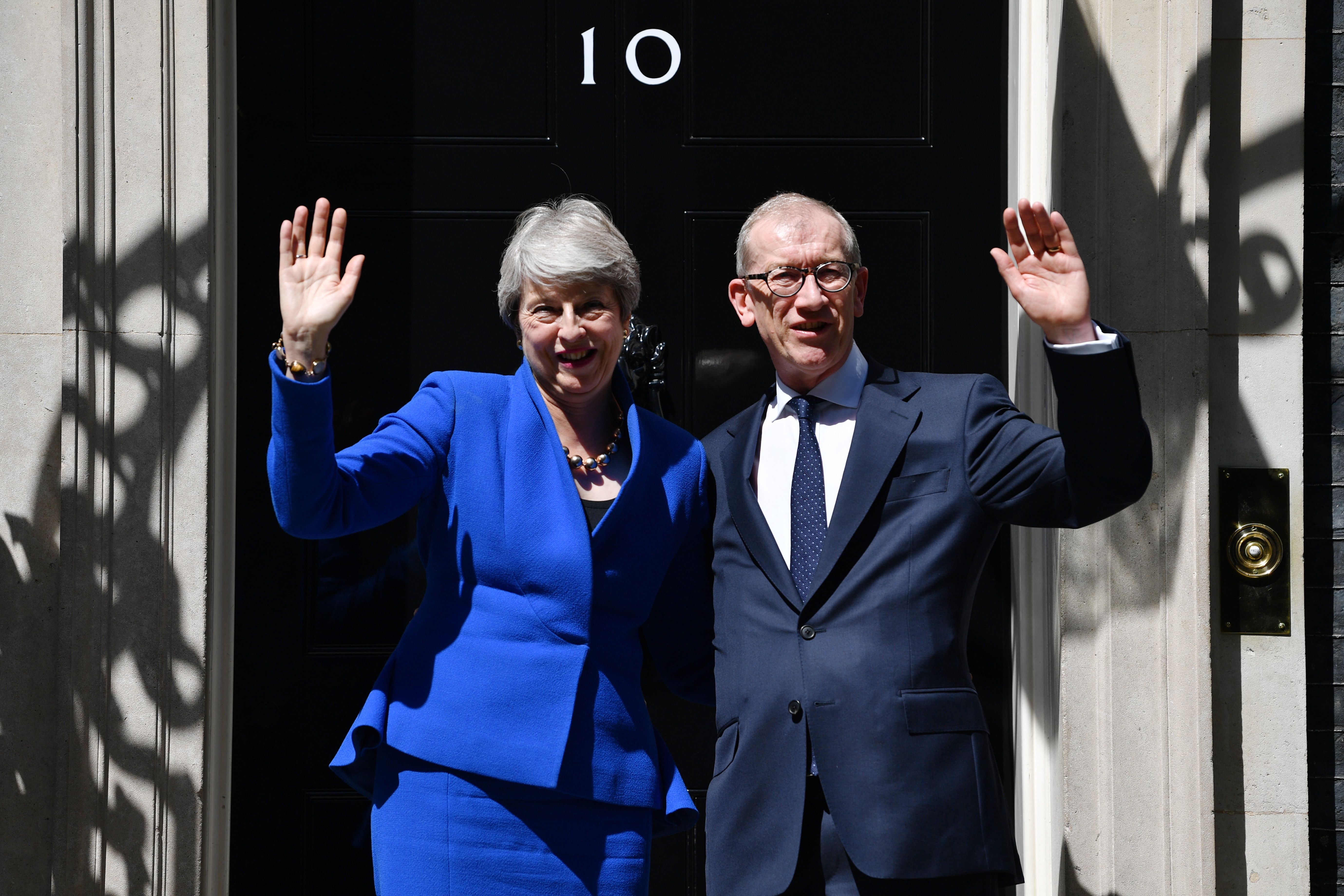 Above: Outgoing U.K. Prime Minister Theresa May and her husband wave on her last day at work.
Below: New PM Boris Johnson bows to his queen.
3. 1 fun thing
A pair of running shoes — one of the first made by Nike — was auctioned for $437,500, shattering the sneaker record, Reuters' Jill Serjeant reports.
The Nike "Moon Shoe," designed by Nike co-founder and track coach Bill Bowerman for runners at the 1972 Olympics trials, was sold to Canadian investor and car collector Miles Nadal.
The highest previous price fetched at public auction for sneakers was $190,373 in California in 2017, for a pair of signed Converse shoes said to have been worn by Michael Jordan in the 1984 Olympic basketball final, Sotheby's said.