https://www.axios.com/newsletters/axios-pm-035a38f0-6e6c-4e3c-b04e-f8fe1a504792.html?chunk=0#story0
1 big thing: The post-Columbine generation walks out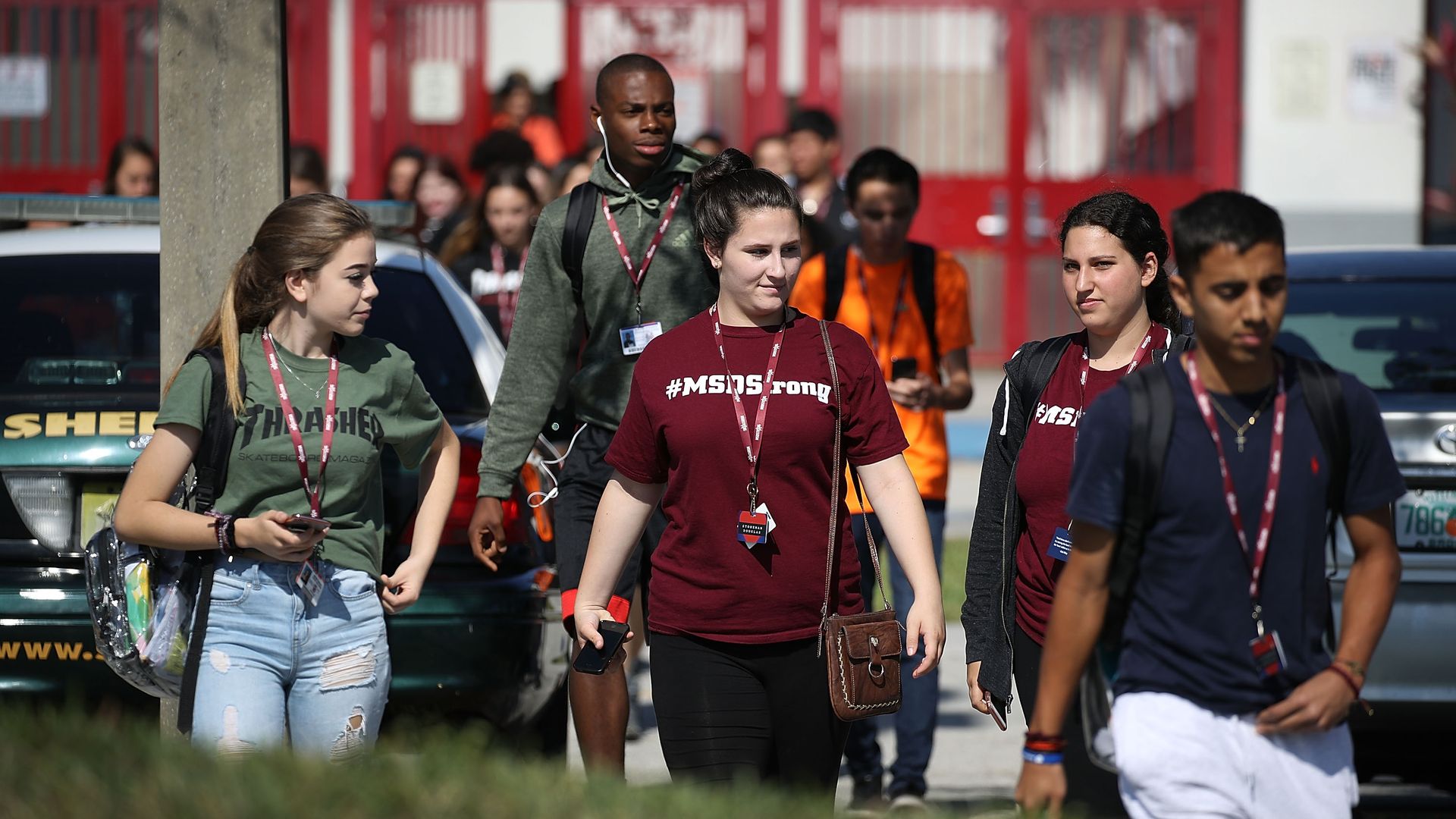 Students nationwide walked out of their classrooms today to commemorate the 19th anniversary of the shootings at Columbine High School, and to demand action on gun control.
Why it matters: These teens have grown up in a world where school shootings are far too normal.
By the numbers:
13 students died at Columbine.
At least 122 have since been killed in mass school shootings.
187,000 students have attended an institution where there was a shooting during school hours, the Washington Post reported last month.
This is the second major student walkout since 17 were killed at Marjory Douglas Stoneman High School in February.
One memorable quote: "We're here to say no more shootings," 16-year-old Olivia Pfeil of Wisconsin told Reuters. "We're expecting change or come next election cycle we will support politicians who are listening to the voices of the youth."
Go deeper: More pics from the nationwide walkout
P.S. A student was shot and wounded in a Florida classroom today, shortly before the scheduled walkout.
https://www.axios.com/newsletters/axios-pm-035a38f0-6e6c-4e3c-b04e-f8fe1a504792.html?chunk=1#story1
https://www.axios.com/newsletters/axios-pm-035a38f0-6e6c-4e3c-b04e-f8fe1a504792.html?chunk=2#story2
3. 1 weekday thing
Walmart is testing new dress codes to see if it helps recruitment and retention, Bloomberg's Matthew Boyle reports.
"Employees in some of Walmart Inc.'s 4,700 stores will now be allowed to wear shirts of any solid color, rather than just blue or white, according to an employee manual obtained by Bloomberg News."
"Blue jeans are also permitted -- as long as they're solid blue -- whereas previously only khaki-colored or black denim pants were allowed. Visible facial tattoos are forbidden for those hired after April 14, the manual said."
Why it matters: Testing dress code changes, paired with wage hikes and bonuses, is a sign the company is taking the tighter labor market more seriously.