Axios Phoenix
June 06, 2022
Happy Monday! And happy launch day to us! 🎉 We're glad you're here.
Our newsletter will land in your inbox every weekday morning, packed with the most important and interesting goings-on in the Valley.
Reach out to Jeremy and Jessica any time by hitting reply.
Today's weather: A high of 105 — the best weather we're going to see this week. 😓
Situational awareness: Today is the 78th anniversary of the World War II D-Day invasion of Normandy, France.
Today's newsletter is 914 words — a 3.5-minute read.
1 big thing: Future drought plans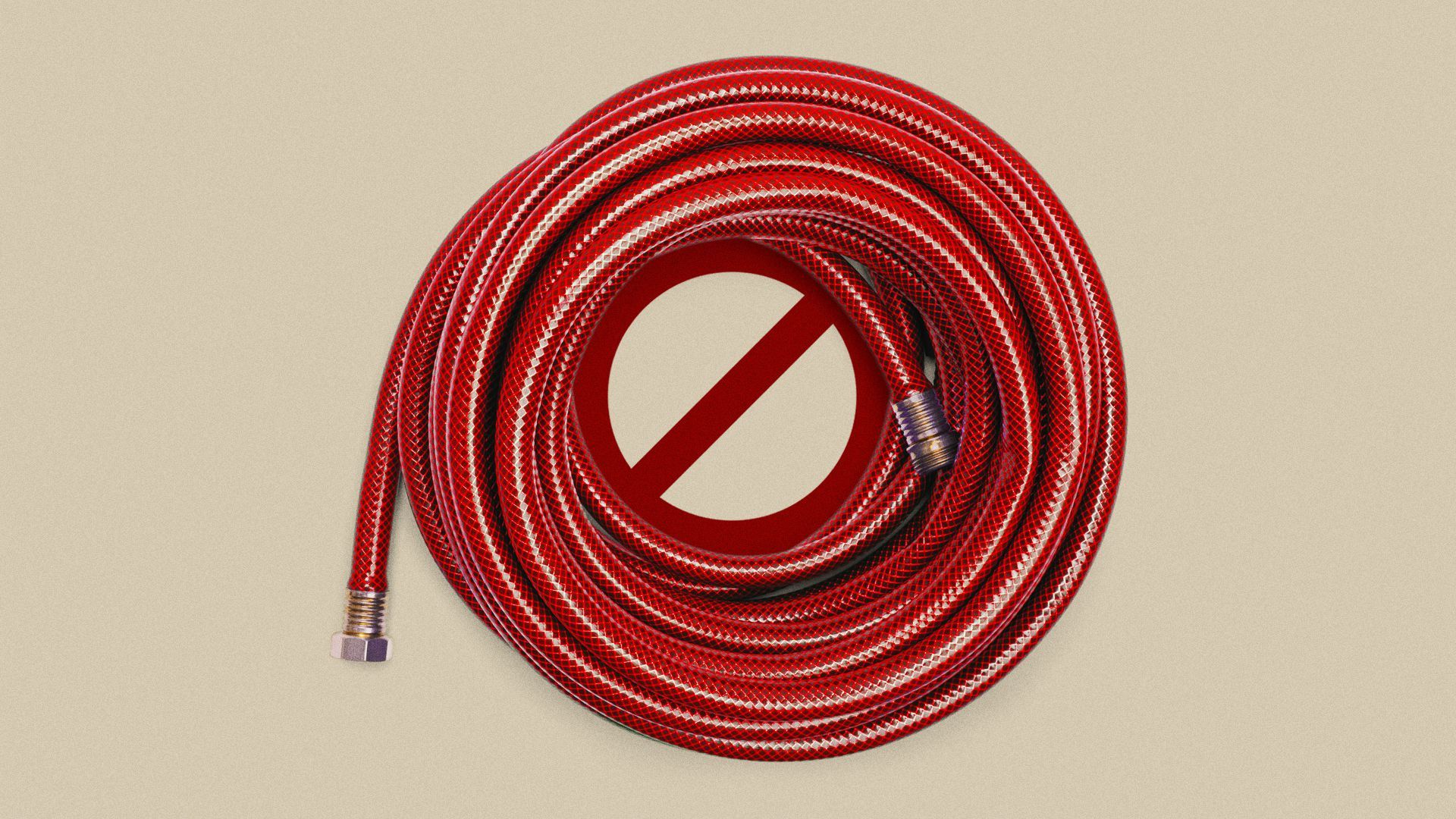 In response to the ongoing "megadrought" in the western U.S., Phoenix and several other cities in the Valley have implemented the first stages of their drought plans.
Others are likely to follow suit in the near future as the situation worsens.
What's happening: Last week, Phoenix and Tempe became the most recent Arizona municipalities to initiate their drought plans, following Glendale, Mesa, Scottsdale, Surprise and Tucson.
Yes, but: No cities are forcing residents to limit their water usage, and many aren't cutting down usage at city-owned properties.
Of note: Other cities are taking more substantial actions.
Mesa will attempt to reduce city departments' water usage by 5%.
Scottsdale asked residents to voluntarily reduce water usage by 5%, and halted water deliveries to people living outside the city.
What they're saying: "Large cities in metro Phoenix have not imposed watering restrictions because they don't yet need to," Warren Tenney, executive director of the Arizona Municipal Water Users Association, told Axios.
What's next: More cities are likely to implement the initial stages of their drought plans.
Gilbert expects to initiate its plan in the next few weeks, which will include reductions in water use by the city and a request for residents and businesses to voluntarily conserve water.
2. 🏨 Trading hotels for housing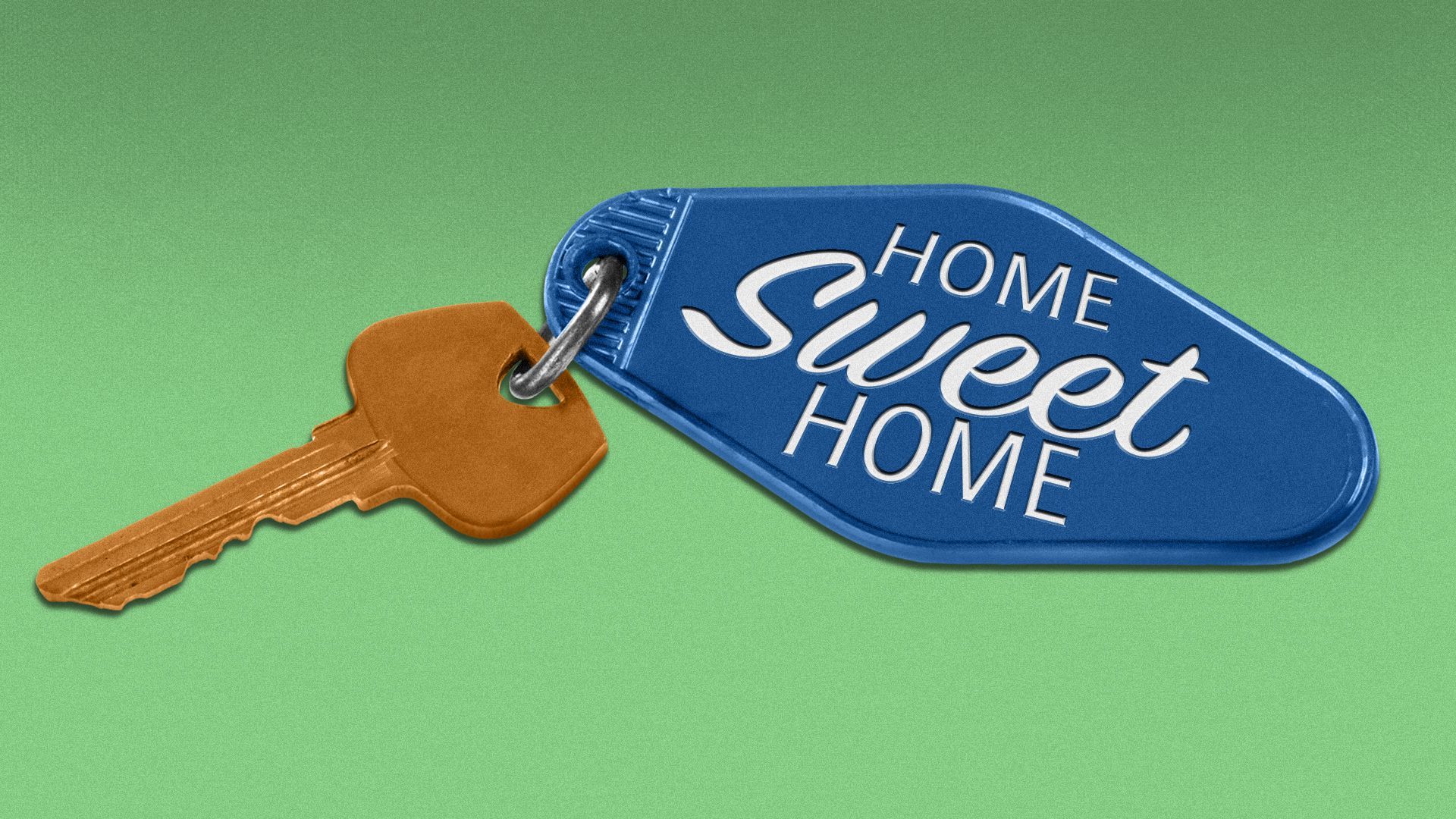 Developers and government agencies are converting older metro Phoenix hotels into permanent housing in a new trend experts hope will help make a fast dent in the Valley's severe housing shortage.
Why it matters: Arizona is short at least 270,000 units of housing, according to the state's housing department.
Hotel conversions are cheaper and faster than building new housing complexes.
State of play: These conversions typically create housing that is more affordable to people with low-wage jobs, seniors on fixed incomes or people who previously experienced homelessness.
The former downtown Mesa Ramada by Wyndham, which is now Vivo on Main, offers studio apartments where rent starts at $980 a month.
Show me the money: Federal pandemic-relief funds have allowed Phoenix, Tempe and Maricopa County to purchase hotels to convert to long-term affordable housing.
Traditional investors and developers are also finding it profitable to tap into this market.
Thomas Brophy, research director at Colliers, said you can't build a new multifamily housing project in metro Phoenix for less than $450,000 per unit.
Suraj Bhakta, who has helped convert about 20 Valley hotels through hospitality brokerage firm NewGen Advisory, said developers often can buy older hotels for around $100,000 per room.
Full story: Developers in Phoenix are trading hotels for housing.
3. Talonya Adams verdict second priciest of 2021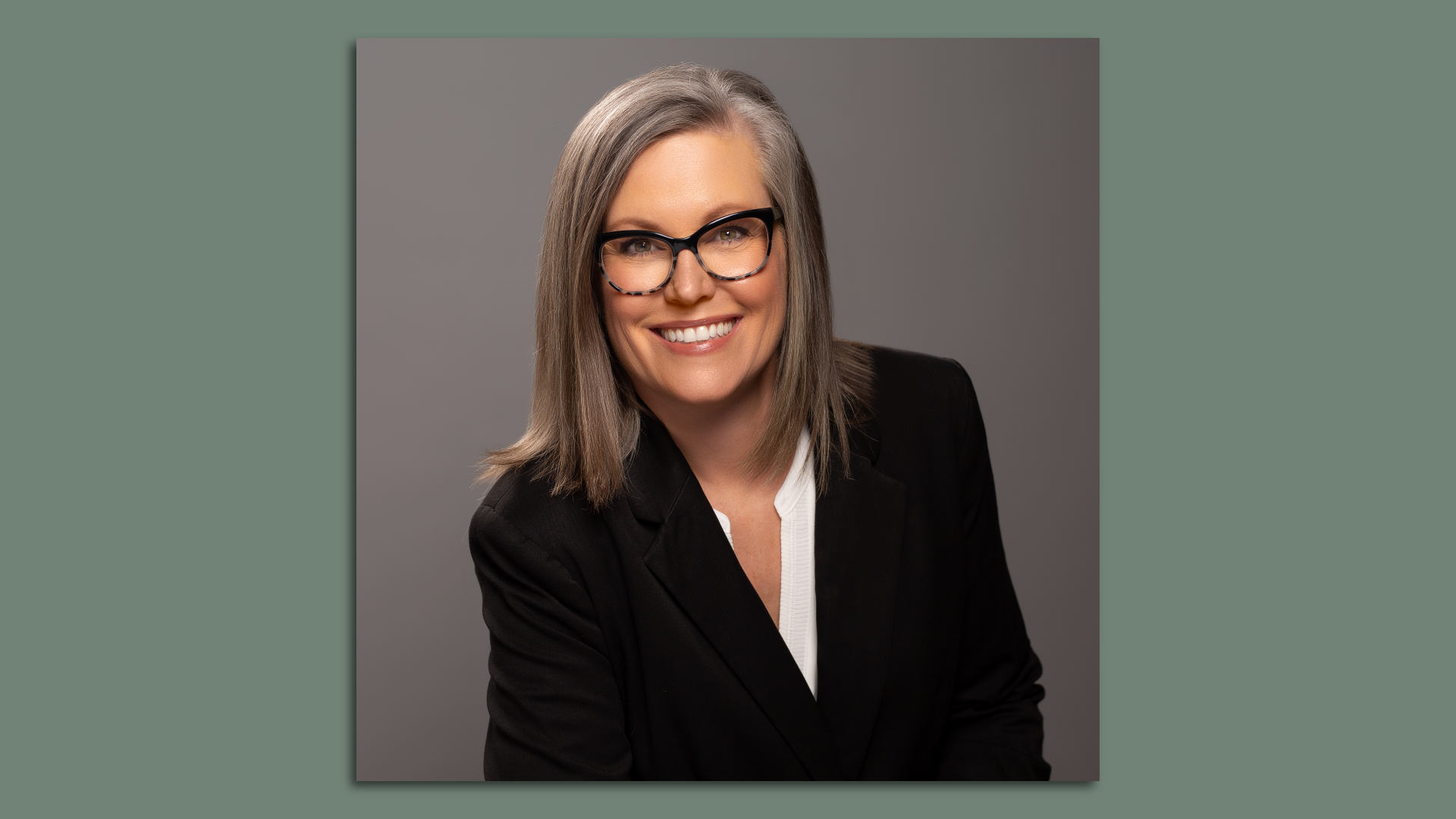 A $2.75 million verdict to a former Arizona Senate staffer who alleged race and sex discrimination was the second largest civil verdict in Arizona last year, according to Arizona Attorney Magazine.
The largest verdict of $5 million went to the family of a Valley woman who died of sepsis after a doctor's visit.
Context: The staffer, Talonya Adams, worked for then-Senate minority leader and current Arizona Secretary of State Katie Hobbs, who is now a Democratic candidate for governor.
Hobbs is already facing heat on the campaign trail for her role in Adams' firing.
Flashback: Talonya Adams, a Black woman who worked as a policy advisor for the Arizona Senate, asked for a raise in 2015 after learning men and white staffers were paid more than her.
Adams took emergency leave shortly after asking for a raise and, while out of the office, was notified that she had been fired.
​​The first jury found that she was underpaid because she's a Black woman. The second jury agreed that she was fired for complaining about that discriminatory pay and awarded her $2.75 million.
Yes, but: Taxpayers didn't have to pay Adams all $2.75 million. Caps in federal law limit the jury's award to $300,000, according to The Arizona Republic.
Of note: Hobbs testified in both trials that she was involved in the decision to fire Adams, but says her reasoning was not discriminatory but because she lost trust in Adams.
Hobbs later apologized and acknowledged the "discrimination that Talonya Adams faced as an employee in the Legislature."
Editor's note: This story has been updated to clarify how much Adams actually received is limited by federal law.
4. Chips and salsa: An extra side of news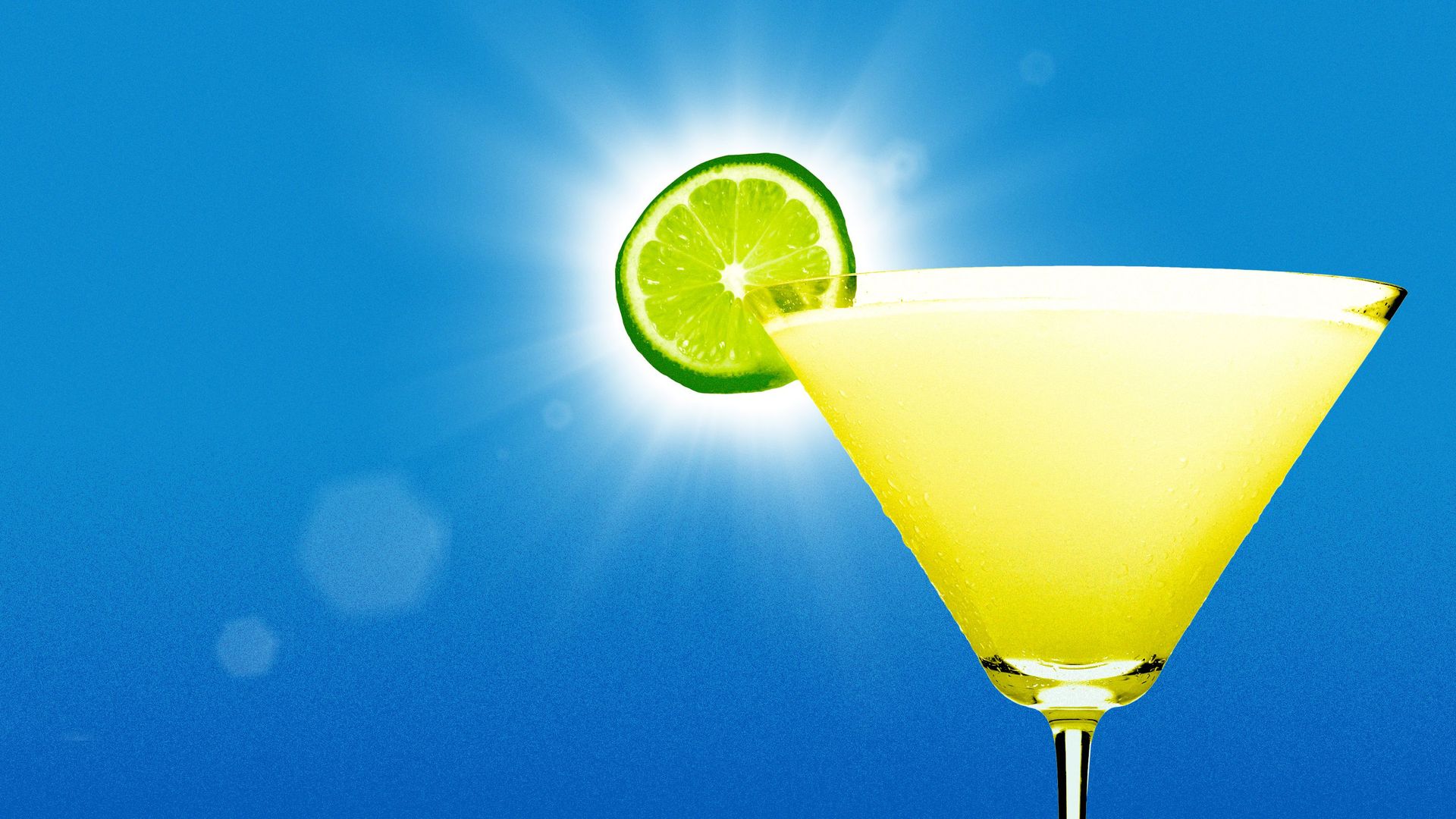 🚨 Three people died and eight others were injured in three separate Phoenix shootings late Friday night and early Saturday morning. (AZcentral)
🚔 A Tempe police officer told a man who jumped into Tempe Town Lake and said he was drowning that he would not jump in after him, according to body-camera footage. (AZfamily)
🍹 The Golden Margarita on Roosevelt Row has closed after a liquor-license dispute and backlash from downtown neighbors. (Phoenix New Times)
👶 The number of babies born in Arizona last year increased for the first time in seven years. (Arizona Mirror)
Fresh job openings around town
5. 🏳️‍🌈 Pride events to beat the heat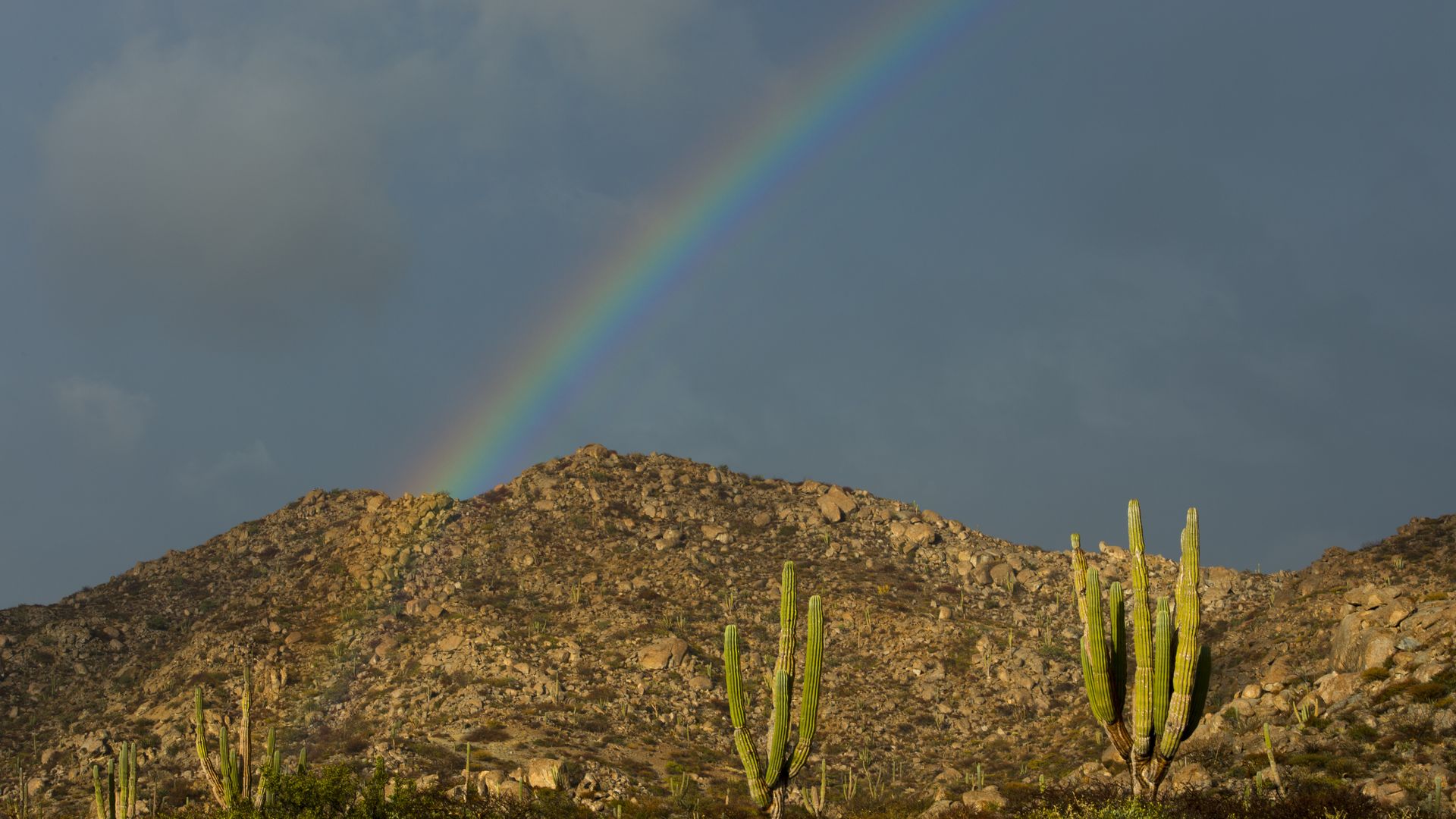 It's Pride Month, and in most of the country, that means Pride parades.
Here in the Valley, it's way too hot for that in June, so our parade is in October, when we can finally count on high temperatures to drop below 100.
There's still plenty to do in the Phoenix area to celebrate Pride Month.
The Tempe Center for the Arts will host two events on June 12 — the Phoenix Pride Spirit Awards, and the first, gender-neutral Mx. Phoenix Pride Pageant.
The Pride Bar Crawl will begin at 4pm on June 18 at Boondocks, and partygoers will make their way to Casa Amigos, El Hefe Mexican restaurant, Riot House, The Hot Chick and other locales in Old Town Scottsdale.
6. 🍰 1 yummy (and kind) thing to go
Myke's Pizza in downtown Mesa is serving up a delicious-looking confetti cake to celebrate Pride Month this Friday-Sunday.
Myke's will donate 100% of the proceeds to one.n.ten, a local nonprofit that seeks to empower LGBTQ youth and young adults.
🚗 Jeremy went out of town and took the family to Dead Horse Ranch State Park over the weekend. Everyone had a great time.
🕹 Jessica finally tried out Snakes and Lattes in Tempe and would recommend it for board game and beer lovers alike.
Want free Axios swag? Refer your friends to Axios Phoenix and get cool merch like stickers, totes, hats, T-shirts and more!
To ensure the newsletter reaches your inbox, please add [email protected] to your contacts. If you use Gmail, just drag this email to your "Primary" tab. For other mail clients, check out this page.