Axios Philadelphia
March 22, 2023
🥞 Good morning, Wednesday!
☪️ Happy Ramadan Mubarak to everyone celebrating! It's the first day of the holy month.
📍 Situational awareness: Prosecutors will charge seven people, aged 11 to 14, with the brutal beating of a woman in Center City last month.
Today's newsletter is 926 words, a 3.5-minute read.
1 big thing: Trail spotting — Primary races heat up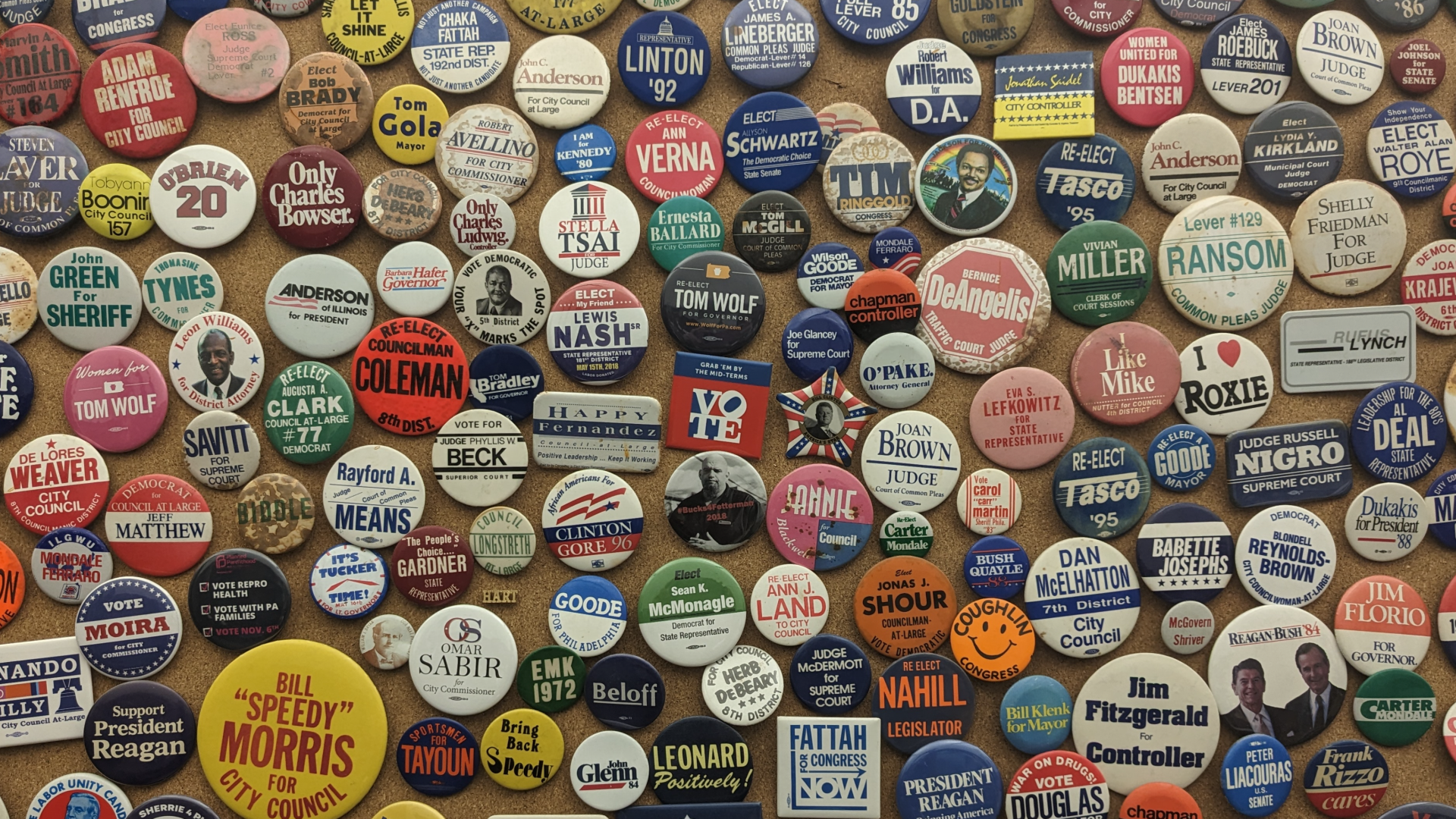 👋 Hi, Mike here! The city's May 16 primary is kicking into high gear after ballot positions were chosen last week. Candidates are jockeying for attention and stepping up attacks on rivals.
Here's a cheat sheet to the biggest developments.
↘️ Competitive Council primary peters out
A heated Democratic race in the 3rd City Council district fizzled out this week when challenger Jabari Jones withdrew over legal challenges to his candidacy, per his statement on Twitter.
Why it matters: Jones, president of the West Philadelphia Corridor Collaborative, was considered the only viable challenger to incumbent City Councilmember Jamie Gauthier, who took over the seat in 2020.
Jones tells Axios voters mistakenly signed a petition using the wrong address and the legal challenge could have eliminated enough signatures to put him below the threshold to make it on the ballot.
The big takeaway: Gauthier most likely will cruise to victory in the primary.
⚔️ Sharpening of attacks on Jeff Brown
Mayoral candidate Allan Domb launched a scathing new website against rival Jeff Brown last week, Philly Mag reports.
Therealjeffbrown.com features excerpts from critical coverage about the ShopRite titan and plays an anti-Brown commercial on loop.
Why it matters: This year's Democratic mayoral hopefuls have largely avoided going after one other — except Brown.
💪 Heavy-hitting endorsements
Speaking of new ads, mayoral candidate Rebecca Rhynhart launched her first TV spot this week featuring touts from former mayors Michael Nutter and John Street.
Why it matters: Their endorsements could factor significantly in voters' minds in the 12-person Democratic field.
The playbook: The former mayors back former city controller Rhynhart's experience and policies to address gun violence and city services.
The bottom line: The advertising flurry could signal that campaigns are ready to spend more cash to reach voters beyond countless mayoral forms.
2. 🎨 Eyes Gallery reboots in April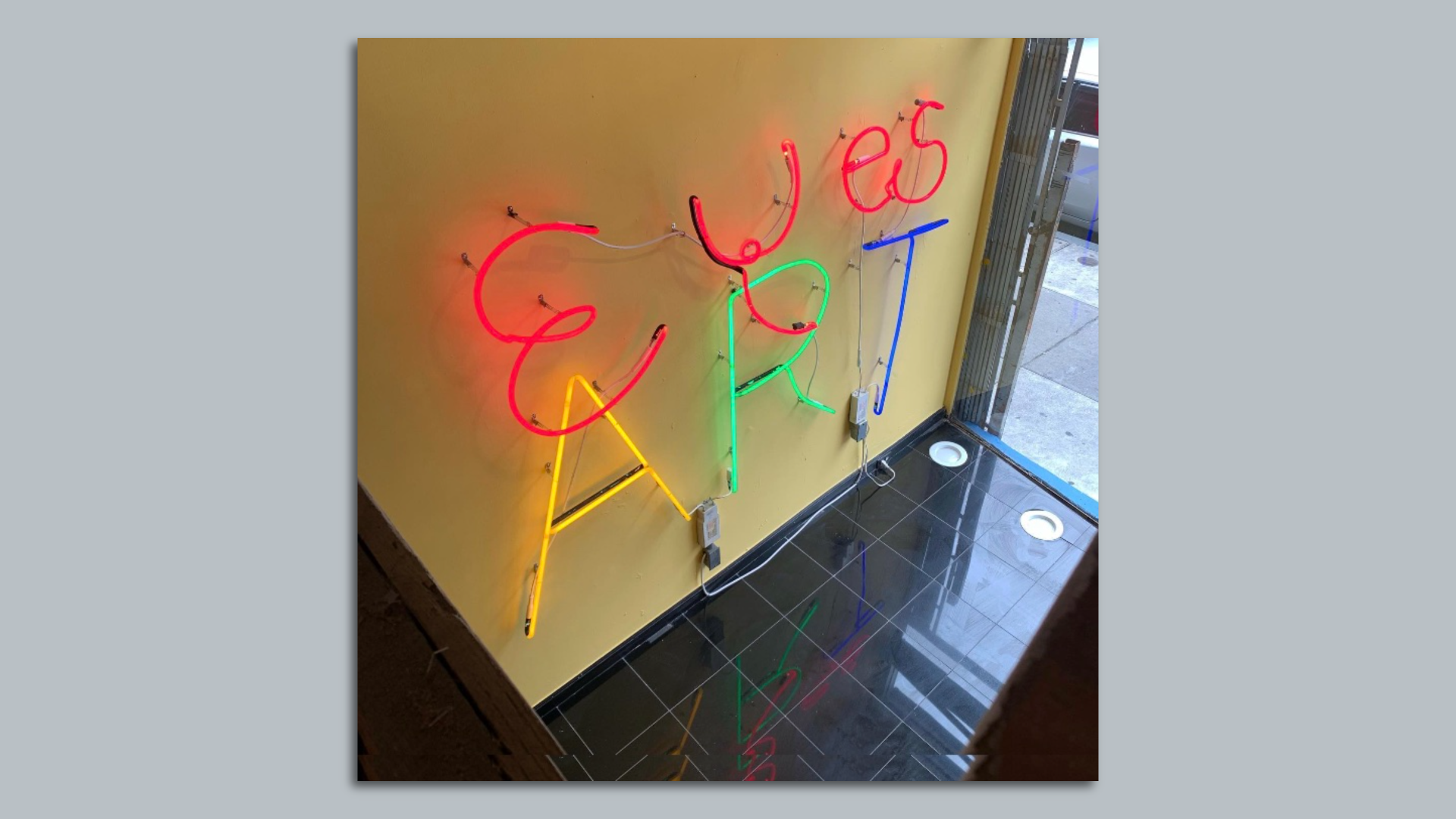 Eyes Gallery in South Philly is poised to reopen in a new space on April 15 after a fire forced it to shut down last summer.
What's happening: The store will open at 327 South St., a block from its former location, owner Julia Zagar tells Axios.
Why it matters: The folk art gallery had been a landmark since Zagar opened it in 1968 with her husband Isaiah Zagar, the famed mosaic artist whose work can be seen throughout the city and at Philadelphia's Magic Gardens.
Catch up quick: A fire sparked by electrical wiring in Jim's Steaks building next-door caused extensive damage to the famous cheesesteak shop and Eyes Gallery in July 2022.
Between the lines: The beloved gallery held two pop-up markets since the fire and a GoFundMe campaign raised more than $55,000.
The gallery lost about 40% of its inventory in the fire, Julia Zagar tells Axios.
Details: Eyes Gallery will continue to sell folk art, jewelry, clothing and musical instruments, with an emphasis on handmade items, along with artwork from local artists, including Isaiah Zagar.
The new shop is smaller — a single story compared to three at the previous building — and won't have its famed mosaic facade.
What they're saying: "It's a full embrace of everything we had but it's in a different format," Julia Zagar says. "We are really making it into an art piece."
3. News market: 🎓 Bee champs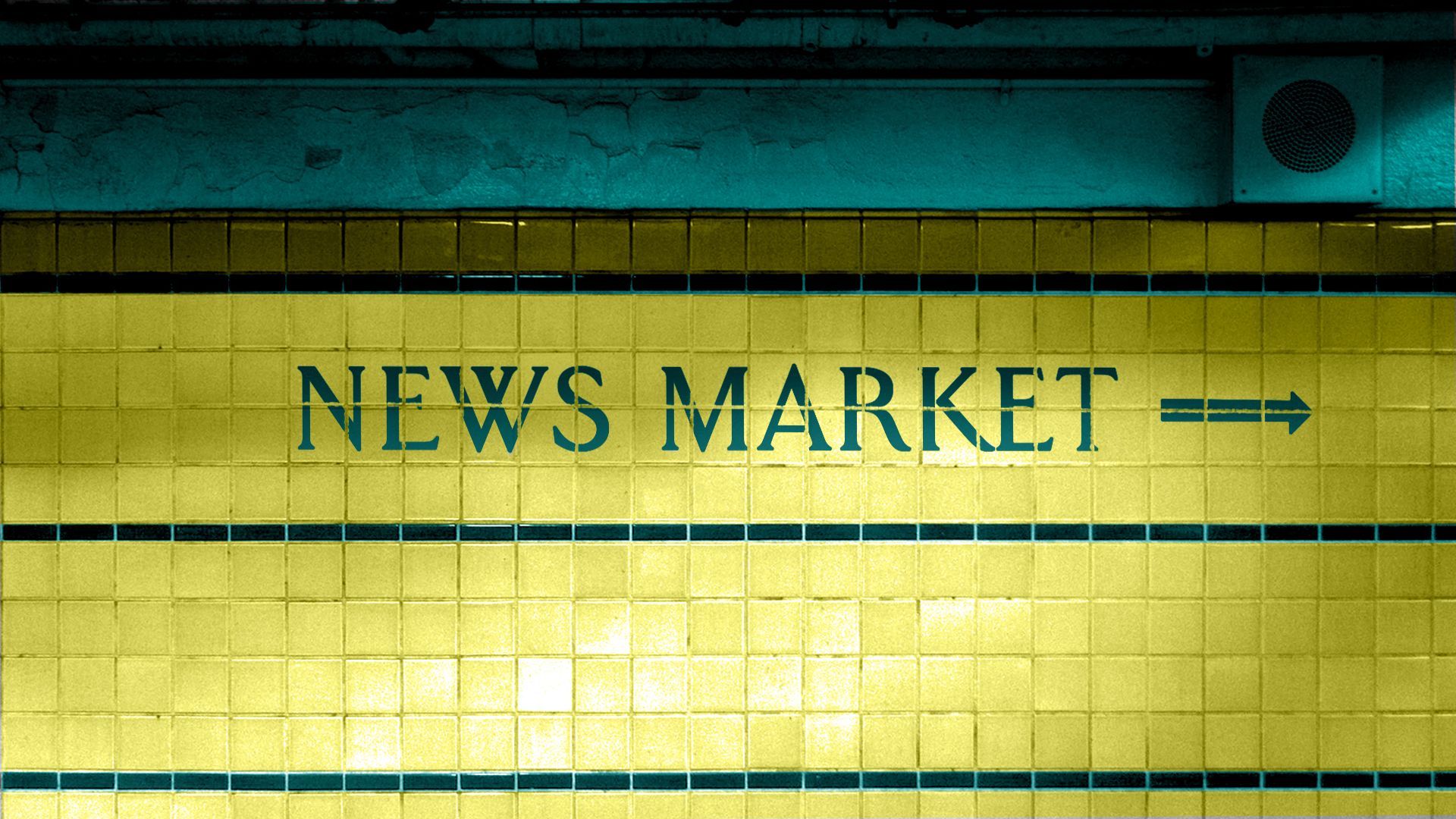 🔤 Eighth-grader Jack Jiang of Newlin Fell School and fifth-grader Arielle Dahan of Vare-Washington Elementary will represent Philly at this year's Scripps National Spelling Bee in Washington, D.C. (Billy Penn)
⛽ Philadelphia Gas Works will spend $6-8 billion over the next three decades to replace aging gas pipes, penciling in continued fossil fuel use and undermining the city's commitment to be carbon-neutral by 2050. (WHYY)
🏈 The Eagles signed linebacker Nicholas Morrow, who had a career-best 116 tackles last season while playing for the Chicago Bears. Morrow will help fill holes left in the Birds' defense after they lost starting linebackers T.J. Edwards and Kyzir White. (Inquirer)
🎭 Wanda Sykes drops her second Netflix comedy special on May 23. She'll tackle everything from the challenges of raising Gen-Zers to our hypercharged political climate. (Netflix)
👎 Temple University's faculty union will advance a vote of no-confidence in President Jason Wingard and a pair of other school officials. A formal vote is slated for the week of April 10. (FOX29)
4. 🐊 RIP Cayman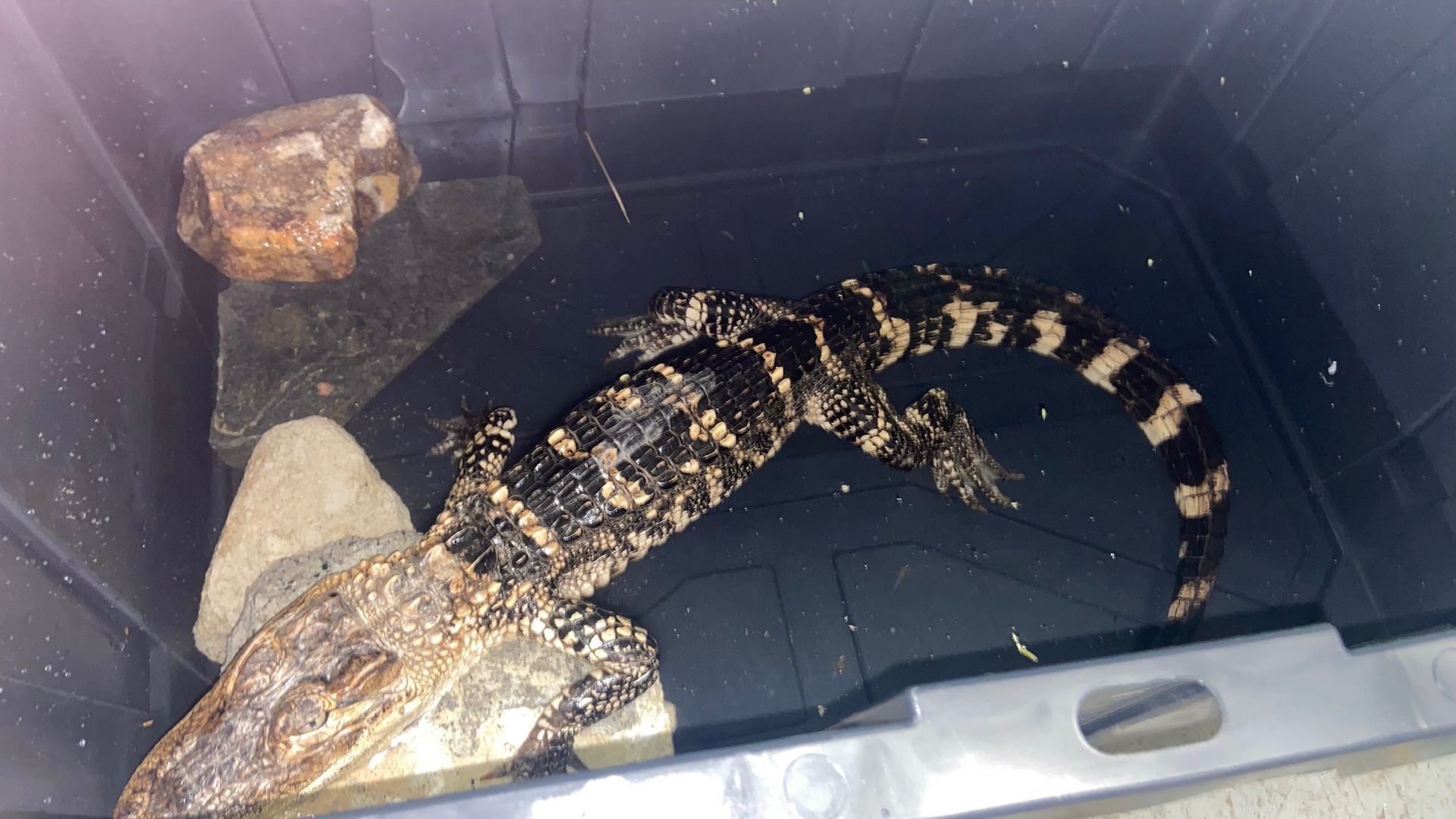 Pour one out for Cayman.
What's happening: State animal welfare officials sent him off to the great beyond after they couldn't find an animal sanctuary willing to accept him, Pennsylvania Fish & Boat Commission spokesman Mike Parker tells Axios.
Parker says he wasn't sure how long the agency waited before euthanizing the three-and-a-half-foot-long reptile.
The intrigue: The decision angered ACCT Philly, which initially took custody of the caiman found roaming FDR Park a couple weeks ago.
What they're saying: ACCT Philly executive director Sarah Barnett tells Axios the plan was for state officials to escort Cayman to a rehab facility in northeast Pennsylvania.
She says she wouldn't have relinquished custody if she knew putting him down was a possibility and that she can't "foresee a situation" in the future in which her organization works with the Fish & Boat Commission.
Flashback: ACCT Philly previously had success transporting animals to Maryland and New England.