Axios Philadelphia
August 03, 2023
☕️ Good morning, Thursday!
Today's newsletter is 862 words, a 3.5-minute read.
1 big thing: The man behind the leak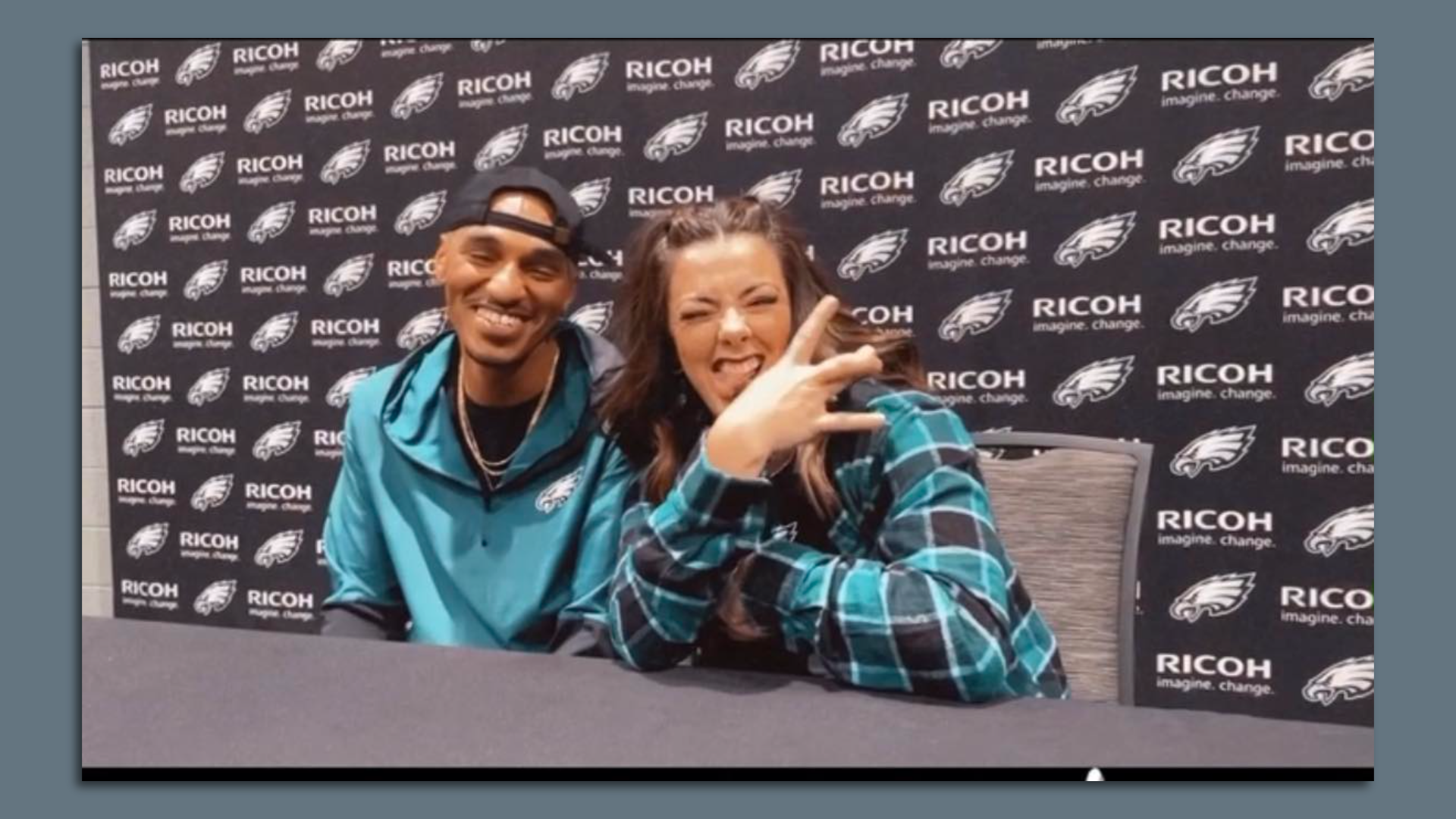 An Eagles superfan from West Virginia is responsible for Kelly Green-gate, last weekend's social media leak of the Birds' much-anticipated throwback jerseys.
Why it matters: Brandon Winston scooped everyone, including reporters who feverishly cover the team, and sent the Birds scrambling to release details about the jerseys days earlier than planned.
What happened: Winston, who has an Eagles-inspired man cave in his garage and a Goldendoodle named "Philly," tells Axios he stumbled upon photos of the '90s era-inspired jerseys by chance.
He then posted them to social media, tagging and thanking the team, all while not knowing they hadn't been made public.
Within hours, the Eagles confirmed they were legitimate. "Y'all better not leak the playbook next," the team said.
So, how did Winston pull off one of the biggest reveals in Eagles' history? Simple, he tells Axios.
Flashback: The 31-year-old woke up Saturday morning after a long overnight shift as a chemical mixer and went on the Eagles app, looking for tickets to the team's home-opener against the Minnesota Vikings.
He clicked on a "Go Green" tab, thinking he was being redirected to information about the team's recycling initiative.
Instead, he struck gold — or rather kelly green.
Staring back at him was a photo of QB Jalen Hurts, along with other Philly players, wearing the retro threads.
Winston took screenshots of the photos and sent them to friends. He also posted the images to the private Facebook fan page, BirdGang, and splashed them across X, the platform formerly known as Twitter.
What they're saying: He was shocked by the reaction: "Where the f--k did you find these at?" one of his friends wrote.
While getting ready to go to dinner with his wife, he noticed messages pour in from reporters.
"In my head, I'm like there's no way I'm the first person to see these pictures," Winston tells Axios.
Yes, but: Some refused to believe it, and Winston heard conspiracies that the images were doctored or that he hacked the Eagles' website.
Winston tells us he has no "tech-savviness" and the moment was "just meant to be."
Still, he has messaged the organization and players apologizing for the unwitting leak: "I bleed green. I would hate for them to be pissed at me."
The other side: The Eagles didn't respond to Axios requests for comment.
But they posted a self-deprecating GIF of Hurts shrugging his shoulders: "Yes, we know the internet is undefeated."
2. The heat wave is driving up gas prices
U.S. gas prices ticked up 15 cents in the past week, as the heat wave hitting Texas and Louisiana slowed oil refineries down.
Why it matters: The nation's mood runs on gas prices — when they're high, economic vibes worsen. And, rising energy prices keep inflation levels elevated, complicating the Fed's efforts to rein in higher prices, Axios' Emily Peck wrote.
Between the lines: Refineries, which turn crude oil into products including gasoline, don't function as efficiently in 100+ degree weather.
Meanwhile, demand for gas typically rises in the summer, and gasoline inventories in the U.S. are at their lowest July level since 2015, Patrick De Haan, head of petroleum analysis at GasBuddy, said in a note.
Yes, but: Prices are still nowhere near the high levels we saw last summer.
Zoom in: An average gallon of regular gas in Philadelphia is now $3.92, up 13 cents from last week, per AAA.
What to watch: Hurricane season. Severe weather could also impact refineries and push up prices.
3. News Market: VP comes to town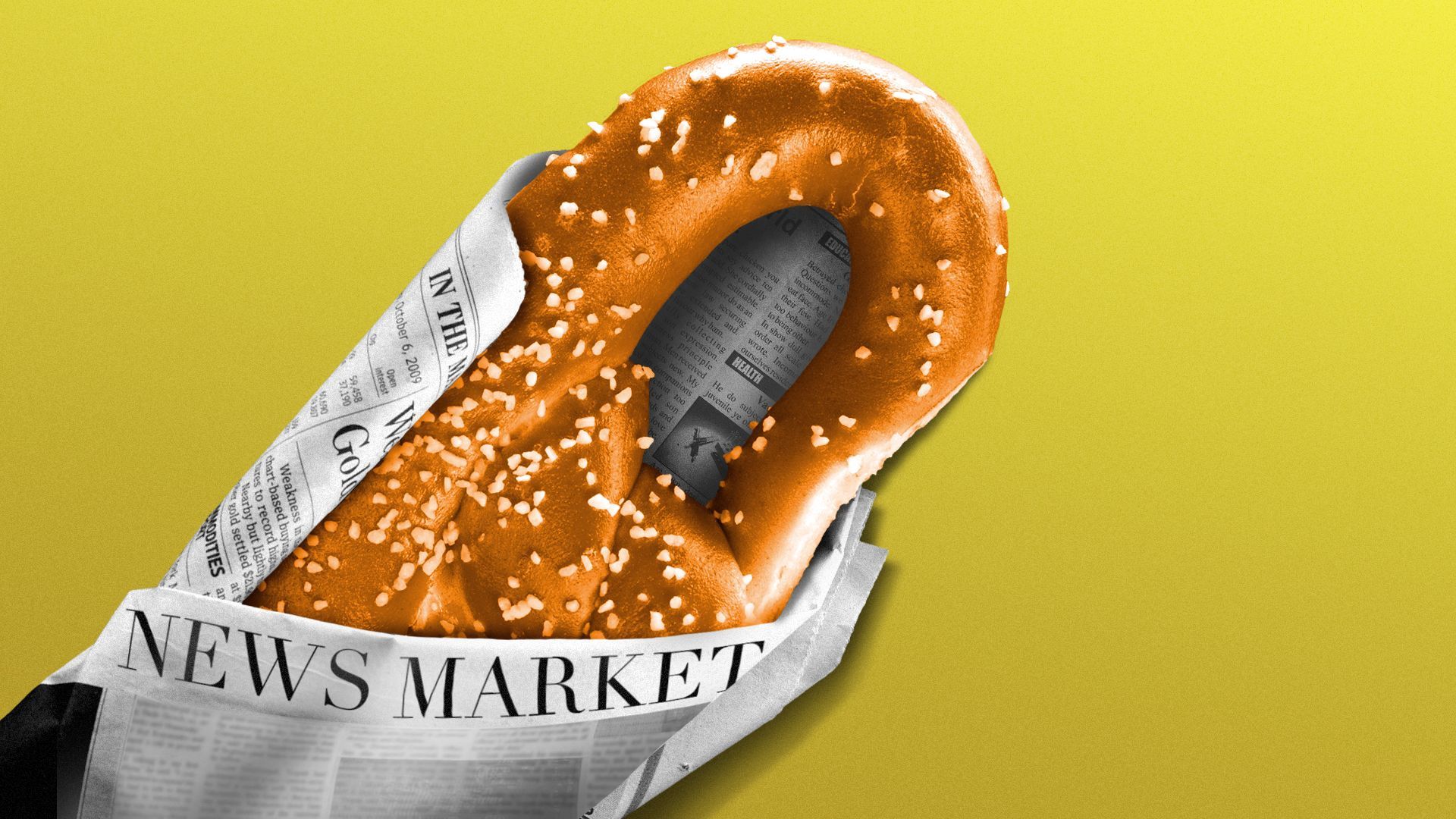 🇺🇲 Vice President Kamala Harris is coming to Philadelphia next week to announce a new workers' initiative. It's her second trip here in the last two months. (Inquirer)
🚨 Police are investigating how an explosive device ended up at an ATM located in a Northeast Philadelphia strip mall. No one was injured as the bomb squad and ATF disposed of the device. (Fox29)
🏀 Montrezl Harrell, one of the Sixers' best bench players, tore his ACL and meniscus, the team announced yesterday. He had just re-signed a one-year deal worth $2.9 million. (Sports Illustrated)
4. Weekender: Phillies, peaches and parties
🏀 A champ is crowned tonight. It's the last day of The Basketball Tournament at Drexel's Daskalakis Athletic Center.
The million-dollar single-elimination tourney, featuring the nation's best former college hoopers, returned to Philly for the first time since 2016. Doors open at 6pm. Tickets: $40.
🎥 Flix on over to Grays Ferry Crescent for tonight's showing of "Almost Famous," starting at 8:20pm.
"Attack of the Giant Leeches" is playing at 7:45pm at the Betsy Ross House's First Friday movie night. Tickets: $8.
👨🏾‍🍳 Chef and community activist Kurt Evans' Black Dragon concept, offering a mashup of Chinese takeout and soul food, runs Friday through Sunday from 11:30am-2:30pm at the Philadelphia Museum of Art.
⚾ The Phillies host a three-game series against the Kansas City Royals, beginning Friday at 7:05pm. Tickets: $23+
🍑 Just peachy! Peddler's Village kicks off the annual Peach Festival this weekend with plenty of treats, live entertainment and summer strolls. Saturday-Sunday, 11am-5pm.
🍺 The 2nd Street Festival in Northern Liberties has live music, hundreds of vendors and suds from your favorite breweries. Sunday, noon-10pm.
🙂 Isaac feels grateful for the blessings in his life.
🛠️ Mike's kitchen remodel is in the home stretch.
Today's newsletter was edited by Alexa Mencia.