August 05, 2022
🎉 T-G-I-F. The heat might be relentless, but the weekend is here!
Partly sunny, with a high near 92. Showers and storms likely after 5pm.
Today's newsletter is 730 words, a 3.5-minute read.
1 big thing: Rooftop soccer coming to Bok
A New York-based soccer center wants to take Philly's soccer scene to new heights — the rooftop of the Bok building.
Driving the news: Upper 90 Soccer Center, which runs a complex with turf fields and event and retail space in Queens, is coming to the former vocational school-turned-creative hub in South Philly this fall.
U90 founder Zac Rubin told Axios they're turning nearly 17,000 square feet of space, spanning two floors and a portion of Bok's rooftop, into a one-stop soccer spot.
The big picture: In a city that bleeds midnight green, where the Sixers and Flyers pack the Wells Fargo Center, soccer fandom can feel a bit sidelined. Union home games are relegated to 20 miles outside the city, and the closest big soccer retailer is in Cherry Hill, New Jersey.
What to expect: Renovations are underway to turn 6,000 square feet in the building's basement into a retail space, where U90 will sell soccer apparel, jerseys, footwear, balls, bags and more — plus, they'll offer customization. Sporting goods chain Soccer Post will run the retail operations.
A floor above, a gym in the former school will transform into indoor futsal courts, complete with a viewing gallery.
Then the remaining space on the rooftop will make for a turf soccer pitch, with the city skyline as a backdrop.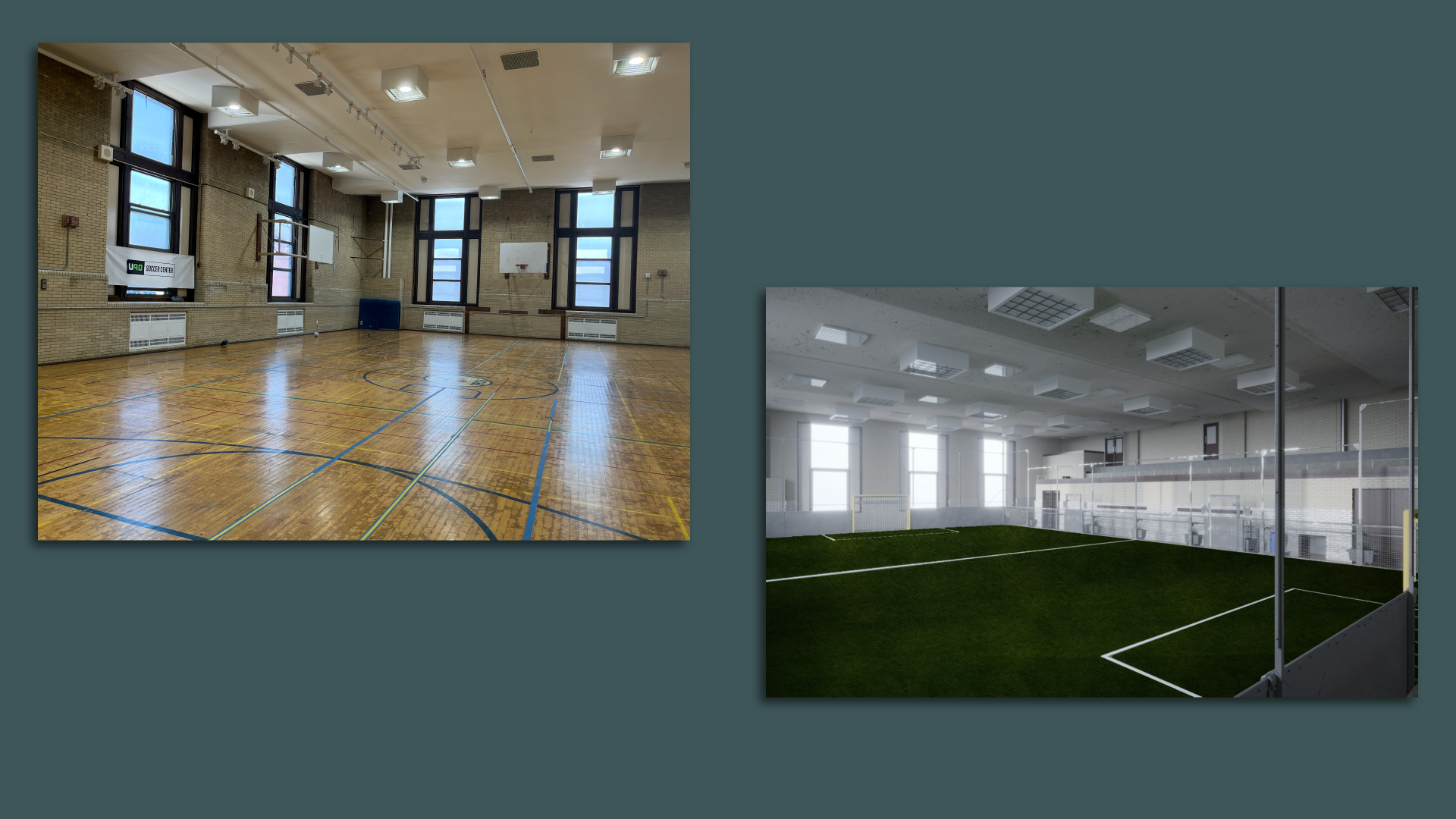 Rubin, who leased the space last year, envisions the complex as a place where soccer fans of all ages can come together to play games, pick up gear, watch matches and host parties.
With Southwark School just across the street, Rubin is looking into options to hold after-school programs in the space.
He also plans to list it on the app Just Play, where players can book a spot in pick-up games that U90 arranges by paying a fee.
What to watch: The World Cup in Qatar this November is expected to build more excitement around the 2026 games, when Philadelphia will be among more than a dozen sites in North America to host matches.
Rubin sees it as the perfect time to build on that momentum. He hopes to open in time to host watch parties this fall.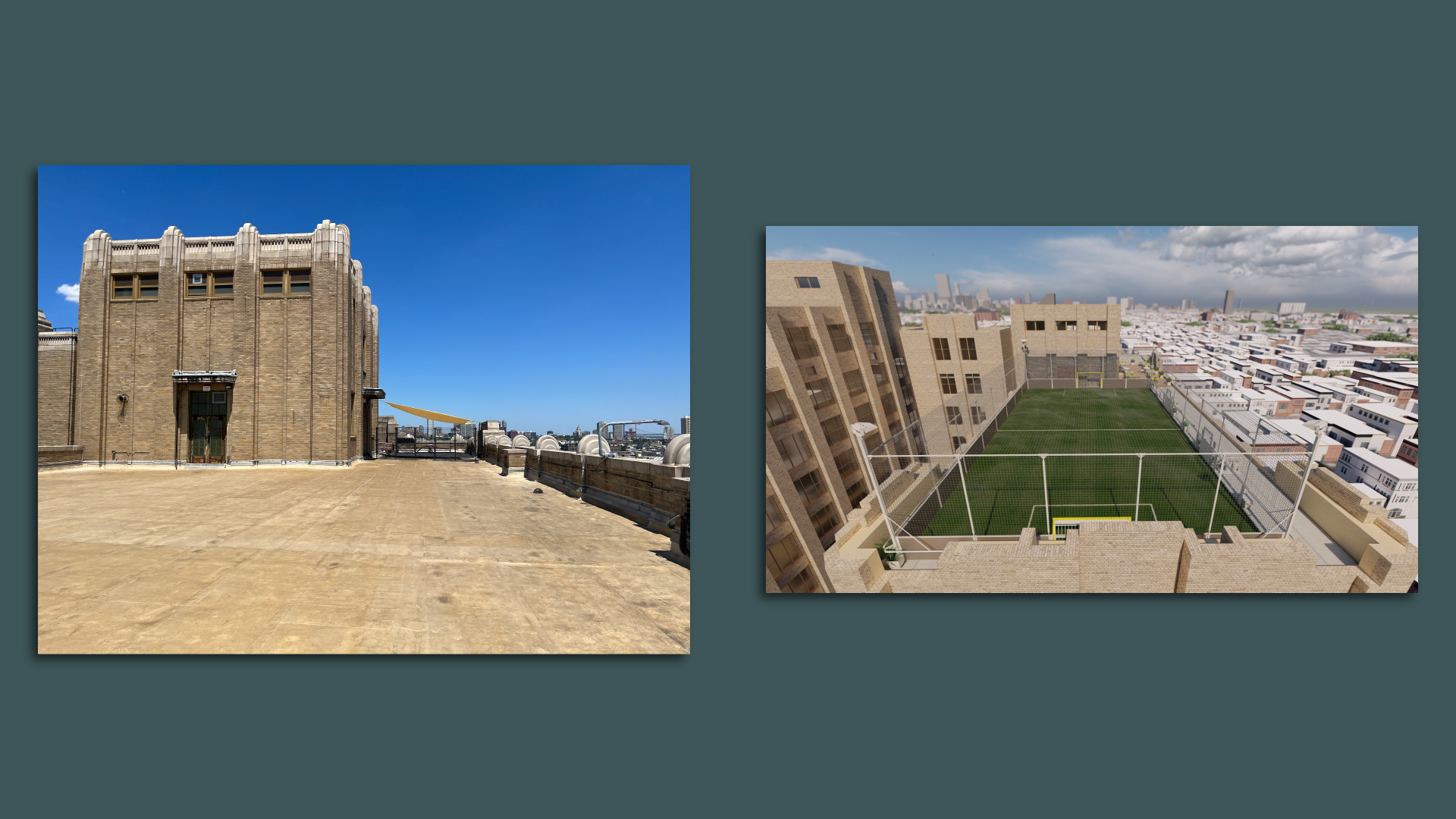 2. Tucked away in Queen Village
Instead of searching Zillow while you're bored to close out the workweek, let our colleague Brianna Crane do the work for you with this week's assortment of hot homes.
Our favorite is this Queen Village cutie, which packs a ton of charm into a small footprint. Sure, that yard might look tiny, but it exists — that's saying something in this neighborhood for under $300K!
And no traffic noise. You're tucked into your own little private courtyard in the middle of the block. (Admittedly, that might make garbage day a bit of a pain.)
Check out the rest of this week's hot homes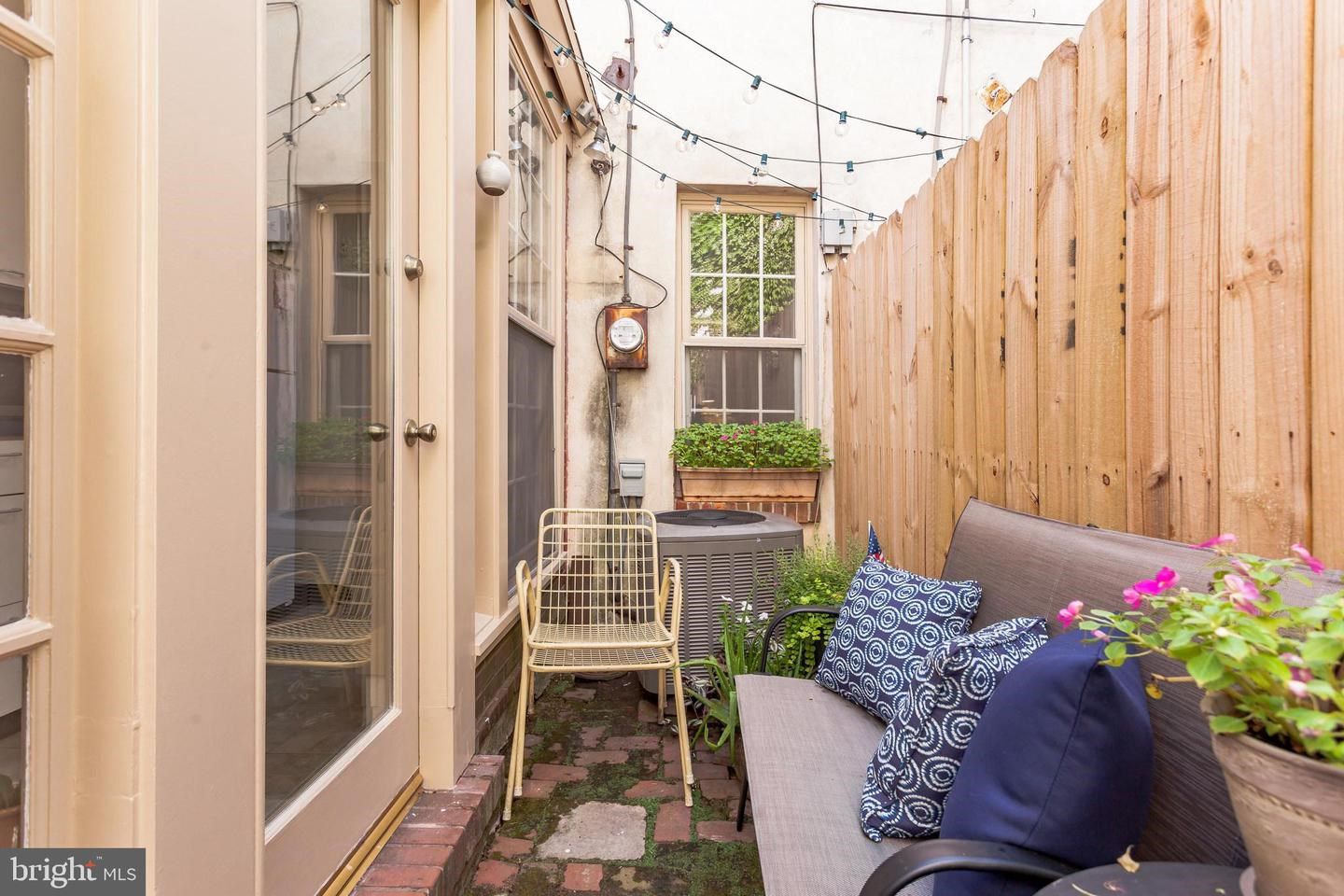 3. News Market
🏙️ Comcast is bringing its U.S. employees back to the office for three days a week, beginning next month. That includes 8,000 workers in Center City. (Inquirer)
💰 The city is giving $500,000 to the Abortion Liberation Fund of PA, which aims to "remove financial obstacles for people to access abortion care." (phila.gov)
✈️ American Airlines is slashing almost 2,000 flights from its schedule at PHL in September and October as it juggles staffing issues across its network. (Philadelphia Business Journal)
4. Weekender
🎉 The Adult Swim Festival is bringing music and comedy to the area around The Fillmore. Run the Jewels plays tonight, and you can catch Philly's own Tierra Whack and Hop Along later this weekend. Ticket prices vary per event. Full lineup.
🍦 Milk Jawn is opening its first brick-and-mortar location in East Passyunk at 5pm today, and the first 100 people to show up will get a free cup of ice cream.
🎥 The annual BlackStar Film Festival kicked off this week and runs through Sunday. Enjoy dozens of film screenings celebrating Black, brown and Indigenous storytellers from around the world. More info.
🍲 Head to Race Street Pier this Saturday for the family-friendly Celebrate Asia festival, with food from spots like Hardena and Tabachoy, music and cultural performances. Free, 1-5pm.
🥳 The 2nd Street Festival is back in Northern Liberties on Sunday! Dozens of local restaurants and vendors will be there, rain or shine. Free to attend. More info.
5. 1 pic to go
Check out this view of a man doing some cliff-jumping acrobatics to beat the heat yesterday at Wissahickon Valley Park.
Fly high toward the weekend, friends.