December 01, 2021
Happy December, or what we like to call "the Friday of the entire year."
☂️ Partly sunny with a high of 48, but it might be a good idea to grab an umbrella. There's a 30% chance of rain tonight.
Situational awareness: The group running Philly Pride 2022 is switching the dates of the LGBTQ+ event from the second weekend in June to the first.
It'll no longer conflict with the Odunde Festival — the longest-running African American street festival nationwide. (Go deeper via Billy Penn.)
Today's newsletter is 936 words — a 3.5-minute read.
1 big thing: Hundreds rally after students attacked on SEPTA
Hundreds of people rallied against Asian hate in Philadelphia Tuesday after a group of teens attacked students of Asian descent on a SEPTA train last month.
Driving the news: Protesters gathered outside the Municipal Services Building in Center City and the School District of Philadelphia headquarters, holding signs that read, "Stop Asian Hate" and "Public Safety for All."
Many expressed support for Central High student Christina Lu, one of the victims who was attacked after trying to intervene.
The big picture: Anti-Asian hate crimes jumped over 76% nationwide from 2019 to 2020, according to updated FBI data.
The incident: Several teen girls were caught on camera attacking a group of students of Asian descent near SEPTA's Erie station on Nov. 17.
In one SEPTA surveillance video, the attackers can be heard using racial slurs.
A video of 18-year-old Lu being assaulted was shared on social media.
The response: The Philadelphia District Attorney's Office filed charges against four teenagers, including multiple counts of aggravated assault, ethnic intimidation, recklessly endangering another person and disorderly conduct.
SEPTA is working with the School District of Philadelphia and the Philadelphia Police Department.
The transit agency has also assigned an officer to ride the Broad Street Line that departs from Olney Transportation Center after school dismissal.
What they're saying: "Everyone has been calling me a hero, but I really am not," Lu told the crowd on Tuesday, CBS Philly reported. "I'm just an ordinary girl from an ordinary family who saw people in need of help and so I tried to help."
Lu said she'll continue to stand up against bullying and violence.
Protester Matt Zhang told Axios that he attended the rally to support Lu and the Asian community.
"I want everybody to be safe no matter if they are at school, on a bus or a train," Zhang said.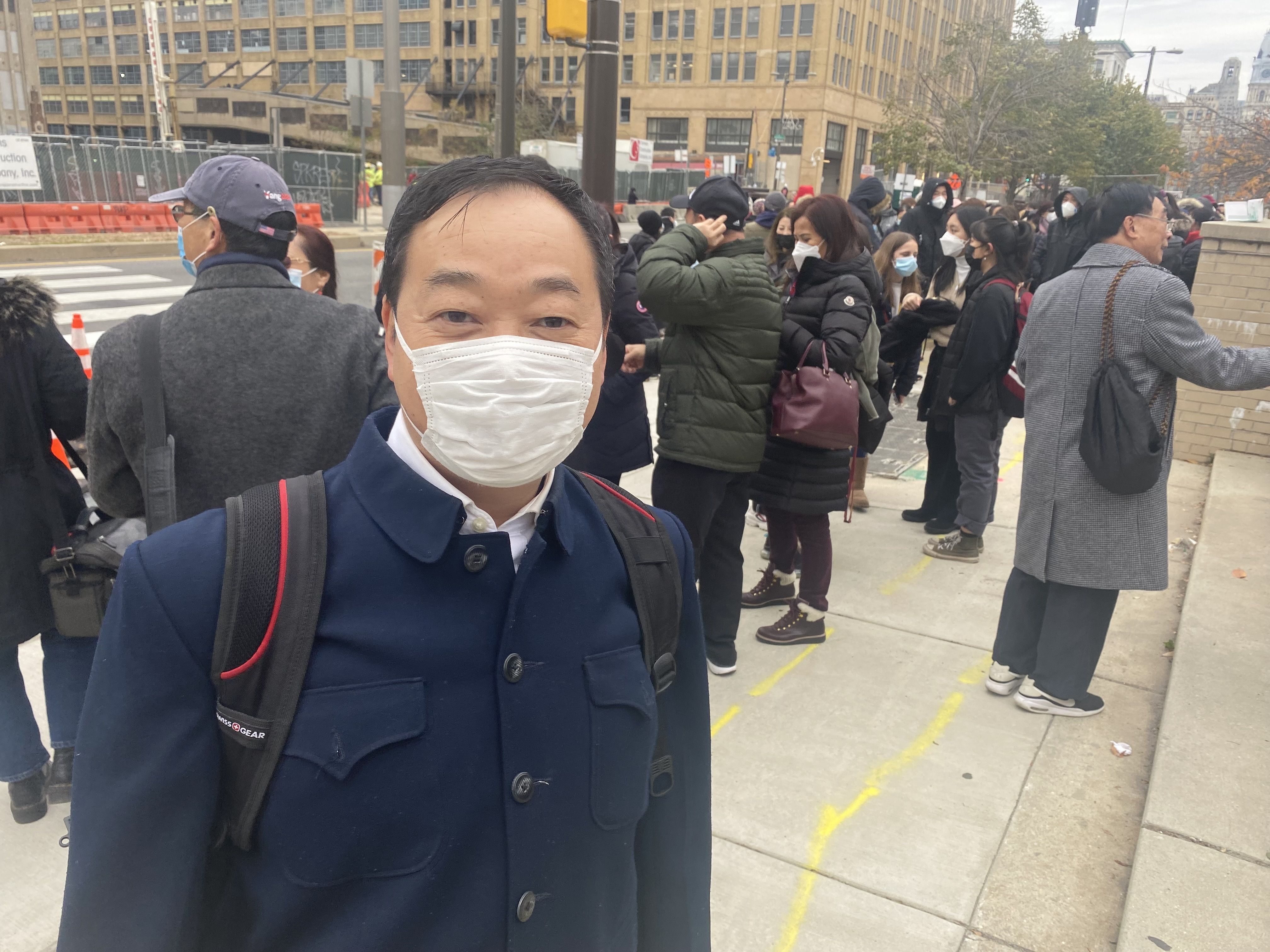 Of note: Philadelphia School District spokesperson Monica Lewis told Axios the district has "zero tolerance for bullying and harassment of any student."
2. Ben Franklin Parkway's new high-rise
Philly's iconic Benjamin Franklin Parkway is getting a new addition, and it's 34 stories tall, curvy and lined with bronze tones.
What's happening: Real estate investment firm EQT Exeter recently unveiled the final renderings for Two Cathedral Square in Logan Square.
The developer says the 470-foot building will bring a heap of new work, retail and residential space to the area.
State of play: The site, located adjacent to the Cathedral Basilica of Saints Peter and Paul, is the parkway's first office building in nearly four decades.
The project costs are expected to exceed $400 million, EQT Exeter principal Bryan Lamb told Axios.
The Archdiocese of Philadelphia, a partner in the development, will issue a ground lease to EQT Exeter for 99 years.
Flashback: The archdiocese pitched building a high-rise beside the basilica in 2016 as a move to boost its cash-strapped finances amid dropping church attendance.
The archdiocese declined to comment.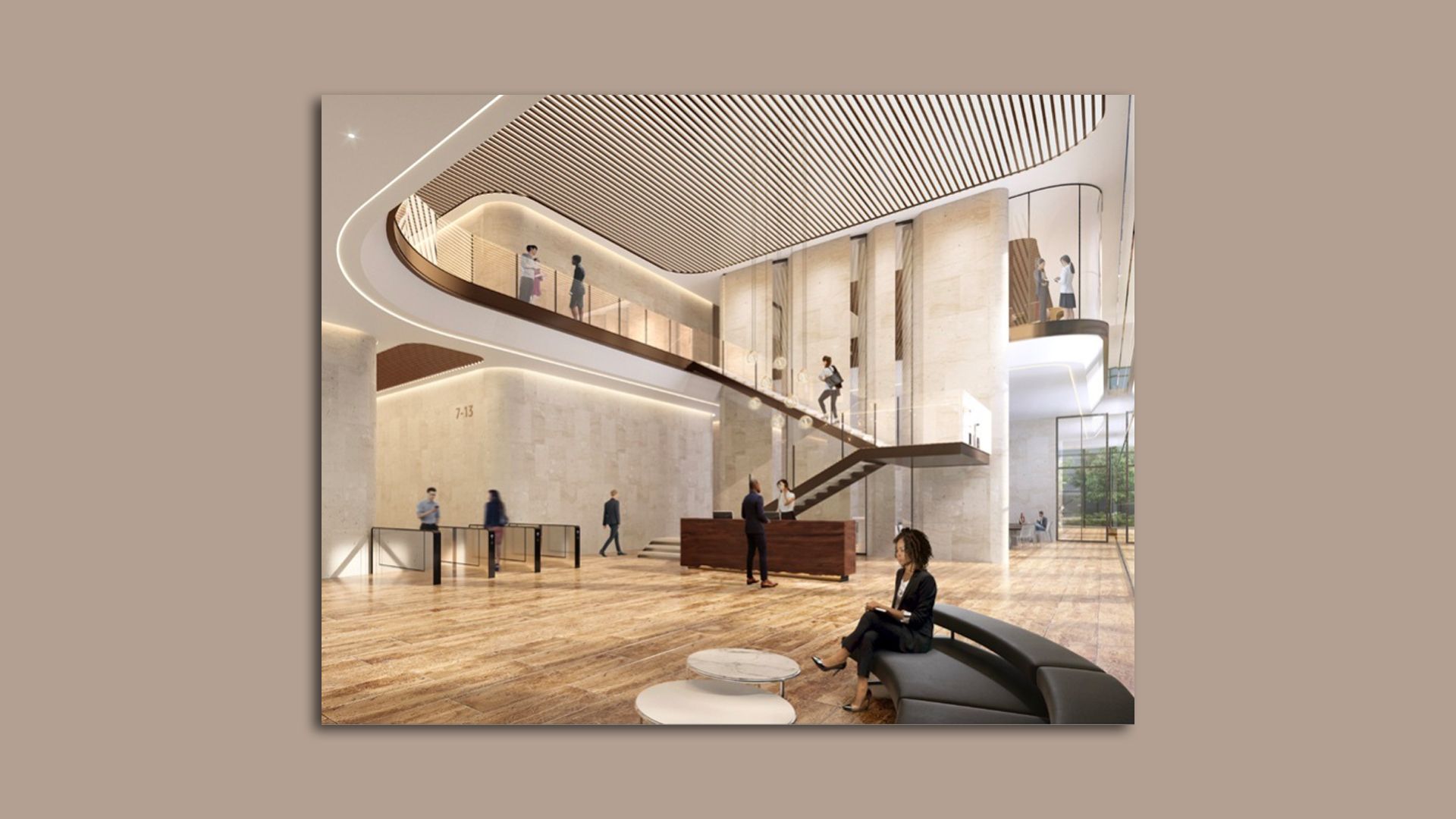 By the numbers: Two Cathedral Square will include:
450,000 square feet of office space, 250,000 square feet of residential rental space and 4,500 square feet of first-floor retail space.
Amenities: Five terraces, which include roof gardens and a pool.
Between the lines: Two Cathedral Square will be the second of two phases at the 2.3-acre site.
A 23-story tower, dubbed One Cathedral Square, broke ground in November 2020 behind the basilica.
The first phase includes 273 residential units with retail on the ground floor. Some units are expected to become available by September 2022, Lamb said.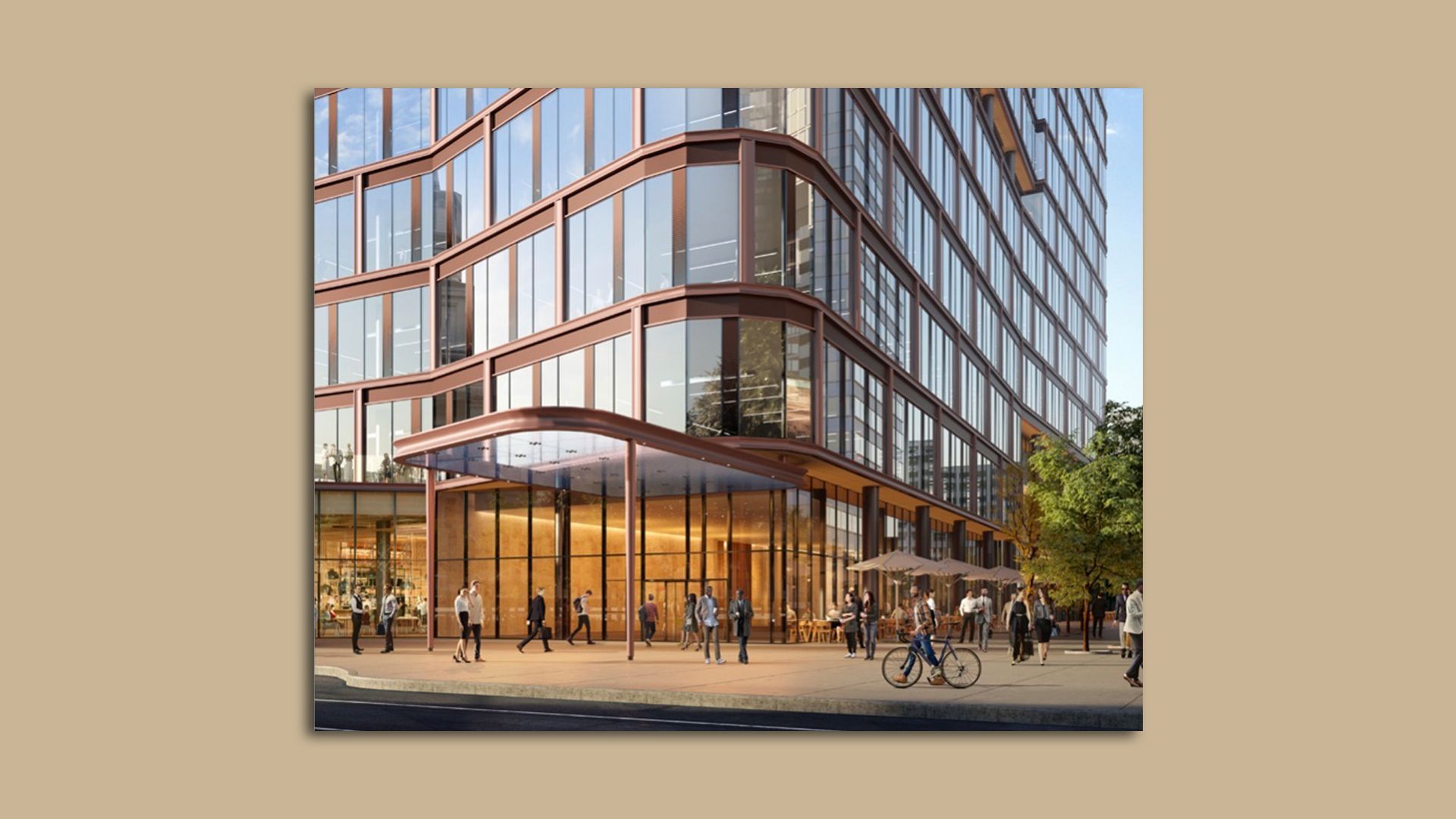 What they're saying: The development's location — near the Parkway Central Library and other city landmarks — makes the project unique, said Mitch Marcus, a managing director for JLL, the leasing broker for the development.
"There's nothing like it," Marcus added.
What to watch: Construction has yet to begin, but the completion date is expected to be late 2023, subject to EQT Exeter securing an anchor office tenant.
Potential rents for the residential apartments have yet to be determined, Lamb said.
3. News Market
💸 A large donation from shoe designer Stuart Weitzman to the National Museum of American Jewish History will allow the museum to buy back its Old City building, which it lost to bankruptcy. (Philadelphia Business Journal)
😷 Pennsylvania's face mask mandate for all school students and staff is reinstated — for at least a week — thanks to a ruling from the state Supreme Court. (KYW Newsradio)
4. GOP election politician to head good government group
Commissioner Al Schimdt is set to lead the local government watchdog group Committee of Seventy next year.
Driving the news: The nonprofit named Schmidt as its new CEO, starting Jan. 3, 2022, according to a statement released Tuesday.
Why it matters: Schmidt, the sole Republican on the election board, is known for defending the integrity of Philadelphia's electoral process in 2020 amid former President Trump's baseless claims of voter fraud.
What they're saying: "Following the unprecedented 2020 presidential election, the voting process in Philadelphia would not have been the success that it was without the work of the Committee of Seventy," Schmidt said in a statement.
The Committee of Seventy's current CEO, David Thornburgh, called Schmidt "a perfect fit."
5. Philly's most popular WeWork locations
Hybrid working isn't going away anytime soon, and some Philadelphians are opting for coworking spaces.
Commercial real estate company WeWork tells Axios its bookings have grown an average rate of 43% month over month from December 2020 to October 2021 through its On Demand program in the city.
Most popular Philly locations:
1900 Market St. in Center City.
1100 Ludlow St. in Center City.
1010 N Hancock St. in Northern Liberties.
🤔 Mike is wondering what is going on with state politics after learning that celebrity doctor Mehmet Oz officially entered the Republican primary for the U.S. Senate seat in Pennsylvania.
🎁 Taylor is ready to begin watching cheesy Hallmark holiday movies.