November 01, 2021
🦃 Happy Monday and Turkey Month. Today's a cloudy day with highs in the low 50s.
The small town of Johnson is bustling. So much so, we thought we'd dedicate a whole newsletter to it. Enjoy.
Situational awareness: Join Alex tomorrow at 12:30pm for a Smart Take event on workforce development in NW Arkansas. Guests include NorthWest Arkansas Community College president Evelyn E. Jorgenson and Excellerate Foundation president and CEO Jeff Webster. Register here.
Today's newsletter is 783 words — a 3-minute read.
1 big thing: Johnson Square isn't slowing down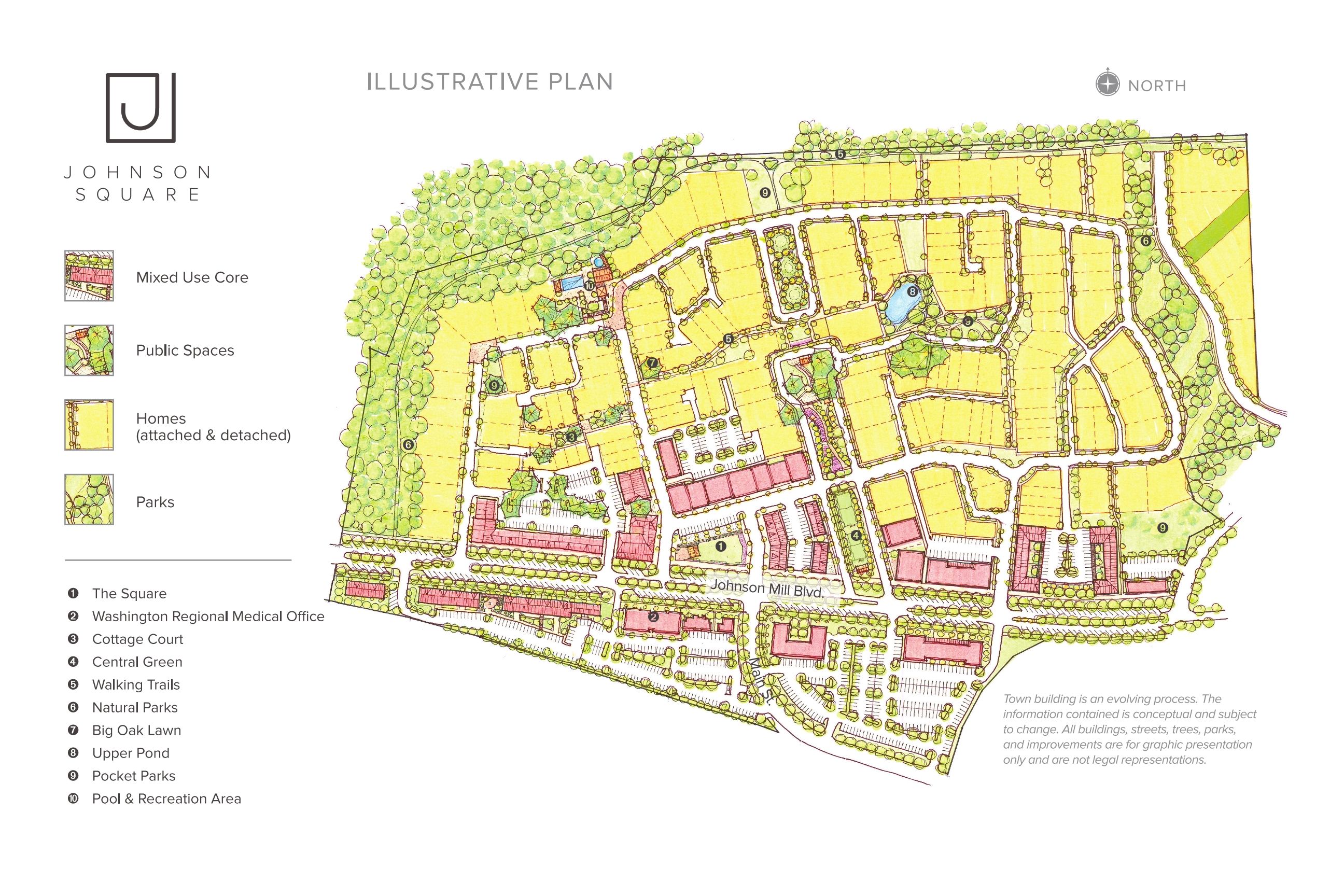 You've probably seen those new brick buildings on Johnson Mill Boulevard, housing businesses like a pizzeria and health clinics. That's all part of the in-progress Johnson Square.
State of play: Johnson Square has been in the works since 2015 but has gained traction lately with residential and office space popping up, plus back-to-back restaurant openings this year.
40 residential units are open, including 25 apartments, three houses, six townhomes and six cottages, Ward Davis of High Street Real Estate and Development tells Axios.
About 620 to 720 residential units will likely be developed.
The big picture: The 80-acre development screams "live, work, play."
With a 25 mph speed limit and on-street parking, Davis says the goal is to establish a downtown area for Johnson Mill Boulevard and give NWA residents an affordable downtown option.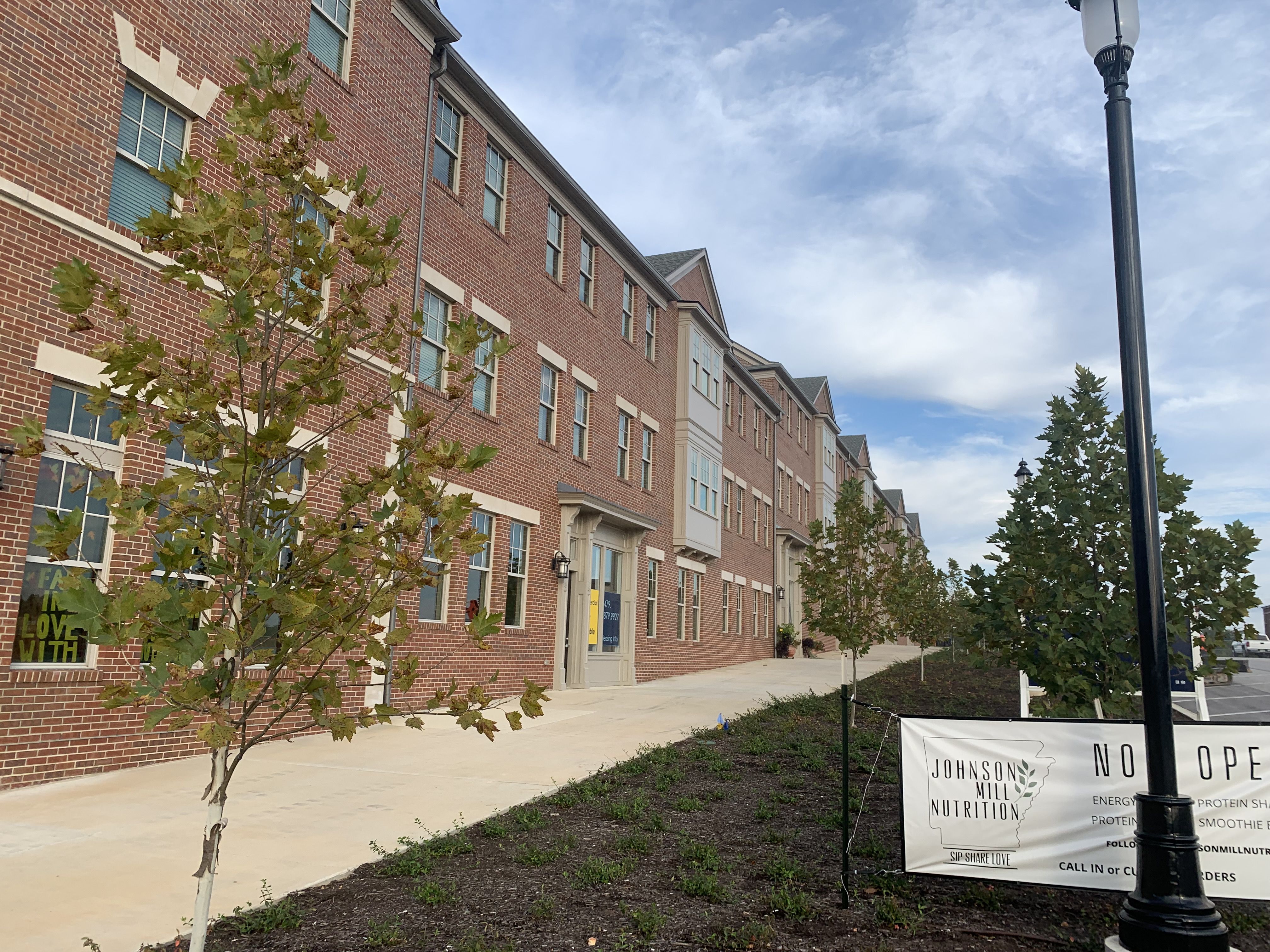 1 cool thing: A small park is in the works just across from the building that houses Pizzeria Ruby and Hail Fellow Well Met — or as Davis calls them, "the places that bring heart and soul to the neighborhood."
The park will have space for hammocks, tables and small concerts.
What's next: Expect steady construction over the next five or so years. High Street plans to pursue an entertainment district, which allows people to drink alcoholic beverages outside within certain boundaries, Davis says.
"We would love to get a brewery out here," he says.
A pediatric clinic is expected to open in summer 2021, and a counseling clinic is also in the works. More restaurants and a hair salon would be ideal additions, Davis says.
2. Hail fellow brunchers and winos
Alex, here. Hail Fellow Well Met — it's a creative name for a wonderfully unique project by Onyx Coffee Lab.
I'd be remiss if I didn't say this first: This is such a beautiful space.
The soft greens, natural wooden elements, hanging greenery and high ceilings make the inside feel so airy and light.
And the floor-to-ceiling greenery, string lights, bar and seating make the outdoor patio hard not to notice from the street.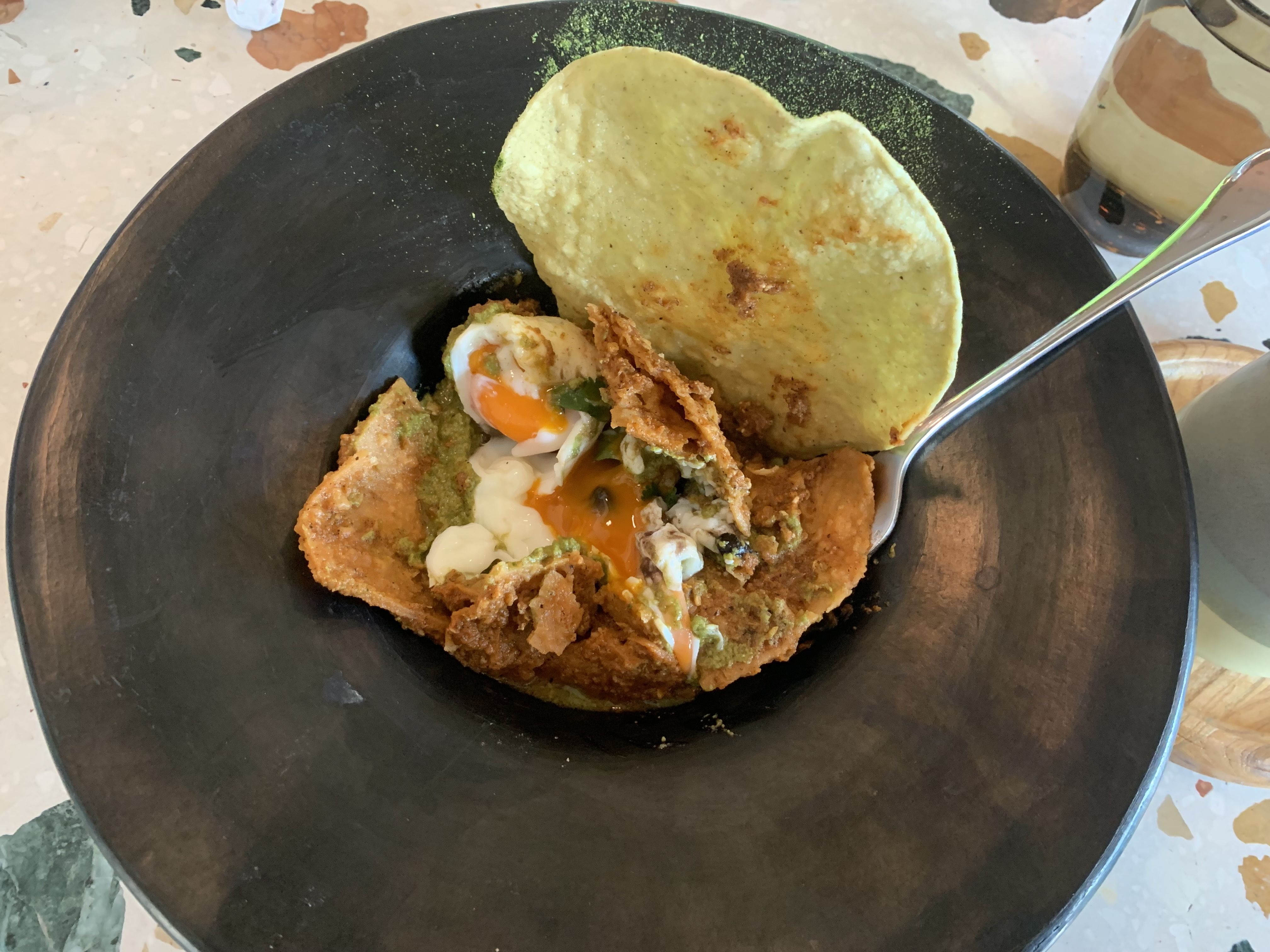 The menu: Lots of twists on standard brunch and café-style foods, even though brunch officially is only Saturday and Sunday.
I had the chilaquiles (heritage eggs, black beans, salsa, jalapeños, sour cream, avocados and tortilla). It's a delicious — and not-too-spicy — option.
Bonus: I also sampled the samcake (soufflé cake, orange, pecan, sour cream, maple, pistachio). It's like a gourmet chef was told to make a pancake, scoffed and gave us this.
🍷 For the nighttime crowd: Friday and Saturday nights are all about the bar out on the patio.
1 cool thing: In case a coffee shop, restaurant and bar weren't enough for you, Hail Fellow Well Met also has a market where you can buy bottled wines, treats like macaroons and basics like milk, eggs, bread and cheese.
3. City steps up
In a special election this summer, about 74% of voters approved a 1% tax on hotels, motels and prepared food to go toward city parks.
Separately, about 74% of voters also approved an additional 1% sales tax to cover a $7.3 million bond for street improvements.
In June, the city council voted to allow the mayor to apply for a matching grant of up to $250,000 from the Arkansas Department of Parks, Heritage and Tourism, according to council meeting minutes.
We'll be sure to follow up on these developments. Stay tuned.
4. 🍕 Pizzeria Ruby
Alex, again. I also gave Pizzeria Ruby a try. (OK, I tried it twice. Just, you know, doing my due diligence.)
🏆 This place has won my friends and me over. And not just because I can get $5 house wine, although that's a draw.
The ingredients are fresh, and they have the cheese blends down to a fine art. Hope you like thin crust and generous toppings.
Pizzeria Ruby has every combination of the classics, plus 10 specialty pies, and something for everyone. My second trip included two ends of the spectrum: the Fenway (red sauce, sausage, veggies) and the White (fontina, ricotta, onion jam).
The scene: A classic, casual and lively pizzeria with indoor, bar and patio seating.
1 cool thing: They actually sell pizza by the slice, so you can go for lunch without committing to a ton of leftovers.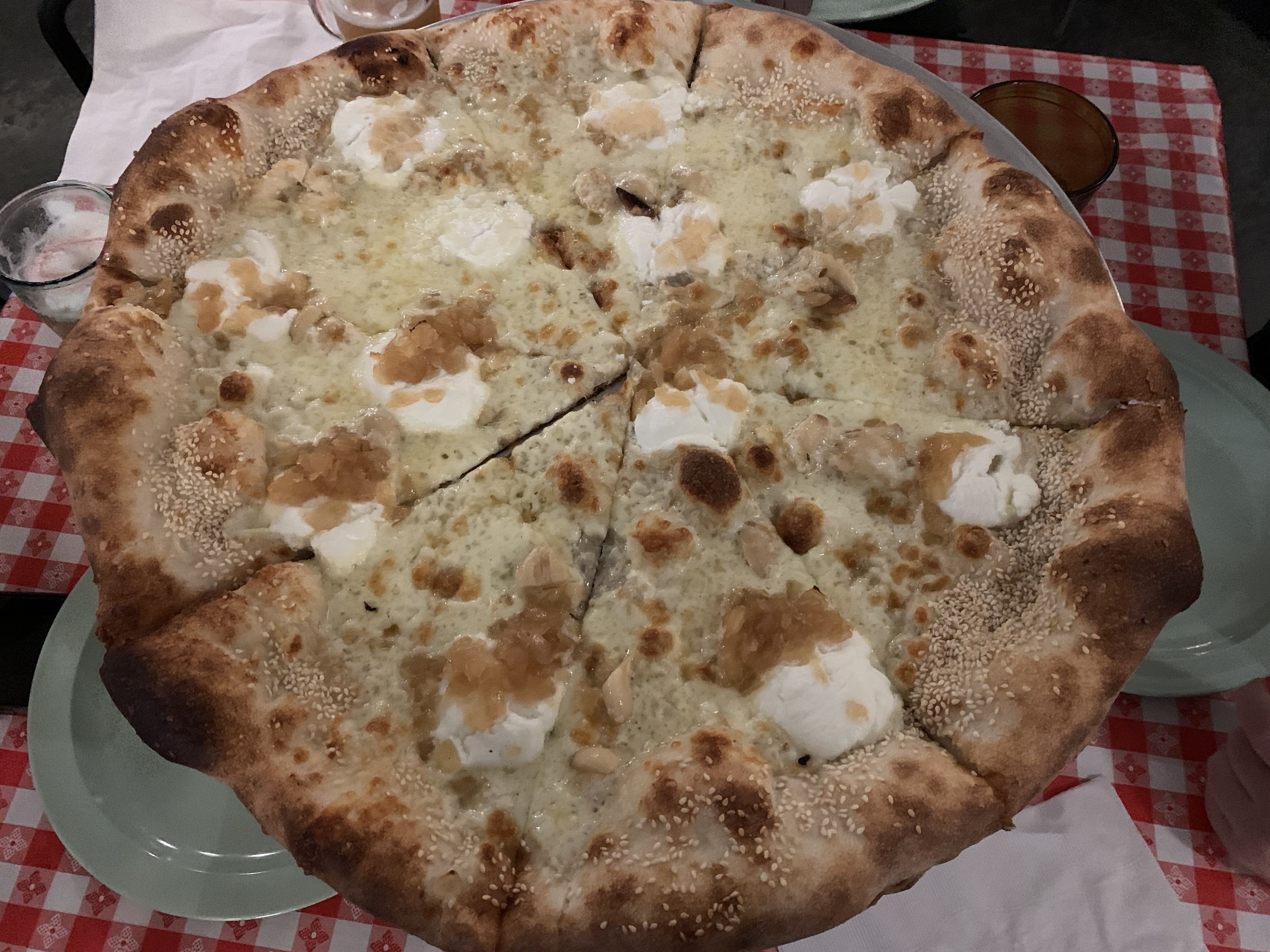 5. Kitchen sink: In other news
🗳 Jim Bob Duggar will run for the state senate seat that opened up after Lance Eads announced his resignation last week. (Associated Press)
😷 Masks are no longer required in Fayetteville Public Schools. (Fayetteville Flyer)
🚨 Regulators in Arkansas are not taking strong stances against the use of ivermectin to treat COVID-19 despite safety warnings. (Arkansas Democrat-Gazette)
🏗 About 140 residential units and six commercial spaces might be coming to downtown Springdale. (Northwest Arkansas Democrat-Gazette)
Remember: It's your last day to send us Halloween photos, so do that now!
👻 Alex spent Halloweekend in Little Rock and paid an overdue visit to White Water Tavern.
🏝 Worth is on vacation.