September 27, 2021
Happy Monday. Thanks for starting your week with us.
Today's weather: Alex broke out her sweaters too early. We're looking at the high 80s today.
Today's newsletter is 877 words — a 3-minute read.
1 big thing: Why cyclo-cross is a BFD
Fayetteville built it. Now the town is waiting for pro cyclists and spectators from around the world to come.
What's happening: The city's new cyclo-cross course at Centennial Park is mostly complete (except for some amenities, like the bathrooms). It will soon host its first major Union Cycliste Internationale (UCI) events: a World Cup competition on Oct. 13 and the World Championship on Jan. 29.
Why it matters: The World Championship has been held in the U.S. only once before — in Louisville, Kentucky in 2013.
Though it's a relatively small sport, holding the championship in the U.S. is the equivalent of moving baseball's World Series to Belgium for a year.
As many as 6,000 European spectators and athletes are expected to attend in January.
Flashback: These events have been in the works for two and a half years when UCI first announced Fayetteville as the host for the 2022 World Championship.
How it works: Cyclo-cross is often compared to NASCAR. That's because riders can take pit stops, where they might trade out a bike that's too muddy.
Races are about an hour, and the track is just under two miles.
The average time for the first two laps determines how many laps that race will require.
They race rain or shine. If the track is too muddy, competitors hoist the bike and run.
There are women's and men's elite and junior categories.
The big picture: The permanent features at the 228-acre Centennial Park will have a long-lasting impact on cycling in NWA, Brannon Pack, director of cycling tourism for Experience Fayetteville, told Axios. Those features include the cyclo-cross track and a separate mountain bike trail.
Several features — like a double-horseshoe and pedestrian tunnels — were built to host cyclo-cross events, and there is no other course like it in the U.S.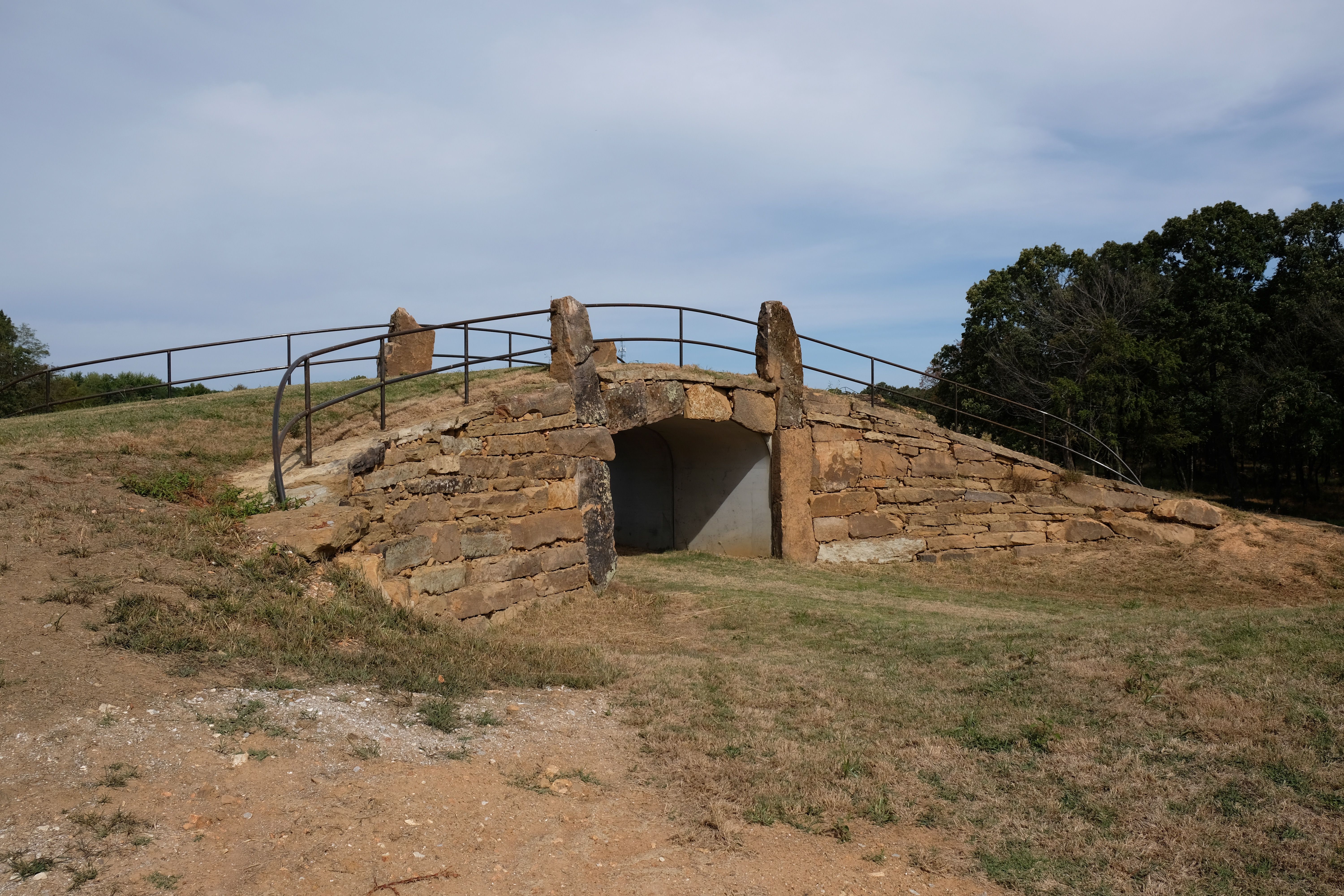 Bonus: What makes cyclo-cross worthy of your time
The intrigue: There are five things that set cyclo-cross apart from other cycling sports.
Fans get a front-row seat. Spectators are encouraged to move around the course — even inside the track — while races are underway.
The track is made of what is native to the host's geography. In Fayetteville's case, the track is grass. Yes, grass.
The track is wide, so riders are often three or even five across. There's lots of passing and action. The turns aren't gentle — they're usually 90 degrees.
It's a winter sport, so it's part of year-round training for some pro cyclists, including Tour de France competitors like Wout van Aert.
Organizers and riders want it sloppy. The worse the conditions the better, so bring on rain or snow. And since Centennial Park is on Millsap Mountain, biting wind is almost guaranteed.
2. Vaccinations going in the wrong direction
COVID-19 vaccine doses in the state continue to trend down after seeing a major spike this summer in response to the surge in cases, hospitalizations, and deaths.
Why it matters: Even with the influx of vaccinations in July and August, more than a third (about 36%) of Arkansans 12 and older remain unvaccinated. Health experts have stressed nearly everyone needs to get vaccinated to get the pandemic under control.
By the numbers: About 90% of people hospitalized for the coronavirus in Arkansas since Feb. 1 has been unvaccinated, according to the Arkansas Department of Health. About 88% of deaths are among the unvaccinated.
What's next: Vaccines for kids under 12 may be coming soon. Pzifer-BioNTech recently announced a lower dose of its vaccine is effective in children. However, the company needs to submit an application to the FDA for emergency use authorization for younger kids.
Also, we don't know exactly how many unvaccinated Arkansans will be impacted by President Biden's vaccine mandates. Those mandates include one that requires employers with over 100 employees to require vaccines.
3. Kitchen Sink: all the other news
🏍 Bikers are still coming to Fayetteville despite Bikes, Blues & BBQ being postponed. (Northwest Arkansas Democrat-Gazette)
🙂 Walmart and J.B. Hunt have added mental health resources for employees. (Talk Business & Politics)
🚓 Police cars are about to look less like police cars to help catch excessive speeders. (Arkansas Democrat-Gazette)
🚐 "Van life" is getting its own celebratory rally. Vanarchy, set for Sunday, will consist of people showing off their vans, food trucks, and live music. (Fayetteville Flyer)
📺 Little Rock's KATV news director, Nick Genty, has been fired for an on-air sight gag where the anchor and meteorologist wore wigs that many viewers found racist. (Arkansas Times)
4. 1 fun thing: Thomas Rhett tix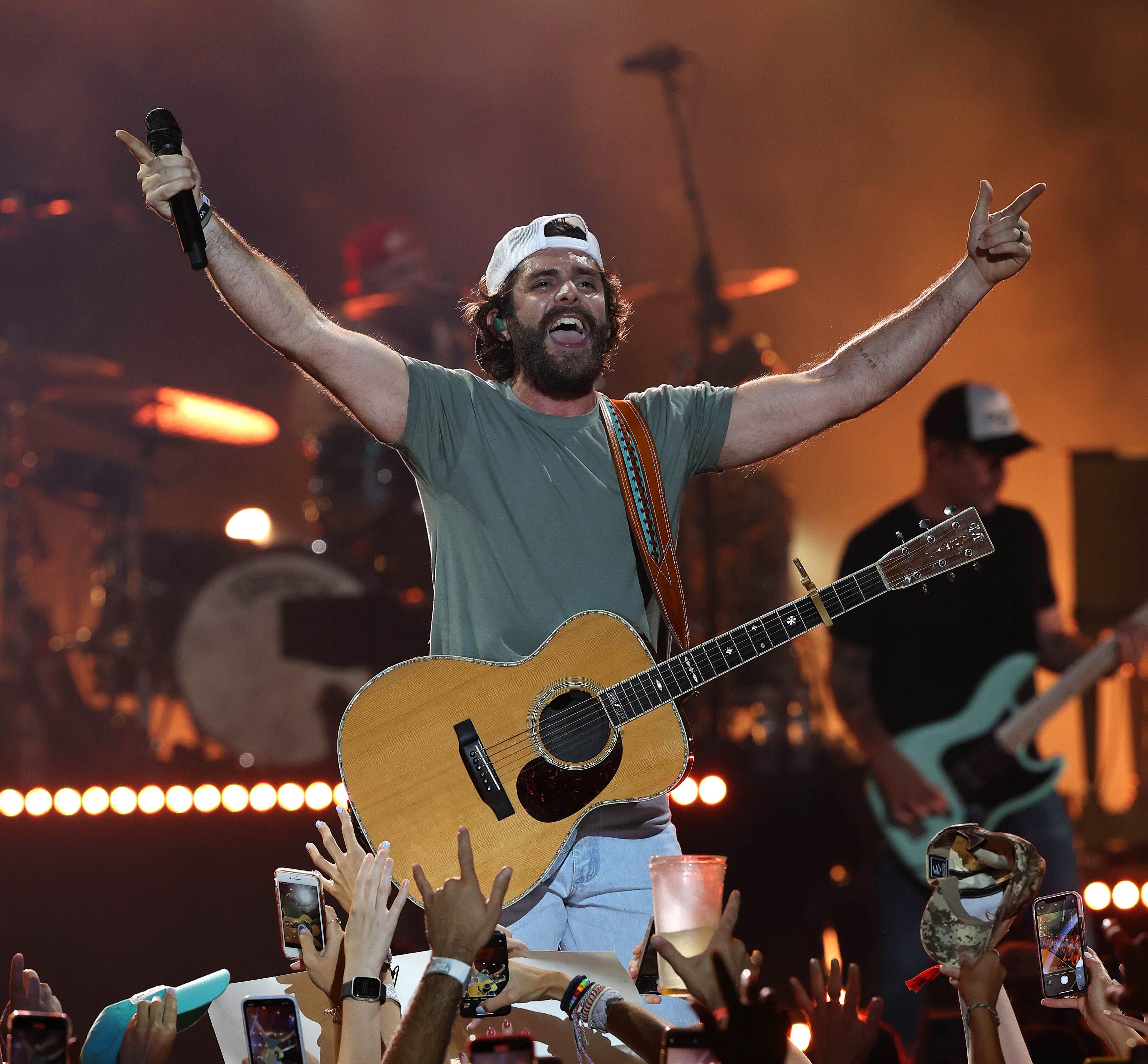 This weekend's Machine Gun Kelly concert is sold out, but it's not too late if you want to plan on going to Sunday's Thomas Rhett concert at the Walmart Arkansas Music Pavilion.
The country star will be playing with Cole Swindell and Gabby Barrett.
Details: Gates open at 6pm Sunday. Tickets start at about $60 and go up to $260.
5. Not this time, A&M
Sam Pittman's Arkansas Razorbacks broke a nine-year losing streak to Texas A&M Saturday.
The No. 16 Hogs beat the No. 7 Aggies 20–10.
The Razorbacks are now 4–0.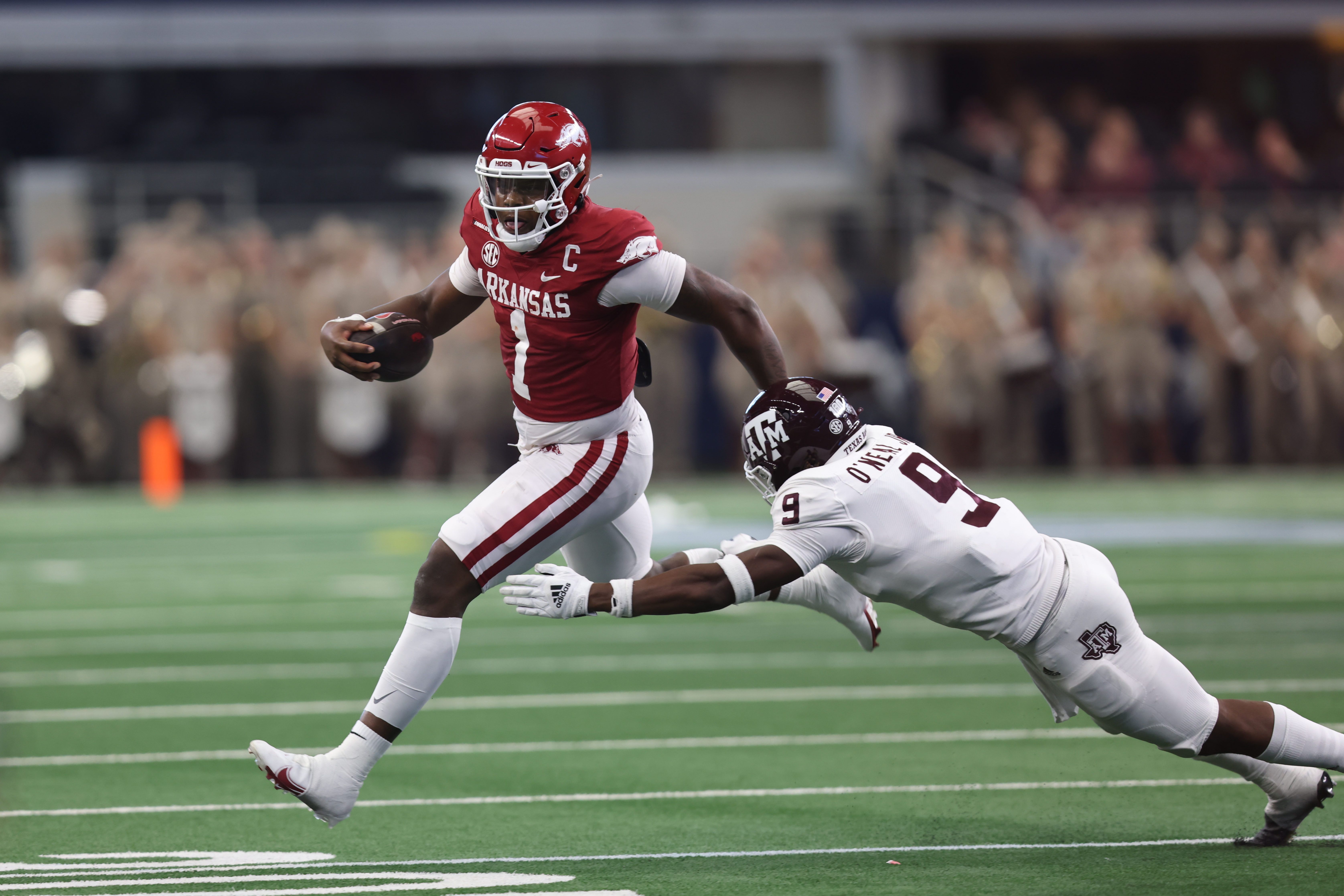 The victory was even sweeter since it happened at AT&T Stadium in Texas.
Jerry Jones, the owner of the Dallas Cowboys and co-captain of the 1964 Razorback national champion team, was there to celebrate.
We're hoping Pittman can leverage this momentum as the Hogs face the No. 2 Georgia Bulldogs — also with a 4–0 record — this Saturday at 11am.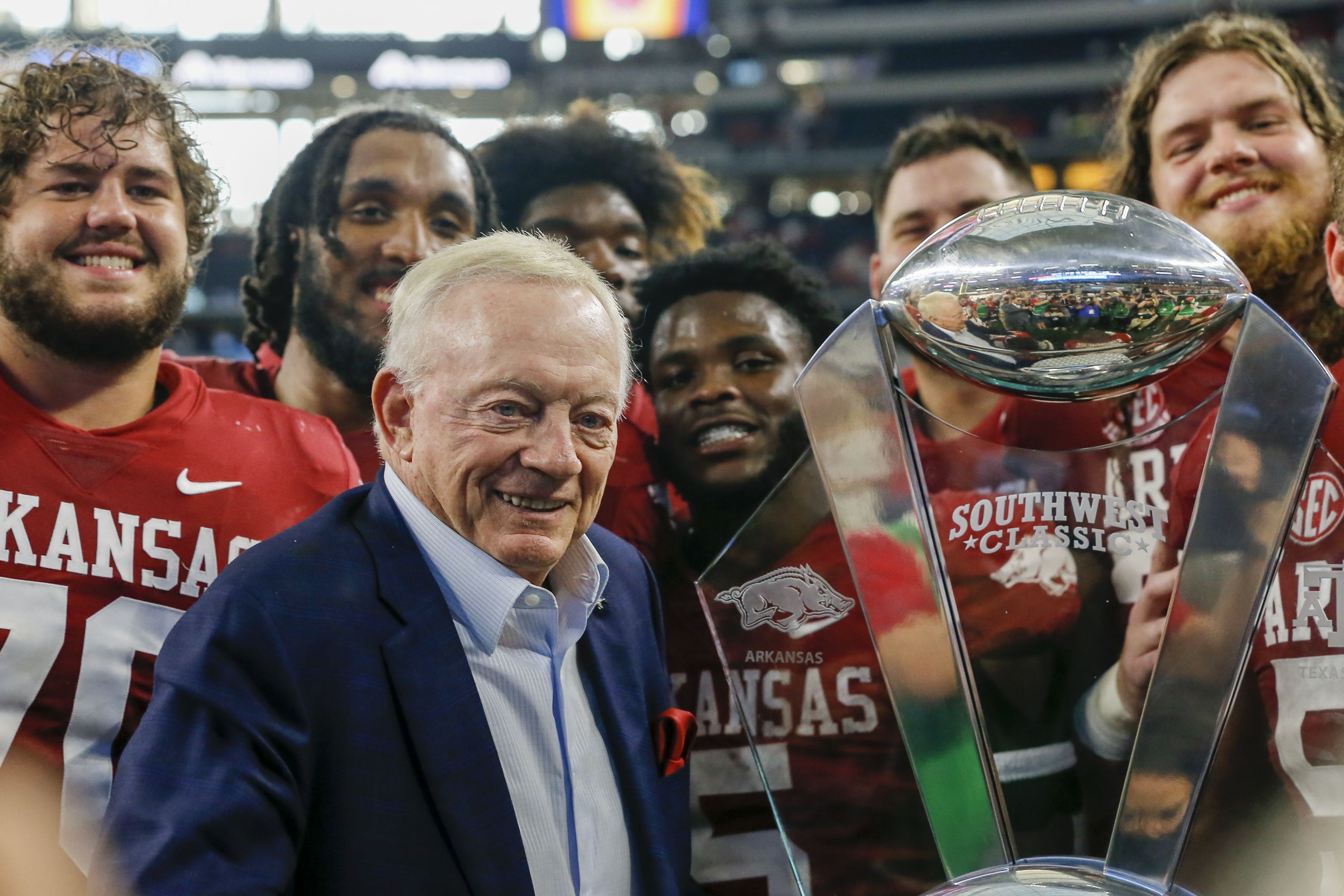 🪑 Alex took a daytrip to Kansas City this weekend and has an admission — it included her very first trip to IKEA. She didn't buy anything, but oh the things you discover when you leave Walmart country.
🗡 Worth started watching "Only Murders in the Building," and so far thinks it's genius. 🏢
Want free Axios swag? Refer your friends to Axios Northwest Arkansas, and get cool merch — like stickers, totes, hats, T-shirts and more!