June 06, 2022
Good morning, NWA. Thanks for kicking off your week with us.
⛈ Watch for scattered thunderstorms today.
Today's newsletter is 919 words — a 3.5-minute read.
1 big thing: Higher wages needed to buy a home
Northwest Arkansans have to earn 48.3% more than a year ago to afford the region's median-value home, per the latest analysis by real estate company Redfin.
The big picture: The income needed to afford a home has soared as limited inventory and strong demand have driven up sale prices, and surging mortgage rates have made home loans more expensive.
Why it matters: Wages and salaries are not increasing at that pace, further constricting entry into the housing market for many people, Axios' Sami Sparber writes.
By the numbers: In March 2021, a hopeful homebuyer had to earn at least $40,463 to afford the median home for sale in the Northwest Arkansas metro area, Redfin found.
This March, that figure jumped to $59,992.
For a median sales price home of $324,000, a monthly mortgage with 5% down jumped from $1,012 to $1,500, per Redfin.
Of note: A monthly mortgage payment is considered affordable if a homebuyer spends no more than 30% of their income on housing.
Meanwhile, wages grew 5% nationwide over the same period, according to the Bureau of Labor and Statistics.
The median household income in the NWA metro is $61,761, according to newly released census data for 2016-2020.
What they're saying: "Housing is significantly less affordable than it was a year ago because the surge in housing costs has far outpaced the increase in wages, meaning many Americans are now priced out of homeownership," said Redfin deputy chief economist Taylor Marr.
2. Walmart shareholders event takeaways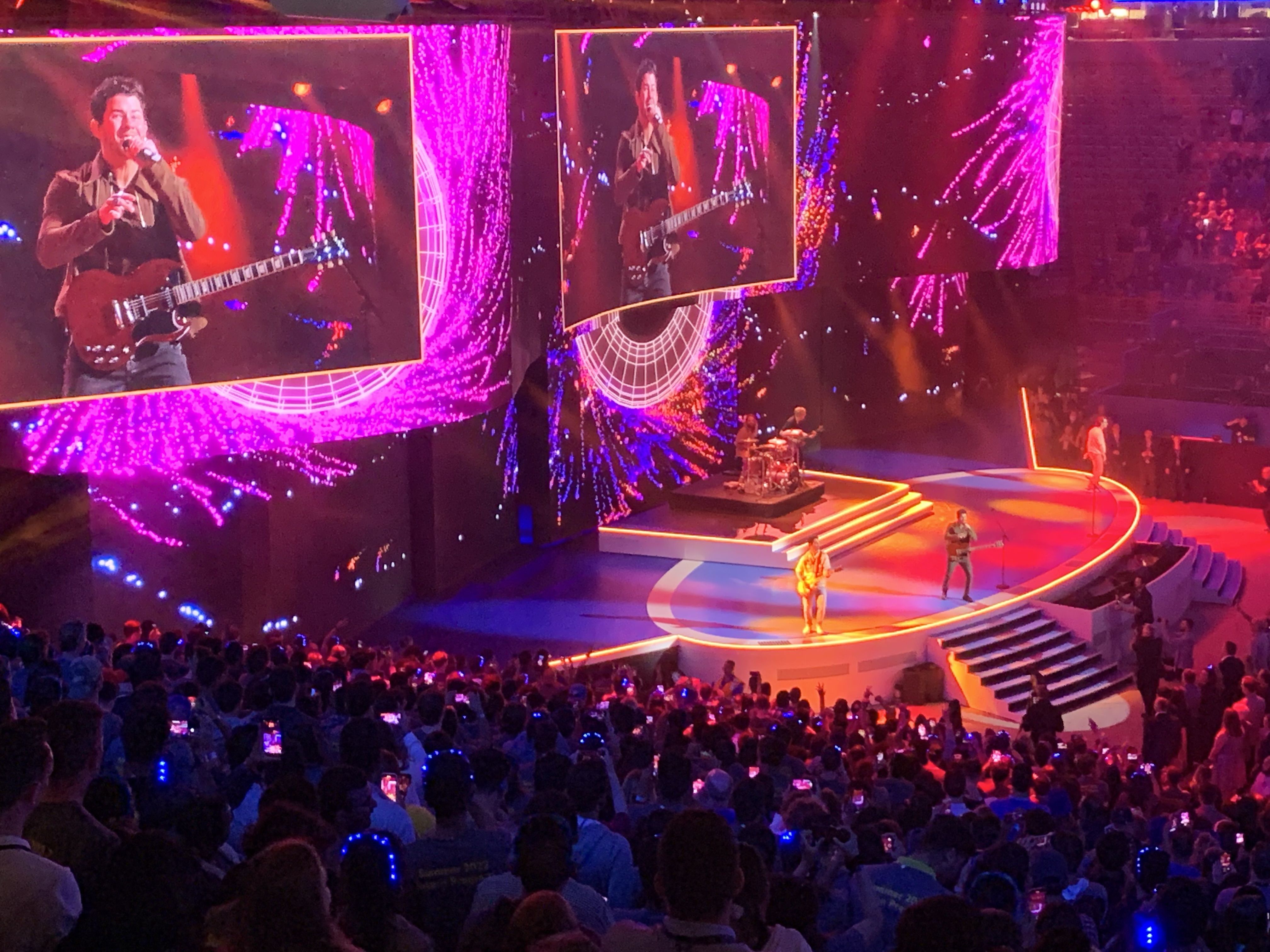 ICYMI, Walmart shareholders' first in-person gathering since 2019 wrapped up on Friday.
State of play: Walmart filled Bud Walton Arena. Comedian James Corden hosted. The Jonas Brothers, Jon Batiste, Yola — and Walmart's own employees — performed.
What they're saying: CEO Doug McMillon said during a Q&A with investors on Friday that he was concerned about inflation, adding that the inflation rate has a negative impact on too many families.
He also acknowledged that the company's most recent quarter was disappointing. Shares were down 8%.
Yes, but: McMillon said Walmart's leaders are longterm thinkers who are working to bring costs down and hope to see an improved second quarter.
As to the future, he said: "If the world is under more pressure and people are generally more value-conscious, we're the place to go. If the world is a little ... brighter than that and people can experience more convenience, then we've got delivery and e-commerce and everything else."
Of note: Walmart's award for entrepreneur of the year went to the ReliOn NovoLog team. The corporate giant launched its own affordable analog insulin brand last year.
Yes, and: McMillon told reporters on Friday that the company is seeing high demand at the Walmart Health clinics it began rolling out in 2019. The clinics are intended to offer primary care with low, transparent prices for people with and without insurance.
The chief executive added that the company does not have a specific goal for how many such clinics it plans to open, adding that health care needs vary widely by community. The company recently bought a telehealth company, MeMD.
3. Kitchen Sink: From the trough of news
🇸🇻 El Salvador plans to open a consulate in Springdale. (Northwest Arkansas Democrat-Gazette)
⚾️ The Arkansas Razorbacks baseball team won against Grand Canyon University as well as won one game and lost one game against Oklahoma State University this weekend in the NCAA tournament. (Arkansas Razorbacks)
🚨 Gov. Asa Hutchinson announced last week that the state's school safety commission will reconvene. (40/29)
🎨 A new art exhibit called "Queer" that features LGBTQ+ artists is on display at Fenix Arts on Mount Sequoyah in Fayetteville. (Fayetteville Flyer)
Fresh job openings around town
4. Axios dashboard: Hot topics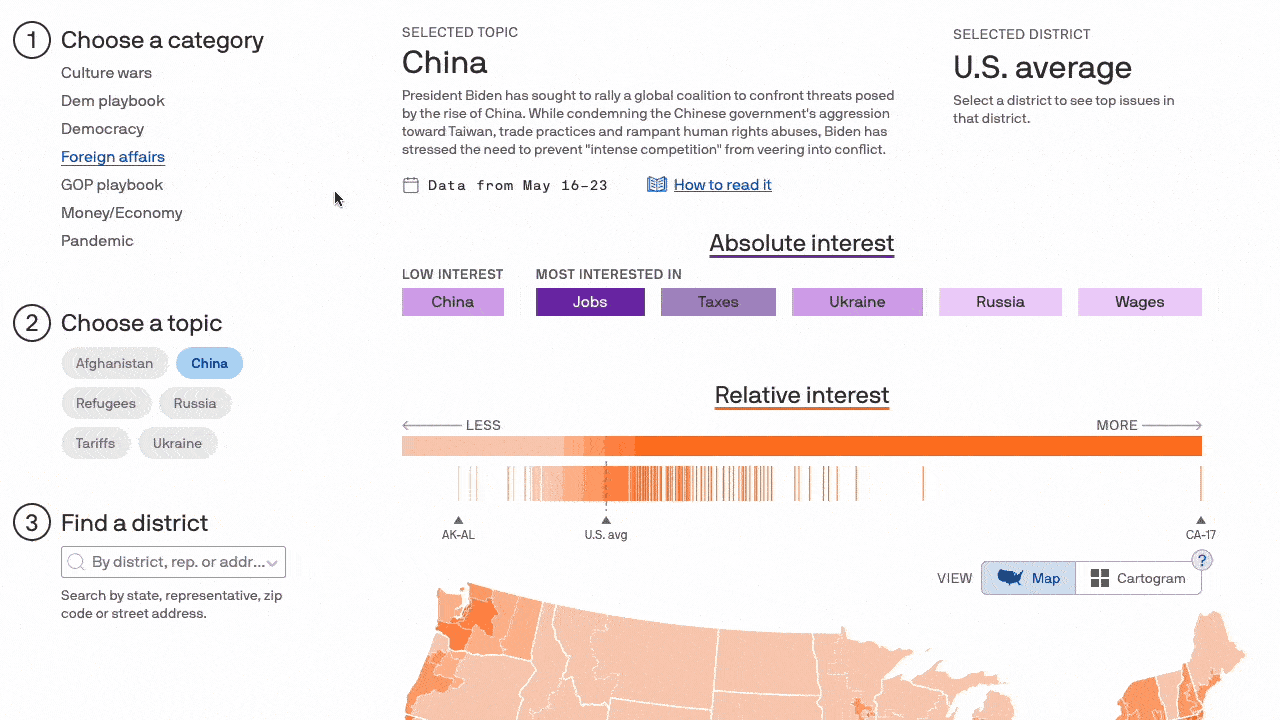 Based on Google search data of midterm issues, Northwest Arkansans, those living in District 3 — as well as most Americans — are more focused on pocketbook issues than culture wars leading up to the November elections.
Jobs and taxes were the two most-searched topics as of May 23.
Driving the news: Last week Axios launched a dashboard using Google Trends data. The interactive site lets you explore which election-moving topics are driving searches in your own congressional district — and how that compares with other parts of the U.S., Axios' Stef W. Kight writes.
Why it matters: Online searches are one way to measure the relevance of issues, locally and beyond.
The big picture: The economy is almost always at the top of the heap for topics polled.
"The biggest issues for the majority of people don't seem to be the adversarial culture war stuff, but the nuts-and-bolts stuff," Alasdair Rae, a data scientist who worked with Axios and Google Trends on the project, said.
Details: The dashboard also shows how other issues — from Russia's invasion of Ukraine to abortion, gas prices, inflation and immigration — are driving searches.
Yes but: While most of Arkansas' searches align with the U.S., critical race theory — a hot-button issue in the state last summer — may still be a popular search term in NWA. The topic has a relative interest ranking of 27 out of 435 total districts.
Of note: The dashboard doesn't yet reflect the nation's reaction to the mass shooting in Uvalde, Texas.
5. 📷 Pic du jour: Birds are real
👋 Worth here.
I challenge Fayetteville's own Peter McIndoe, creator of the Birds Aren't Real movement, to stop by my house (but call first, please).
Yes, and: If any of our readers are birders, can you identify these eggs?
😴 Alex had an especially chill weekend and is all caught up on sleep.
🎪 Worth watched Guillermo del Toro's "Nightmare Alley" and recommends it.
Looking for a summer getaway? Refer your friends to Axios Local and enter to win an Airbnb gift card and piece of Axios swag with our summer sweepstakes! The more referrals you get, the more chances you have to win. Get started today.
Have an amazing start to your week!