Axios Northwest Arkansas
August 17, 2021
It's Tuesday, August 17.
🎸 61 years ago today, The Beatles started their 40-plus day residency at a club in Hamburg, Germany that helped them hone their skills as musicians. Your soundtrack for the day.
⛅️ Today should be partly cloudy with a high of about 87.
Today's newsletter is 862 words — a 3-minute read.
1 big thing: Giving cash to the vaxxed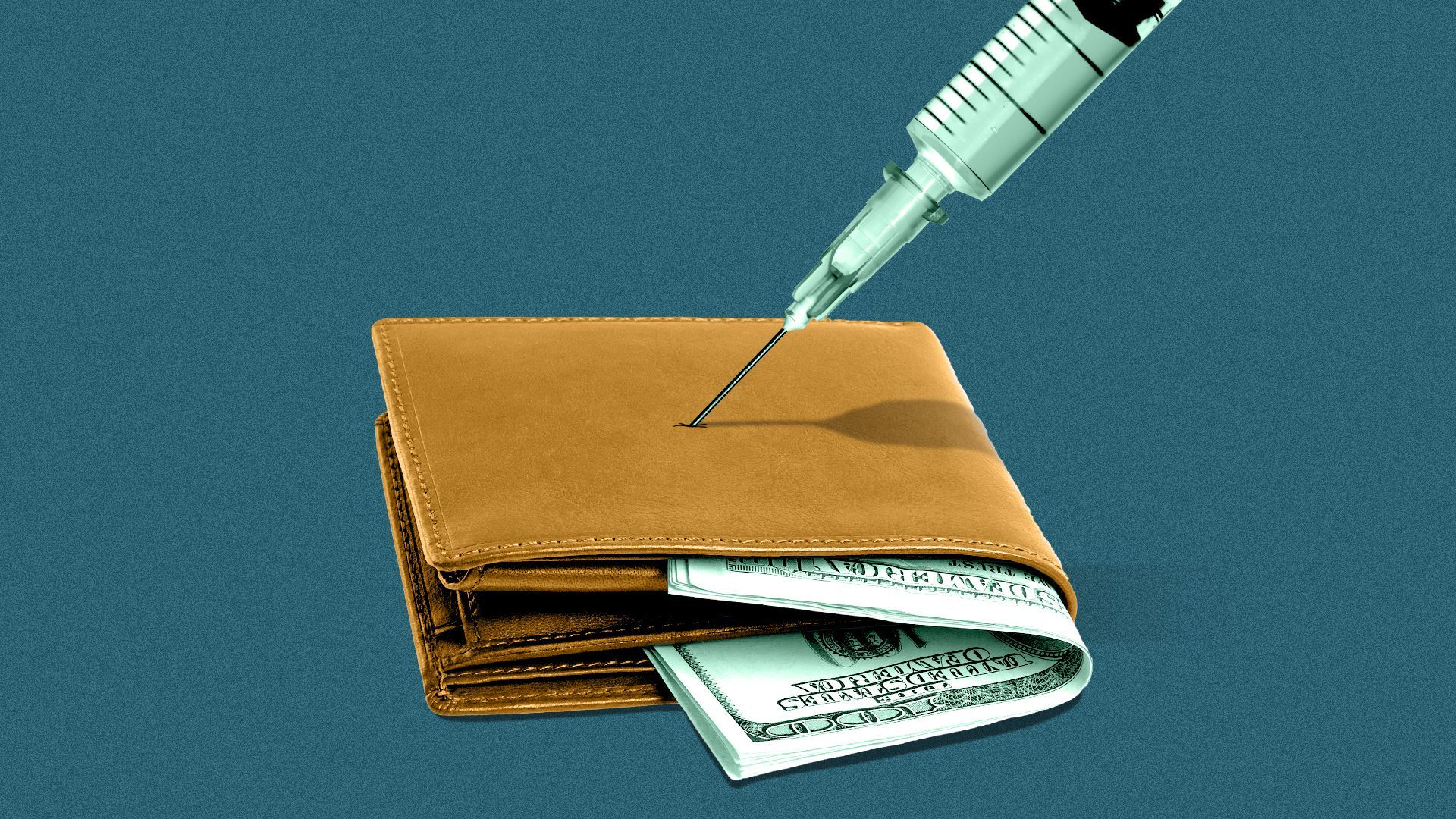 Fayetteville is considering cash incentives to encourage people to get the COVID-19 vaccine, according to the city council's agenda.
What's happening: The council will decide tonight whether to establish a program to use federal COVID-19 relief funds to give $100 to anyone who lives or works in Fayetteville who gets fully vaccinated.
The resolution up for approval does not specify any limit on how many people can be awarded.
Why it matters: This is a concrete effort to get more people vaccinated as a combination of the state's low vaccination rate and Delta variant continues to cause more cases and deaths, and strain hospitals.
About 44% of people in Washington County are fully vaccinated, according to the Arkansas Department of Health. Another 12% are partially vaccinated.
Context: The Biden administration has asked local and state governments to offer people $100 to get the vaccine.
Of note: The city recently issued a new mandate that requires everyone inside a business where more than 10 people may gather, including city buildings, to wear a mask. Fayetteville is one of just a few cities in the state to require masks in the absence of a statewide requirement.
By the numbers: The city is set to get $17.9 million in American Rescue Plan funding. It has received the first half of the money but hasn't spent any of it yet, city spokesperson Lisa Thurber tells Axios.
Go to the meeting: 5:30pm tonight at City Hall or you can register here to watch online.
2. Poll: Younger people ghost friends over vaccine
Millennials and Gen Zers are more likely to have cut ties over COVID-19 vaccine disagreements than other generations, according to new data from The Harris Poll.
"It's the new cultural dividing line," John Gerzema, CEO of The Harris Poll, told Axios' Tina Reed. "Three in 10 Gen Zers, and even more millennials, have ghosted friends who would not get vaccinated."
The poll found only 15% of Americans said they expect party hosts to require vaccination.
Even so, two-thirds say they'd require attendees to be immunized if they were hosting an event — and 37% would require vaccination regardless of party size.
"It's kind of like Delta variant is moving in real-time, and people are like 'Should I be doing the wedding this fall?'," Gerzema said.
❓ Yes, but: What about you? We wonder what readers in NWA are doing.
Hit reply, and tell us if you've cut ties with a friend, family member, or acquaintance because they wouldn't get the COVID-19 vaccine.
And tell us what generation you belong to.
3. 🇺🇸 1 tweet thing: Cotton support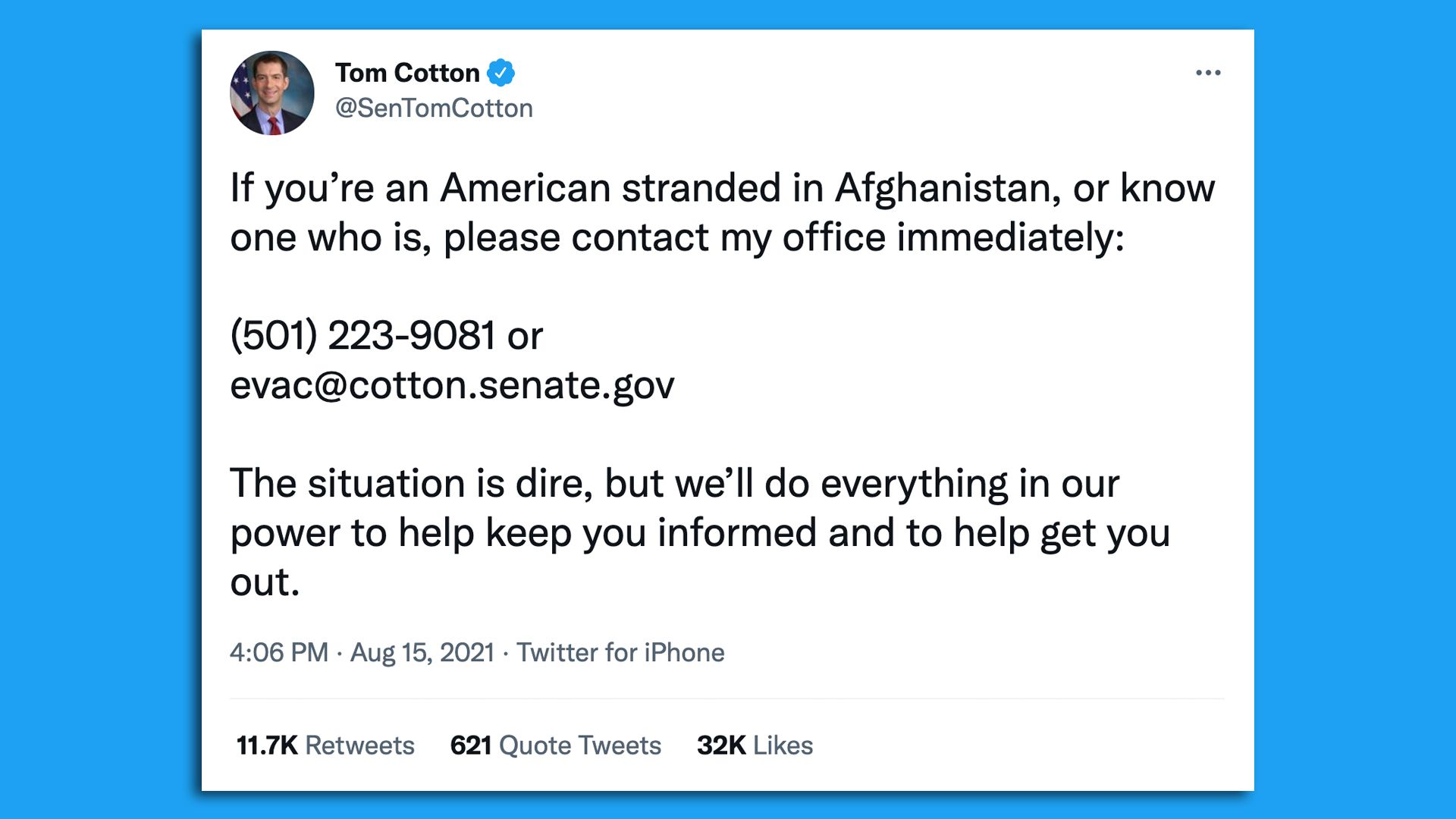 Sen. Tom Cotton, who served a combat tour in Afghanistan as an Army infantry officer, tweeted contact info for his office in an effort to help any American trying to get out of Afghanistan.
4. The push for specialty health care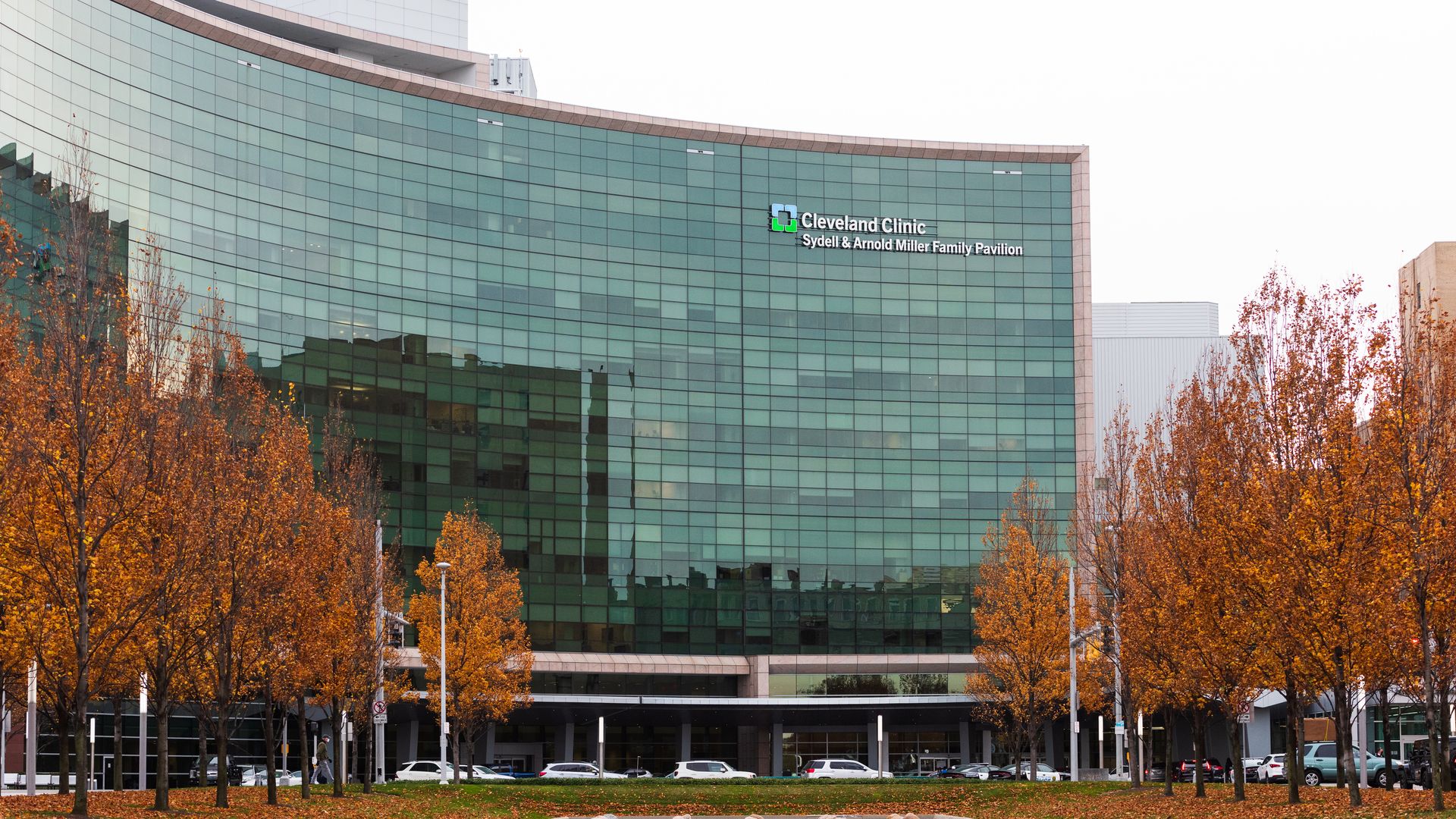 The Alice L. Walton Foundation is partnering with the Cleveland Clinic to assess the state of specialty health care in NWA.
Why it matters: Health care and community leaders have stressed that specialty health care services (think cardiology, neurosurgery — not primary care) are not keeping up with NWA's growing population.
What's happening: The two organizations on Monday announced a joint effort to come up with recommendations for how to fill in the gaps.
This likely will involve the Whole Health School of Medicine and Health Sciences. Alice Walton announced earlier this year she would pay to develop the new Bentonville medical school.
The foundation and clinic have signed a letter of intent. There is not yet a timeline for when the assessment will be completed.
Context: The Northwest Arkansas Council in 2019 released a report estimating that the region is missing out on nearly $1 billion a year in the health care economy, largely because people are leaving the area for specialty care, spending money elsewhere on not just health care but hotels and food.
The region currently has no residency slots that aren't in family practice or internal medicine. That will soon change as 82 new slots announced in June will include 24 in emergency medicine, 20 in general surgery, and eight in neurology — as well as 24 in internal medicine and six in family practice.
5. Fact checking the legislature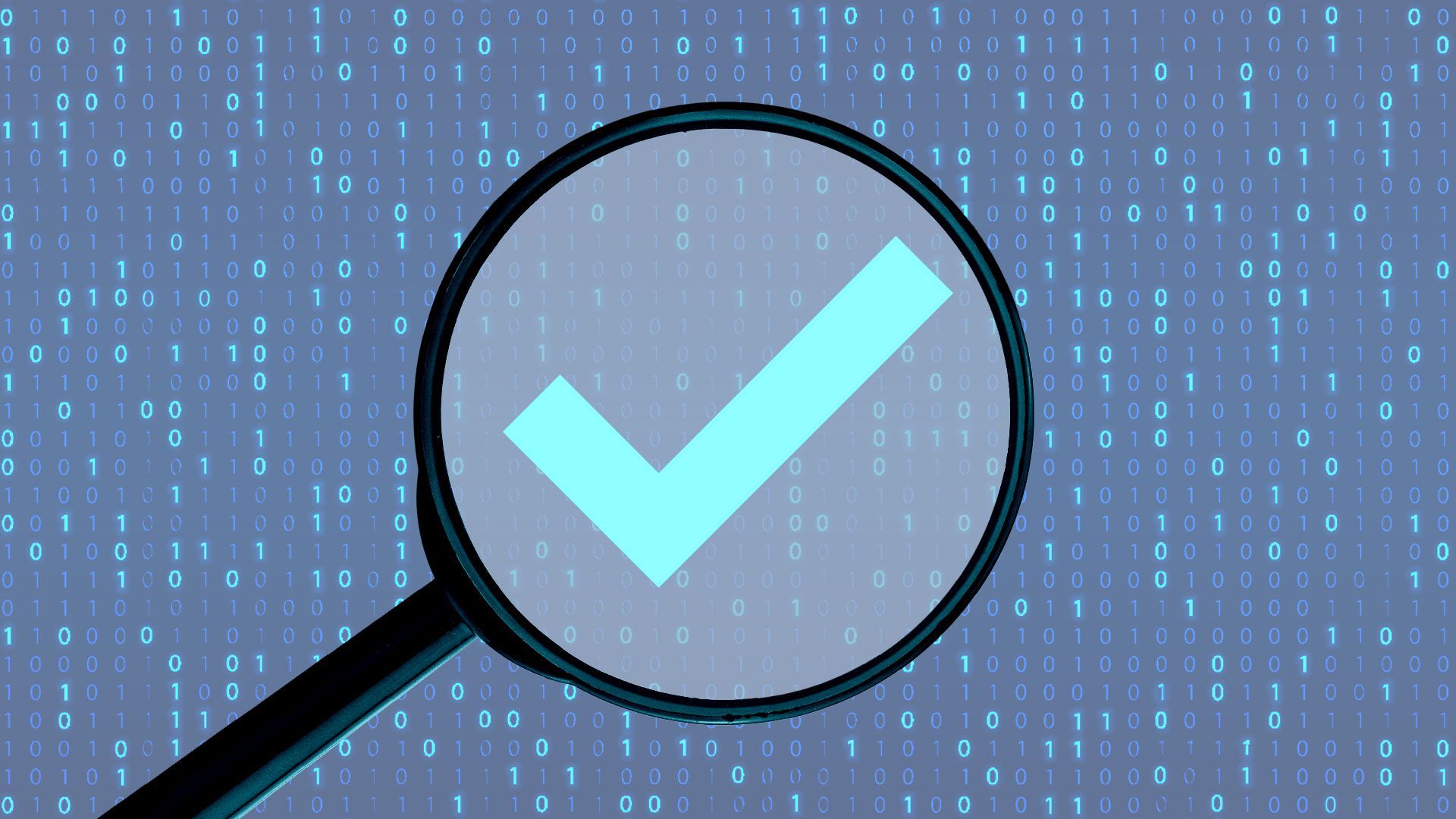 We were glad to see the Arkansas Democrat-Gazette's detailed fact-checking story on COVID misconceptions.
The newspaper did an analysis of many of the blatantly inaccurate things said by our lawmakers and others during the special session Aug. 4–6.
Why it matters: Like them or not, our elected officials have the ability to sway opinion, so when they say things that are inaccurate, it's often up to legitimate news gathering organizations to set the record straight.
The paper broke down the issues into four categories: masks, vaccine safety, treatment and PCR tests.
One inaccurate claim: "The only mask that has any efficacy is the N95 with a respirator," said Sen. Gary Stubblefield (R-Branch).
There are still benefits to fabric or paper masks, though they do serve a different purpose from N95 masks, Jennifer Dillaha, Arkansas' chief epidemiologist, told the Arkansas Democrat-Gazette.
"The purpose of wearing a mask primarily is to prevent the person wearing the mask from spreading the illness, and it's been clearly demonstrated in scientific studies that masks do a good job of doing that. The N95, of course, its primary purpose is to keep the wearer from getting sick," she said.
Editor's note: The top story was corrected to show Fayetteville's mask mandate covers businesses where more than 10 people may gather, including city buildings (not just in city buildings).
📻 Worth is listening to this old tune he'd long forgotten.
📺 Alex is rewatching this fave TV show, even though it needlessly went on when it should have ended after season 7.