Axios Northwest Arkansas
March 09, 2022
Hey, hey. It's Wednesday.
☀️ Plan for a sunny day with highs in the mid-50s.
Today's newsletter is 927 words — a 3.5-minute read.
1 big thing: It's fashion week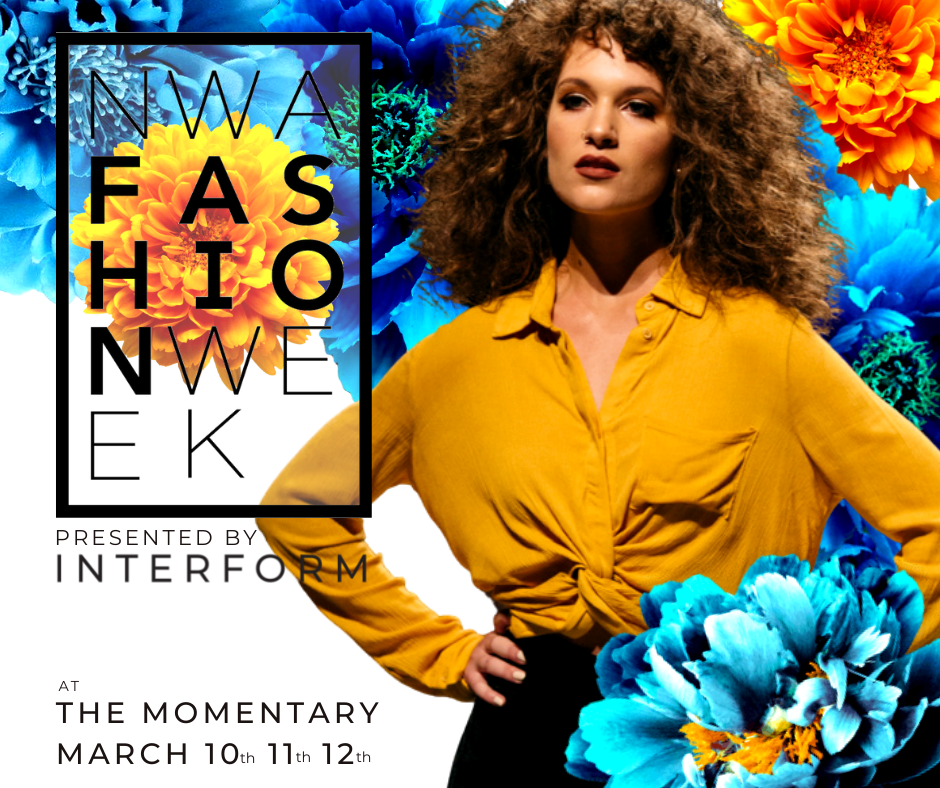 Northwest Arkansas' fashion week kicks off Thursday after a two-year pandemic-induced hiatus.
What's happening: Interform, a fashion-focused Springdale nonprofit organization, will host three nights dedicated to showcasing designers' work at The Momentary.
Details: Most of the designers and models live in NWA, Rochelle Bailey of Interform tells Axios. Attendees can expect to see a broad range of casual and formal wear.
How it works: Fashion Week has historically been held at Drake Field in Fayetteville or The Record in Bentonville by an organization called Northwest Arkansas Fashion Week, which merged with Arkansas Arts and Fashion Forum in 2021 to form one organization, Interform.
The show is a fundraiser for Interform, which is focused on boosting local talent in the fashion industry, Bailey says. The organization offers professional development and workshops in skills such as sewing.
The intrigue: Organizers want the show to be inclusive. That means having models of different sizes, ages, ethnicities and gender identities, Bailey says.
Thursday night will focus on gender diversity, featuring transgender, intersex and nonbinary models. 10% of the proceeds from Thursday night ticket sales will go to The Transition Closet, a Fayetteville nonprofit that offers free clothes to people in transition.
A panel discussion on representation in beauty will take place at 2pm Saturday at The Momentary's Tower Bar. It's free to attend. Register here.
Go to a show: 6:30pm Thursday, Friday and Saturday at The Momentary. Get tickets ranging from $60-$225 for Thursday or Friday. Tickets for Saturday's show are sold out (sorry).
2. What's next in theater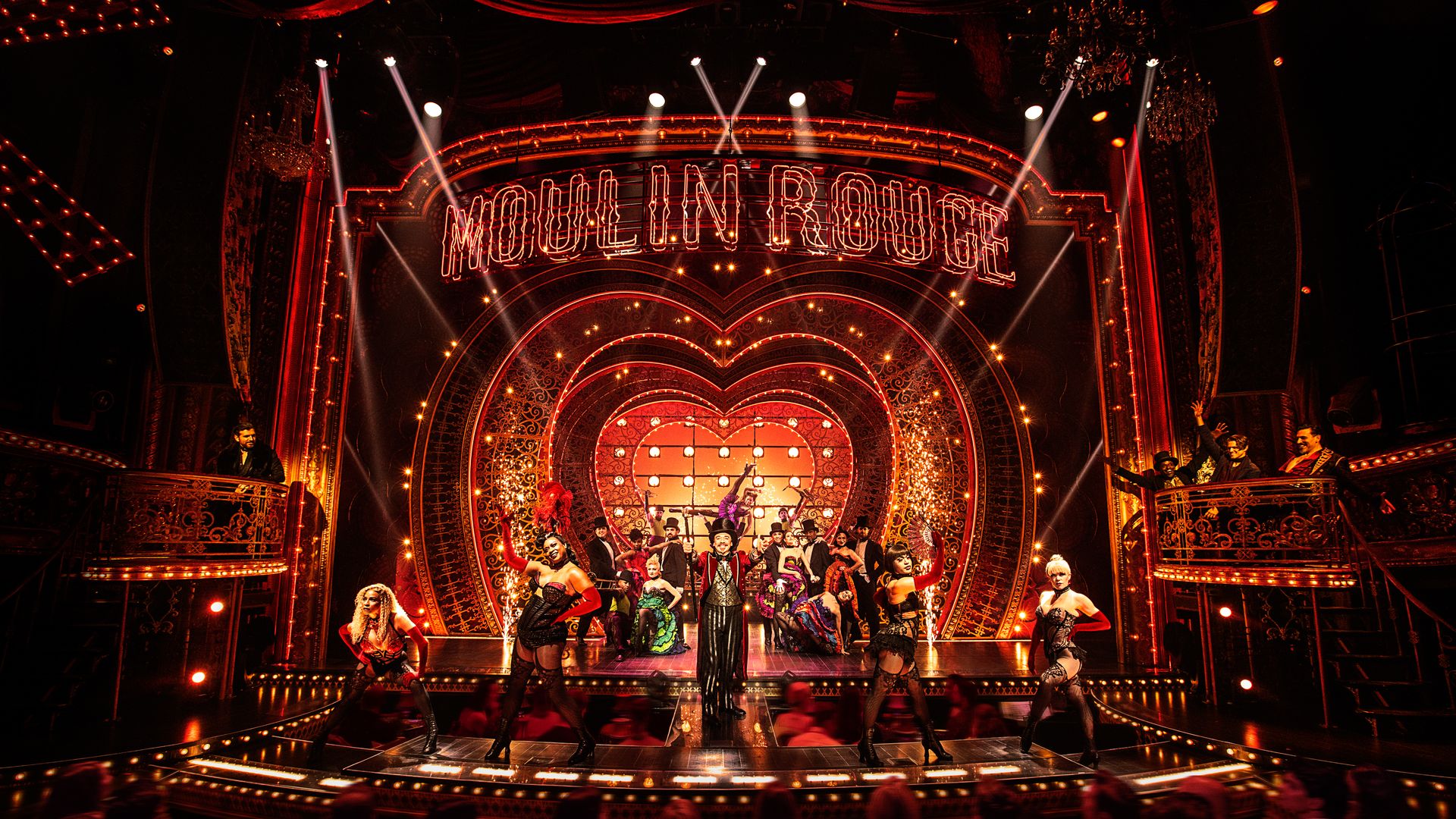 Mark your calendars. Two of NWA's main theater venues announced their 2022-2023 seasons this week.
Walton Arts Center's lineup includes:
"My Fair Lady" — Aug. 9-14
"Pretty Woman: The Musical" — Sept. 20-25
"Chicago" — Nov. 8-13
"Tootsie" — Jan. 17-22, 2023
"Moulin Rouge! The Musical" — Feb. 9-19, 2023
Coming to TheatreSquared's stages are:
"It Came From Outer Space" — Aug. 24-Sept. 18
"Detroit '67" — Oct. 12-Nov. 6
"Stones in His Pockets" — Nov. 9-Dec. 18
"A Christmas Carol" — Dec. 1-24
"Poor Yella Rednecks" — Jan. 25-Feb. 19, 2023
"Sanctuary City" — March 1-April 9, 2023
"Chicken & Biscuits" — April 19-May 14, 2023
"Violet" — June 7-July 2, 2023
Walton Arts Center subscriptions and TheatreSquared subscriptions that get you seats at all shows and other benefits are on sale now. Or you can buy individually priced tickets later.
3. Kitchen Sink: Rivers of news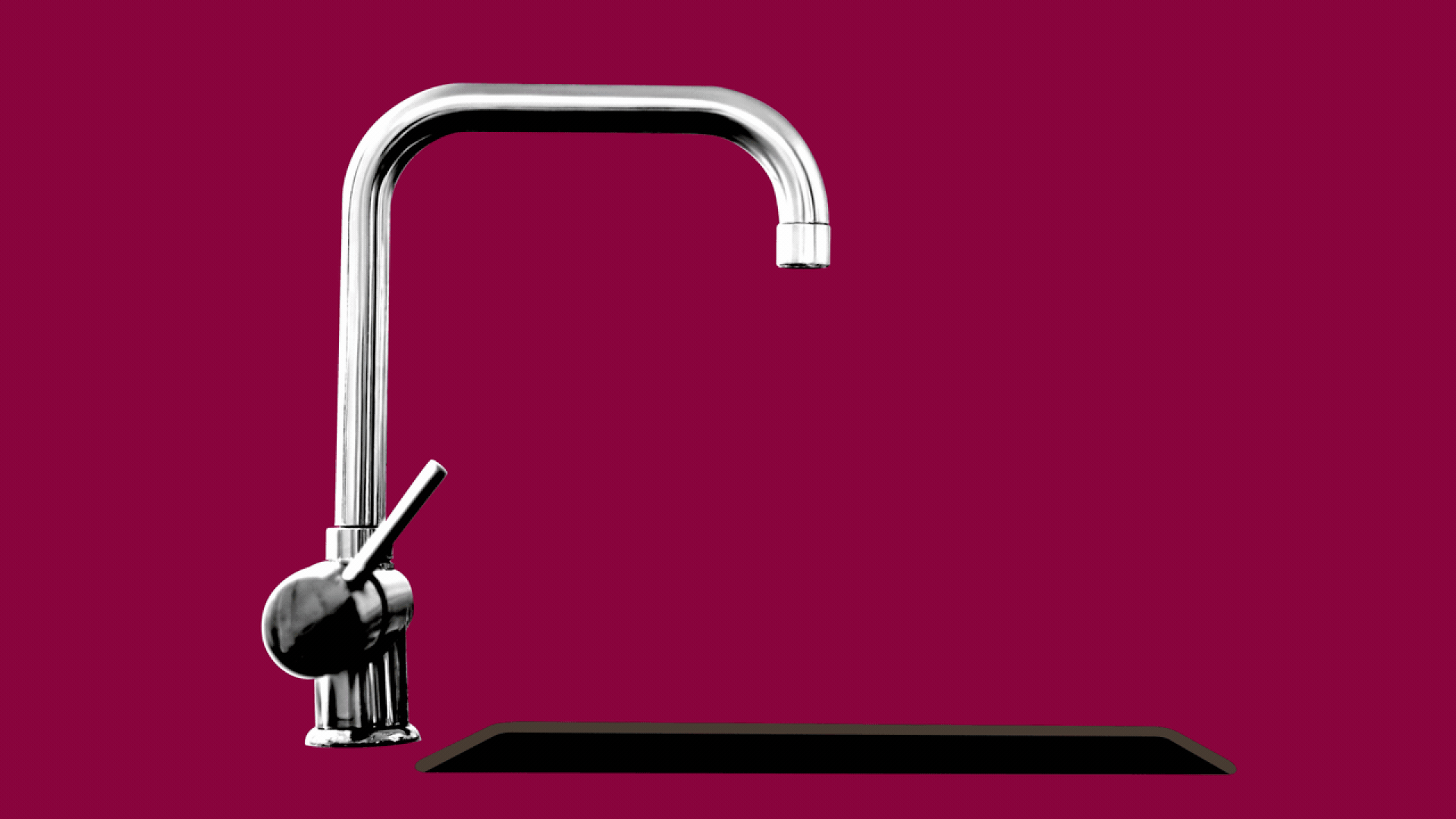 ⚠️ A Black Lavaca Middle School student was taunted with chants of "Rosa Parks" on a school bus in February. Police are now investigating the incident. (KFSM-TV)
🔦 Grillight, a Fayetteville company that makes lighted spatulas, has landed a distribution deal with retailer Tractor Supply Co. of Tennessee. (Talk Business & Politics)
💰 Lawmakers have approved the state's Revenue Stabilization Act that increases the budget by more than $175 million to $6.02 billion for fiscal 2023, which begins July 1. (Arkansas Democrat-Gazette)
🐝 12-year old Aditi Shashidhara, a Bentonville Haas Hall Academy student, won the Arkansas State Spelling Bee with the word "strophic." She advances to the National Spelling Bee to be held in Washington, D.C., in June. (40/29-TV)
4. Suit challenges congressional map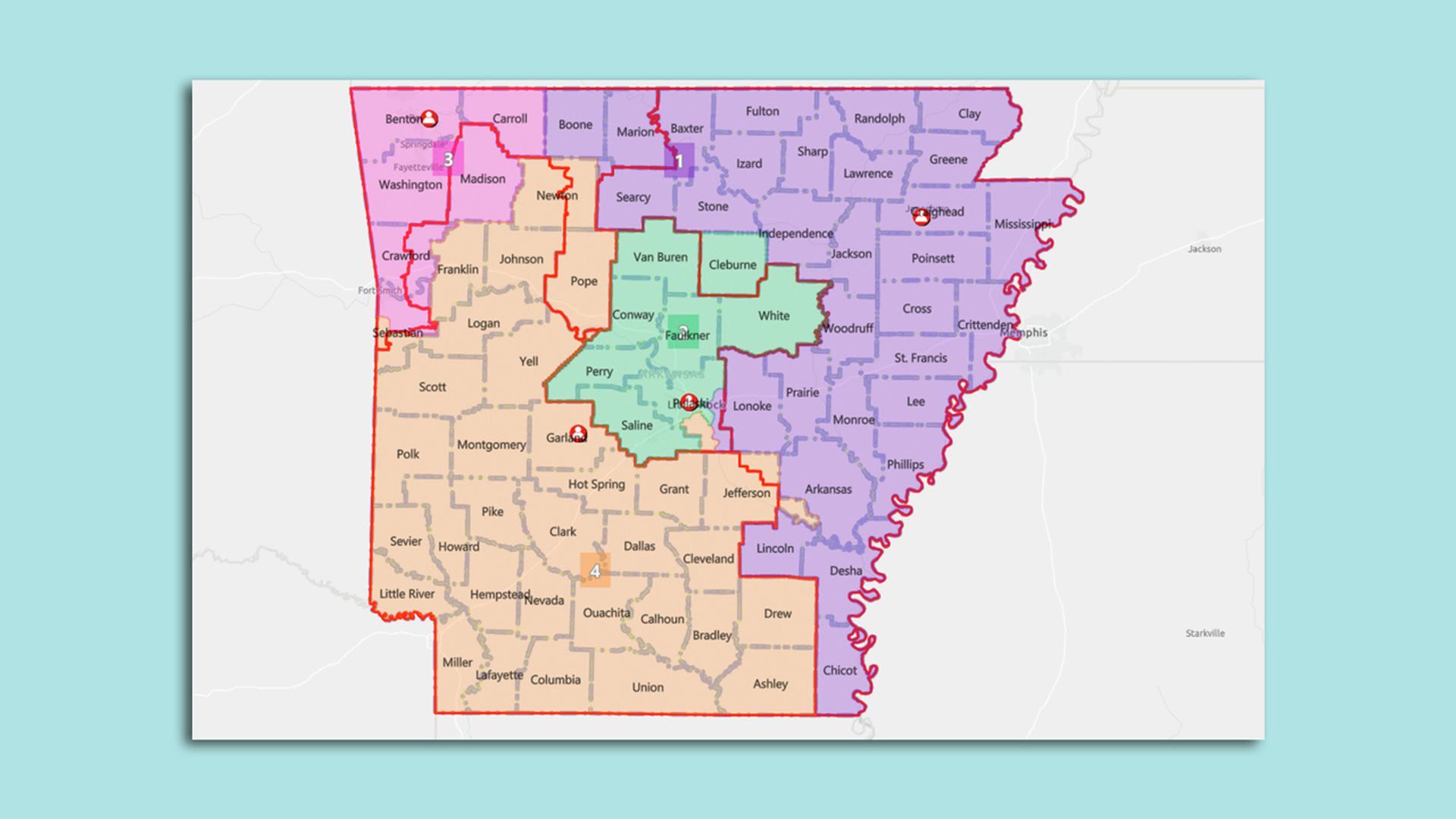 Arkansas' congressional district map is drawn to dilute Black voting power, a new lawsuit filed in federal court claims.
What's happening: Rep. Denise Ennett (D-Little Rock), Sen. Linda Chesterfield (D-Little Rock) and four Pulaski County residents have filed a federal lawsuit to challenge the congressional district map, the Arkansas Democrat-Gazette first reported.
Why it matters: The boundaries divide voters into blocs based on population. The current boundaries split southern Pulaski County into three districts, effectively gerrymandering the map, plaintiffs in the suit claim.
If the map remains intact, it will impact the federal representation of Arkansans for the next decade.
Context: The districts were redrawn last year after the latest U.S. census data were made available. Several maps were proposed; the Arkansas legislature approved one in October.
Gov. Asa Hutchinson did not sign the bills, saying at the time, "the removal of minority areas in Pulaski County into two different congressional districts does raise concerns."
The bills became law without his signature, however, because he declined to veto them.
What they're saying: Lawyer Richard Mays filed the suit on behalf of the plaintiffs. He told Axios the new map impacts a mostly Black population of 20,000 to 22,000 people by dividing southern Pulaski County into three different districts.
Of note: All of Pulaski County, the state's largest by population, has been in the 2nd congressional district since the 1960s.
5. Where were you when it started?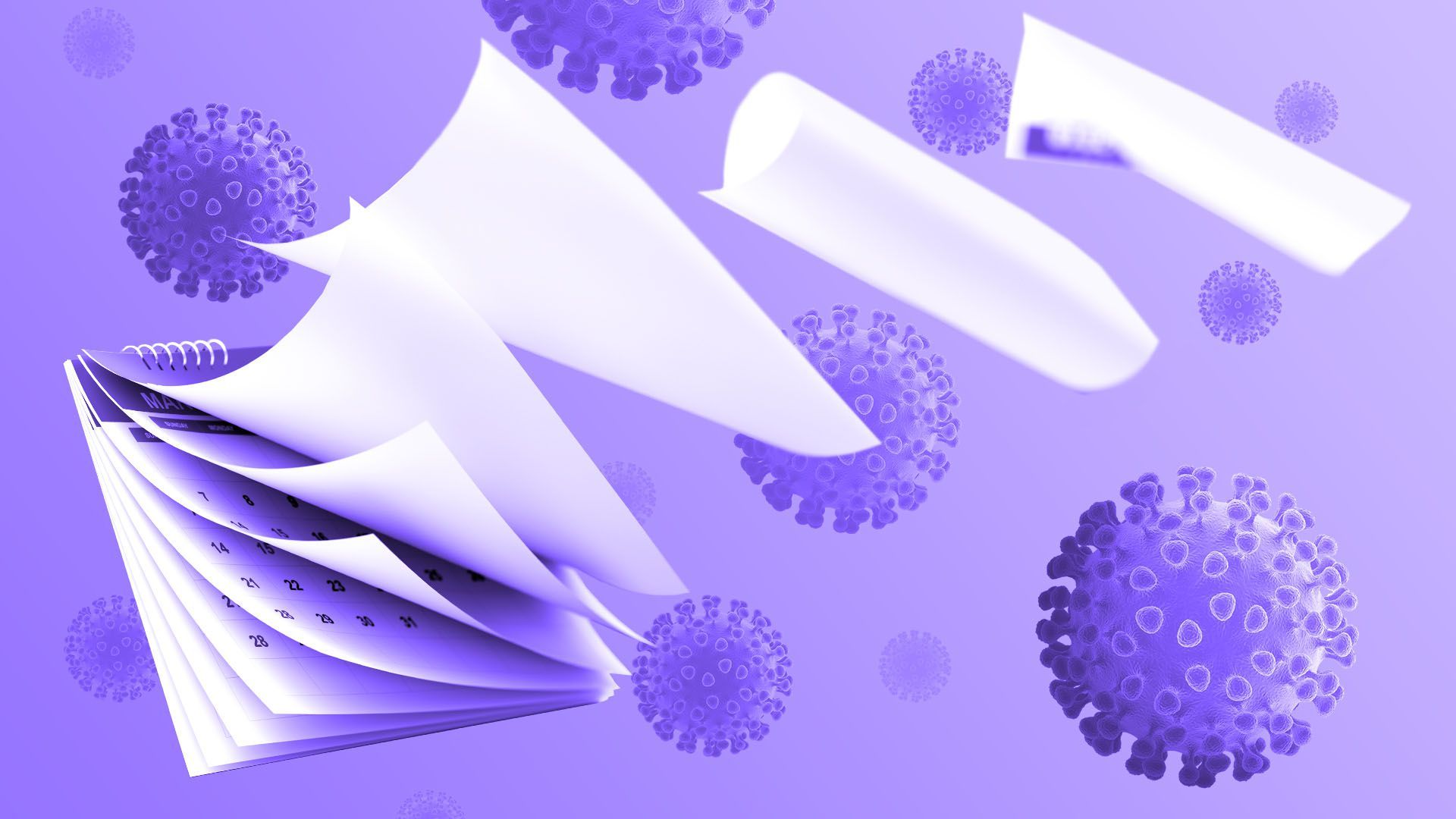 This week marks two years since the World Health Organization declared COVID-19 a pandemic.
Now, we're checking in with readers to see when you recognized it was a pivotal moment in history.
Please reply this week and share your short anecdotes. We'd like to know what you were doing two years ago and what, if any, major shifts have taken place in your life since.
Alex's thoughts: When the pandemic started, I was in the newsroom at the Northwest Arkansas Democrat-Gazette and it was an all hands on deck situation trying to get the latest information out quickly.
I was also the health reporter for the paper, so it kicked off a year of staying on top of all things COVID-19 before I landed the job at Axios. Yes, I also watched "Tiger King" and learned to make homemade sushi.
Worth's thoughts: I unplugged my computer from my desk on Friday, March 13, 2020 so I could work from home. There was an electricity in the air and a very deep feeling of finality that only made sense much later. I've been working from home ever since.
🏠 Alex is reading about Airbnb partnering with the United Nations to house refugees fleeing Ukraine in Axios.
☕️ Worth is reading about global companies abandoning Russia in Axios. 🍔