September 30, 2021
It's Thursday, otherwise known as Friday Eve.
⛈ Plan for rain and thunderstorms.
Today's newsletter is 936 words — a 3.5-minute read.
1 big thing: The permanent home office
It's no secret that the pandemic has spurred a whole new conversation about work — work-life balance, what can be done remotely, the lack of systems in place to help working parents, and questions about whether we should switch careers.
Why it matters: It's forcing both companies and employees to reevaluate their priorities and could permanently alter the future of NWA's workforce.
Driving the news: About half of Americans have worked from home during the pandemic. A national poll found that some of the top reasons people want to continue working from home, pandemic or no pandemic, include pets, kids — and, of course, taking naps.
The latest: Thanks in part to the Delta variant whiplash, not as many people are returning to in-person work this fall as expected.
It's survey time: If you're one of the many people who has made the transition from working in person to remotely at any point during the pandemic, we want to know whether you prefer it that way, and why you enjoy working from home or remotely (other than less exposure to the virus).
Take our short survey, and we'll share the results next week.
Alex's thought bubble: I've worked from home since March 2020 and have officially become one of the millennials killing the denim industry, as I now live in yoga pants.
I've found I do better working in coffee shops a few times a week or zooming with friends while we all work from home to mix it up.
Feel free to share some of your strategies if working alone in a home office all day doesn't quite cut it for you either. Just hit reply, or email me directly: [email protected]
2. On Fridays, we drink outside
You may remember Bentonville City Council recently said yes to the 8th Street Market becoming its own entertainment district — so you can freely walk around with alcoholic beverages.
What's happening: Well, that new rule just went into effect, and there's a whole kickoff event to celebrate.
Bike Rack Brewing Co., CO-OP, Yeyo's, Sweet Freedom Cheese, and Markham & Fitz will be around at 11am tomorrow at the market. The event will include giveaways and signature cocktails.
Details: The entertainment district allows you to have alcoholic beverages at 8th Street Market and its parking lot between 11am and 11pm. Businesses will give you a wristband and cup to show you're participating.
Editor's note: This story has been corrected to reflect that this event is Friday, Oct. 1 (not Sept. 30).
3. NWA Council throws shade at big cities
The Northwest Arkansas Council wants workers in cities to downsize their locations in order to upsize their lives.
What's happening: The nonprofit this week launched an advertising campaign to encourage people — especially in STEM occupations, creatives and entrepreneurs — to move to NWA.
👀 The accompanying billboards aren't afraid to get cheeky.
Why it matters: There's no nationally competitive entrepreneurial ecosystem and little intellectual property native to NWA, according to a 2019 report commissioned by the council.
The ad campaign is designed to raise awareness about the area as a real and practical alternative to living in big cities.
People in larger cities don't know about the amenities we're all used to — world-class art, mountain biking, Fortune 500 companies and easy networking.
What they're saying: There are 10,000 job openings in NWA and not enough people with the right skills to fill them, Nelson Peacock, president and CEO of the council, told Axios.
"Unemployment is low, and the need is high," he said.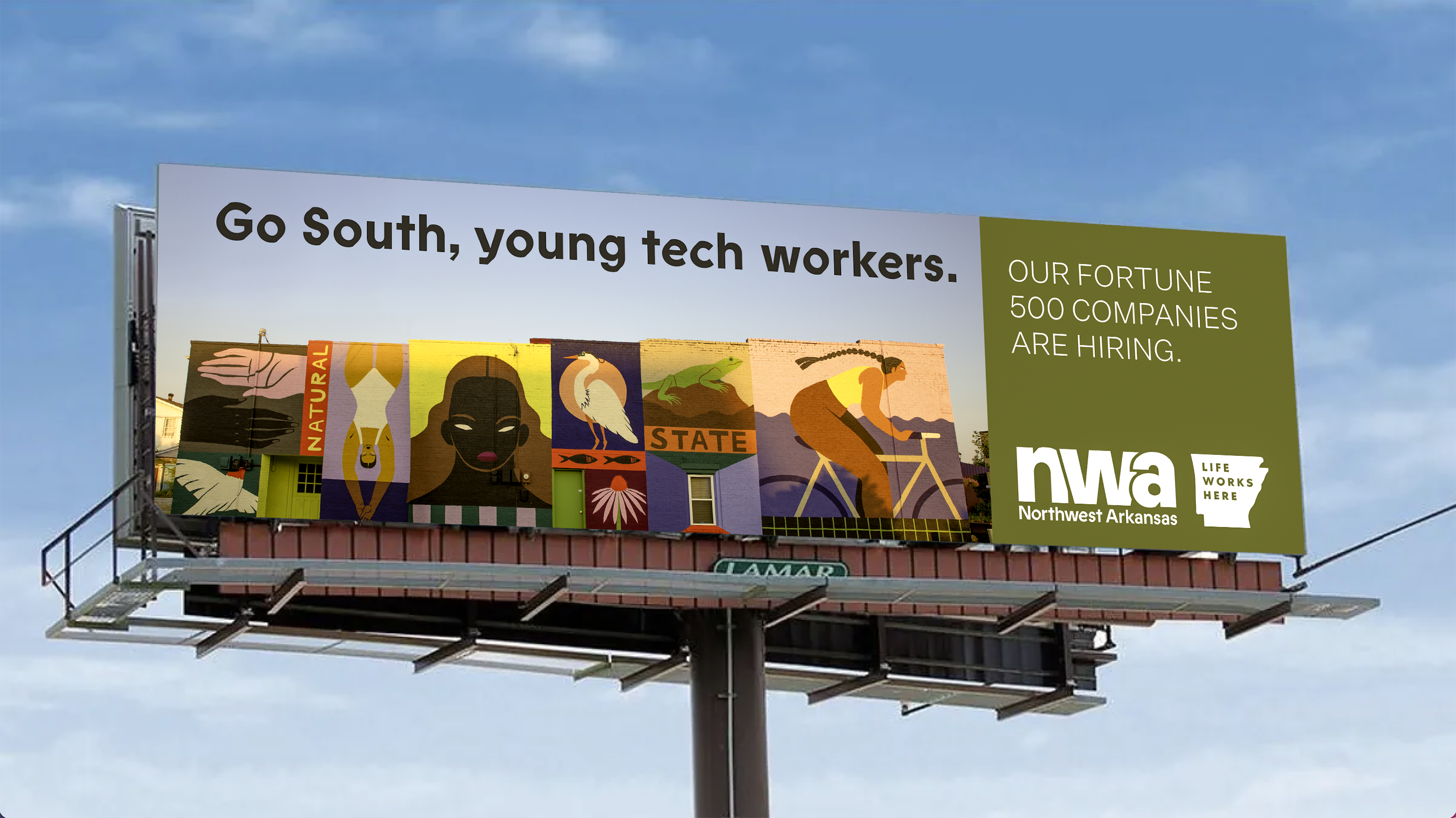 The intrigue: The council declined to share how much it's spending on the campaign since it's still working to raise funds. But it noted support comes from the Alice L. Walton Foundation, J.B. Hunt, Simmons Foods, Tyson Foods, Walmart and the Walton Family Foundation.
Flashback: The council launched the "Life Works Here" incentive program in November 2020, offering applicants $10,000 and a bike (or museum passes) to relocate to NWA.
Details: The new campaign is a continuation of the "Life Works Here" theme.
A 60-second TV spot and billboards are appearing in Austin, Denver, Minneapolis and Seattle.
Ads also will appear in targeted digital media like The Wall Street Journal and The New York Times for readers in those markets.
The buzz: The campaign is already being covered as a news story in Austin.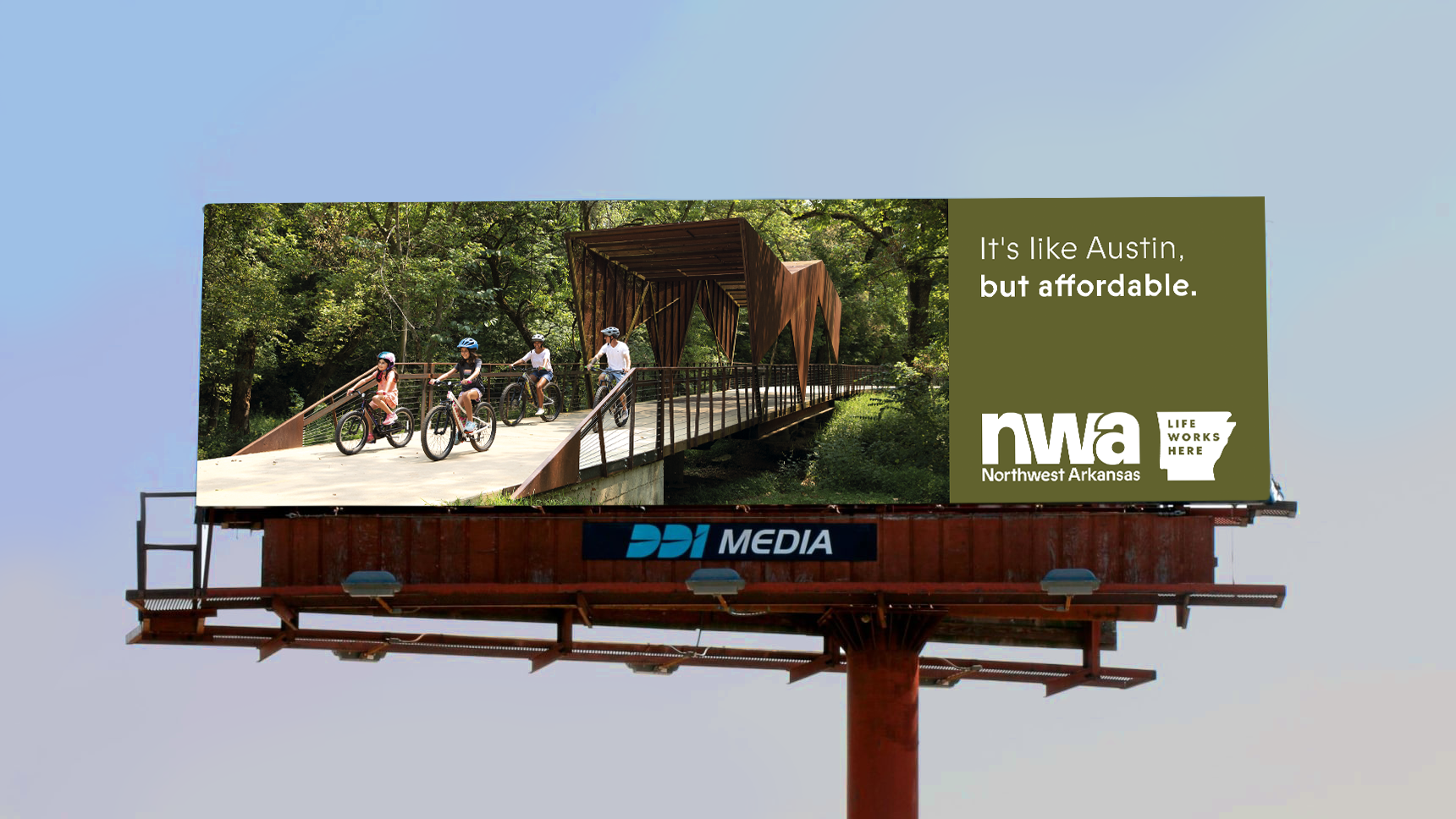 4. Kitchen Sink: Dive on in, the water's hot
🏠 The Fayetteville Housing Authority chairwoman says the entity is getting more stable after months of turmoil, including a federal investigation. (Northwest Arkansas Democrat-Gazette)
👶 A new preschool, The Goddard School, is open in Bentonville. (Talk Business & Politics)
📈 Walmart plans to hire 150,000 employees. Most of the positions will be permanent. (KNWA)
👷 Eight years after the Fayetteville Hooters closed, the site is on track to be developed into apartments, retail and amenities. (Northwest Arkansas Democrat-Gazette)
5. 🚴🏻‍♀️ 1 weekend thing: Square 2 Square bike ride
A reminder that the biannual Square 2 Square bike ride is set for this weekend.
The fall ride is southbound, while the spring is northbound.
Though the rides no longer start or stop at the downtown squares, the name has stuck.
Details: The ride kicks off at 7am Saturday from the Bentonville Downtown Activity Center and heads south to Walker Park in Fayetteville.
That's about 30 miles, but there's also an option to do 15 miles.
You can register online.
The entire route is on the Razorback Regional Greenway. Download a Strava map or Ride Spot map.
Shuttles from Fayetteville to Bentonville are available for $10, reservations required:
Pre-ride at 6am, 7am, 8am and 9am
Post-ride at 11am, 12pm, 1pm and 2pm
Yes, but: If you don't want to ride with a crowd, you can participate in the virtual ride from Oct. 3 to Oct. 31.
🚨 Of note: Helmets are required, and Worth recommends blinking lights on the front and the back of your bike.
⚖️ Alex is reading this in The Atlantic.
🚿 Worth is ready to take the never-ending hot shower promised by his family's new tankless water heater. 🛁