Welcome back! Thanks for reading. Please share this newsletter and tell your friends they can subscribe here. If you have tips or feedback, just hit reply or email me at [email protected].
📺 Coming up on "Axios on HBO": The life-changing costs of being a whistleblower according to five who risked it all (sneak preview); Uber CEO Dara Khosrowshahi discusses the company's goals for profitability; and an exclusive poll on America's surging political anger. Tune in Sunday at 6pm ET/PT. 
Today's Smart Brevity count: 1,403 words, 5 minutes.
1 big thing: Democrats' clean car agenda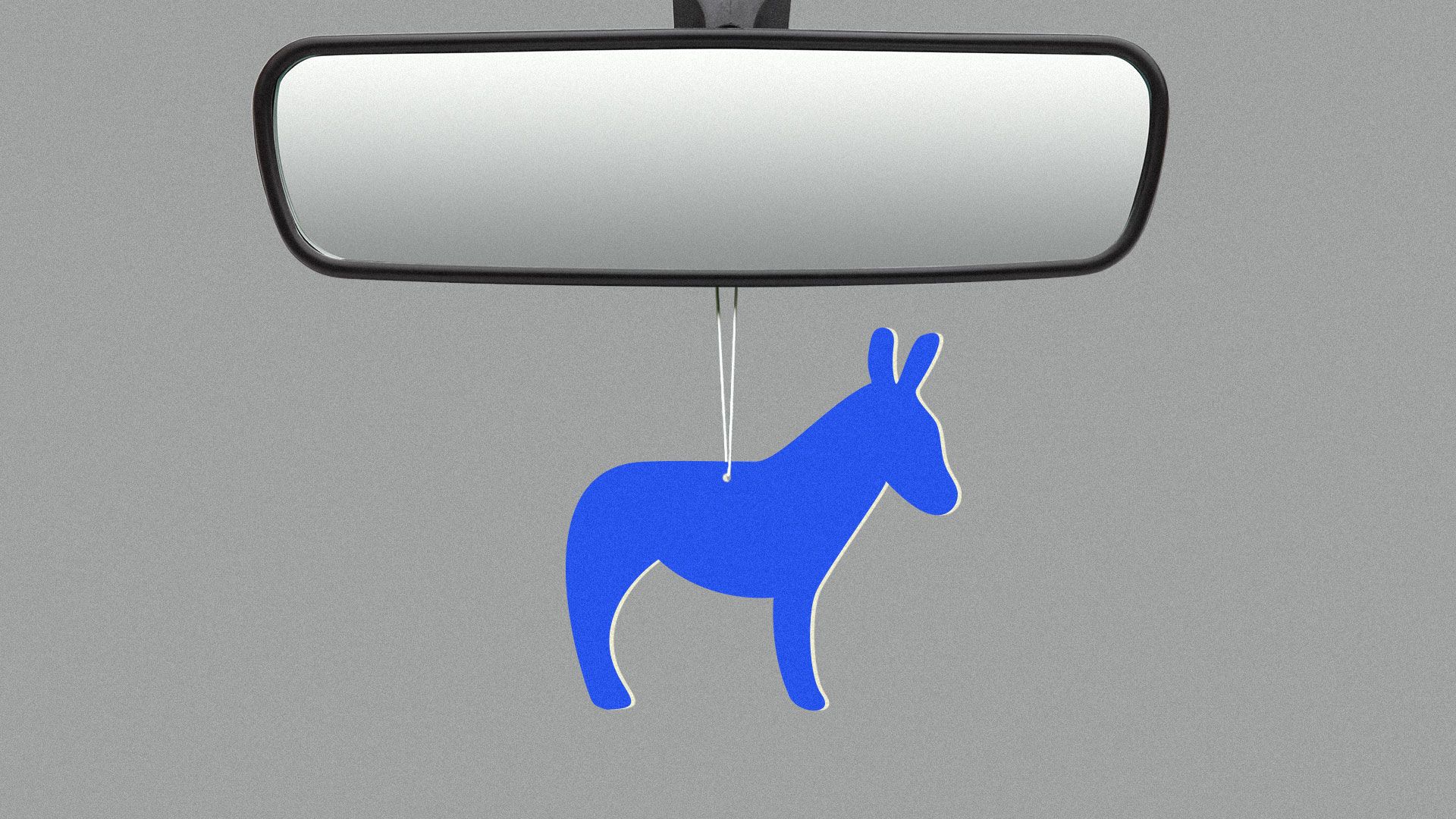 While President Trump is moving to ease Obama-era tailpipe emissions rules, Democrats running to unseat him want to accelerate the shift to electric cars, trucks and buses and take gasoline-powered vehicles off the market entirely, Axios' Alayna Treene and I write.
Why it matters: The 2020 presidential race could produce two vastly different outcomes for the auto industry, and that regulatory whiplash is hampering carmakers' long-term investment decisions.
Here's a rundown of some of the policies Democratic candidates would use to push the country toward cleaner cars.
Emissions: Most of the candidates say they'll push for a "zero emissions economy" by 2050 or earlier, and a few have deadlines for electric vehicle adoption.
Sen. Elizabeth Warren and Andrew Yang both say their goal is 100% zero-emissions for all new vehicles by 2030.
South Bend Mayor Pete Buttigieg's targets are 2035 for ZEVs, and 2040 for heavy-duty trucks.
Consumer incentives: Many say they would extend tax breaks and offer trade-in discount programs to encourage people to replace their gasoline-powered car with a zero-emission vehicle.
The current $7,500 federal tax incentive for EVs phases out for each manufacturer after they sell 200,000 plug-in vehicles.
That policy favors early adopters not widespread use and puts Tesla and GM, who've hit the limit, at a pricing disadvantage as more EVs hit the market.
Buttigieg says he would increase the federal EV tax credit to $10,000 and phase it out after "a certain percentage of vehicles sold in the U.S. each year are EVs."
Charging infrastructure: Most candidates agree more charging stations are needed to support the shift to electric vehicles.
Former Vice President Joe Biden says he would add 500,000 new public charging outlets by the end of 2030.
Warren's plan is "widespread" charging stations, including at every federal interstate rest stop.
Yang and Buttigieg also say they'd invest in or provide incentives for public chargers to improve EV access for all.
Manufacturing incentives: The Democrats link vehicle electrification to U.S. manufacturing and jobs.
A spokesperson for Sen. Bernie Sanders says they would "create millions of jobs manufacturing clean, American-made electric vehicles."
Yes, but: Electric vehicles have fewer parts and are easier to build, meaning they require less labor. The United Auto Workers union is also worried that many electronic parts for EVs will come from outside the U.S.
But, but, but: Major pieces of the Democrats' plans, such as expanded EV tax credits and major new spending on charging infrastructure, would require congressional action.
Even if their most aggressive plans don't come to pass, the Democrats would likely reverse Trump's efforts to weaken efficiency and emissions rules.
The impact: "When you have these kinds of variables that are vital to [automakers'] product plans, they would at least like to know what direction to head in," says IHS Markit analyst Devin Lindsay.
The bottom line: American roads could look dramatically different in the future, depending on who's in the White House.
2. A bad week for Uber's self-driving ambitions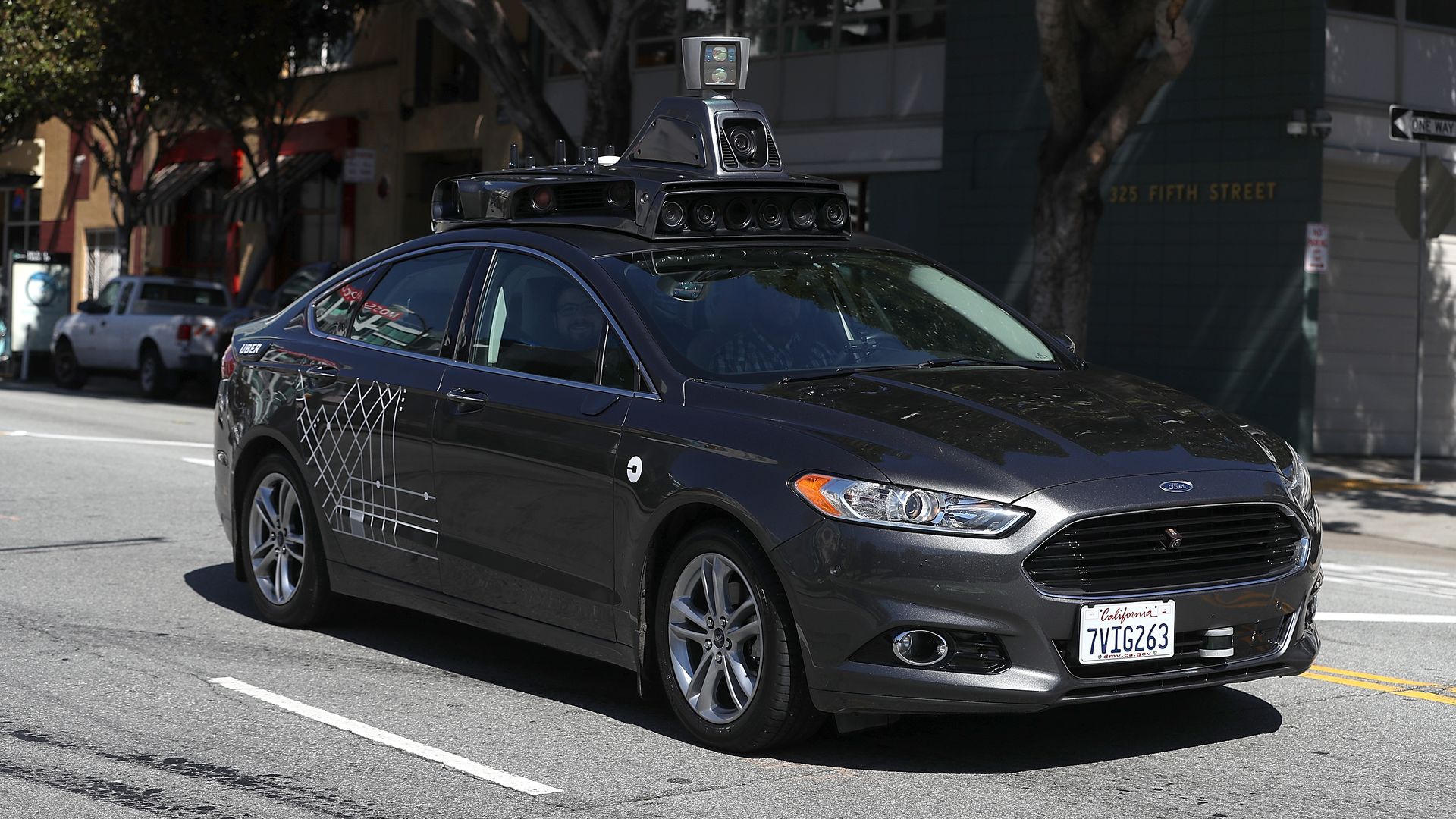 Uber disclosed that it will likely have to pay Waymo a license fee or make changes to its autonomous driving systems that could delay its launch of self-driving technology, Axios' Kia Kokalitcheva reports.
Why it matters: The potentially costly setback, first reported by Reuters, was amplified by a National Transportation Safety Board report this week that found software flaws in an Uber self-driving test vehicle that struck and killed an Arizona woman last year.
The developments amount to a 1-2 punch for Uber's AV efforts.
Background: Uber agreed to allow an independent expert to review its self-driving software as part of a 2018 legal settlement with Waymo.
Waymo had accused Uber of using critical technology stolen by a former employee, Anthony Levandowski, who later joined Uber.
The impact: Uber declined to comment beyond the regulatory filing, which said it might have to make changes to its technology that "could require substantial time and resources to implement, and could limit or delay our production of autonomous vehicle technologies."
Meanwhile, the NTSB report raises questions about whether Uber's self-driving SUV should have been allowed on public roads for test purposes, AP reports.
The report found that Uber's self-driving system couldn't detect jaywalkers or tell the difference between a pedestrian, vehicle or bicycle.
The documents also describe how Uber disconnected the car's braking systems, relying instead on the human safety driver to stop the SUV in an emergency.
The NTSB has found that Uber did not have a formal safety plan, a standardized operations procedure, or guiding document for safety for its vehicle testing, wrote Consumer Reports, labeling them "outrageous safety lapses."
Uber has since created stronger safety protocols.
"We regret the March 2018 crash involving one of our self-driving vehicles that took Elaine Herzberg's life. In the wake of this tragedy, the team at Uber ATG has adopted critical program improvements to further prioritize safety," said an Uber spokesperson.
What to watch: The NTSB will hold a public board meeting on Nov. 19 to determine the cause of the Tempe, Ariz., crash and issue recommendations.
3. Would you let Ghost drive your car?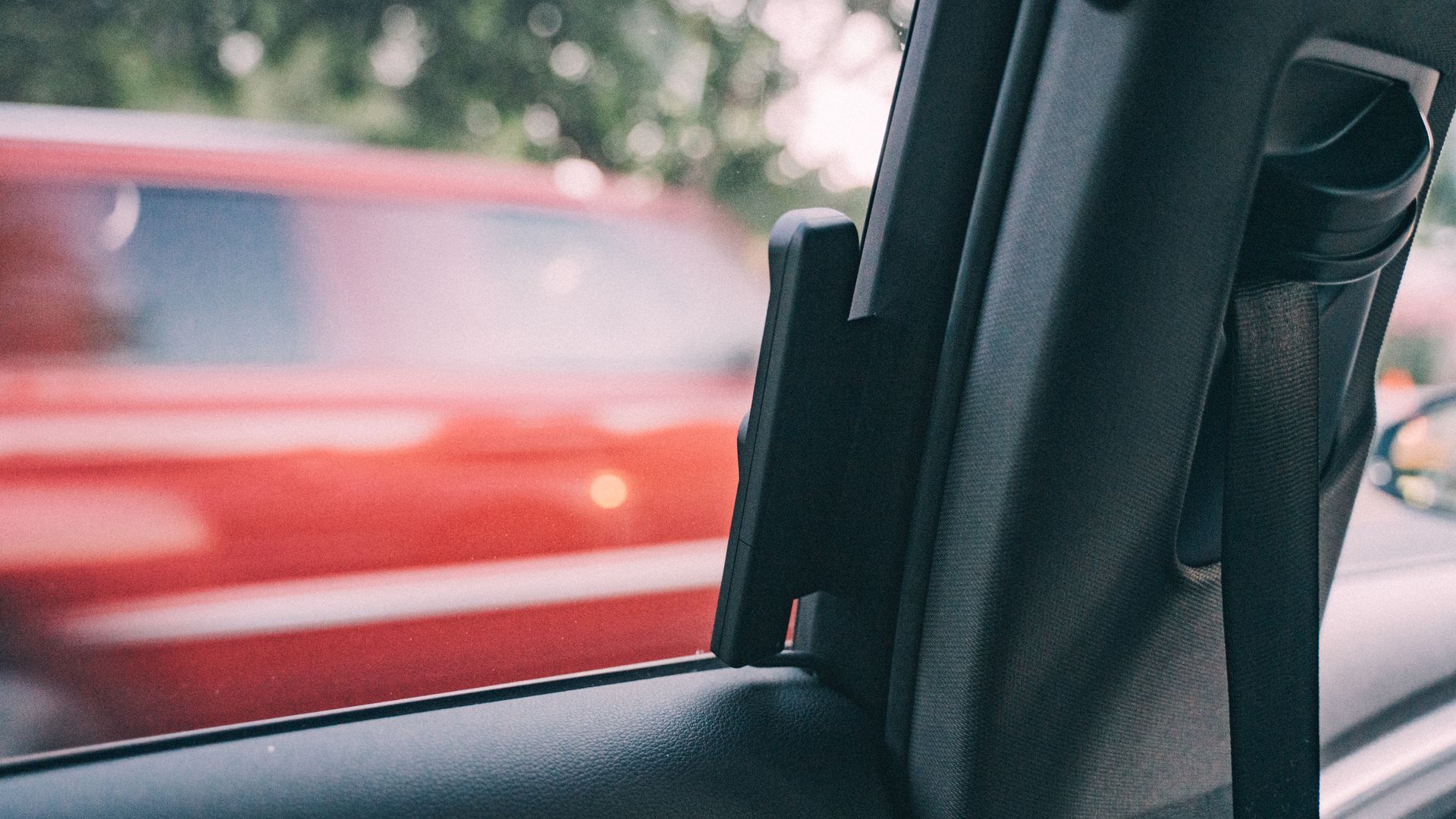 A new autonomous vehicle company, Ghost Locomotion, has $63.7 million in investment from big-name backers and a plan to retrofit your car so it can drive itself.
The big picture: AV research is data-intensive and taking longer than expected, but Ghost says its approach is faster and simpler.
Instead of trying to solve the hardest problems, like urban robo-taxis, Ghost c0-founder John Hayes tells Axios their aftermarket kit seeks only to perfect highway driving.
Backers include Founders Fund's Keith Rabois, Khosla Ventures' Vinod Khosla, and Sutter Hill Ventures' Mike Speiser.
How it works: The kit includes 8 cameras — placed in front, in back and on each side of the vehicle — and a computer stored in the trunk that's connected to the car's gas, brake and steering controls.
The system collects video from "dozens" of drivers, including some high-mileage Uber and Lyft vehicles.
It watches how they drive and learns to replicate their behavior.
Then it uses simulations to test the system against unusual scenarios.
Its goal is to have its kits in "hundreds" of cars by the end of the year and "thousands" by next year — all for the purpose of collecting data.
When it is convinced the system is "better than a human" — as early as next year — it will start selling the kits to consumers for less than Tesla's $7,000 "full self-driving package."
What they're saying: Ghost claim drivers can "fully turn their attention elsewhere and leave control of their vehicle to a computer" — something no other AV company claims.
"We are the first self-driving company to formally verify its real-time driving system, a process typically reserved for aerospace and defense industries, to ensure perfect software execution," writes co-founder John Hayes, whose last company specialized in data storage, in an introductory blog post.
My thought bubble: Promising to deliver glitch-free software is absurd. Even an aerospace giant like Boeing is not exempt, as the recent crashes of two 737 MAX jets have shown.
4. Driving the conversation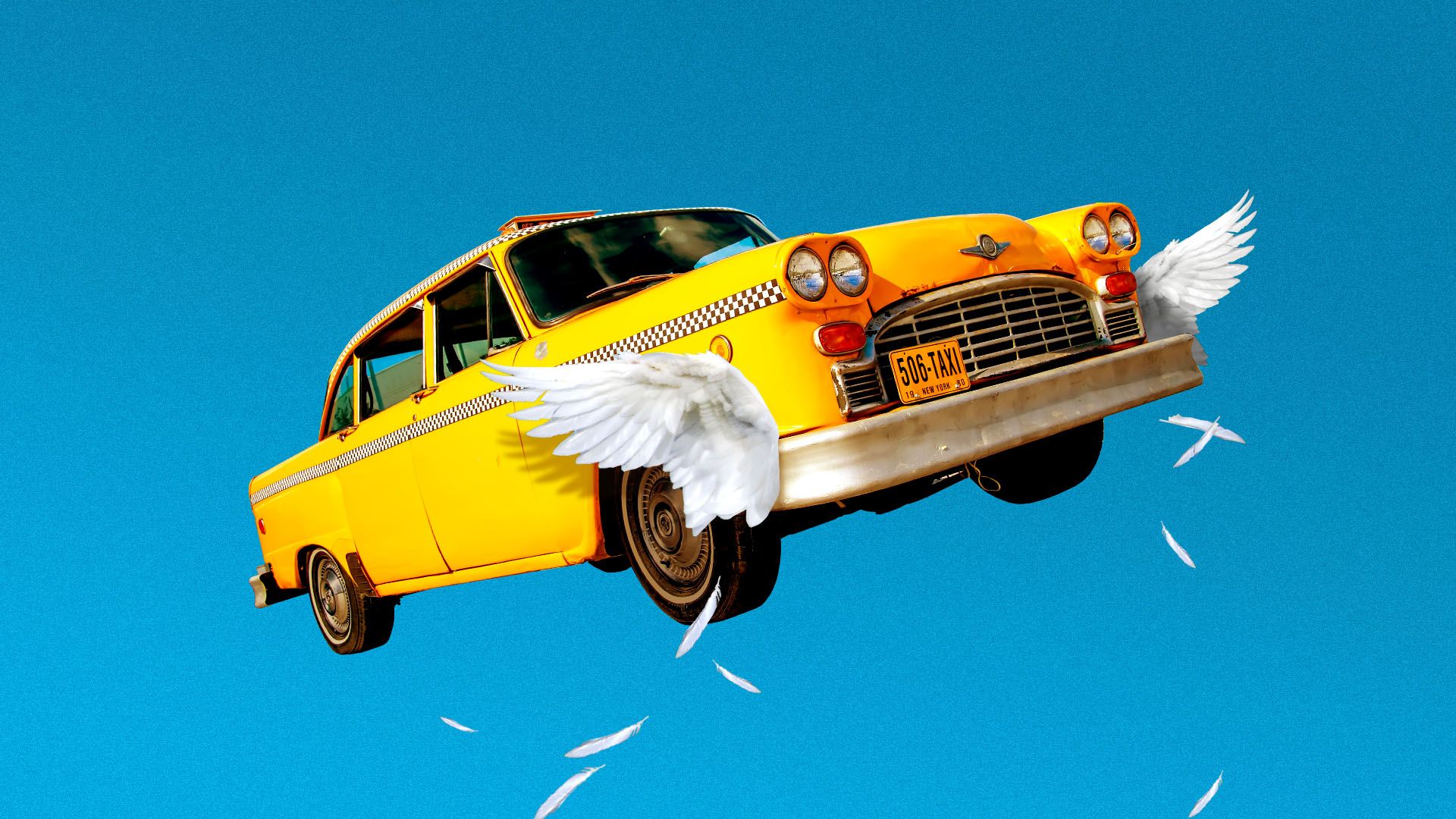 Airborne: Inside the high-stakes race to build the world's first flying taxi (Adam Satariano — The New York Times)
Worthy of your time: A close look at Germany's Lilium, one of at least 20 companies fighting the long odds to commercialize aerial taxis to combat road congestion.
Powerful: The key to electric cars is batteries. One Chinese firm dominates the industry (Trefor Moss — The Wall Street Journal)
Forfeit: Boeing CEO to give part of bonus to 737 MAX victims' compensation funds (Courtenay Brown — Axios)
The big picture: Dennis Muilenburg took heat from lawmakers recently about his $23.4 million compensation for 2018 in light of the incidents in which 346 people died.
5. What I'm driving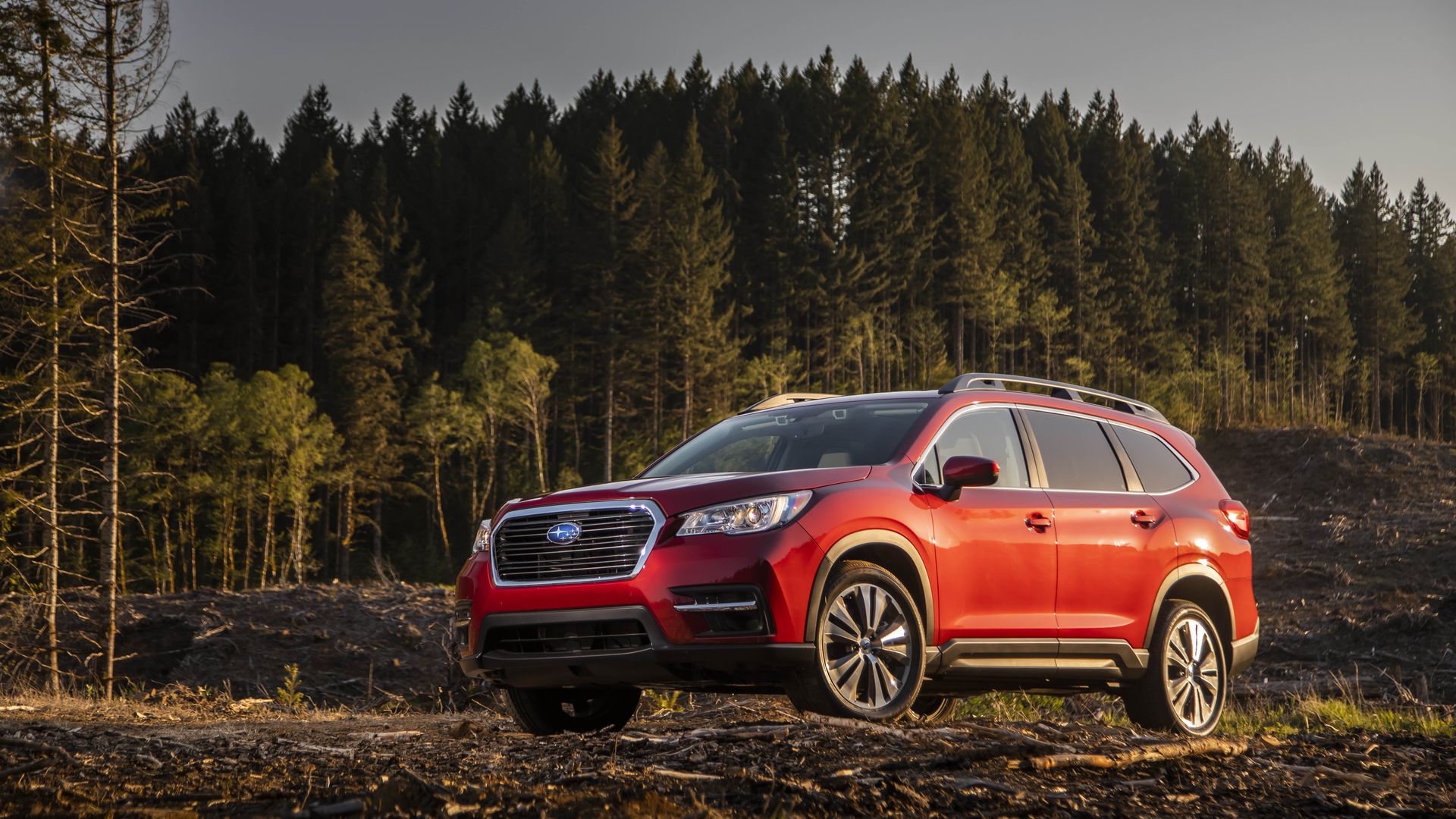 This week I'm driving the 2020 Subaru Ascent, a family hauler that is the largest vehicle in Subaru's lineup.
The big picture: The three-row Ascent is a solid alternative in the crowded mid-size SUV category, which includes models like the Ford Explorer, Honda Pilot and Toyota Highlander and newcomers like the Kia Telluride and Hyundai Palisade (which I'll drive next week).
Details: First introduced in 2019, the Ascent is priced between $32,000 and $45,000, depending on which of four trim levels you choose.
The 2.4-liter turbo engine gets 260 hp and up to 27 mpg on the highway.
Yes, but: The engine was noisy upon acceleration and the car lurched when I stepped on the gas after shifting into either forward or reverse.
Four-wheel-drive is standard and the Ascent is powerful enough to tow up to 5,000 pounds.
A second row bench seat is standard, giving families room for 8, but with no-extra-cost captain's chairs, you would have to leave somebody at home.
Safety features: Subaru's EyeSight driver assist technology is standard and includes automatic braking, adaptive cruise control, lane departure warning, and a head-up windshield display.
The system scans the road ahead and warns you if you start to sway toward the lane markings.
It can also direct you back to the center of the lane.
The bottom line: Subaru owners are a loyal bunch, and now they have a 3-row SUV to grow into.
Editor's note: The top story was corrected to fix the spelling of Andrew Yang's last name and story no. 3 was corrected to show two Boeing 737 MAX jets had crashed (not 787).