Axios Navigate
November 20, 2020
It's Friday — hooray! I'm off next week for what's turning out to be a rather quiet Thanksgiving. Honestly? I'm looking forward to just us.
Tune in to "Axios on HBO" on Monday, Nov. 23 at 11pm ET/PT for Felix Salmon's interview with Southwest Airlines CEO Gary Kelly.
I'll be back in inboxes tomorrow with a special Axios AM Deep Dive report on the future of air travel. If you don't already subscribe to AM, sign up here.
Questions or comments, email me at

[email protected]

.
Today's Smart Brevity count: 1,492 words, a 6-minute read.
1 big thing: Touchless travel could threaten airport jobs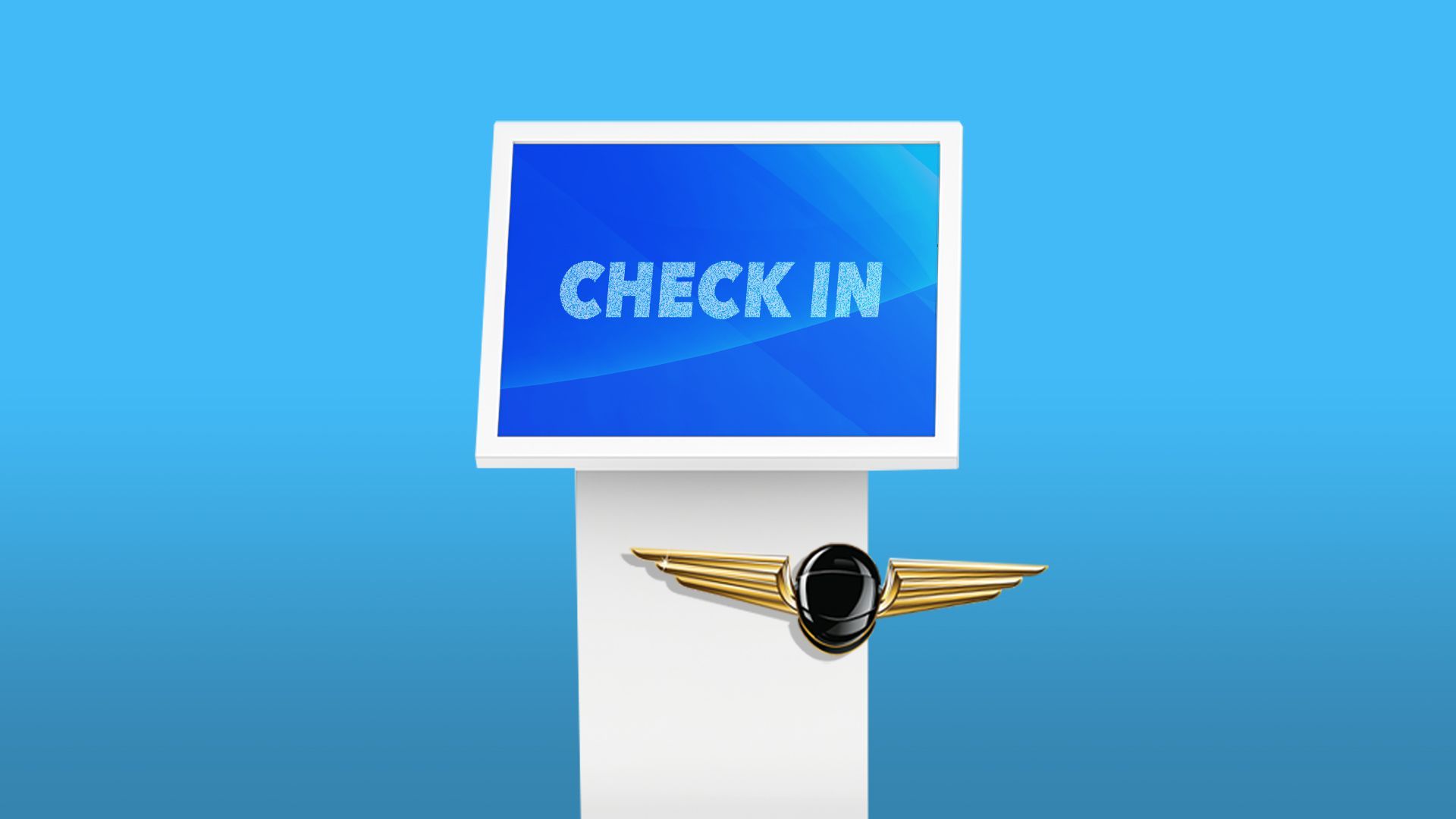 Air travel is becoming a touchless, self-directed journey, which poses a threat to traditional airport customer service jobs.
Why it matters: Automation and artificial intelligence have long been viewed as a threat to jobs, but the unprecedented disruption COVID-19 is posing to the travel industry could have lasting workforce implications.
Where it stands: Self-service kiosks have already replaced jobs traditionally performed by airport or airline staff, such as check-in, security, concessions and immigration.
Yes, but: No one wants to use a touchscreen during a pandemic.
Many airports are quickly moving toward "touchless" technology using facial recognition, AI, automation, and biometric scanners.
American Airlines, for instance, is testing mobile ID technology at its bag drop area at Dallas/Fort Worth and Reagan National airports.
Instead of passengers handing their ID to the airline agent, a digital token on their smartphone can verify their identity.
At Abu Dhabi International Airport, Etihad Airways is testing a bag-drop system that uses AI to recognize unique scuff marks and other characteristics on nearly identical suitcases and match them to the correct passenger with a digital tag.
At Hong Kong International Airport, self-driving, "intelligent sterilization" robots clean public areas and restrooms.
The big question: Could airline industry jobs lost during the pandemic be gone for good?
No way, says Sara Nelson, president of the Association of Flight Attendants-CWA and a leading advocate for aviation workers.
Even automated baggage systems need humans behind the scenes, she notes.
Besides, the airline industry is highly regulated and employees require extensive training and certification, she said.
"Ground personnel, gate agents, flight attendants, mechanics, pilots — all of them have to be checked off with certification. These jobs can't be performed with automation."
But it's the entire ecosystem around airports that faces workforce disruption, said Robert Puentes, president and CEO of the Eno Center for Transportation, a non-profit think tank.
Concessions and ancillary businesses like parking lot shuttles are often disadvantaged business enterprises hired by government airport authorities. Some employees are municipal workers.
"Airports will look a lot different, but there's still a need for airport workers" when demand returns, he said.
A new report from MIT's task force on the Work of the Future makes the case that worries about automation and AI leading to widespread job destruction are likely overblown.
As with other technological shifts, the researchers found some jobs are destroyed by automation and AI while others are created.
While they didn't examine the airline industry in particular, they noted that unmanned aircraft require many more people to operate than traditional aircraft.
Context: Prior to the Sept. 11, 2001 terrorist attacks, airline employment peaked at 546,000 people, according to the Bureau of Labor Statistics.
By 2010, it had fallen to 377,000, the lowest level since early 1987.
Jobs had been on the upswing, however, in recent years, and the industry was preparing to add about 100,000 jobs in 2020, Nelson said.
Instead, an estimated 90,000 airline jobs will be gone by year-end, according to the Airlines for America.
What to watch: Technology can't be truly judged until air travel returns to normal levels, says Madhu Unnikrishnan, editor of Airline Weekly, a trade publication.
"It all may seem like it's working really well right now, this automation, but we're talking about one-third of the usual traffic."
2. GM goes all-in on electric vehicles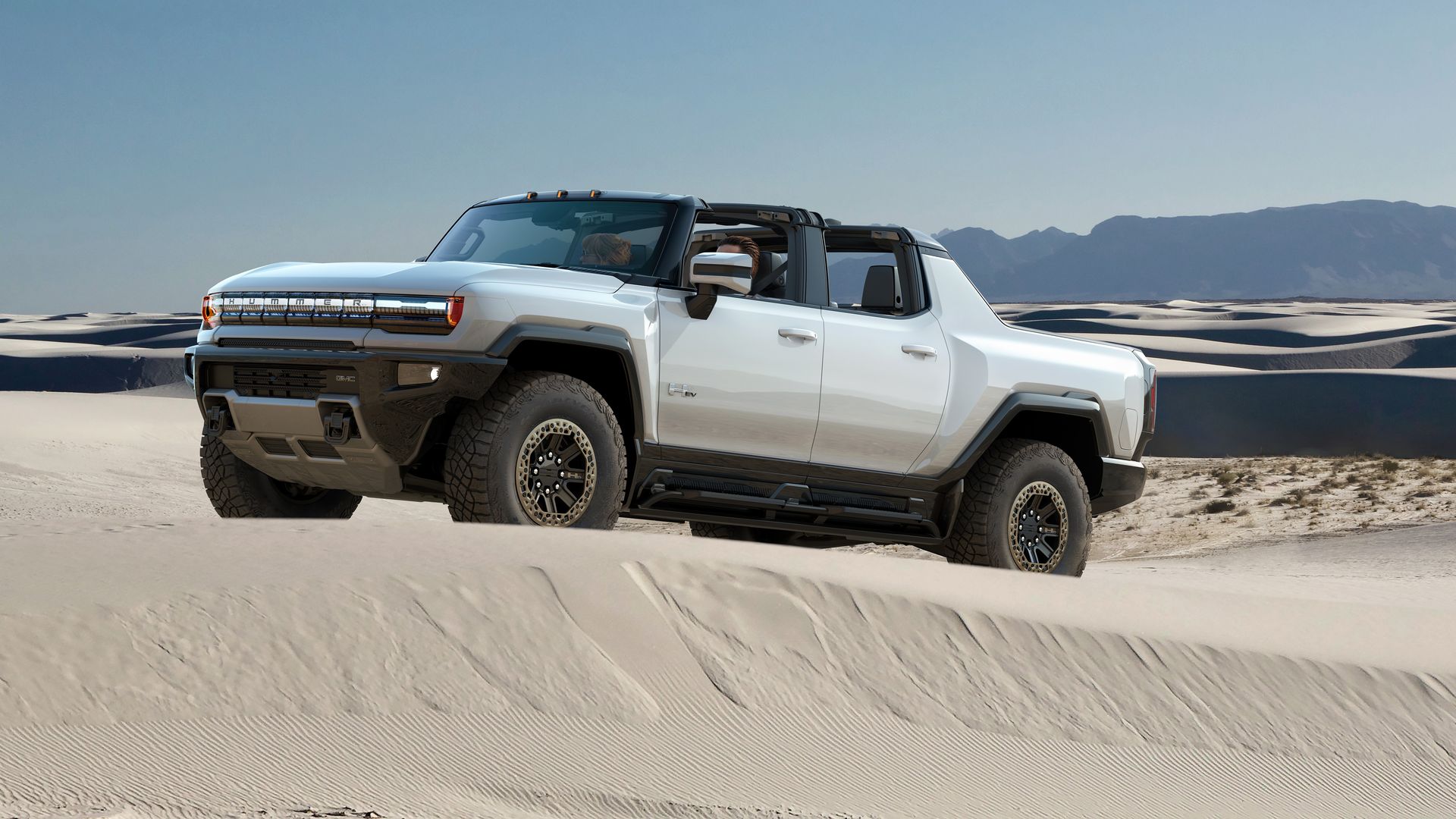 General Motors says it has all the ingredients to catch Tesla in electric vehicles — cutting-edge technology, great engineering talent and a big checkbook. But there's still one thing missing  — an aspirational brand.
Why it matters: GM CEO Mary Barra has to make the case that a 100-plus-year-old company can be just as exciting as its flashy competitor.
Tesla has captivated car buyers and investors alike, which is why it could sell 500,000 EVs this year — far more than any other carmaker — and its stock is worth some $472 billion.
Driving the news: Barra's latest pitch came on Thursday, when she announced an accelerated commitment to EVs at a conference hosted by Barclays Capital.
GM plans to expedite the rollout of electric models, spending $27 billion on EVs and autonomous tech through 2025 — $7 billion more than prior plans.
A total of 30 new EVs are coming by 2025, including 20 that will be sold in the U.S.
They include the GMC Hummer electric pickup, arriving late next year, and the Cadillac Lyriq SUV, due in early 2022, plus a full range of models across Chevrolet, Buick, GMC and Cadillac.
They're all based on GM's new Ultium battery technology, which is flexible and modular, enabling the company to dramatically speed up development time.
"We are all-in to establish leadership in electric vehicles," Barra said. "EVs are core to growing our business and creating shareholder value."
But GM knows what it is up against.
"We want to lead in this space. We don't want to just participate," Doug Parks, a top GM product development official, told reporters while acknowledging "Tesla's got a good jump. They're a formidable competitor and there are a lot of startups. We don't want to cede leadership."
3: U.S. lays groundwork for self-driving car standards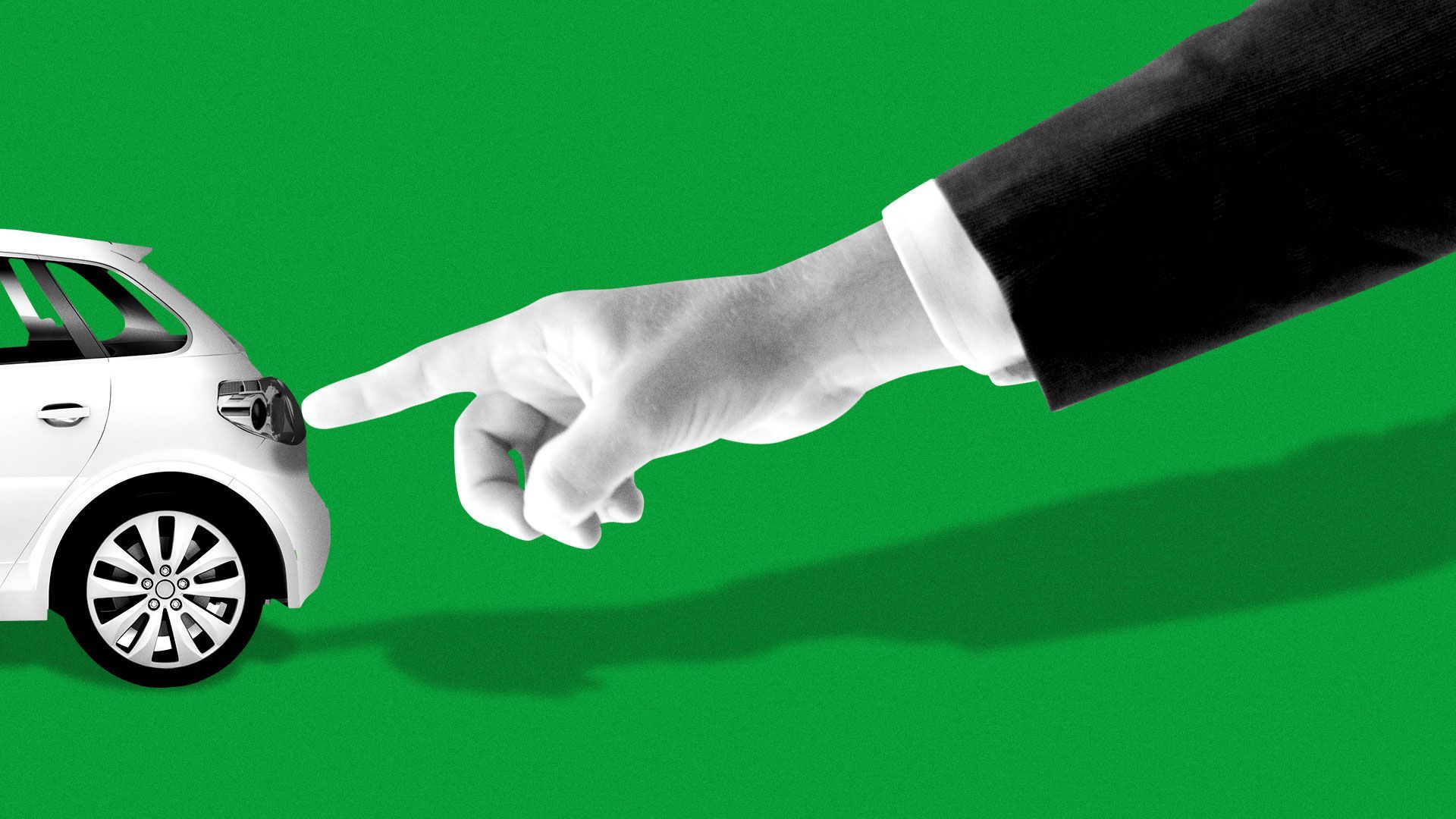 U.S. auto safety regulators began a regulatory process on Thursday to solicit public input on how to ensure the safety of future self-driving vehicles.
Why it matters: The proposed rulemaking is a step toward the adoption of new safety standards for autonomous vehicles, but it could be years before any rules are final.
Safety advocates criticize the National Highway Traffic Safety Administration for its hands-off approach to self-driving cars, while others have raised issues about liability and cybersecurity as well.
"This rulemaking will help address legitimate public concerns about safety, security and privacy without hampering innovation in the development of automated driving systems," said Transportation Secretary Elaine Chao in a statement.
What they're saying: "The industry is clearly looking for some federal guidance and Legislative framework to operate within," said Selika Josiah Talbott, a policy expert at American University.
"One can only hope that this means someone at DOT finally decided that the current lack of oversight of the driverless car industry was a bad idea both for safety and for the long-term successful deployment of the technology," said Jason Levine, executive director of the Center for Auto Safety.
The bottom line: The Trump administration is kicking off the process, but the deadline for public comments is Jan. 19, meaning any rules will be enacted under the next administration.
4. Looking down on traffic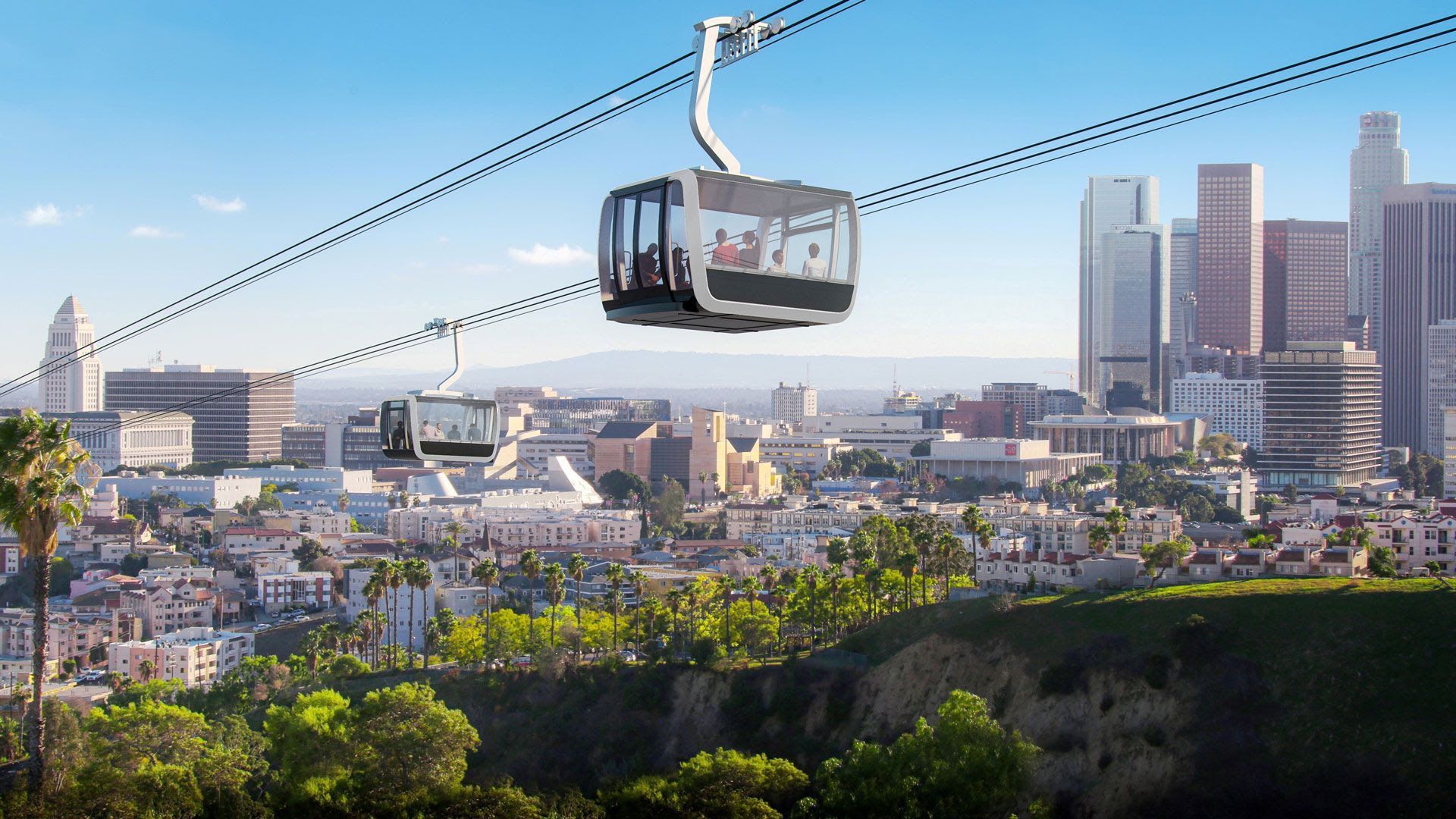 One way to avoid traffic and parking problems could be to skim above the treetops in an air gondola, writes Axios' Jennifer A. Kingson.
Why it matters: Already big in South America, these eco-friendly cable cars move people quietly and expeditiously and their limited-occupancy cars seem tailor-made for the COVID-19 era.
Driving the news: In the Tampa Bay area, transit officials are about to study the possibility of building an air gondola system for Clearwater Beach and St. Petersburg.
Meanwhile, transportation experts are unimpressed with what they've seen so far of the Elon Musk-owned Boring Company's underground Loop system in Las Vegas, reports CNN.
"This is not a transit system. It's a system for driving electric vehicles underground," said one expert, calling it "comically inefficient."
The bottom line: Maybe taking the gondola across town isn't such a bad idea.
5. Driving the conversation
Southwest CEO: 737 MAX most scrutinized plane ever (Courtenay Brown—Axios)
Driving the news: The FAA said the embattled plane could return to the skies, following the longest grounding in aviation history spurred by the two fatal crashes.
FCC splits up auto safety airwaves for WiFi (Margaret Harding McGill — Axios)
Why it matters: Automakers didn't make use of the spectrum for future vehicle-to-vehicle communication, so the FCC gave away half of the airwaves to WiFi companies instead.
Luminar to supply lidar sensors for Mobileye's self-driving fleet (Paul Lienert — Reuters)
The big picture: Intel-owned Mobileye is a leading provider of camera-based sensors used by most top automakers in their assisted-driving systems. Its ambition is to create its own robotaxi service one day, which will require lidar sensors in addition to cameras and radar.
6. What I'm driving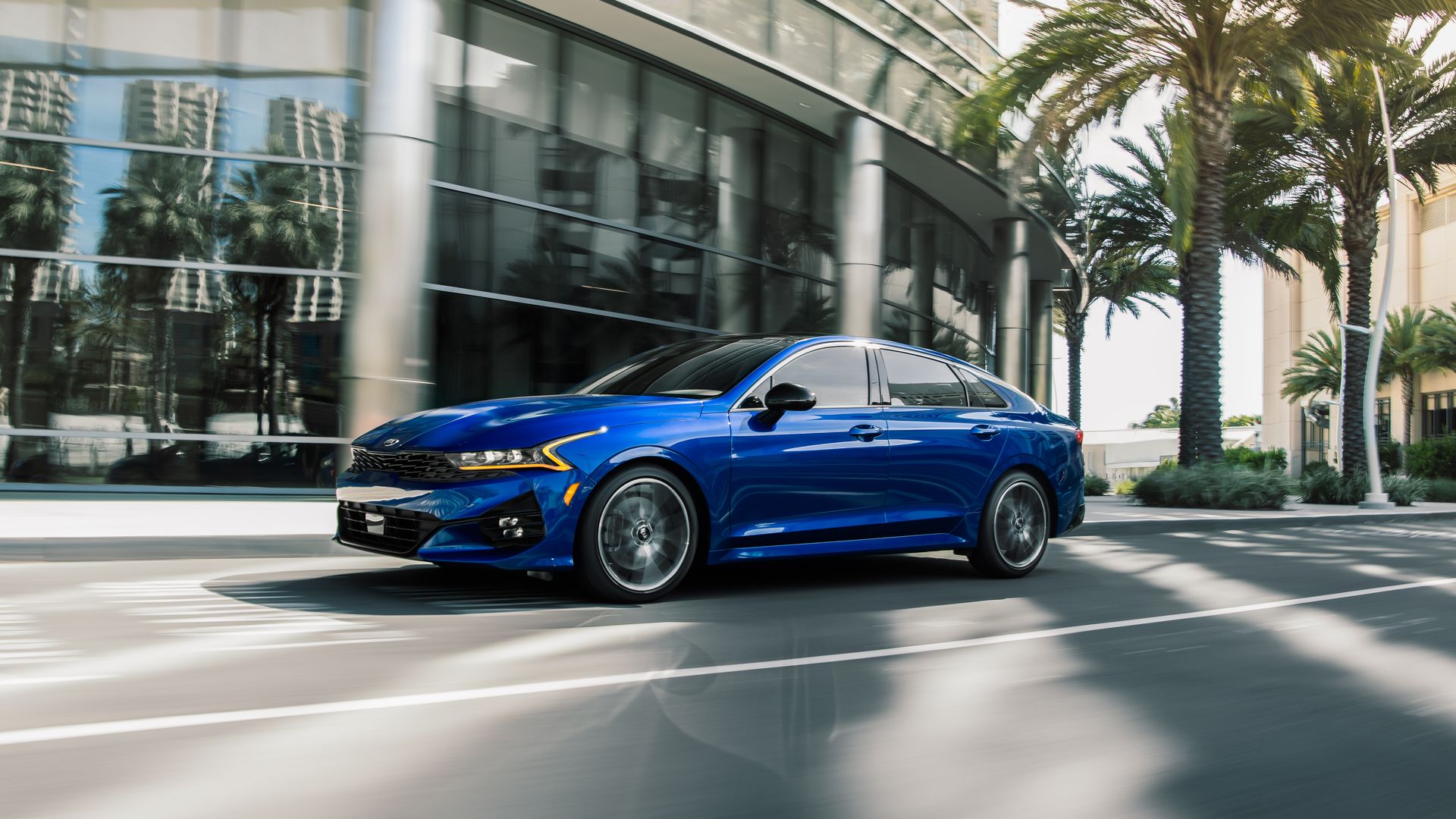 Mid-sized sedans tend to be overshadowed by trucks and SUVs these days, but the new 2021 Kia K5 demands to be noticed.
The big picture: The K5 replaces the long-running Kia Optima, a decent, value-oriented sedan. But the K5 seriously ramps up the appeal with head-turning design, new engine and transmission options, and available all-wheel drive.
Details: With a 180-hp, 1.6-liter turbo engine and eight-speed transmission, the K5 is not quite as sporty as it looks.
But I haven't driven the new GT version, which features a 290-horsepower 2.5-liter engine, so my opinion could change.
Still, it's a competent, comfortable ride.
What's inside: The K5 has two available touchscreens: a standard eight-inch unit and an optional 10.3-inch screen.
The connected infotainment system uses real-time traffic data to keep drivers on the optimal route, including weather information for more than 25,000 cities.
And it uses AI to recognize natural language commands for things like text messages, news and weather or to adjust the climate control or heated seats and steering wheel.
Safety stuff: All K5 models have a driver attention warning system along with lane-keeping assist and forward collision avoidance technology.
Higher-priced versions add features like blind-spot monitoring, rear cross-traffic alert and adaptive cruise control, among others.
The bottom line: Starting at $23,490, Kia's mid-sized K5 is a great-looking car, and still a great value.