Axios Nashville
September 15, 2023
It is Friday. You know what that means. Nashville has picked a new mayor.
🎂 Happy early birthday to our Axios Nashville member Katie Feldhaus Jackson!
Today's newsletter is 998 words — a 4-minute read.
1 big thing: Freddie O'Connell sails to victory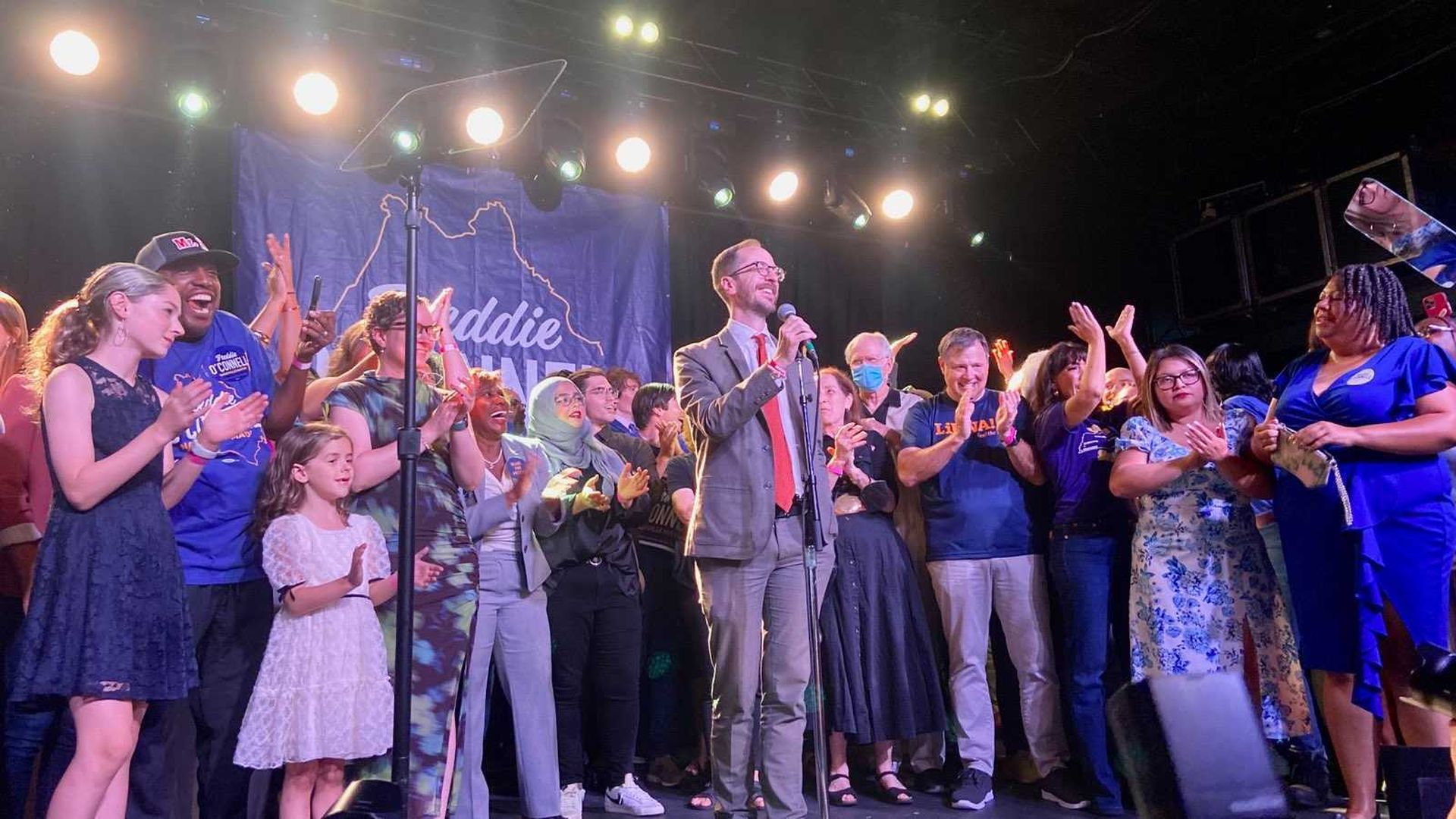 Freddie O'Connell, the former neighborhood association president who served two terms on the Metro Council, vaulted to the pinnacle of Nashville politics yesterday when he was elected as the city's next mayor.
Voters overwhelmingly picked O'Connell to lead his hometown. He won 64% of the vote in the runoff against his opponent, businessperson Alice Rolli.
Why it matters: O'Connell rallied his base with a back-to-basics platform focused on managing growth and restoring local pride in a city most residents consider to be on the wrong track.
He made his opposition to the new $2.1 billion Titans stadium the centerpiece of his campaign and said his administration would emphasize basic government functions such as curbside recycling and mass transit.
What he's saying: In a victory speech in front of a joyous crowd, O'Connell referenced his campaign slogan — "I want you to stay" — saying his top priority would be improving the quality of life for Nashville residents.
"I can't wait to get to work."
Zoom in: O'Connell, 46, is a Nashville native who attended Eakin Elementary and Montgomery Bell Academy.
He moved to Salemtown in 2007 and lives there with his partner Whitney Boon, who is a pediatric neurologist at Vanderbilt Children's, and their two daughters.
The big picture: O'Connell has been a popular district council member for years, representing a swath of the city including downtown. But when he launched his mayoral campaign in April 2022, many still considered him an underdog and questioned his fundraising chops.
But after outgoing Mayor John Cooper announced he wouldn't seek re-election, O'Connell emerged as a leader in a crowded field of well-funded challengers.
Between the lines: While Metro elections are nonpartisan, the city has skewed more liberal in recent years. Several high-profile Democrats were in the race, but O'Connell established himself as the go-to progressive voice.
Some of his wealthier opponents flooded the airwaves for months before he launched his first TV ad, but O'Connell's deep understanding of city government combined with quirky and humorous messaging helped him build a passionate coalition of supporters.
Flash forward: During the six-week runoff campaign, O'Connell amassed a record-setting war chest as the city establishment rallied around him. Several of his general election opponents had endorsed him by Election Day.
What's next: O'Connell said he would begin preparing to take office immediately.
2. Rolli failed to broaden support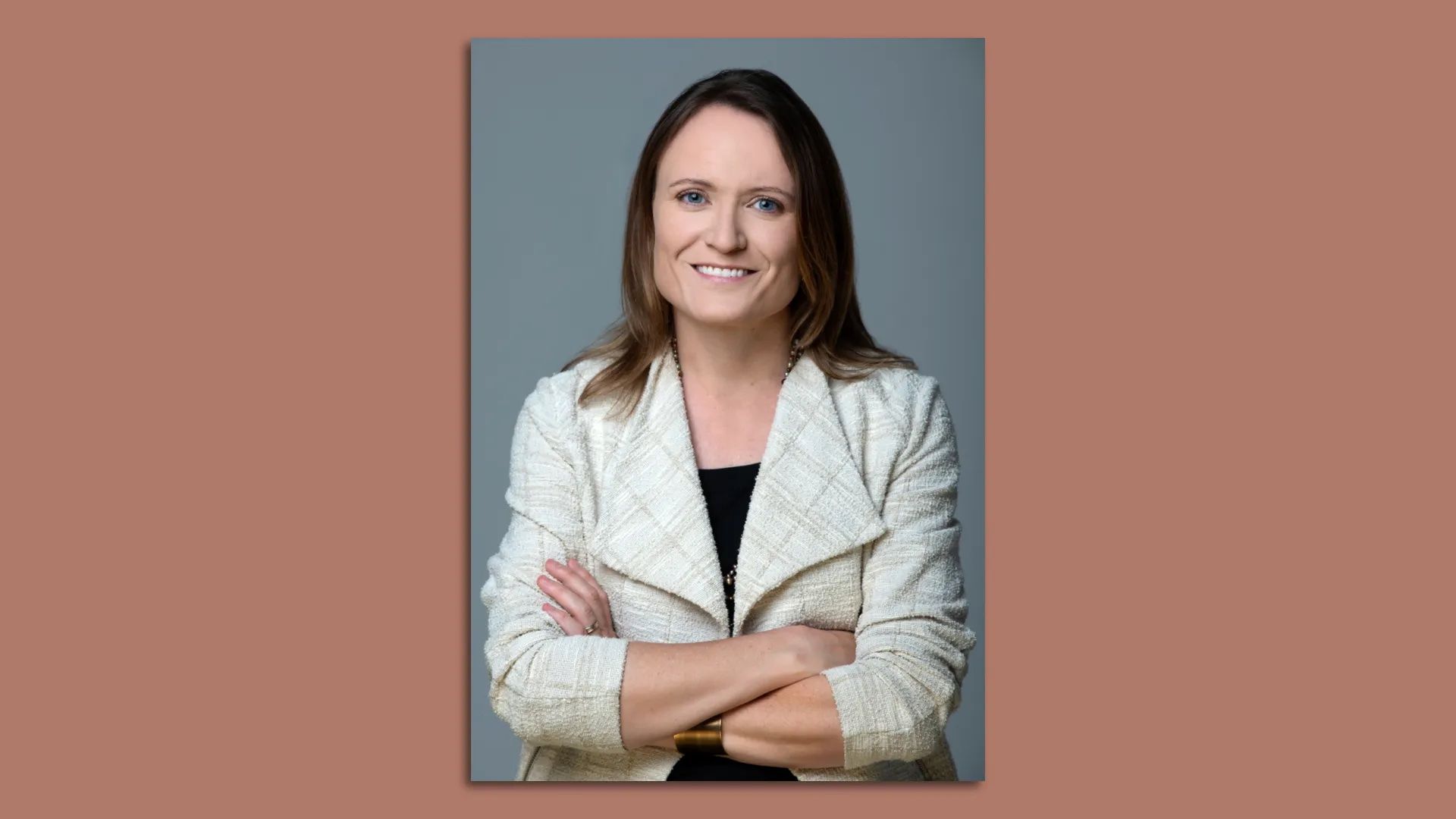 For the second time in eight years, a conservative candidate fizzled out in a Nashville mayoral runoff election.
Rolli bested establishment Democrats to finish second in the general election last month. But, she failed to broaden her base in the runoff and lost handily to O'Connell.
Why it matters: Nashville voters maintained a blue wall that has blocked Republican candidates from winning countywide.
David Fox utilized a similar strategy to reach the runoff in 2015. He lost to Megan Barry by 10 points.
Zoom in: Rolli is a businessperson who worked as a campaign aide to U.S. Sen. Lamar Alexander and as a state economic development official under Commissioner Bill Hagerty.
Because of those credentials, she stood out as the top choice among conservative-leaning voters.
Flashback: Her campaign suffered a setback when it was revealed that one of her paid advisers was accused of discussing recruiting Proud Boys to attend a 2020 election protest in Nevada.
Rolli parted ways with the firm that employed the adviser, although he told Axios at the time he had already resigned from her campaign.
3. Olivia Hill makes history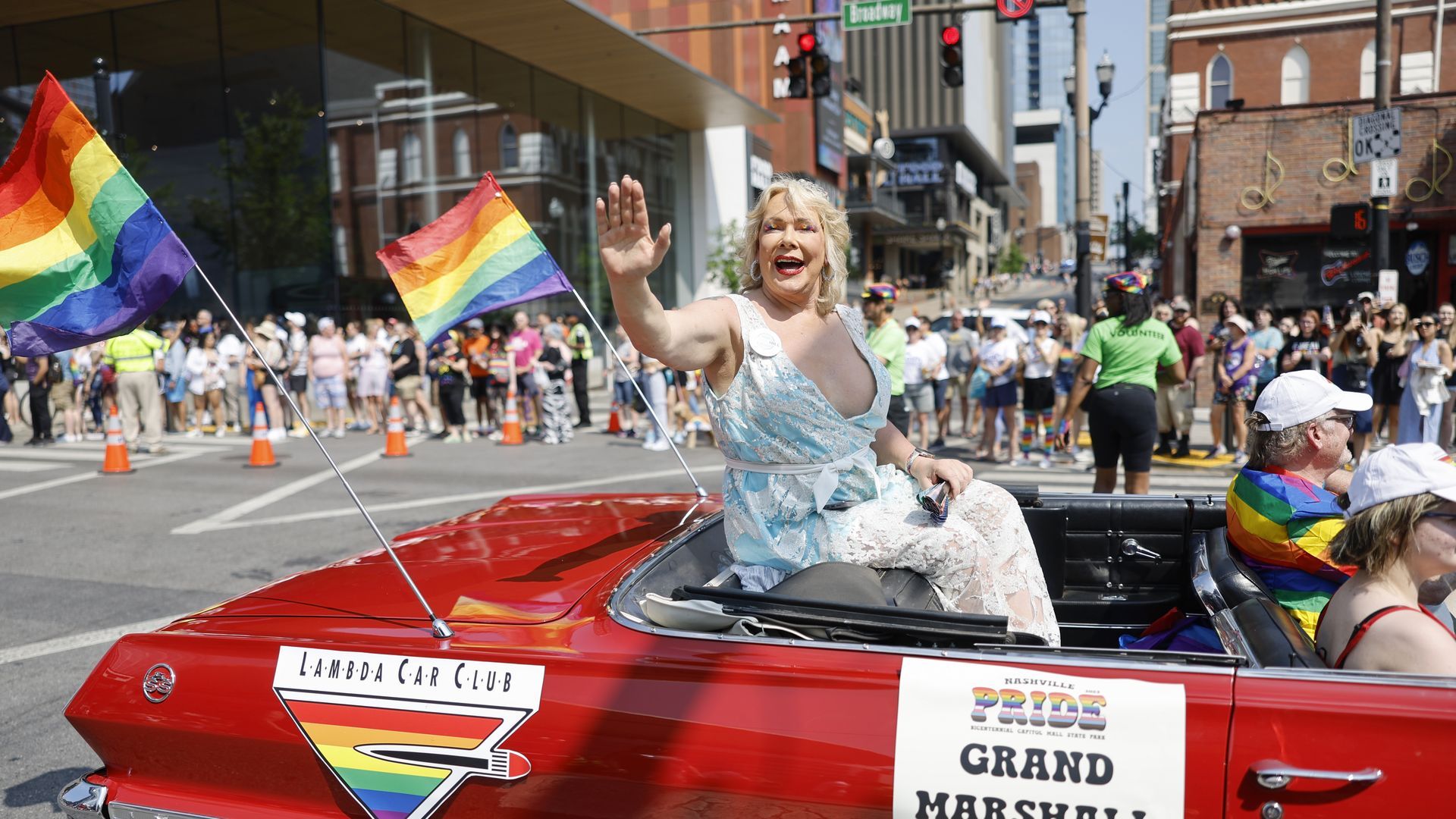 Olivia Hill became the first transgender person elected to public office in Tennessee yesterday, winning one of four open Metro Council at-large seats.
Why it matters: It was a historic night for women candidates. For the first time, all five at-large council members representing all of Davidson County will be women.
Delishia Porterfield, Burkley Allen and Quin Evans-Segall round out the victors for the at-large seats.
Metro Councilmember Zulfat Suara won the first council seat last month and avoided the runoff.
State of play: Hill's historic candidacy comes at a time when the conservative state legislature has intensely scrutinized transgender people.
Earlier this year, the legislature and Gov. Bill Lee banned gender-affirming care for transgender minors. The legislature also passed a law to regulate drag show performances.
What she's saying: "It feels like every horrible thing that people have said about trans folks has just washed away," Hill tells Axios.
"This is a great step in the right direction to hopefully educate some people about how valid trans folks are and that we're here and that we're not going away."
By the numbers: Women won 22 of the 40 council seats in addition to Angie Henderson winning the vice mayor's race last month.
The previous record for women on the council was 20.
Zoom in: Porterfield and Suara together made history as a duo. It's the first time two Black women were the top vote-getters in an at-large race.
The council became more progressive as a whole, with candidates backed by the city's top activist groups winning their races.
In the only state legislative race on the ballot, Democrat Aftyn Behn won the special election to complete the term of Rep. Bill Beck, who died earlier this year.
4. Election Day's Music City moment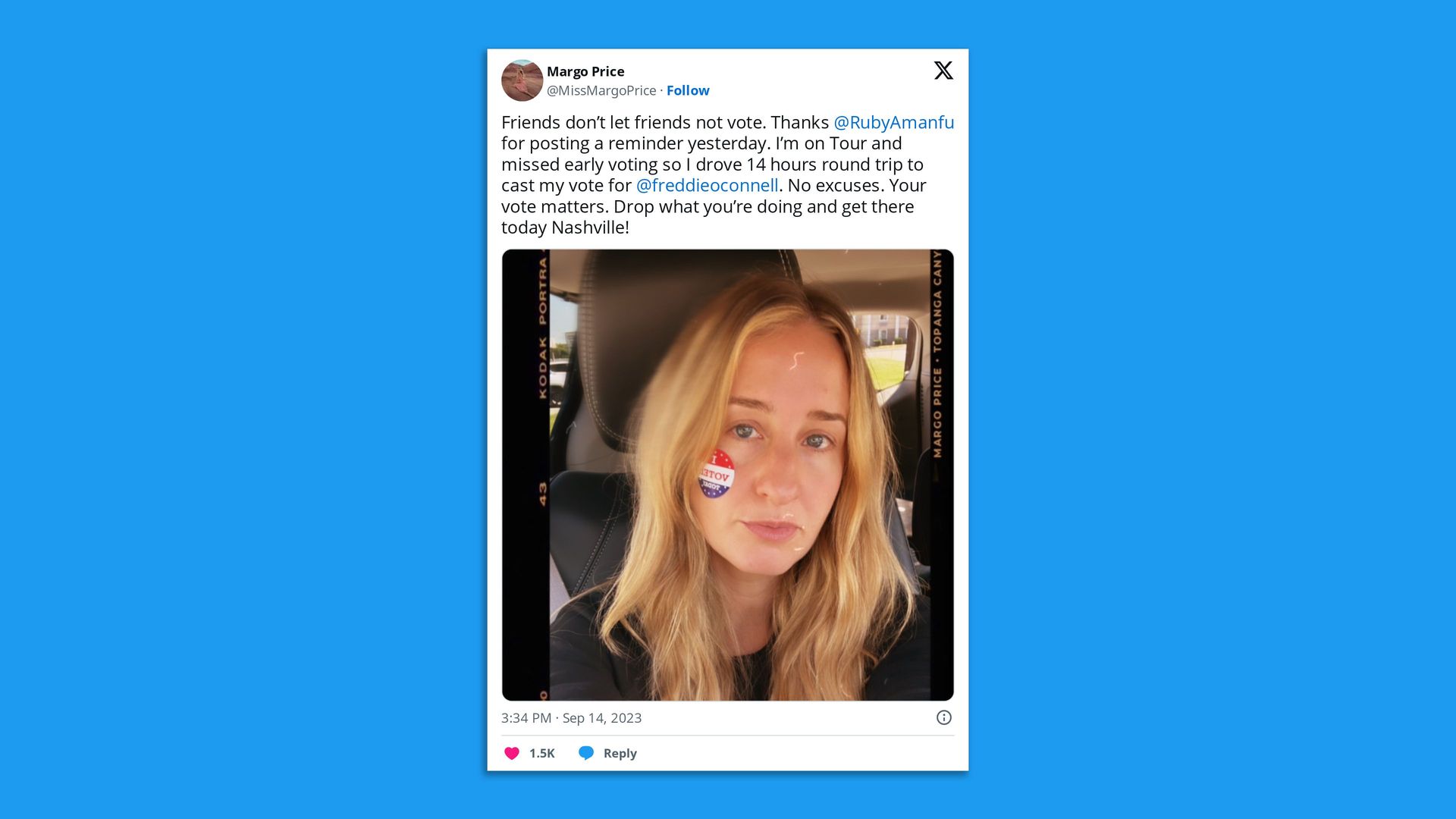 In a very Music City election moment, Nashville-based singer-songwriter Margo Price was on tour when it was time to cast her ballot.
"I'm on Tour and missed early voting so I drove 14 hours round trip to cast my vote," Price tweeted yesterday.
After voting, she got back on the road and played a show in Bloomington, Indiana, last night.
5. The Grimey's factor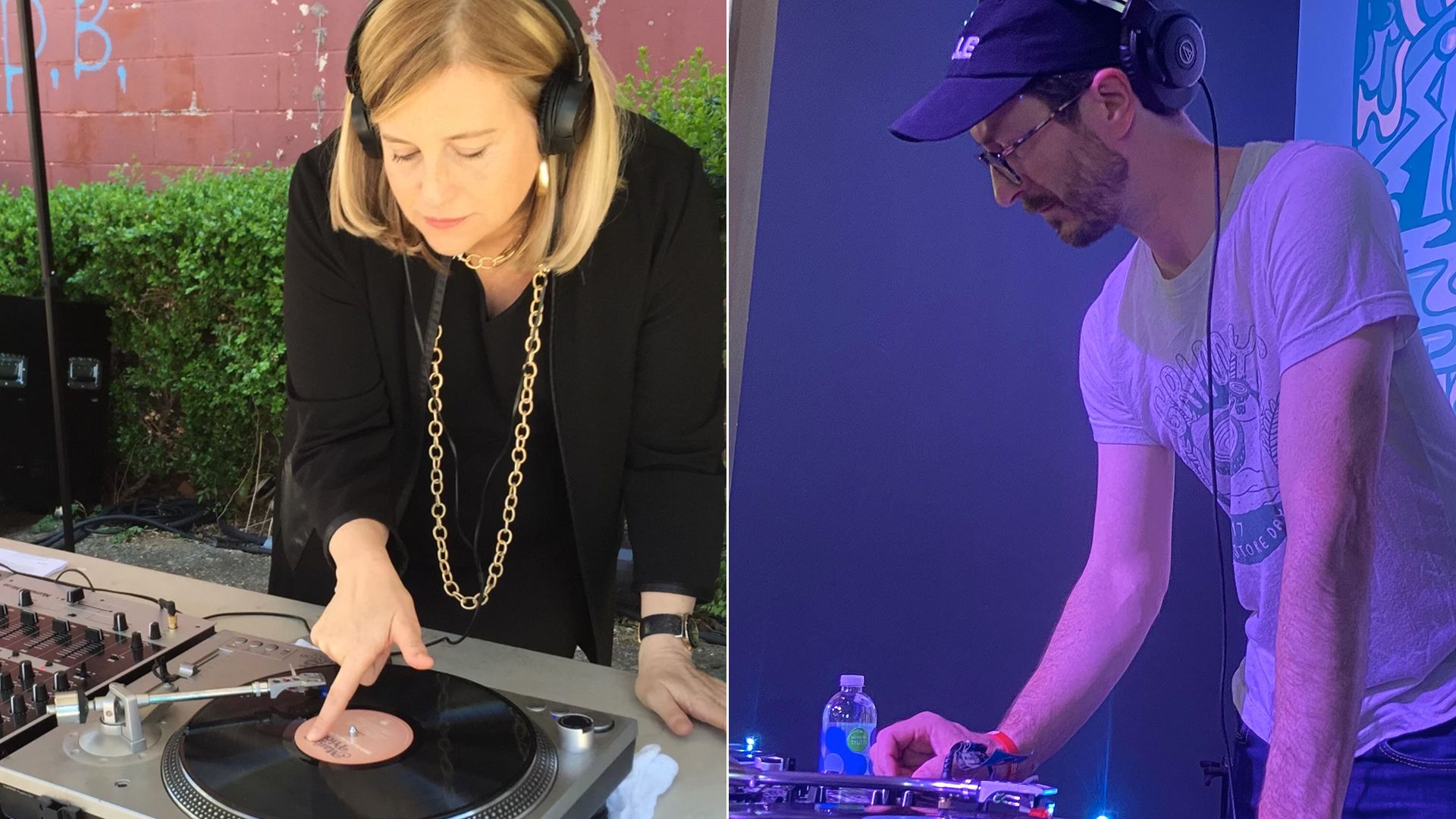 In Music City, it turns out DJ'ing is part of mayoral politics.
On his way to victory in the mayor's race, O'Connell stopped by Grimey's record store this summer for a DJ set.
He followed in the footsteps of former Mayor Megan Barry, who DJ'd at Grimey's in 2016.
Future mayoral hopefuls, take note: "All the coolest mayors DJ at Grimey's," store co-owner Doyle Davis tells Axios.
Our picks:
In honor of Grimey's, Nate's song of the day is "Salina" by The Avett Brothers, who he saw play in the parking lot behind the record shop in 2009.
Adam is unwinding this weekend with a showing of the cult classic "The Room" at the Belcourt.
This newsletter was edited by Jen Ashley and copy edited by Katie Lewis.