Axios Nashville
September 21, 2023
Good morning, and happy Thursday to our Axios Nashville crew.
Today's newsletter is 906 words — a 3.5-minute read.
1 big thing: The TSU funding gap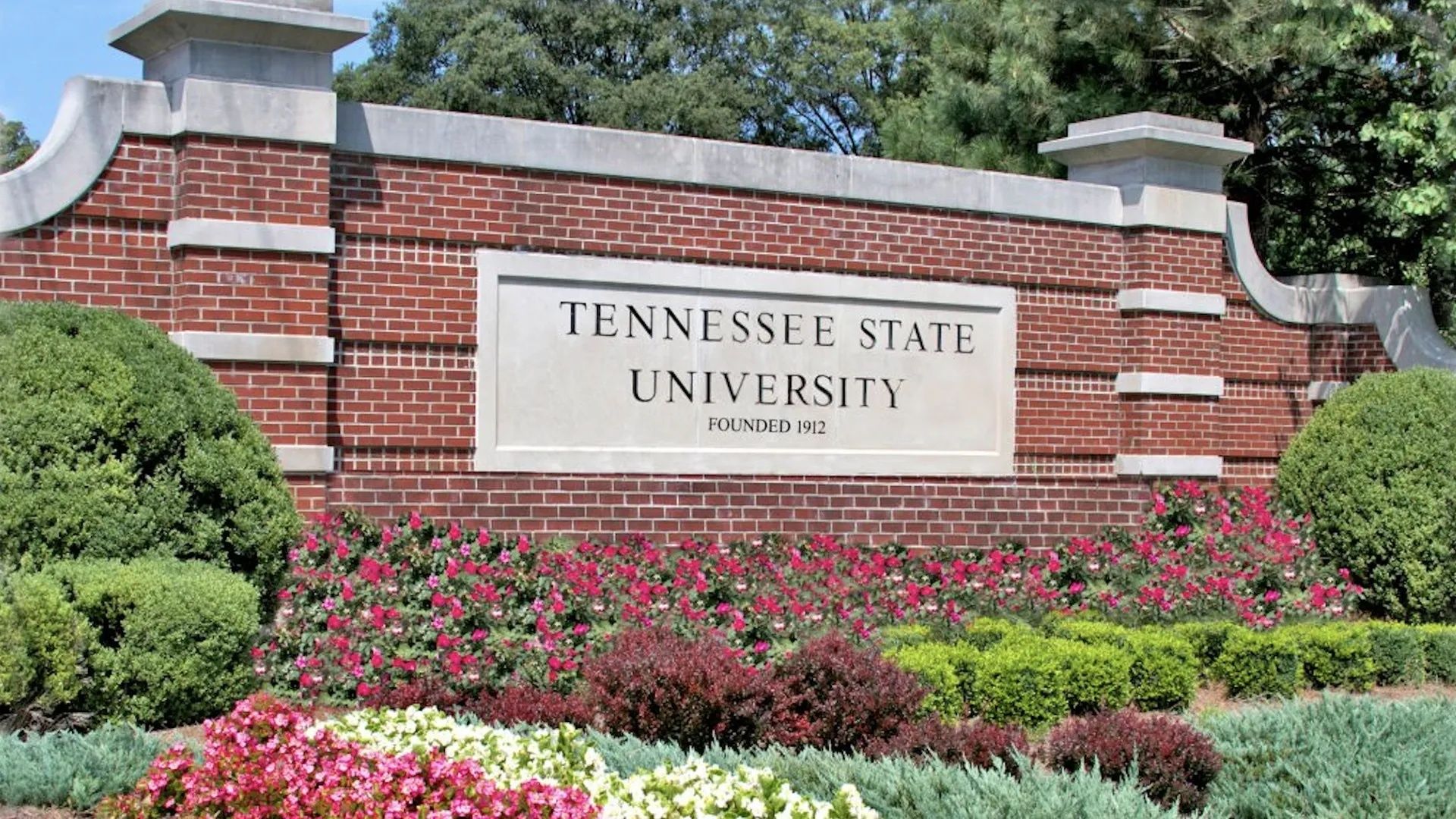 Tennessee State University president Glenda Glover is calling on the state to "do what's right" by addressing a $2.1 billion shortfall in funding for the institution that the Biden administration identified.
Driving the news: Top officials with the federal departments of Education and Agriculture sent a letter to Gov. Bill Lee this week that found the "severe financial gap" in state funding for TSU over the last 30 years.
"The longstanding and ongoing underinvestment in Tennessee State University disadvantages the students, faculty, and community that the institution serves," the letter read.
"[I]t is our hope that we can collaborate to avoid burdensome and costly litigation that has occurred in several states."
Why it matters: The federal analysis found that TSU received less per-student funding than the University of Tennessee, Knoxville, even though federal law requires equitable funding.
The Biden administration said the extra money could have bolstered student services and infrastructure and would have better positioned TSU to compete for research grants.
This is not just a problem in Tennessee. Similar letters sent to 15 other governors identified long-term funding disparities at state-run historically black colleges and universities.
Catch up quick: In February, Republican lawmakers slammed the school's president after a report from the comptroller stated that poor leadership had exacerbated an on-campus housing crisis.
What she's saying: Glover tells Axios the federal government's assessment of TSU's enormous financial disadvantage recasts that criticism. She says missing out on state funding is the underlying problem, not university leadership.
"You can look at the challenges that TSU has faced over the years, those challenges would have gone away with $2.1 billion," she says, adding that funding would allow for more staff, new scholarship programs and ambitious construction projects.
Flashback: A 2021 state analysis found TSU had been underfunded $150 million to $544 million for its food and agriculture research. Lee followed that up with $250 million for the university in his 2022 budget.
State Rep. Harold Love (D-Nashville), who chaired the committee that looked into that issue, tells Axios that is a recent example of the state responding quickly to help TSU.
He said officials could use "the same pathway" to address the federal analysis. He was hopeful the federal report would be "a springboard" for another influx of funding.
State of play: In a statement, a spokesperson for the governor said Lee "has proposed significant funding for TSU every year," including the $250 million in 2022. The statement said direct appropriations to TSU had grown by 43% since Lee took office.
"Gov. Lee remains committed to working with legislative partners and community leaders to support the success of TSU and HBCUs across Tennessee."
What's next: Glover, who is retiring at the end of the academic year, says confronting this shortfall will be a top priority during her final days on the job.
"I want us to have a meeting, have a conversation and go over this. We can't sweep this under the rug."
2. Allison Russell honored with free speech award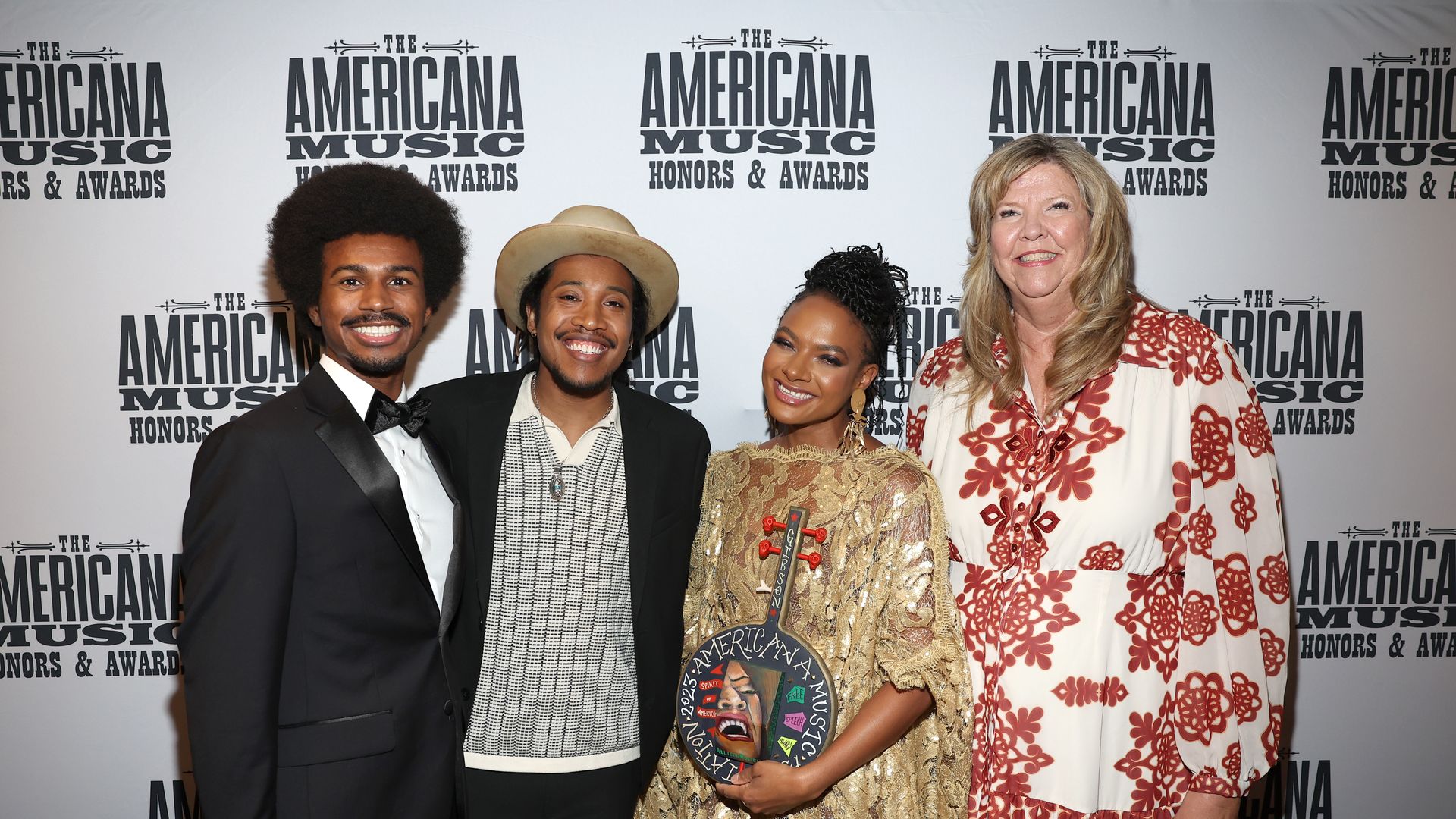 Singer-songwriter Allison Russell won the Spirit of Americana/Free Speech in Music award at last night's Americana Music Honors and Awards ceremony at the Ryman Auditorium.
Russell was presented the award by the Tennessee Three lawmakers: state Reps. Justin Jones, Justin Pearson and Gloria Johnson.
Russell co-organized the Love Rising benefit concert in March in response to state legislation targeting the LGBTQ community.
What she's saying: "There is so much love in Tennessee," Russell said onstage after accepting the award. "I've been completely uplifted by this community. I feel completely committed to this community."
"I have Canadian friends and family who call me when the next wave of legislative terrorism rocks us, and say, 'When are you coming home?' I tell them that we don't run from fascism. I'm not going to show my daughter that we run from fascism."
Of note: The Americana award for Artist of the Year went to Billy Strings.
3. The Setlist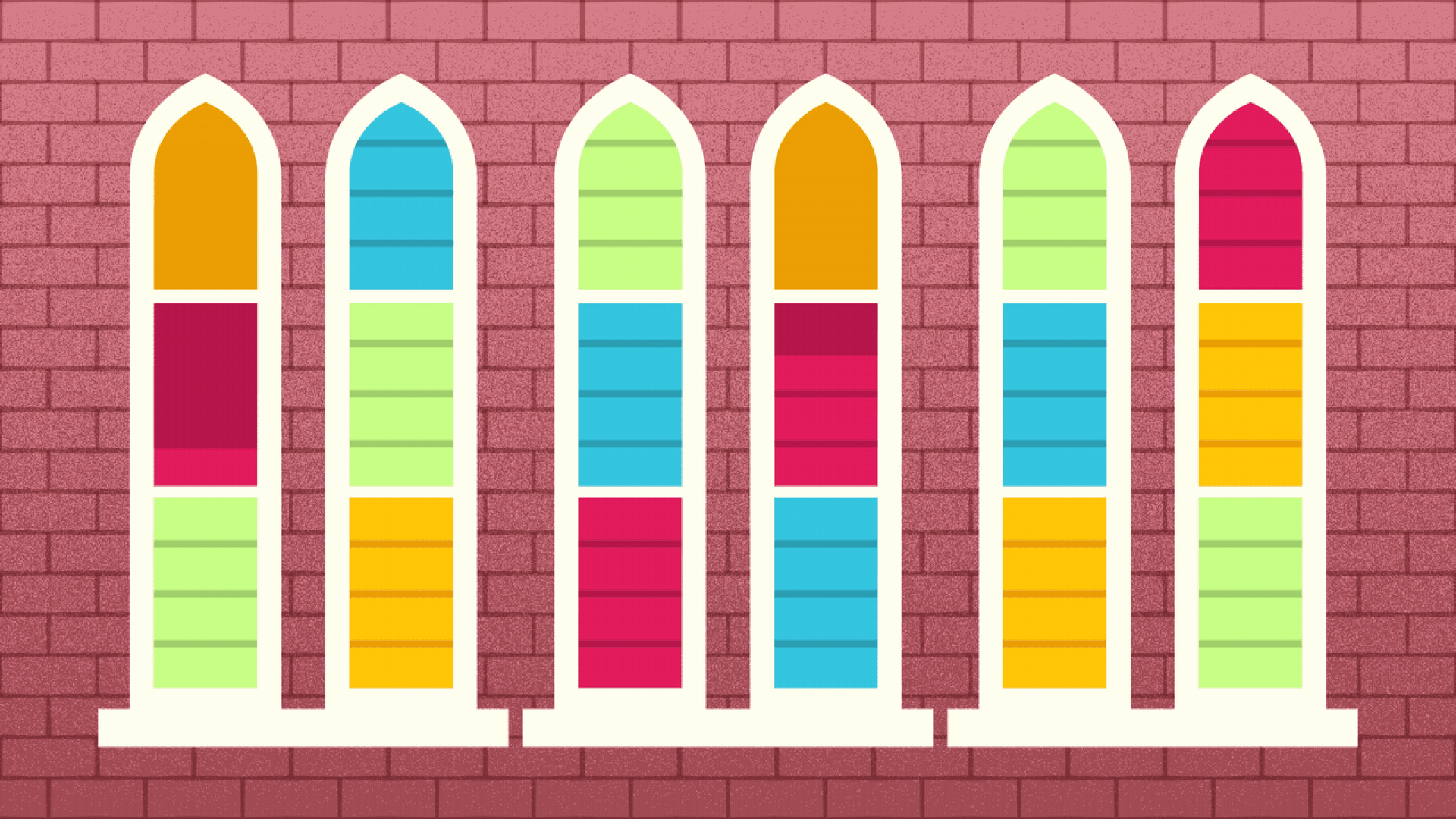 🍪 Whitney Miller, who won the Fox TV cooking competition "MasterChef," is opening Whitney's Cookies on Main Street in downtown Franklin. (Tennessean)
😷 Titans rookie lineman Peter Skoronski will miss his second straight game after he had an appendectomy last week. (Music City Miracles)
🏀 The University of Tennessee extended men's basketball coach Rick Barnes' contract through 2027-28. (The Associated Press)
4. Work-from-home trend continues in Nashville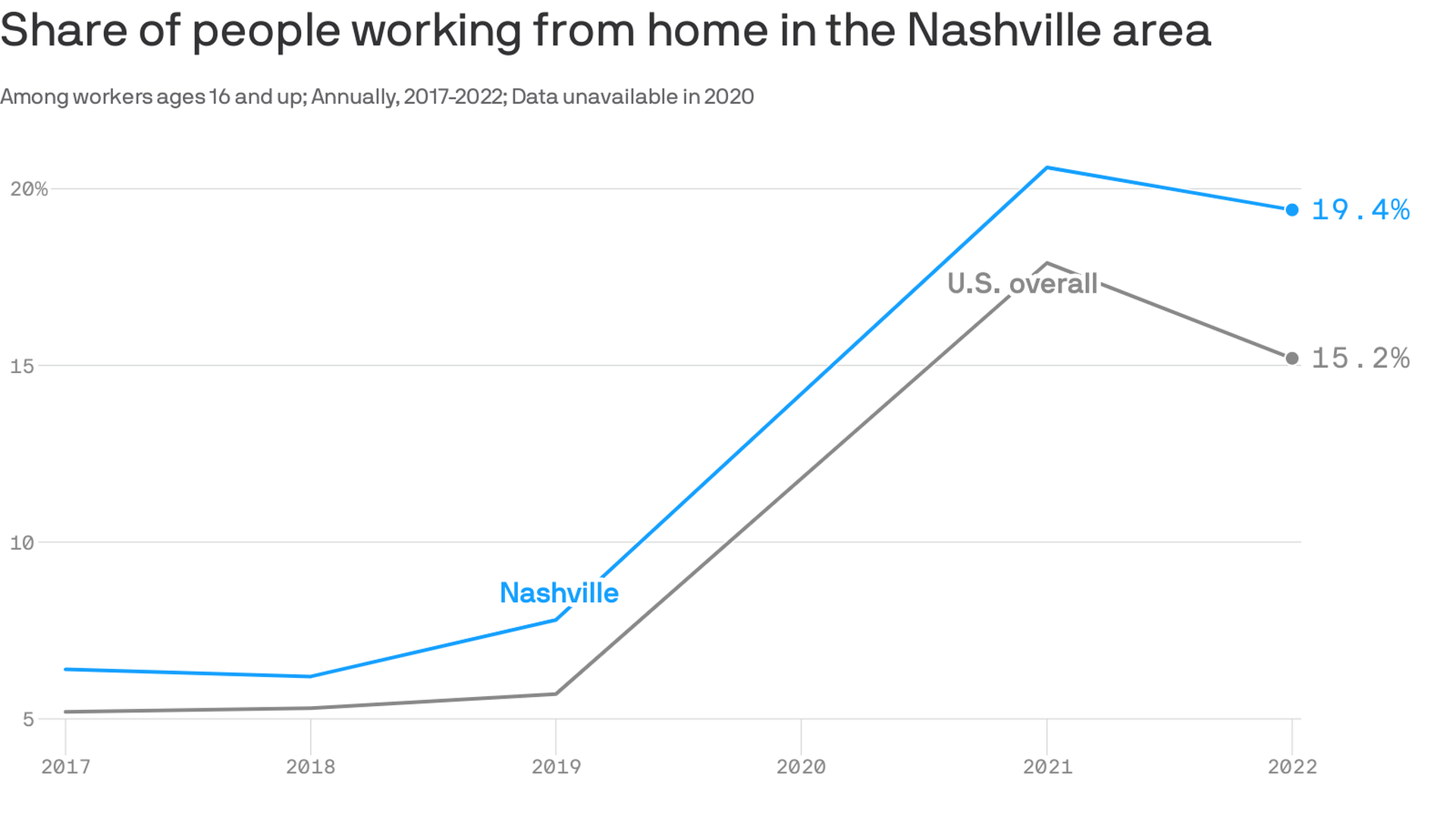 Nearly 1 in 5 Nashville area workers did their jobs from home in 2022, according to new Census figures released last week.
Why it matters: Although it was spurred out of necessity by the COVID-19 pandemic, working from home is proving to be more than a fad.
By the numbers: With 19.4% of its workforce working from home, Nashville outpaced the national average of 15.2% last year.
Nashville's percentage of at-home workers dropped slightly from 20.6% in 2021.
By comparison, Axios' Sam Baker and Simran Parwani report that Boulder, Colorado, had the highest work-from-home percentage at 32%.
The other side: Mississippi has the lowest share of remote workers in the U.S., at just 5.5%, and the Southeast generally is well below the national average.
Even so, every state has more remote workers now than in 2019, before the pandemic began.
And even after two years, the trend line is barely moving. Nationwide, the share of people working from home declined by less than 3 percentage points between 2021 and 2022, according to the Census figures.
Be smart: Read Baker and Parwani's full report, including the impact working from home is having on downtown office hubs.